Wall-E Theatrical Review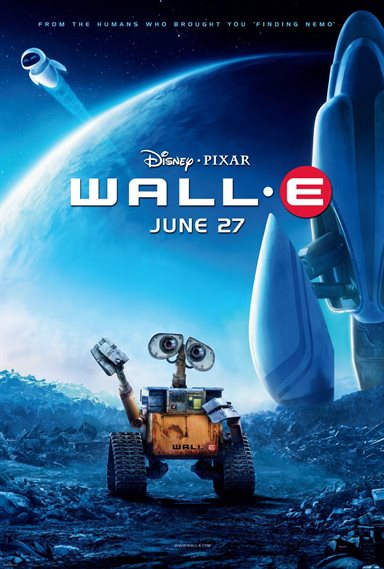 I have been worried about his film for the last year or so, ever since I watched the teaser trailer where Andrew Stanton recaps the development of the ideas that the creative heads at Pixar tossed around at the Hidden City restaurant (which included the late Joe Ranft). Then hearing about how the main character doesn't speak, and the supposed negative overtones of the movie, which I have read for some time at various websites. With that being said, I took my two kids to see the movie opening weekend with as little expectations as possible. Needless to say I was very impressed. Every now and then you will see a movie that can captivate an audience for the full length of time, and Wall-E is one of those movies.

Wall-E is set on Earth, 800 years into the future. Wall-E, which is actually an acronym, is apparently the last of a group of robots on Earth: his sole mission is to compress trash and neatly organize the compressed trash. Wall-E has been doing this for many many years, and apparently during his extended time on Earth going through the trash, became curious about many of the objects he discovers during his daily work. His only knowledge of the planet before his time comes from a video that he found on a Video iPod that he watches over and over. Wall-E doesn't speak, and as such, other reviewers have compared him to Charlie Chaplin or Buster Keaton. Maybe so, but this isn't a silent movie! Ben Burtt did an outstanding job of allowing Wall-E to communicate through robot chirps and whistles, in addition to the fine ability of the Pixar animators to show expression with head, arm and body movements. This movie is a tribute to the fine job that they did.

Because he is the last of his kind, it is no shock that he would be extremely curious about a visitor that arrives on Earth from outer space. EVE (also an acronym) was sent on a mission, which is classified. Wall-E the movie's main plot revolves around Wall-E and EVE's relationship. This is a love story disguised as an animated sci-fi flick. I don't want to go into too many details and spoil the movie; you won't be disappointed with what happens.

A subplot has to do with humanity and a vision of how humanity may look like 800 years from now if we were to spend 700 years away from earth. While this was considered to be "negative" overtone of the movie, I would have to disagree. Mostly because the issues they unveil are occurring right now, in our current society. And it's not too late to change it.

The movie also has a few little cute tidbits for the Mac users out there. Wall-E's recharge completed sound is the Mac startup jingle, and the movie also features Macintalk. Macintalk does a wonderful job as the voice of the ship's autopilot, AUTO. Who is Macintalk? Well, more like, what: Macintalk is Apple's text-to-speech synthesizer, and the character's voice is done completely using that system for this movie, and I believe that it is the first time Macintalk was ever used for that role in a major motion picture.

All and all this is so far the best movie of the summer and probably the year. As usual, Pixar aimed for a movie that appeals to both adults and kids, and they succeeded by a huge margin, as this movie will appeal to kids, young adults, and adults, with something for everyone.
Purchase your copy of Wall-E today at
Download Wall-E from the iTunes Store in Digial HD.
MPAA Rating:
G
Running Time:
97 minutes
Distributed By:
Walt Disney Pictures
For more information about Wall-E visit the FlickDirect Movie Database.
About Roger Longenbach