Star Wars: Episode I - The Phantom Menance (1999)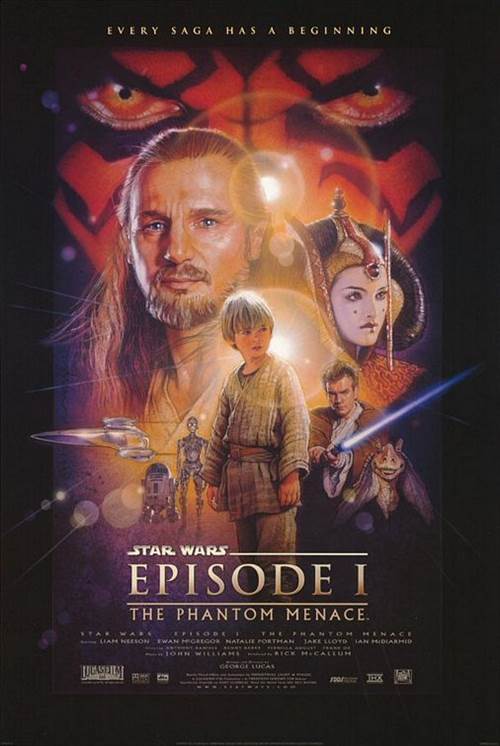 Share this:
| | |
| --- | --- |
| Director: | |
| Writers: | |
| Cast: | |
| Released: | Wednesday, May 19, 1999 |
| Length: | 133 minutes |
| Studio: | 20th Century Fox |
| Genre: | Sci-Fi/Fantasy, Action/Adventure |
| Rating: | Some material may not be suitable for children. |
Synopsis
When the evil Trade Federation plots to take over the peaceful planet of Naboo, Jedi warrior Qui-Gon Jinn and his apprentice Obi-Wan Kenobi embark on an amazing adventure to save the planet. With them on their journey is the young queen Amidala, Gungan outcast JarJar Binks, and the powerful Captain Panaka, who will all travel to the faraway planets of Tatooine and Coruscant in a futile attempt to save their world from Darth Sidious, leader of the Trade Federation, and Darth Maul, the strongest Dark Lord of the Sith to ever wield a lightsaber.

Purchase DVD/Blu-ray/4K UHD physical copy of Star Wars: Episode I - The Phantom Menance today at Amazon.com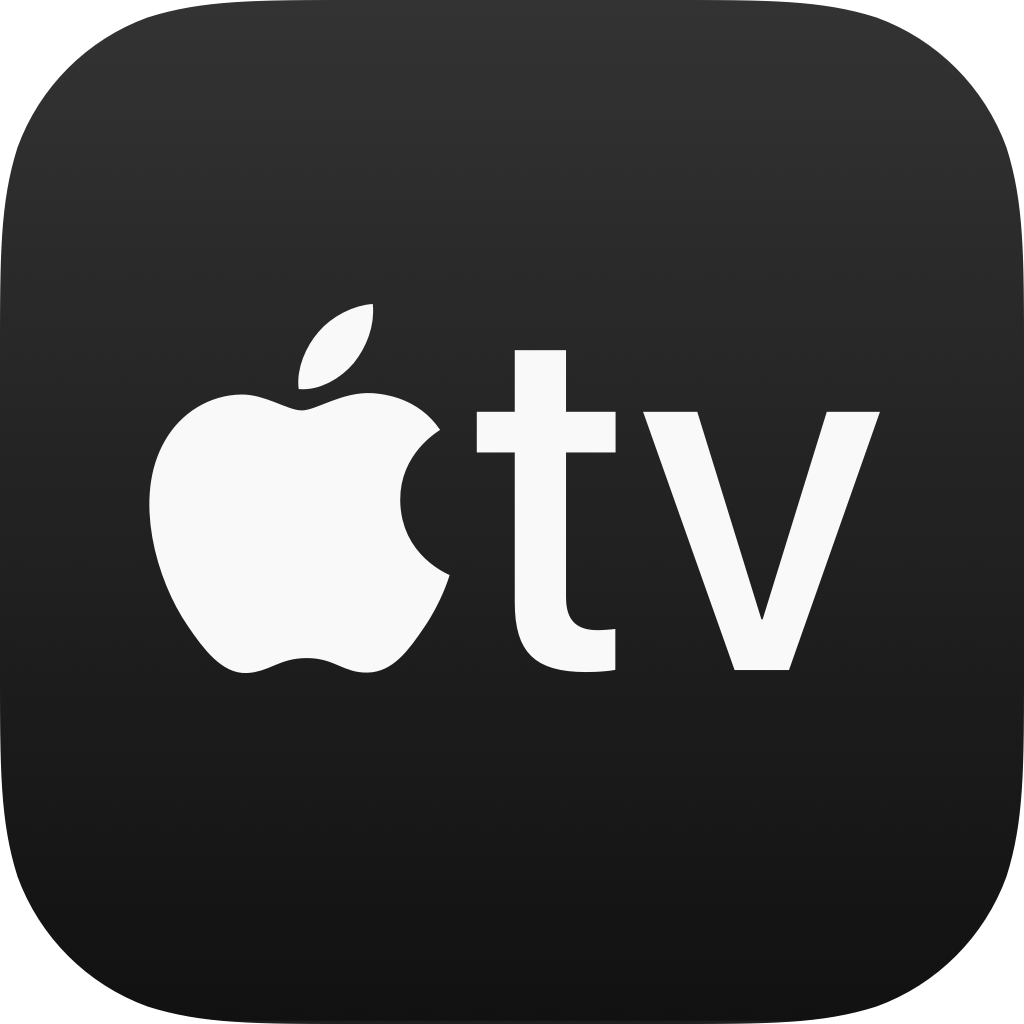 Download Star Wars: Episode I - The Phantom Menance in Digital HD/4K from the iTunes store.
Star Wars: Episode I - The Phantom Menance images are © 20th Century Fox. All Rights Reserved.
Loki Writer Michael Waldron to Write New Star Wars Film
1/7/2021 1:44 PM EDT
It's being said that Michael Waldron ("Doctor Strange In The Multiverse Of Madness") has been chosen to pen a new "Star Wars" feature film. This would be just one part of the recent deal that Waldron and Walt Disney Studios struck.The writer was also involved in the Disney+ series "Loki", as a head writer and executive producer. There is a chance that this new deal could also bring him back for "L...
More>>
LEGO Star Wars Holiday Special Coming to Disney Plus
10/15/2020 1:12 PM EDT
On November 17, Disney+ will be bringing us the "LEGO Star Wars Holiday Special". November 17th is also known as the fan-favorite holiday Life Day first introduced in the 1978 "Star Wars Holiday Special"."The LEGO Star Wars Holiday Special" reunites Rey, Finn, Poe, Chewie, Rose, and the droids for a joyous feast on Life Day. Rey sets off on a new adventure with BB-8 to gain a deeper knowledge of t...
More>>
Black Mirror Director Toby Haynes to Take Over on Rogue One Spinoff
9/23/2020 9:57 AM EDT
"Black Mirror's" Tony Haynes has taken over as director for the upcoming Disney+ "Rogue One" spinoff series. Tony Gilroy has departed the project because of travel restrictions that are in place due to COVID-19.Haynes already had connections to the project, as he was going to direct some future episodes. He is also located in the UK, where the series is being shot. The series will follow the backs...
More>>
New Animated Series Star Wars The Bad Batch Coming to Disney Plu...
7/13/2020 1:52 PM EDT
Disney+ has announced that they will be adding a new animated series to its lineup - "Star Wars: The Bad Batch". The series will premiere in 2021.The series follows the elite and experimental clones of the Bad Batch (first introduced in "The Clone Wars") as they find their way in a rapidly changing galaxy in the immediate aftermath of the Clone War. Members of Bad Batch - a unique squad of clones ...
More>>
New Star Wars Feature Film Coming from Academy Award Winner Taik...
5/4/2020 1:45 PM EDT
It has been announced that Academy Award® winner Taika Waititi will be directing and co-writing a new "Star Wars" feature film for theatrical release. Waititi recently won Best Adapted Screenplay for "Jojo Rabbit" and directed the widely-acclaimed first season finale episode of "The Mandalorian" on Disney+. Academy Award nominee Krysty Wilson-Cairns will co-write with Waititi.In addition, Emmy®-no...
More>>
The Rise of Skywalker Heading to Disney Plus on May 4th
4/27/2020 10:23 AM EDT
"Star Wars: The Rise of Skywalker", the final chapter in the Skywalker Saga, will be coming to Disney+ two months early. The release will be in honor of "May the 4th," affectionately known by fans around the world as "Star Wars Day." Now, for the first time, fans will be able to view the entire saga in one place.The film stars Carrie Fisher, Mark Hamill, Adam Driver, Daisy Ridley, John Boyega, Osc...
More>>
Rise of the Skywalker Digitally Released Ahead of Schedule
3/14/2020 10:10 PM EDT
Earlier, we wrote about Disney+ releasing "Frozen 2" three months early and now you can also catch "Star Wars: The Rise of Skywalker". The studio's digital release, which was slated for Tuesday, is available right now to buy on Amazon, Apple TV, Google Play, and Vudu.For fans who would rather wait and rent the film, it will be available to do so on March 31. You can also purchase the Blu-ray, DVD,...
More>>
Live Stream Star Wars: The Rise of Skywalker World Premier Event...
12/16/2019 3:05 PM EDT
Tonight, the World Premiere of Star Wars: The Rise of Skywalker, the highly anticipated conclusion of the Skywalker saga-the iconic story that has spanned four decades over nine episodes and spawned legions of fans worldwide, will take place. The event will be live-streamed with moments powered by Verizon 5G starting tonight at 5:30 p.m. PT / 8:30 p.m. ET on StarWars.com!Verizon, Disney StudioLAB ...
More>>
David Benioff and D.B. Weiss Leave New Star Wars Trilogy Project
10/29/2019 9:51 AM EDT
David Benioff and D.B. Weiss, from "Game of Thrones" fame, have decided to step away from their deal with Disney's Lucasfilm to do a trilogy in 2022."We love Star Wars. When George Lucas built it, he built us too. Getting to talk about Star Wars with him and the current Star Wars team was the thrill of a lifetime, and we will always be indebted to the saga that changed everything," they said in a ...
More>>
Kevin Feige Developing New Star Wars Film
9/26/2019 11:08 AM EDT
It's been reported that Kevin Feige will be developing a "Star Wars" film. The news was confirmed by Disney."We are excited about the projects Kathy and the Lucasfilm team are working on, not only in terms of Star Wars, but also Indiana Jones and reaching into other parts of the company including Children of Blood and Bone with Emma Watts and Fox. With the close of the Skywalker Saga, Kathy is pur...
More>>
Ewan McGregor to Reprise Role of Obi-Wan Kenobi for Disney+
8/16/2019 2:54 PM EDT
It's being reported that Ewan McGregor is currently in talks to join the cast of a yet-untitled TV series for Disney+. He would be reprising his role of Obi-Wan Kenobi.McGregor played Kenobi in The Phantom Menace (1999), Attack of the Clones (2002) and Revenge of the Sith (2005), playing a young version of the character.Obi-Wan Kenobi was originally played by Alec Guinness 1977's Star Wars: A New ...
More>>
Veteran Star Wars Alum Reunite at Galaxy's Edge Disneyland
5/30/2019 1:20 PM EDT
Galaxy's Edge was launched this week at the Disneyland Resort in Anaheim, CA with a full-scale media blitz. In addition to a firework and a light show, some of our favorite Star Wars alum made an appearance. Mark Hamill, Harrison Ford, and Billy Dee Williams gathered on stage with George Lucas and Bob Iger.The new "land" is an immersive experience with vehicle replicas including the Millenium Falc...
More>>
Star Wars: Episode I - The Phantom Menance 3D Theatrical Review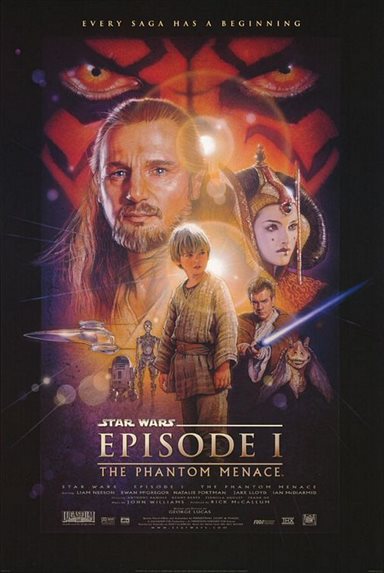 There is nary a person alive today who hasn't heard of Star Wars or seen the influence it has had on culture. So to explain it to you seems unnecessary but for the sake of this article let's do so. Star Wars follows a group of resistance fighters who are trying to topple the regime of an evil emperor, at the same time a young farm boy eager to make his mark in the world discovers he is part of an ancient culture capable of tapping into a mystical energy that exists in the universe.

The original movie aired in the late 70's and spawned two sequels titled The Empire Strikes Back and Return of the Jedi. The movies were a blockbuster success and made George Lucas (its creator) a household name. But many fans, for many years, waited for Mr. Lucas to return to that universe and map out the rise and fall of Anakin Skywalker, who would one day become Darth Vader. Finally near the end of the 90's the wait was over when the first of the prequel trilogy arrived in theaters titled Star Wars: The Phantom Menace. The movie went back a generation to a time when the Republic was still the major political force in the universe and the Jedi were the guardians of peace throughout the galaxy.

The plot went something like this: A Jedi knight and his young pupil become mixed in a political battle over trading rights which is being secretly manipulated by a dark figure. The two Jedi wind up aiding two young children, one who is a poor boy from a backwater planet and another who is the leader of the people whose planet is being laid siege. With me so far? By the end of the film the young boy is recruited into the Jedi as an apprentice, or padawan, and the planet of Naboo is saved however the figure who manipulated this entire situation is never discovered and that lays the seeds for the sequel.

Reaction to this film was mixed and many fans felt it did not do the series justice; this fan was one of those non-supporters. The movie just doesn't work on many levels; there is no clear villain, the over use of CGI in the film disconnects you from the whole experience and the performances are superbly underwhelming. At the risk of sounding like someone refusing to adapt to the "new", the old films were simply better, the characters were more fleshed out, performances were stronger, and the effects in the movie weren't completely reliant on CGI but instead made use of models which gave the effects scenes more substance. Even scenes with alien beings were better because the first film relied on live actors in make-up instead of forcing an actor to play against nothing and add in a CGI character later.

Let's stop here because this could go on for a while, and the point of this article is to discuss the re-re-release of The Phantom Menace in theaters, now in 3D. 3D is a questionable format right now, some films benefit from it because they are engineered that way while others are made worse because 3D is just slapped on afterwards. The Phantom Menace is a good example of the latter; the film was clearly not made with the idea of 3D in mind so many of the scenes where it would be useful or fun wind up being neither.

Suffice it to say, this film just doesn't work on many levels and putting it back in theaters now just seems wholly unnecessary especially considering the reaction to it. But it seems that releasing Star Wars in theaters is all that is left to Lucas at this point. It's not something to feel bad about, he made some great films besides Star Wars; go check out the Indiana Jones series or American Graffiti. Those are some classic films and the impact his effects studio has had on cinema in the 20th century is unparalleled.

So in closing let's not be too upset over Star Wars, no matter how anyone feels about it, its impact on the world is clear and unchangeable. May the Force always be with us.

For more reviews please visit our film/television review section.
SPONSORED LINKS