Star Wars: Episode I - The Phantom Menance (1999)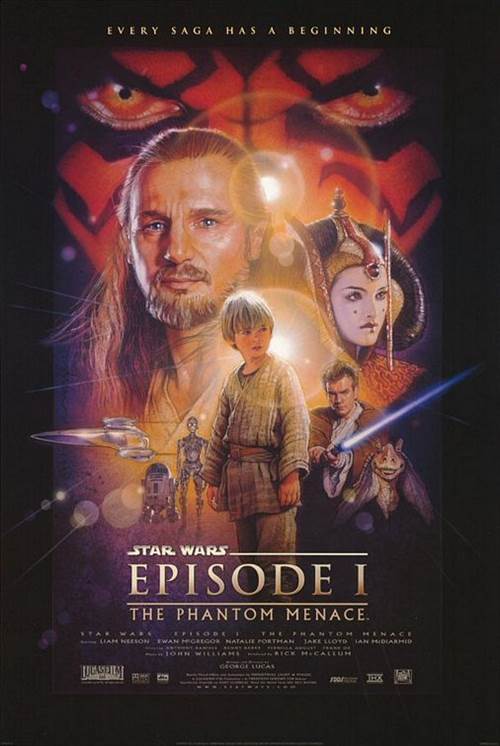 | | |
| --- | --- |
| Director: | |
| Writers: | |
| Cast: | |
| Released: | Wednesday, May 19, 1999 |
| Length: | 133 minutes |
| Studio: | 20th Century Fox |
| Genre: | Sci-Fi/Fantasy, Action/Adventure |
| Rating: | Some material may not be suitable for children. |
Star Wars: Episode I - The Phantom Menance Synopsis
When the evil Trade Federation plots to take over the peaceful planet of Naboo, Jedi warrior Qui-Gon Jinn and his apprentice Obi-Wan Kenobi embark on an amazing adventure to save the planet. With them on their journey is the young queen Amidala, Gungan outcast JarJar Binks, and the powerful Captain Panaka, who will all travel to the faraway planets of Tatooine and Coruscant in a futile attempt to save their world from Darth Sidious, leader of the Trade Federation, and Darth Maul, the strongest Dark Lord of the Sith to ever wield a lightsaber.

Purchase DVD/Blu-ray/4K UHD physical copy of Star Wars: Episode I - The Phantom Menance today at Amazon.com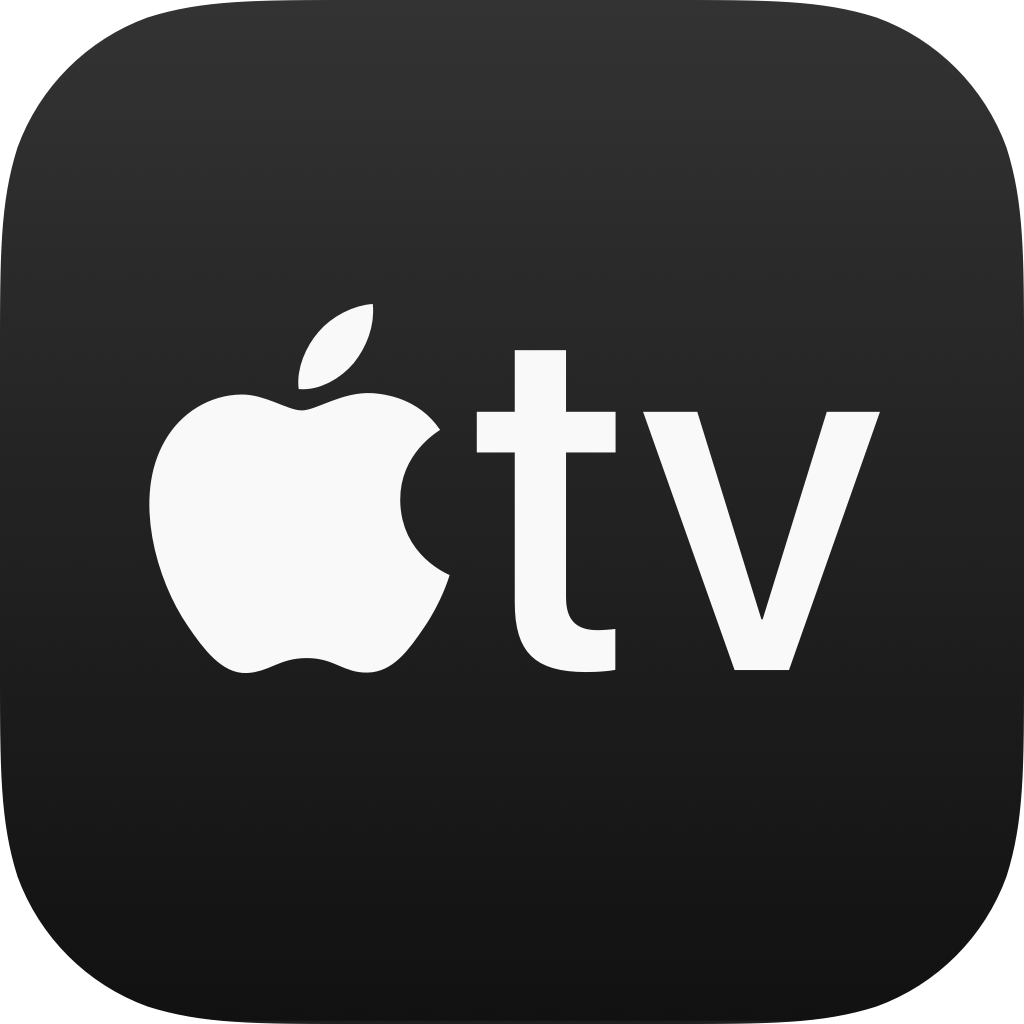 Stream Star Wars: Episode I - The Phantom Menance in Digital HD/4K from the AppleTV store.
Star Wars: Episode I - The Phantom Menance images are © 20th Century Fox. All Rights Reserved.
Rogue One: A Star Wars Story Coming to IMAX for Special Event
8/18/2022 3:16 PM EST
Today, Lucasfilm announced that they will be showcasing the feature film "Rogue One: A Star Wars Story" and exclusive, special footage from "Andor,"  Lucasfilm's newest, upcoming series for Disney+, in 150 IMAX theaters across the U.S. and Canada for one week beginning on August 26.This release will be digitally re-mastered into the image and sound quality of The IMAX Experience® with proprietary ...
More>>
Hayden Christensen Talks Vader in Upcoming Obi-Wan Series
3/10/2022 4:01 PM EST
In May, we will finally get to see the much anticipated Disney+ series "Obi-Wan Kenobi". The series will mark the return of "Star Wars" film stars Ewan McGregor and Hayden Christensen, both set to reprise their roles as Obi-Wan Kenobi and Anakin Skywalker/Darth Vader, respectively.Christensen recently spoke about the upcoming series, warning, "We're going to see a very powerful Vader."Series write...
More>>
The Book of Boba Fett Begins Wednesday December 29 on Disney Plus
12/27/2021 1:49 PM EST
Just a reminder for all you Star Wars fans that "The Book of Boba Fett" will be premiering on Disney+ this Wednesday, December 29."The Book of Boba Fett," a thrilling Star Wars adventure teased in a surprise end-credit sequence following the Season 2 finale of "The Mandalorian," finds legendary bounty hunter Boba Fett and mercenary Fennec Shand navigating the galaxy's underworld when they return t...
More>>
Book of Boba Fett Red Carpet Premier Postponed
12/22/2021 3:05 PM EST
Due to the rise of Covid cases, the red carpet premier of Disney Plus' "The Book of Boba Fett" has been postponed."Out of an abundance of caution, we will be postponing the 'Boba Fett' fan event. It will be relocated to the 8th of February in celebration of the finale," the studio said in a statement.The premier was to take place at the El Capitan Theatre in Hollywood on January 4. "The Book of Bo...
More>>
Ivanna Sakhno Cast in Star Wars Ahsoka
11/29/2021 5:11 PM EST
Ivanna Sakhno (Pacific Rim: Uprising) has been cast in the upcoming Disney+ series "Star Wars: Ahsoka", a spinoff from "The Mandalorian".Sakhno will star alongside Rosario Dawson and Natasha Liu Bordizzo."Star Wars: Ahsoka" is executive produced by Jon Favreau and Dave Filoni and written by Filoni. Production is set to begin in March 2022....
More>>
Obi-Wan Kenobi Series Confirmed for 2022 Release
11/12/2021 1:47 PM EST
It has been confirmed by Disney that their Obi-Wan Kenobi series will debut on Disney+ next year. There's no word yet on a specific date, however.A sizzle reel shown to the press showed some concept art as well as behind-the-scenes footage with Ewan McGregor and Hayden Christensen. In the footage, McGregor says, "Have another swing at each other, might be quite satisfying for everybody".He added, ...
More>>
Star Wars Rogue Squadron Production Delayed
11/8/2021 3:56 PM EST
"Rogue Squadron", a "Star Wars" film that was slated to be released in December 2023, will now be delayed. It has been removed from Disney's production schedule.Director Patty Jenkins is said to have some scheduling conflicts, so the production that was supposed to start in 2022 won't be happening.Jenkins directed "Wonder Woman" and "Wonder Woman 1984", as well as 2003's "Monster". She also has a ...
More>>
Disney+ Brings Back Hayden Christensen As Anakin Skywalker In Ah...
10/25/2021 9:43 AM EST
Hayden Christensen, the actor who portrayed Jedi Knight, Anakin Skywalker in both Attack of the Clones and Revenge of the Sith. Christensen will return to his role in Ahsoka, the upcoming live-action series on Disney Plus.  The series will star Rosario Dawson as Ahsoka Tano, the former apprentice of Anakin Skywalker.Disney will have to be creative, Christensen's casting in Ahsoka is set around the...
More>>
The Book of Boba Fett Set for a December Release Exclusively on ...
9/29/2021 3:15 PM EST
Disney+ has announced that the new series "The Book of Boba Fett" will be premiering on Wednesday, December 29.The Lucasfilm, Star Wars universe series finds legendary bounty hunter Boba Fett and mercenary Fennec Shand navigating the Galaxy's underworld when they return to the sands of Tatooine to stake their claim on the territory once ruled by Jabba the Hutt and his crime syndicate.Temuera Morri...
More>>
Star Wars: The Empire Strikes (Symphonic Suite from the Original...
8/14/2021 12:53 PM EST
Composer John Williams was born in 1932 in Queens, New York.  Over the span of a seventy-year career, he became a composer, conductor, pianist, and trombonist and has won an astounding twenty-five Grammys.  He has also been nominated for fifty-two Academy awards, placing him just behind Walt Disney for the most Oscar nominations.  His 1977 score for Star Wars was chosen as the greatest film score ...
More>>
Star Wars: The Bad Batch Gets a Season 2 Renewal From Disney+
8/5/2021 2:05 PM EST
"Fans have enthusiastically embraced the action and drama of "Star Wars: The Bad Batch," and we are excited to see the Star Wars animated universe continue to expand on Disney+. As the dedicated streaming home for the Star Wars franchise, we can't wait for the second season of this fan-favorite animated series," said Michael Paull, President of Disney+ and ESPN+.Executive producer Dave Filoni said...
More>>
Loki Writer Michael Waldron to Write New Star Wars Film
1/7/2021 1:44 PM EST
It's being said that Michael Waldron ("Doctor Strange In The Multiverse Of Madness") has been chosen to pen a new "Star Wars" feature film. This would be just one part of the recent deal that Waldron and Walt Disney Studios struck.The writer was also involved in the Disney+ series "Loki", as a head writer and executive producer. There is a chance that this new deal could also bring him back for "L...
More>>
Star Wars: Episode I - The Phantom Menance 3D Theatrical Review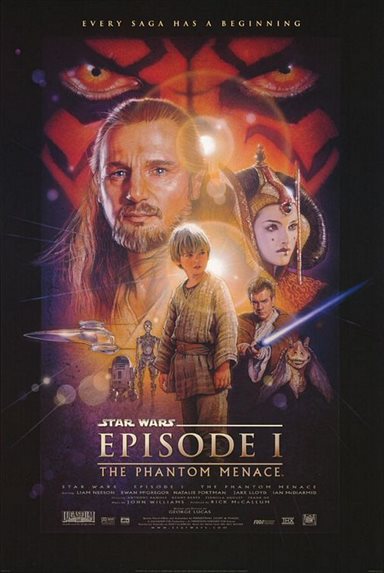 There is nary a person alive today who hasn't heard of Star Wars or seen the influence it has had on culture. So to explain it to you seems unnecessary but for the sake of this article let's do so. Star Wars follows a group of resistance fighters who are trying to topple the regime of an evil emperor, at the same time a young farm boy eager to make his mark in the world discovers he is part of an ancient culture capable of tapping into a mystical energy that exists in the universe.

The original movie aired in the late 70's and spawned two sequels titled The Empire Strikes Back and Return of the Jedi. The movies were a blockbuster success and made George Lucas (its creator) a household name. But many fans, for many years, waited for Mr. Lucas to return to that universe and map out the rise and fall of Anakin Skywalker, who would one day become Darth Vader. Finally near the end of the 90's the wait was over when the first of the prequel trilogy arrived in theaters titled Star Wars: The Phantom Menace. The movie went back a generation to a time when the Republic was still the major political force in the universe and the Jedi were the guardians of peace throughout the galaxy.

The plot went something like this: A Jedi knight and his young pupil become mixed in a political battle over trading rights which is being secretly manipulated by a dark figure. The two Jedi wind up aiding two young children, one who is a poor boy from a backwater planet and another who is the leader of the people whose planet is being laid siege. With me so far? By the end of the film the young boy is recruited into the Jedi as an apprentice, or padawan, and the planet of Naboo is saved however the figure who manipulated this entire situation is never discovered and that lays the seeds for the sequel.

Reaction to this film was mixed and many fans felt it did not do the series justice; this fan was one of those non-supporters. The movie just doesn't work on many levels; there is no clear villain, the over use of CGI in the film disconnects you from the whole experience and the performances are superbly underwhelming. At the risk of sounding like someone refusing to adapt to the "new", the old films were simply better, the characters were more fleshed out, performances were stronger, and the effects in the movie weren't completely reliant on CGI but instead made use of models which gave the effects scenes more substance. Even scenes with alien beings were better because the first film relied on live actors in make-up instead of forcing an actor to play against nothing and add in a CGI character later.

Let's stop here because this could go on for a while, and the point of this article is to discuss the re-re-release of The Phantom Menace in theaters, now in 3D. 3D is a questionable format right now, some films benefit from it because they are engineered that way while others are made worse because 3D is just slapped on afterwards. The Phantom Menace is a good example of the latter; the film was clearly not made with the idea of 3D in mind so many of the scenes where it would be useful or fun wind up being neither.

Suffice it to say, this film just doesn't work on many levels and putting it back in theaters now just seems wholly unnecessary especially considering the reaction to it. But it seems that releasing Star Wars in theaters is all that is left to Lucas at this point. It's not something to feel bad about, he made some great films besides Star Wars; go check out the Indiana Jones series or American Graffiti. Those are some classic films and the impact his effects studio has had on cinema in the 20th century is unparalleled.

So in closing let's not be too upset over Star Wars, no matter how anyone feels about it, its impact on the world is clear and unchangeable. May the Force always be with us.

For more reviews please visit our film/television review section.
SPONSORED LINKS