Star Wars: Episode II - Attack of the Clones (2002)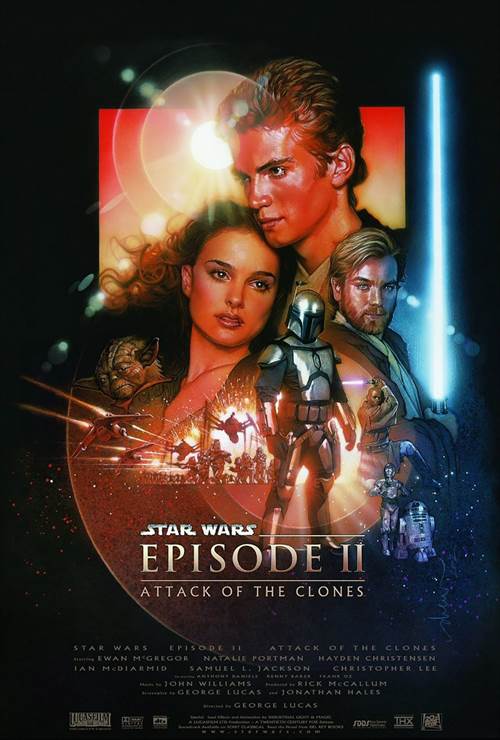 Share this:
| | |
| --- | --- |
| Director: | |
| Writers: | George Lucas, Jonathan Hales |
| Cast: | |
| Released: | Thursday, May 16, 2002 |
| Length: | 142 minutes |
| Studio: | 20th Century Studios |
| Genre: | Sci-Fi/Fantasy |
| Rating: | Some material may not be suitable for children. |
Synopsis
Set 10 years after the events in The Phantom Menace. After an assassination attempt on the life of Senator Padme Amidala (Natalie Portman), Jedi Obi-Wan Kenobi (Ewan McGregor) and his Padawan learner Anakin Skywalker (Hayden Christensen) are sent to investigate. After tracking down the assassin, she is killed before any information can be driven out of her. The two Jedi are then sent on two different missions, Anakin is sent to Naboo with Padme and Obi-Wan is sent to the planet of Kamino where he will investigate the assassination attempts. Little does he know, he is investigating some of the biggest events of the Star Wars saga, as he finds out that there is a connection between the assassination attempts and a separtists movement led by a former Jedi (Christopher Lee) against the Republic. The Galactic Republic finds itself at the brink of a civil war.
Purchase DVD/Blu-ray/4K physical copy of Star Wars: Episode II - Attack of the Clones today at
Download Star Wars: Episode II - Attack of the Clones in Digital HD/4K from the iTunes store.
Star Wars: Episode II - Attack of the Clones images are © 20th Century Studios. All Rights Reserved.


New Star Wars Feature Film Coming from Academy Award Winner Taik...
5/4/2020 1:45 PM EDT
It has been announced that Academy Award® winner Taika Waititi will be directing and co-writing a new "Star Wars" feature film for theatrical release. Waititi recently won Best Adapted Screenplay for "Jojo Rabbit" and directed the widely-acclaimed first season finale episode of "The Mandalorian" on Disney+. Academy Award nominee Krysty Wilson-Cairns will co-write with Waititi.In addition, Emmy®-no...
More>>
The Rise of Skywalker Heading to Disney Plus on May 4th
4/27/2020 10:23 AM EDT
"Star Wars: The Rise of Skywalker", the final chapter in the Skywalker Saga, will be coming to Disney+ two months early. The release will be in honor of "May the 4th," affectionately known by fans around the world as "Star Wars Day." Now, for the first time, fans will be able to view the entire saga in one place.The film stars Carrie Fisher, Mark Hamill, Adam Driver, Daisy Ridley, John Boyega, Osc...
More>>
Rise of the Skywalker Digitally Released Ahead of Schedule
3/14/2020 10:10 PM EDT
Earlier, we wrote about Disney+ releasing "Frozen 2" three months early and now you can also catch "Star Wars: The Rise of Skywalker". The studio's digital release, which was slated for Tuesday, is available right now to buy on Amazon, Apple TV, Google Play, and Vudu.For fans who would rather wait and rent the film, it will be available to do so on March 31. You can also purchase the Blu-ray, DVD,...
More>>
Live Stream Star Wars: The Rise of Skywalker World Premier Event...
12/16/2019 3:05 PM EDT
Tonight, the World Premiere of Star Wars: The Rise of Skywalker, the highly anticipated conclusion of the Skywalker saga-the iconic story that has spanned four decades over nine episodes and spawned legions of fans worldwide, will take place. The event will be live-streamed with moments powered by Verizon 5G starting tonight at 5:30 p.m. PT / 8:30 p.m. ET on StarWars.com!Verizon, Disney StudioLAB ...
More>>
David Benioff and D.B. Weiss Leave New Star Wars Trilogy Project
10/29/2019 9:51 AM EDT
David Benioff and D.B. Weiss, from "Game of Thrones" fame, have decided to step away from their deal with Disney's Lucasfilm to do a trilogy in 2022."We love Star Wars. When George Lucas built it, he built us too. Getting to talk about Star Wars with him and the current Star Wars team was the thrill of a lifetime, and we will always be indebted to the saga that changed everything," they said in a ...
More>>
Kevin Feige Developing New Star Wars Film
9/26/2019 11:08 AM EDT
It's been reported that Kevin Feige will be developing a "Star Wars" film. The news was confirmed by Disney."We are excited about the projects Kathy and the Lucasfilm team are working on, not only in terms of Star Wars, but also Indiana Jones and reaching into other parts of the company including Children of Blood and Bone with Emma Watts and Fox. With the close of the Skywalker Saga, Kathy is pur...
More>>
Ewan McGregor to Reprise Role of Obi-Wan Kenobi for Disney+
8/16/2019 2:54 PM EDT
It's being reported that Ewan McGregor is currently in talks to join the cast of a yet-untitled TV series for Disney+. He would be reprising his role of Obi-Wan Kenobi.McGregor played Kenobi in The Phantom Menace (1999), Attack of the Clones (2002) and Revenge of the Sith (2005), playing a young version of the character.Obi-Wan Kenobi was originally played by Alec Guinness 1977's Star Wars: A New ...
More>>
Veteran Star Wars Alum Reunite at Galaxy's Edge Disneyland
5/30/2019 1:20 PM EDT
Galaxy's Edge was launched this week at the Disneyland Resort in Anaheim, CA with a full-scale media blitz. In addition to a firework and a light show, some of our favorite Star Wars alum made an appearance. Mark Hamill, Harrison Ford, and Billy Dee Williams gathered on stage with George Lucas and Bob Iger.The new "land" is an immersive experience with vehicle replicas including the Millenium Falc...
More>>
Carrie Fisher to Make Appearance in The Rise of Skywalker
5/23/2019 1:38 PM EDT
"Star Wars" fans will be seeing an unexpected character in the next film. J.J. Abrams has revealed that the late Carrie Fisher will be included in "Star Wars: The Rise of Skywalker."How can that be? Well, J.J. knew that a digital version of Fisher wouldn't be right but remembered that there was extra footage of Fisher from 2015's "The Force Awakens". He decided to incorporate that into the new fil...
More>>
Game of Thrones' David Benioff and D.B. Weiss to Head Up Next St...
5/14/2019 1:21 PM EDT
It has been confirmed that Game of Thrones showrunners David Benioff and D.B. Weiss will head up the next Star Wars film. Walt Disney Company chairman Bob Iger confirmed the news today at the MoffetNathanson Media & Communications Summit."I haven't seen [Episode] 9 finished yet, but I'm confident based on the pieces that I've seen and the script that I've read that it's going to be extremely popul...
More>>
Walt Disney Studios Releases Film List Through 2027
5/7/2019 4:31 PM EDT
The Walt Disney Studios have released their current film schedule through 2027. The calendar includes some changes that were made including some major additions.This summer alone will see the release of some major films including  Disney's Aladdin on May 24, Fox's Dark Phoenix on June 7, Pixar's Toy Story 4 on June 21, Fox's Stuber on July 12, and Disney's The Lion King on July 19. the rest of the...
More>>
Chewbacca Actor Peter Mayhew Dies at 74
5/2/2019 9:40 PM EDT
Peter Mayhew, known to the world as the man behind the character of Star Wars' Chewbacca, has died at 74. The news was announced on his Twitter account today.Mayhew portrayed Chewbacca in Star Wars (1977), The Empire Strikes Back (1980), Return of the Jedi (1983), Revenge of the Sith (2005) and The Force Awakens (2015). His former Star Wars co-stars took to social media to express their feelings a...
More>>
SPONSORED LINKS