Doom Patrol (2019)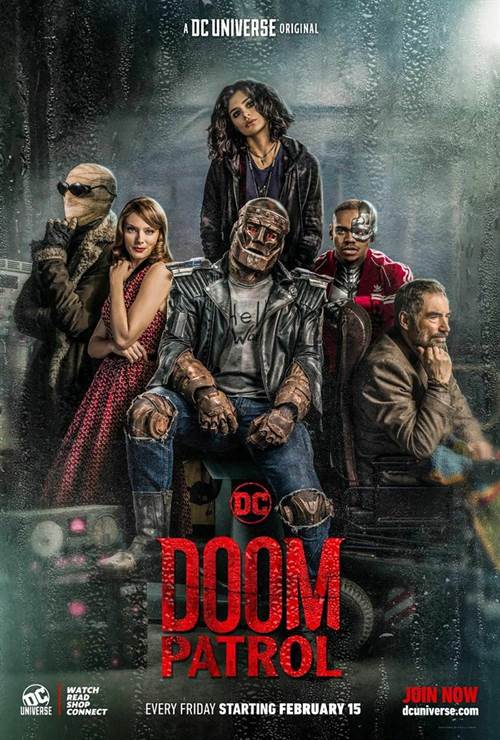 Share this:
| | |
| --- | --- |
| Created By: | |
| Writers: | |
| Cast: | |
| Air Date: | Friday, February 15, 2019 |
| Studio: | Warner Bros. |
| Genre: | Television |
| Rating: | This program is specifically designed to be viewed by adults and therefore may be unsuitable for children under 17. |
Synopsis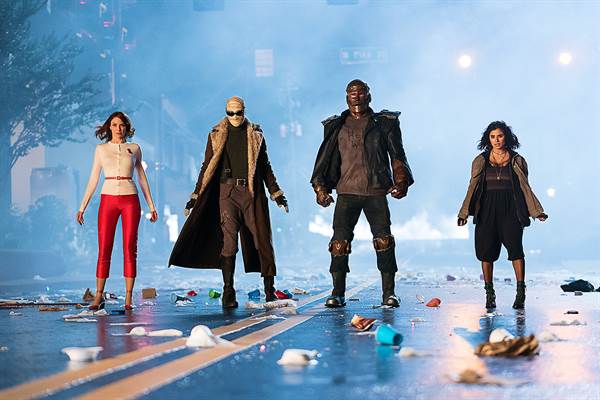 DOOM PATROL reimagines one of DC's most beloved groups of Super Heroes: Robotman aka Cliff Steele (BRENDAN FRASER), Negative Man aka Larry Trainor (MATT BOMER), Elasti-Woman aka Rita Farr (APRIL BOWLBY) and Crazy Jane (DIANE GUERRERO), led by modern-day mad scientist Niles Caulder aka The Chief (TIMOTHY DALTON). Each member of the Doom Patrol suffered a horrible accident that gave them superhuman abilities, but also left them scarred and disfigured. Traumatized and downtrodden, the team found their purpose through The Chief, coming together to investigate the weirdest phenomena in existence. Following the mysterious disappearance of The Chief these reluctant heroes will find themselves in a place they never expected to be, called to action by none other than Cyborg (JOIVAN WADE), who comes to them with a mission hard to refuse. Part support group, part Super Hero team, the Doom Patrol is a band of superpowered freaks who fight for a world that wants nothing to do with them.

Purchase DVD/Blu-ray/4K UHD physical copy of Doom Patrol today at Amazon.com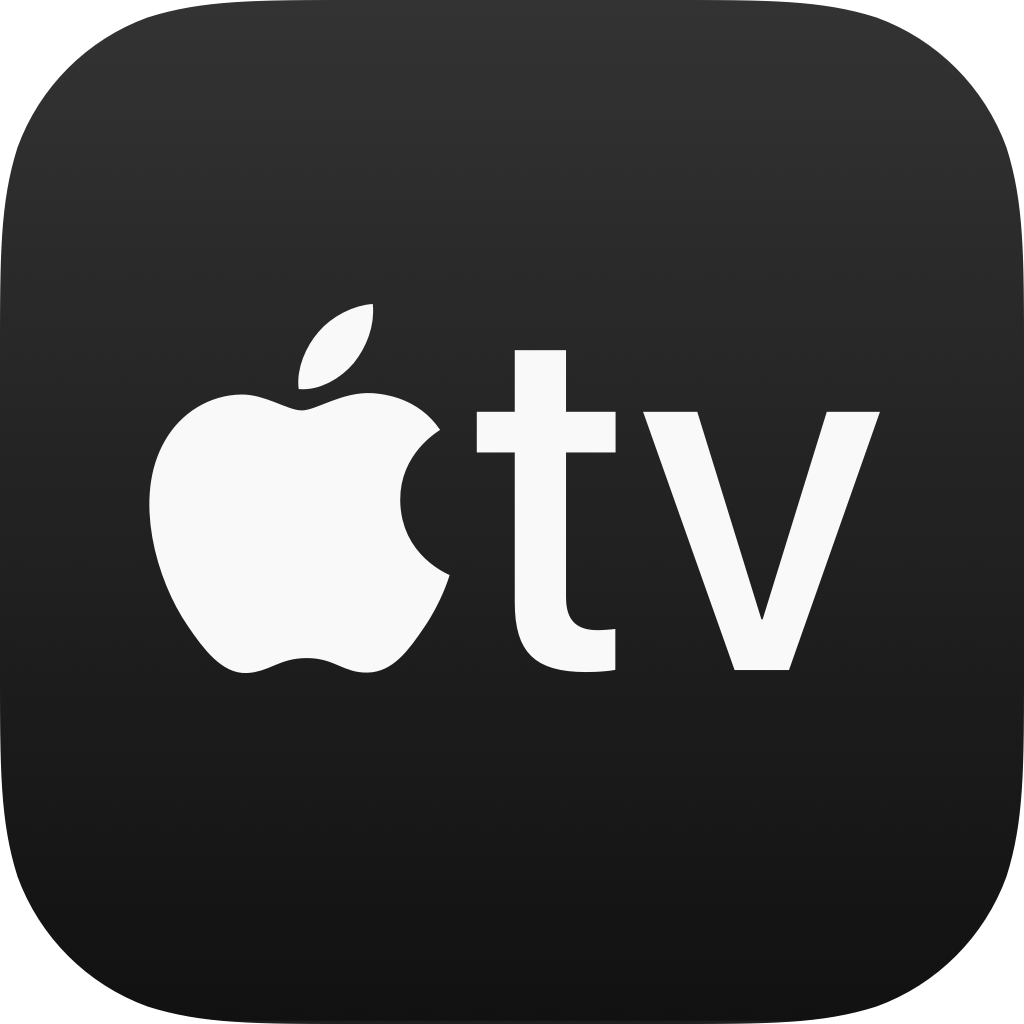 Download Doom Patrol in Digital HD/4K from the iTunes store.
Doom Patrol images are © Warner Bros.. All Rights Reserved.
Doom Patrol: Season Two Review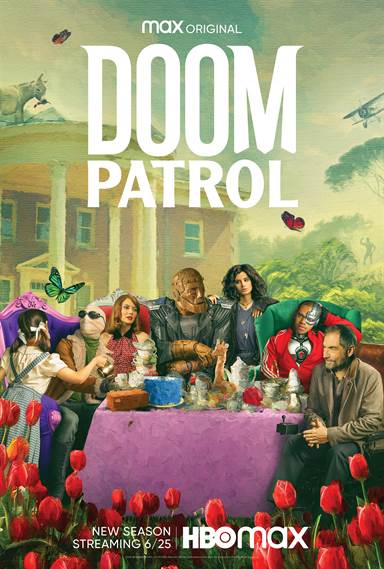 If there was an "Island of Misfit Toys" in the world of comic books, Doom Patrol would certainly fit the bill perfectly. First appearing in My Greatest Adventure in 1963, The Doom Patrol is primarily made up of "Chief" Niles Caulder (Timothy Dalton; The Living Daylights), "Robotman" Cliff Steele (Brendan Fraser; The Mummy/ Riley Shanahan; The Gender Card Flip), "Elast-girl" Rita Farr (April Bowlby; Drop Dead Diva), Cyborg (Joivan Wade; The First Purge); "Jane" Kay Challis (Diane Guerrero; Orange Is the New Black) and "Negative Man" Larry Trainor (Matt Bomer; Magic Mike/ Matthew Zuk; Greyhound). Last year DC Universe aired thirteen episodes of the television series and, based on the first few episodes, this seasons seem to be just as crazy and bizarre are season one.

If you remember at the end of last season we were introduced Chief's daughter, Dorothy (newcomer Abigail Shapiro) and her merry band of "friends". After everyone is swallowed by Ezekiel the cockroach (Curtis Armstrong; Revenge of the Nerds), Larry unleashes a nuclear blast trapping Mr. Nobody (Alan Tudyk; Firefly) and the Beard Hunter (Tommy Snider; Shrill) a painting. When the group emerges from Ezekiel they are all miniature, aside from Larry. This is how we find them as Season two opens.

Everyone is living in tents on Larry's train set table while Larry, with chief's help, tries to figure out how to make them all big again. Cliff is angry and cursing up a storm, Jane is "self-medicating" to keep the other personalities quiet, Rita is trying to learn to control her elastic body with the help of Cyborg and Dorothy sits alone hoping at some point the others will befriend her in spite of her deformed appearance and her powers. It is at this point when Chief ponders the idea of giving up his talisman to help make everyone normal size again but he agonizes over who will care for Dorothy when he is gone as the talisman is what is prolonging his life.

The cast is terrific and, going into this second season, they seem more comfortable with their characters' flaws. We watch as they try to make amends with their pasts – for some disastrously – and come to terms with another new "normal" yet again; one that includes Dorothy. Fraser has the mouth of a sailor and throws temper tantrums like the man-child cliff is. Bomer is soft-spoken for the most part as he tries to reconcile his past and abandoning his boys. Bowlby is the perfect 50's iconic beauty even as she tries to find her inner strength. Guerrero, however, truly transforms as she takes on Jane's multiple personalities. Dalton is the perfect British elder statesman who uses delicate hands to calm Shapiro's Dorothy.

The storylines are darker (if that is possible) than the first season and the characters even more wild and scarier. The addition of Dorothy and her "friends" should bring about some more interesting plot twists than even season one and I'm curious to see where the producers take season two. Three episodes in and you already are wondering who will make it out alive, especially Chief and who does/doesn't want him to live.

DC universe, just like with their other productions, spares no expense on effects for Doom Patrol and the resulting visuals can be both amazing and horrifying all at once. The production team deserves a great deal of credit for creating realistic renditions of the inexplicable creatures they are tasked to make.
As I said at the beginning, Doom Patrol are the misfit toys and they do nothing to dispel that label in the beginning of season two. We'll just have to wait and see how far they take it over the course of season two.
Grade: A-

Read More Doom Patrol Reviews
For more reviews please visit our film/television review section.
For today's home video review, Austin Putnam talks DOOM PATROL season 2! Get the Blu-ray of seas...

DOOM PATROL reimagines one of DC's most beloved groups of Super Heroes: Robotman aka Cliff Steele (B...

DOOM PATROL reimagines one of DC's most beloved groups of Super Heroes: Robotman aka Cliff Steele (B...
The Doom Patrol isn't done with the weird just yet! See what the team's been up to in Season 2, star...
SPONSORED LINKS