Free Guy (2021)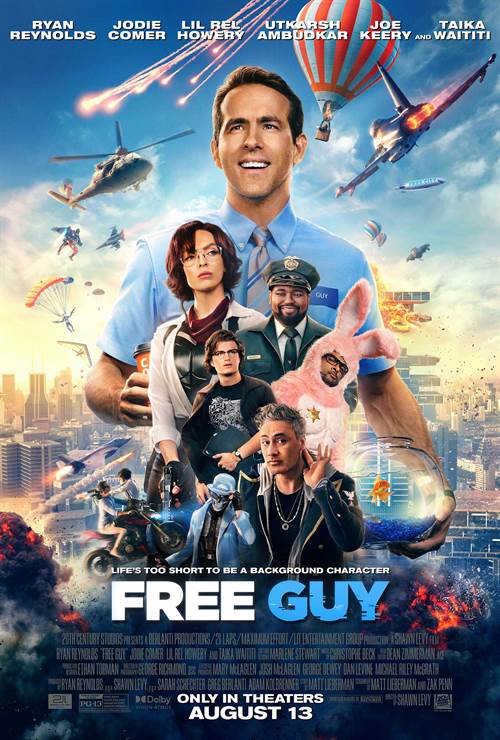 Share this:
| | |
| --- | --- |
| Director: | |
| Writers: | |
| Cast: | |
| Released: | Friday, August 13, 2021 |
| Length: | 115 minutes |
| Studio: | 20th Century Fox |
| Genre: | Action/Adventure |
| Rating: | Some material may be inappropriate for children under 13. |
Synopsis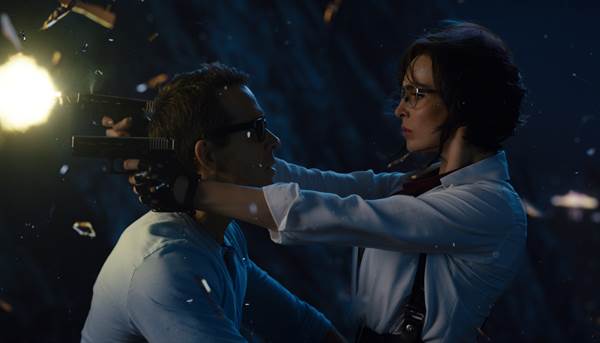 In "Free Guy," a bank teller who discovers he is actually a background player in an open-world video game, decides to become the hero of his own story…one he rewrites himself. Now in a world where there are no limits, he is determined to be the guy who saves his world his way…before it is too late. Starring Ryan Reynolds, Jodie Comer, Joe Keery, Lil Rel Howery, Utkarsh Ambudkar, and Taika Waititi, "Free Guy" is directed by Shawn Levy from a story by Matt Lieberman and a screenplay by Lieberman and Zak Penn. The film is produced by Ryan Reynolds, Shawn Levy, Greg Berlanti, Sarah Schechter and Adam Kolbrenner with Mary McLaglen, Josh McLaglen, George Dewey, Dan Levine and Michael Riley McGrath serving as executive producers.

Purchase DVD/Blu-ray/4K UHD physical copy of Free Guy today at Amazon.com
Free Guy images are © 20th Century Fox. All Rights Reserved.
Free Guy Theatrical Review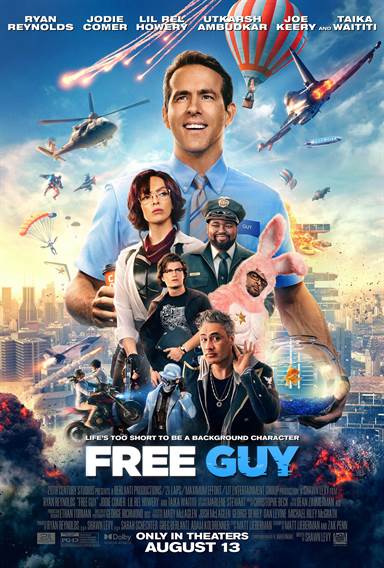 What would you do if your whole life was the same thing over and over again? Get up, go to work, head home, eat dinner and go to sleep. Sounds pretty mundane, doesn't it? However, what if you didn't know it was boring or repetitive and you were happy? For Guy (Ryan Reynolds; Deadpool), that is his existence until one day he does something different, almost as if he was able to exercise his free will. He then tries to do more each day and discovers he can until a villain plans to shut it all down forever. Free Guy, the new release from 20th Century Studios, demonstrates what can happen when we use our free will.
Guy is what is known in the gaming world as an NPC or Non-Player Character. This means he can't be controlled by a video game player and is in the background. Guy specifically is a bank teller at a bank that gets robbed at least four or five times a day by the "sunglasses people". Essentially, those characters are the ones being manipulated by the players. Then, one day Guy sees her, Millie/Molotov (Jodie Comer; Killing Eve), looking around Free City, and he is immediately smitten.
Over the course of the next several days, "Blue Shirt Guy", as he has become known, is an internet sensation with everyone wondering who he is. Meanwhile, Millie, along with her friend Keys (Joe Keery; Stranger Things), are trying to prove their original code is hidden within Free City and was stolen by Antoine (Taiki Waititi; JoJo Rabbit). With the arrival of the new and improved Guy, they can finally search for their code and use it to win their lawsuit. However, when Molotov discovers that Guy isn't a player but an NPC, she must break the news to him that neither he nor his world is real.
Let's face it…if you have seen Ryan Reynolds act in one movie, you have seen him, with slight variations, act in all his movies. He does the charming, witty, kind of cute, kind of dumb character that seems harmless, but I'd like to see him offer a little more range than a momentary breakdown finding out he isn't real. Comer, whether playing Millie or Molotov is excellent. She balances Reynolds out becomes the focus whenever she is on screen. Keely is simply cute and sweet and Waitiki, who seems to like portraying oddball characters, does a fine job as the eccentric owner of the gaming company.
Directed by Shawn Levy (Night at the Museum), Free Guy has something for everyone. If you are a part of the Millennial/Gen Z demographic – and especially if you are a gamer – there are lots of easter eggs for you. If you are part of Gen X, there are some jokes thrown in for you. If you know anything about pop culture in the last decade, you will LOVE the cameo appearances that pop up throughout the movie.
As a commentary on individuality and free-thinking, the movie has a message of fighting for what you want and not letting anyone bully you. As an enjoyable way to spend a few hours, it is hysterical and lighthearted and just makes you feel good. Whether or not you like video games, this movie will entertain you while thinking about diverging from the "rat race".
I believe Free Guy could be the surprise sleeper hit of Summer 2021.
Grade: B+
-- Allison Rose
For more reviews please visit our film/television review section.
In "Free Guy," a bank teller who discovers he is actually a background player in an open-world video...

In "Free Guy," a bank teller who discovers he is actually a background player in an open-world video...

In "Free Guy," a bank teller who discovers he is actually a background player in an open-world video...
SPONSORED LINKS