Antlers (2021)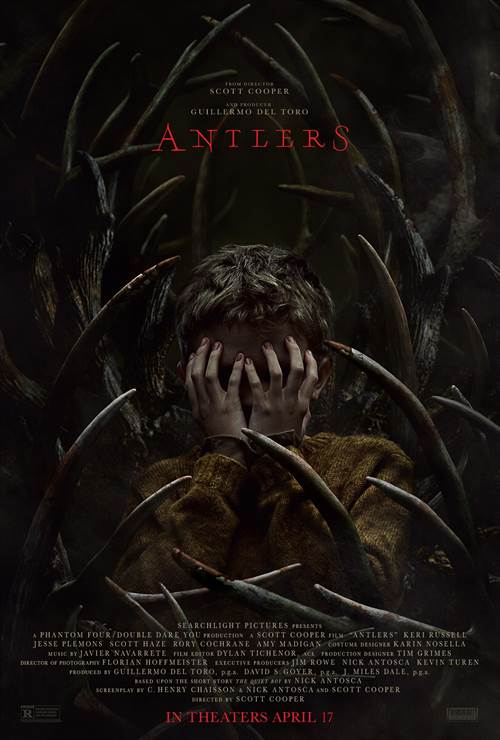 | | |
| --- | --- |
| Director: | |
| Writers: | |
| Cast: | |
| Released: | Friday, October 29, 2021 |
| Length: | 99 minutes |
| Studio: | Searchlight Pictures |
| Genre: | Horror |
| Rating: | Under 17 requires accompanying parent or adult guardian. |
Antlers Synopsis
From acclaimed fantasy film producer, Guillermo del Toro, and director Scott Cooper comes this disquieting horror thriller was written by C. Henry Chaisson, Nick Antosca, and Cooper. In ANTLERS, small-town Oregon elementary school teacher Julia Meadows (Keri Russell) notices something is "off" about Lucas, one of her students. He's a quiet loner, and when asked to join in storytelling and drawing assignments, he presents disturbing material about mythical beasts inspired by local lore. Concerned, Julia seeks to learn more about Lucas's home life. When it appears that he is living in dire conditions, Julia and her brother Paul (Jesse Plemons), the town's sheriff, explore further, eventually discovering that Lucas is harboring a dangerous secret. When they ultimately learn the whole truth about Lucas's family, things take a terrifying turn. Genre master del Toro is joined by producers David S. Goyer and J. Miles Dale, with Jim Rowe, Nick Antosca, and Kevin Turen as executive producers. Graham Greene, Scott Haze, Rory Cochrane, and Amy Madigan also star in this chilling story that ties an ancient terror to insatiable human greed and its modern wages of poverty, addiction, and environmental devastation.

Purchase DVD/Blu-ray/4K UHD physical copy of Antlers today at Amazon.com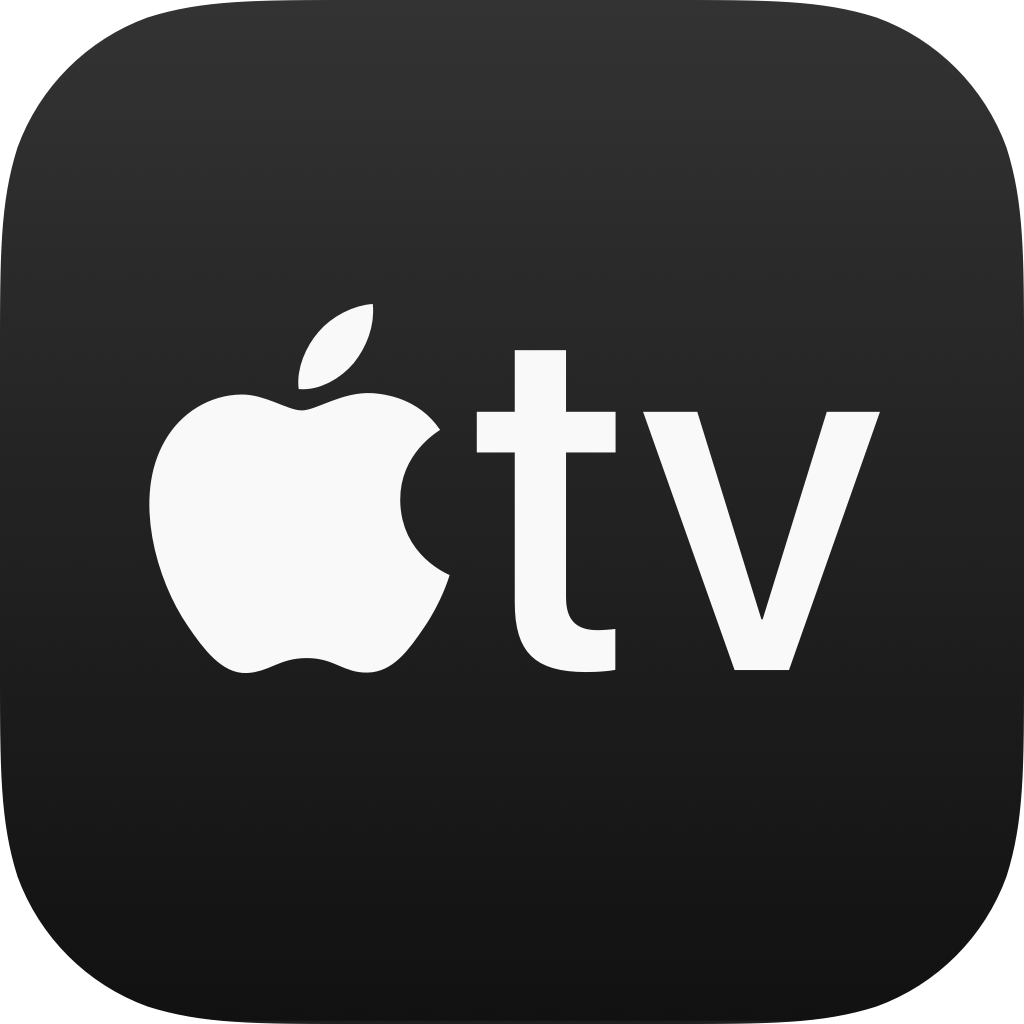 Stream Antlers in Digital HD/4K from the AppleTV store.
Listen to the Antlers soundtrack on Apple Music.
Antlers images are © Searchlight Pictures. All Rights Reserved.
See an Advanced Screening of Antlers in Florida
10/20/2021 9:05 PM EST
October…the month where we watch all the leaves turn color and fall to the ground.  When Pumpkin Spice is everywhere.  Where the smells of wood-burning fireplaces hang in the air (well at least in the northern part of the Country it does).  Where every week a new horror film debuts in movie theaters.  ANTLERS, the latest supernatural horror film, hopes to scare the pants off you right before Hallo...
More>>
Antlers Blu-ray Review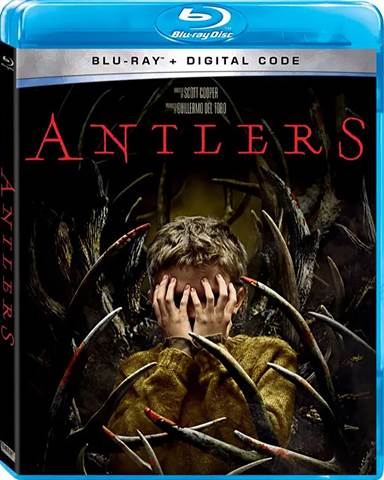 Folklore is generally described as made-up tales passed down from generation to generation often including magical and/or mythical creatures. Most cultures have their own variations of similar stories and monsters. For example, the Algonquians spoke of a humanoid-like creature with wood horns that ate human flesh, while Central and South America described an alien or reptilian-like monster that feeds on animal blood, especially goats.
Either way, these stories, and more, from around the world can be the perfect subject matter for horror films. For example, take this year's horror/thriller movie, Antlers. Based on the legend of the Wendigo, a creature attacks a small, Oregon town ripping the residents apart. Released in theaters at the end of October, it is now available for purchase on Blu-ray.
Frank Weaver (Scott Haze; Child of God) and his brother were scavenging for remnants when they walked down a dark tunnel and are attacked by a creature. Frank suddenly becomes sick as does his youngest son. However, Frank's older son, Lucas (Jeremy T. Thomas; The Righteous Gemstones) tries to take care of his father and brother who become sicker every day. Lucas' teacher, Julia Meadows (Keri Russell; Waitress) notices his behavior and his demonic drawings and is very concerned. As more townsfolk disappear and are later discovered dead, Lucas and his father become the key to unraveling the mystery.
Russell is skillful as always and she is joined by Jesse Plemons (The Irishman) who plays Julia's brother, Paul, the local sheriff investigating the strange murders. The two actors seem to fit together well as semi-estranged siblings. Thomas, however, is excellent as the young boy trying to process the monsters he is witnessing with the only family he has. Graham Greene (Dances with Wolves) stereotypically plays the older Native American who imparts the wisdom of the Wendigo on Julia and Paul.
The Guillermo del Toro (The Shape of Water) produced; Scott Cooper (Crazy Heart) directed feature offers several details (many of them gory) that stand out well in 1080p resolution. The color palate seems intentionally muted giving the texture of the film an ominous feel overall. The fog pervading the woods assists with the setting and overall feel of the film and offers Cooper scenes a foreboding heaviness. The DTS-HD Master audio 5.1 is solid with very good use of the surround speakers which helps the layered audio creep up on the viewer and suck them in.
The combo pack comes with the Blu-ray and the digital download. The other extras are The Evil Within, An Exploration of Modern Horror with Guillermo del Toro, Artifacts and Totems, Gods Walk Among Us, Cry of the Wendigo, Metamorphosis, and Comic-Con @ Home with Scott Cooper and Guillermo del Toro. The featurettes are informative, but I would have enjoyed more details on the folklore behind the story rather than several "making of" type extras.
I am all for "a slow burn" with movies leading up to the climactic scene, especially when it is a suspenseful thriller, however, when there is more of a snail's paced ember the movie tends to drag on too long. Unfortunately, that is the case with Antlers. Cooper takes much too long to get to the point and then the payoff simply doesn't seem worth it. The concept of building tension is a great device in filmmaking, but the goal is to build ACTUAL tension, which Antlers fails to do.
I wouldn't call Antlers much of a horror film, more like a thriller with some gore thrown in for impact. With a very good cast, there could have been more character development and additional exploration of the Wendigo legend in Oregon. For me, at least, it would have made Antlers more interesting.
Grade: C+
-- Allison Rose
For more reviews please visit our film/television review section.
Acclaimed director Scott Cooper (Crazy Heart, Hostiles) and horror maestro Guillermo del Toro (The Shape of Water) tease their upc...

From acclaimed fantasy film producer, Guillermo del Toro, and director Scott Cooper comes this disquieting horror thriller was written by C. Henry Cha...
For today's movie review, FlickDirect's Austin Putnam review's the Halloween 2021 release of ANTLERS!...
SPONSORED LINKS