The Legend of Zorro (2005)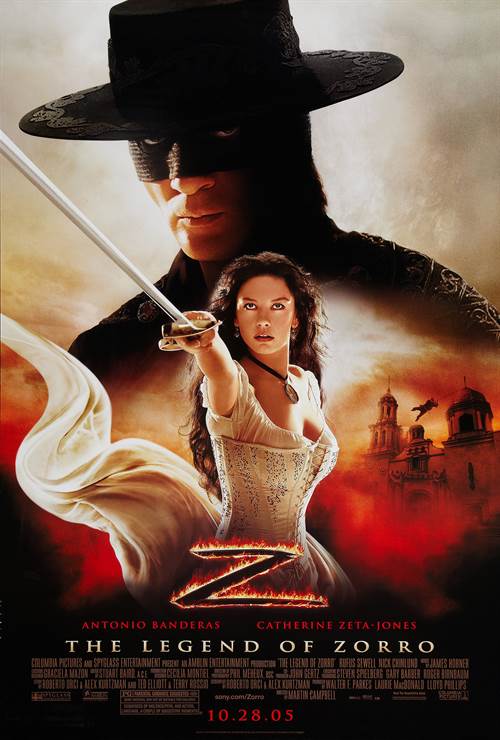 Share this:
| | |
| --- | --- |
| Director: | |
| Writers: | Roberto Orci, Alex Kurtzman, Roberto Orci |
| Cast: | |
| Released: | Friday, October 28, 2005 |
| Length: | 129 minutes |
| Studio: | Columbia Pictures |
| Genre: | Action/Adventure |
| Rating: | Some material may not be suitable for children. |
Synopsis
The original caped crusader is back! Antonio Banderas and Academy Award®-winner Catherine Zeta-Jones (2002, Best Supporting Actress, Chicago) return for more swashbuckling action, adventure and excitement in the explosive cinematic thrill-ride, THE LEGEND OF ZORRO! Having spent the last ten years fighting injustice and cruelty, Alejandro de la Vega (Banderas) is now facing his greatest challenge: his loving wife Elena (Zeta-Jones) has thrown him out of the house! Elena has filed for divorce and found comfort in the arms of Count Armand (Rufus Sewell), a dashing French aristocrat. But Alejandro knows something she doesn't: Armand is the evil mastermind behind a terrorist plot to destroy the United States. And so, with his marriage and country's future at stake, it's up to Zorro to try and save two unions before it's too late.
Purchase DVD/Blu-ray/4K physical copy of The Legend of Zorro today at
Download The Legend of Zorro in Digital HD/4K from the iTunes store.
Listen to the The Legend of Zorro soundtrack on Apple Music.
The Legend of Zorro images are © Columbia Pictures. All Rights Reserved.


The Legend of Zorro Review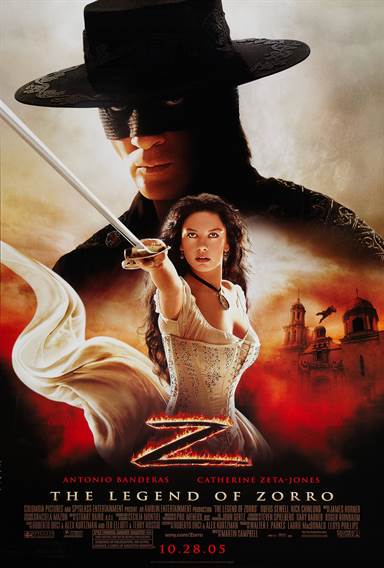 In 1998 The Mask of Zorro was released to critical success and moderate box office numbers. It was considered one of the best portrayals of the fictitious, heroic vigilante ever seen. That's probably why seven years later the sequel, The Legend of Zorro, made its way to theaters. With Antonio Banderas (Desperado) once again in the lead role and Catherine Zeta-Jones (Entrapment) also returning, the movie had all the ingredients to be successful. Unfortunately, as with so many sequels, it didn't see the same box office returns as the first film, and critics didn't seem to offer as much praise to this second helping. However, fifteen years after its release Sony Pictures has decided to offer Legend, along with Mask, in 4K.
Ten years after Zorro defeated Don Rafael Montero, the people of California are finally voting to become the 31st state in the United States of America. Of course, a group of bandits tries to steal the ballots but Zorro steps in to save the day. Elena (Zeta-Jones), however, is less than pleased when her husband, Alejandro (Banderas), refuses to give up his alter-ego, Zorro. After a fight, Alejandro leaves and a few months later Elena sends him divorce papers and takes up with an old friend, Armand (Rufus Sewell; The Man in the High Castle). However, not everything is quite as it seems and Zorro once again must fight to save California and his love, Elena.
Director Martin Campbell (GoldenEye) once again returns to lead this talented cast but the results aren't as successful as the first time. For starters, the story isn't as good and number two, the action sequences are far too long and overly ridiculous. Campbell and the writers tried to put too much into one film and the result is an overblown romantic, action, adventure that seems to have a touch of ADHD.
The 2160p video quality is clean and sharp for the most part but unfortunately, the transfer suffers the same fate that The Mask of Zorro did, in so much as some of the backgrounds look fake with the enhanced quality. The HDR, however, helps to make up for it with blooming colors that definitely pop. The Dolby 5.1 Audio seems crisp and clear for the most part with a decent balance between special effects/ambient noise and the dialogue. The Digital HD has only two extras which are the Director's deleted scenes and Armand's party featurette.
As I stated in my review of The Mask of Zorro, Banderas was an excellent casting choice and his chemistry with co-star Zeta-Jones is palpable. The young boy who plays their son, Joaquin (Adrian Alonso; Under the Same Moon) is rather cute and handles his scenes well. Sewell plays an excellent villain and this role is no exception. His facial features just naturally lend themselves to think of him as evil and he also pulls it off.
All in all, The Mask of Zorro and The Legend of Zorro are two of the better versions of this 100-year-old tale. However, the second film doesn't stack up to the first and I'm honestly glad there wasn't a third installment. Having said that, If they could get a good script together and find a dashing, young Hispanic actor to play the role, all they would need to do is wait about 10 years so Banderas could play the elder statesman passing on the torch to a younger man just like Anthony Hopkins did with Banderas in The Mask of Zorro. Certainly food for thought.
On that production note…if you plan to own The Mask of Zorro, You might as well get The Legend of Zorro as well since they are a set.
Grade: C+
For more reviews please visit our film/television review section.
SPONSORED LINKS