Words on Bathroom Walls (2020)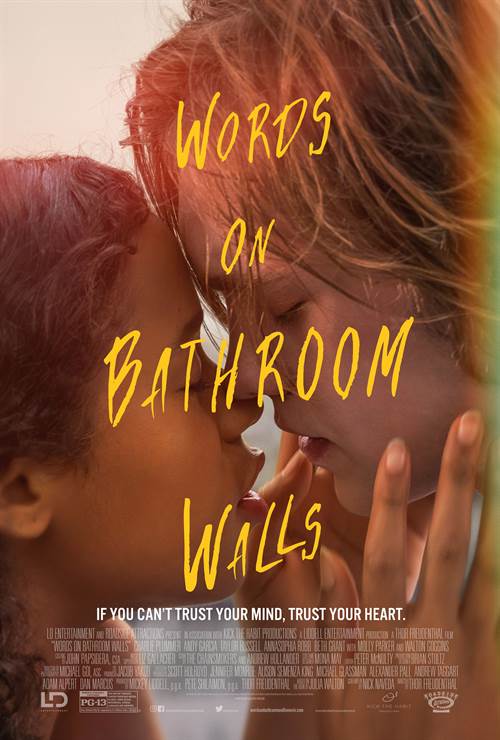 Share this:
| | |
| --- | --- |
| Director: | |
| Writers: | |
| Cast: | |
| Released: | Friday, August 21, 2020 |
| Length: | 111 minutes |
| Studio: | Roadside Attractions |
| Genre: | Drama |
| Rating: | Some material may be inappropriate for children under 13. |
Synopsis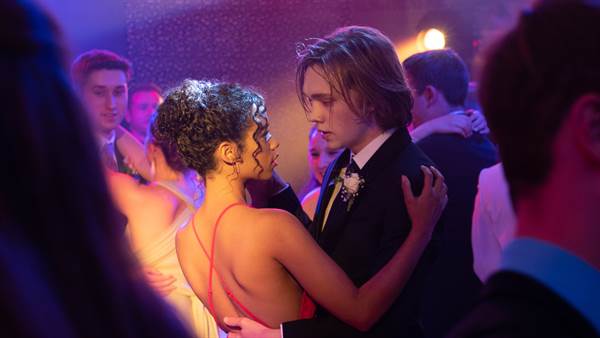 WORDS ON BATHROOM WALLS tells the story of witty and introspective Adam (Charlie Plummer), who appears to be your typical young adult – a little unkempt with raging hormones and excited about a future pursuing his dream of becoming a chef. Expelled halfway through his senior year following an incident in chemistry class, Adam is diagnosed with a mental illness. Sent to a Catholic academy to finish out his term, Adam has little hope of fitting in and just wants to keep his illness secret until he can enroll in culinary school. But when he meets outspoken and fiercely intelligent Maya (Taylor Russell), there is an instant soulful and comforting connection. As their romance deepens, she inspires him to open his heart and not be defined by his condition. Now, with the love and support of his girlfriend and family, Adam is hopeful for the very first time that he can see the light and triumph over the challenges that lie ahead.
Listen to the Words on Bathroom Walls soundtrack on Apple Music.
Words on Bathroom Walls images are © Roadside Attractions. All Rights Reserved.


Words on Bathroom Walls Review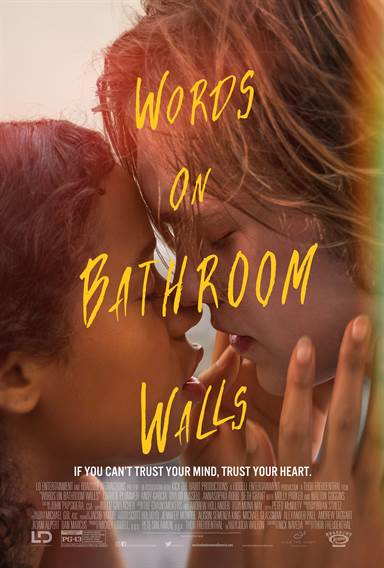 Schizophrenia is a mental illness that affects how a person thinks, feels, and behaves. While it is found in less than 1% of the United States population, it seems to be spread evenly amongst males and females. Men will generally start exhibiting symptoms in their late teens, which is earlier than females and can include hallucinations, paranoid delusions, confusion, bizarre behavior, inability to express emotions, and lack of concentration to name just a few. Treatments generally require medication and therapy and, despite stereotypical ideas to the contrary, many people lead fairly normal and productive lives. While people with this illness are generally portrayed negatively in television and movies, Words on Bathroom Walls, the new film by Director Thor Freudenthal (Diary of a Whimpy Kid) seeks to change public perception of this disease.
Adam (Charlie Plummer; Looking for Alaska) is your typical high school senior. He has friends, does his schoolwork, and hopes to attend culinary school and become a chef once he graduates. However, halfway through his senior year things begin to change as Adam hears voices and hallucinates. When things go horribly wrong in Chemistry class one day Adam is expelled and diagnosed with Schizophrenia. After Adam seems to be resistant to any type of drug therapy available, he joins an experimental trial and becomes a student at a private, Christian school.
It is there he meets scholarship student and potentially this year's valedictorian, Maya (Taylor Russell; Waves). At the same time, this new medicine seems to actually be working. Everything is going great for Adam. He and Maya become closer, he hasn't hallucinated or heard voices in weeks and he has an upbeat outlook on life for the first time in a long time. Unfortunately, when Adam starts to experience side effects from the medication and can't seem to be able to cook anymore, he secretly stops taking the pills. That's when everything spirals out of control again and Adam's happy, little world comes crashing down around him as the people who love him can't really understand what Adam is going through.
I'm not sure who does a better job – Plummer or Russell. He gives an honest portrayal of a young man dealing with demons as he struggles to lead a normal life. His panic attacks and breakdowns are raw and difficult to watch, yet you can't seem to turn away. Russell, likewise, deals with her own, different sort of demons but her mature nature mixed with a bit of sassiness is rather appealing. Andy Garcia (Ocean's Eleven) is terrific in his smaller yet no less important role of Father Patrick. He adds an element of faith to this tale of mental illness. The supporting cast including Molly Parker (Deadwood), Walter Goggins (The Shield), and Beth Grant (Donnie Darko) are excellent and enhance Plummer's and Russell's performances.
I was hooked from the opening scene and didn't want the movie to end as the final credits began scrolling across the screen. Freudenthal takes a hard to understand mental illness and offers us a visual representation of it in an attempt to demystify the mystery of schizophrenia. Plummer's performance is powerful and heartbreaking as he battles hallucinations telling him to end his life, along with the stigma of being "abnormal".
As mental health issues take center stage in political arenas all around this country, this is an important film that highlights the struggles of the patient, his family and friends. It is also a must-see movie for anyone who knows someone who suffers from Schizophrenia. While it entertains, Words on Bathroom Walls also tries to educate the average human being about a confusing and frustrating disease that can cause individuals to hurt themselves or their friends unintentionally.
Grade: A-
For more reviews please visit our film/television review section.
Charlie Plummer plays, Adam, a teenage boy that suffers from schizophrenia. Watch him discuss the ro...

FlickDirect's Allison Rose spoke with Taylor Russell about her role as Maya in the new film Words On...

WORDS ON BATHROOM WALLS tells the story of witty and introspective Adam (Charlie Plummer), who appea...
SPONSORED LINKS