The One and Only Ivan (2020)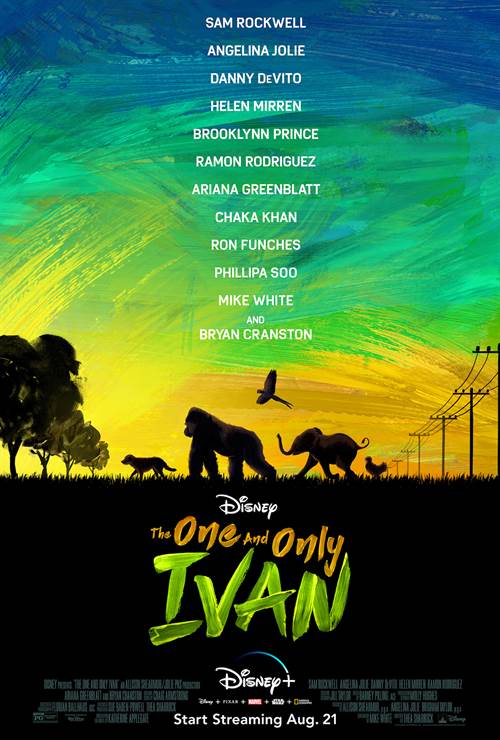 | | |
| --- | --- |
| Director: | |
| Writers: | |
| Cast: | |
| Released: | Friday, August 21, 2020 |
| Length: | 95 minutes |
| Studio: | Walt Disney Pictures |
| Genre: | Family |
| Rating: | Some material may not be suitable for children. |
The One and Only Ivan Synopsis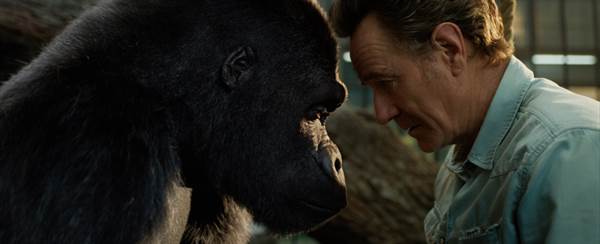 An adaptation of the award-winning book about one very special gorilla, Disney's "The One and Only Ivan" is an unforgettable tale about the beauty of friendship, the power of visualization, and the significance of the place one calls home. Ivan is a 400-pound silverback gorilla who shares a communal habitat in a suburban shopping mall with Stella the elephant, Bob the dog, and various other animals. He has few memories of the jungle where he was captured, but when a baby elephant named Ruby arrives, it touches something deep within him. Ivan begins to question his life, where he comes from, and where he ultimately wants to be. The heartwarming adventure, which comes to the screen in an impressive hybrid of live-action and CGI, is based on Katherine Applegate's bestselling book, which won numerous awards upon its publication in 2013, including the Newbery Medal.
The movie stars: Sam Rockwell as the voice of Ivan; Angelina Jolie as the voice of Stella; Danny DeVito as the voice of Bob the dog; Helen Mirren as the voice of Snickers the poodle; Brooklynn Prince as the voice of Ruby; Ramon Rodriguez as the mall employee George; Ariana Greenblatt as George's daughter Julia; Chaka Khan as the voice of Henrietta the chicken; Mike White as the voice of Frankie the seal; Ron Funches as the voice of Murphy the rabbit; Phillipa Soo as the voice of Thelma the parrot; and Bryan Cranston as Mack, the circus attraction's owner. "The One and Only Ivan" is directed by Thea Sharrock from a screenplay by Mike White based on Applegate's book and is produced by the late Allison Shearmur, Angelina Jolie, and Brigham Taylor. Sue Baden-Powell and Thea Sharrock serve as executive producers.
Listen to the The One and Only Ivan soundtrack on Apple Music.
The One and Only Ivan images are © Walt Disney Pictures. All Rights Reserved.
The One and Only Ivan Review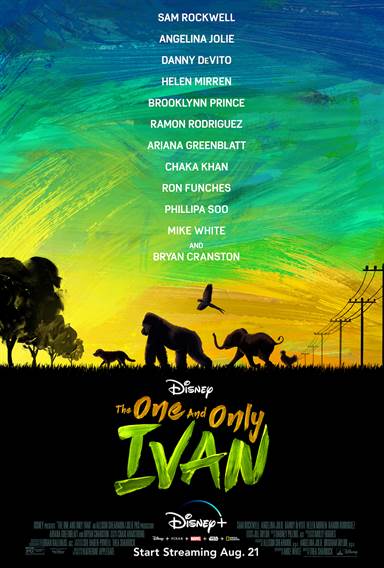 Disney has been experimenting with live-action remakes for the past few years and in 2019 their latest released, The Lion King, was met with mixed reviews. Taking animated characters and making them real is difficult enough but imagine trying to do it with wild animals. Undeterred, Disney set its sights on another live-action, animal starring film called The One and Only Ivan. Based on a true story, the film follows a silver-backed Gorilla named Ivan (Sam Rockwell; Three Billboards Outside Ebbing, Missouri) who has been replaced by a baby elephant named Ruby (Brooklynn Prince; The Florida Project) as the main attraction of a dying circus housed inside a shopping mall.
Ivan (Rockwell) was always the star of the Big Top Mall Circus but more and more there are fewer audience members at each show. Owner and ringleader, Mack (Brian Cranston; Breaking Bad), is worried how they will feed the animals, pay the staff and keep the circus going until one day when he receives a mysterious call. The next morning a shy, new member arrives and Stella the elephant (Angelina Jolie; Maleficent) becomes her caregiver. The baby elephant named Ruby (Prince) moves in on Ivan's territory becoming the star and bringing audiences to the circus once again.
This bothers Ivan a great deal until one day he starts using crayons and paper to create "artwork". This newfound skill makes him a star once again. However, Stella is becoming increasingly sick and she makes Ivan promise to take care of Ruby and set her free so she can go live in the wild. After a show in which Ivan refuses to "draw", he breaks the animals out of the mall in a search for the forest. Mack manages to get them all safely back to their cages, but Ivan is disappointed in himself that he didn't keep his promise to Stella.
Rockwell does a great job delivering his lines, making Ivan seem both delicate and fierce. Prince is well cast as the baby elephant with the sweet voice, and a host of other celebrities including Chaka Khan, Phillipa Soo (Hamilton: An American Musical), and Helen Mirren (The Queen) all lend their distinctive voices to various animals in the circus. However, probably one of the most recognizable and entertaining voices in the movie is Danny DeVito (Dumbo) as Bob, the dog – a scruffy mutt who makes himself at home in Ivan's cage despite Mack's protests against it (in some ways, it reminds me a little of Charlotte who makes her home in Wilbur's pen in the book/movie Charlotte's Web).
As with so many movies Disney releases, The One and Only Ivan has a lot of heart. Of course, don't be surprised if you shed a tear or two as well (I admit, I did). After all, Isn't that all a part of the "Disney Magic"? Regardless, I promise you and your children will enjoy this feature making it part of "family movie night" that has now become so popular since we are staying in much more in these trying times.
As Disney is still trying to perfect their CGI process of animals talking, there are moments where it is obviously computer-generated, especially when Ivan talks to Ruby about growing up in the jungle and we see flashbacks of him as a cute, baby gorilla. However, there seems to be an improvement over previously released material and the plot and writing of this film make it heartwarming, funny, and family-friendly.

Once again, Disney has created a movie to bring families together and spread some joy during these tough times. Stream The One and Only Ivan on Disney+ today. I promise you won't be disappointed.
Grade: B
For more reviews please visit our film/television review section.
SPONSORED LINKS