Hardball (2001)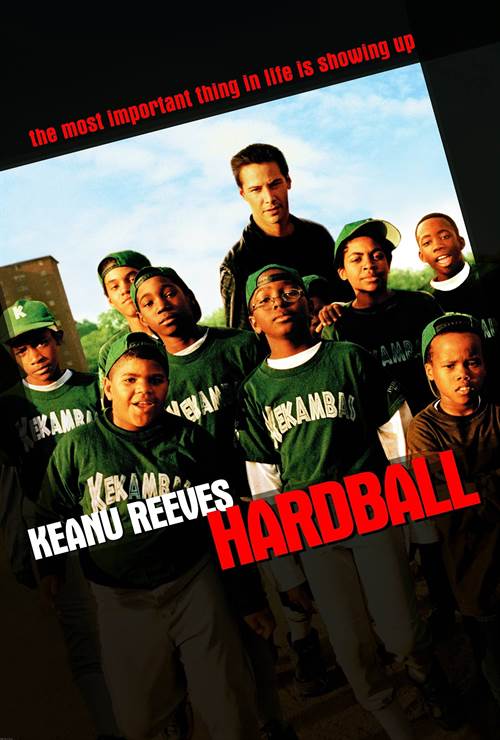 | | |
| --- | --- |
| Director: | |
| Writers: | |
| Cast: | |
| Released: | Friday, September 14, 2001 |
| Length: | 106 minutes |
| Studio: | Paramount Pictures |
| Genre: | Drama |
| Rating: | Some material may be inappropriate for children under 13. |
Hardball Synopsis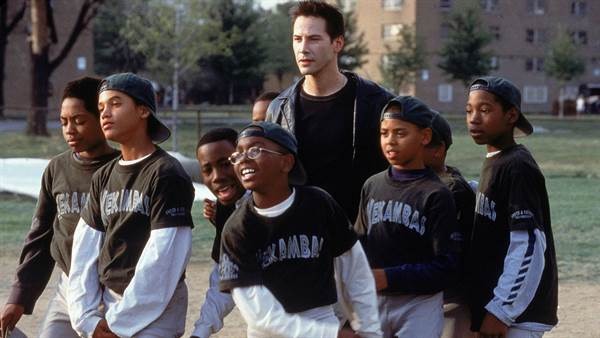 Keanu Reeves, Diane Lane and a young Michael B. Jordan score in this uplifting story of triumph over adversity. Conor O'Neill (Reeves) is a down-on-his-luck gambler in debt to loan sharks. Desperate for cash, Conor reluctantly takes a job coaching a youth baseball team. The "team" turns out to be a ragtag group of tough-talking kids from Chicago's inner city. Secretly, Conor plans to desert the team after he wins a big bet. But the stakes are higher than Conor imagined: The kids need someone to believe in. As Conor wrestles with his past, the kids start to teach him some lessons that will forever change his future-that responsibility and trust must be earned and hope can appear in the most unlikely places.

Purchase DVD/Blu-ray/4K UHD physical copy of Hardball today at Amazon.com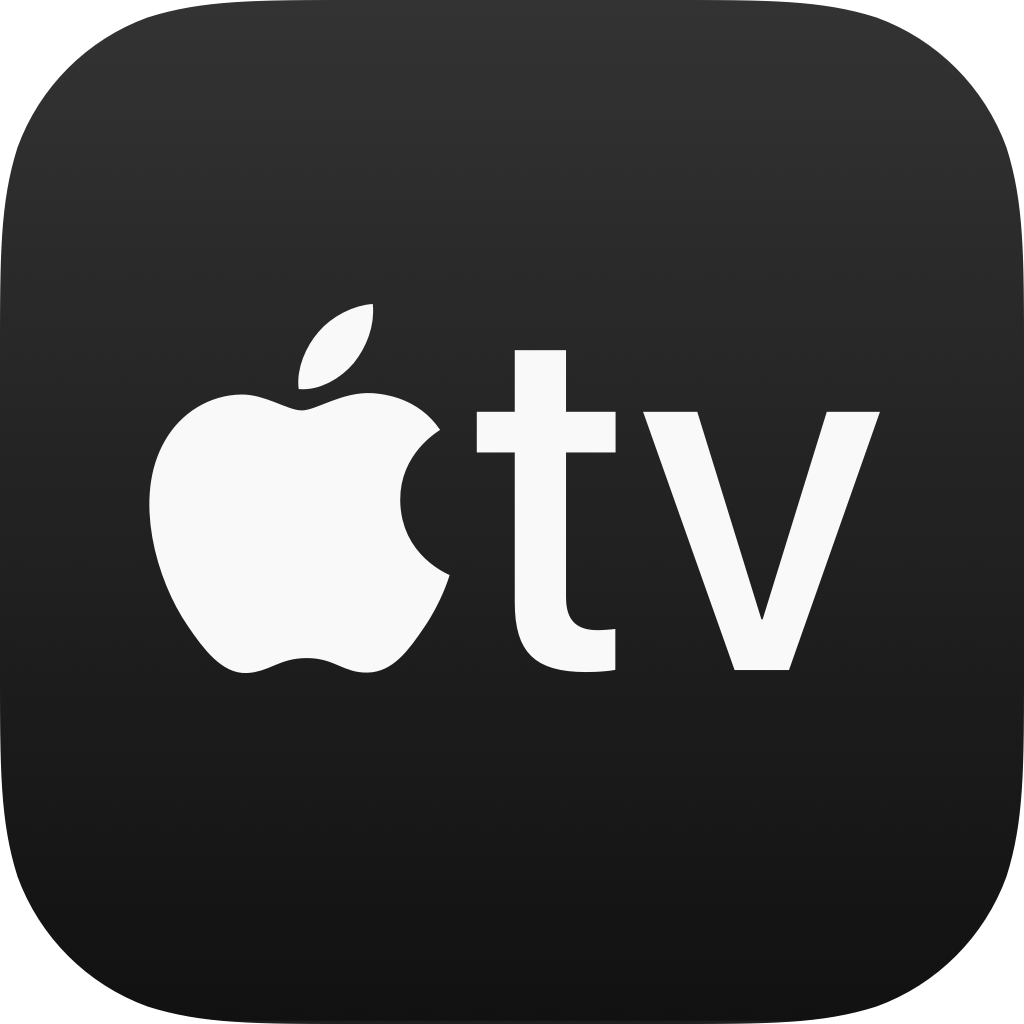 Download Hardball in Digital HD/4K from the iTunes store.
Hardball images are © Paramount Pictures. All Rights Reserved.
Hardball Blu-ray Review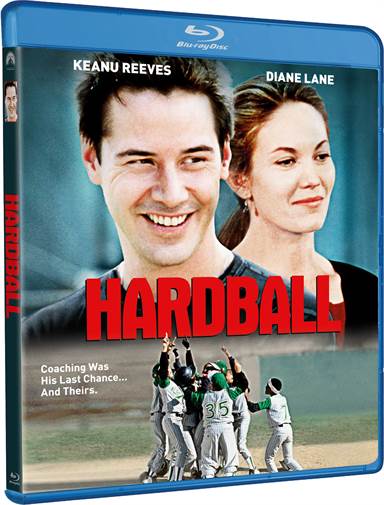 The late 1990's/early 2000s were good for Keanu Reeves. The Matrix was a box office hit spawning two sequels with a third one heading to theaters later this year. He probably could have had his choice of projects as he had previously displayed his versatility in roles such as a goofy teenager In the Bill & Ted series of films to a serious independent movie actor in My Own Private Idaho and a bona fide action star in The Matrix. However, in between the big Hollywood Blockbusters, he would work on other projects. One of these movies was 2001's Hardball.
Conor O'Neill (Reeves) was a gambler. Primarily betting on sports events. Lately, he had been having a string of bad luck and owed money to several bookies. Desperate, he appeals to his friend, Jimmy Fleming (Mike McGlone; The Brothers McMullen) asking Jimmy for a loan. Having "loaned" Conor money in the past, Jimmy refuses but instead hires Conor at $500 per week for ten weeks to coach a little league team in the projects. Ill-equipped to coach and challenged at every turn by the league officials and the boys that make up his team, Conor wants to quit but sticks with it to pay off the people who want to hurt him.
Unlike some of his more recent films, Reeves displays several different emotions. He's angry, sad, scared, happy, excited amazed, etc. which gives Conor more depth and makes him somewhat interesting. Diane Lane (Zack Snyder's Justice League) is well cast as the parochial schoolteacher trying to educate these boys, but I found very little chemistry between her and Reeves. Joining them are a group of talented young men, many of whom were on a movie set for the first time. Some have gone on to acting careers, most notably Kris D. Lofton (Ballers) and Michael B. Jordan (Black Panther).
Despite being released on Blu-ray only, Hardball looks pretty good in 1080p resolution. Honestly, the film is only twenty years old (a relative baby in the world of movies) but technology has advanced quite a bit so the film could have looked a little rough. Luckily, details are sharp and clean, and the color hues are deep, true, and run the gambit from dirt to graffiti spray painted in red across the side of a building.
The DTS-HD Master Audio 5.1 is strong as well and enhances the viewing experience. From the cracking of the bat, as it makes contact with the ball to the eclectic soundtrack and score, the textures of the different sounds are evident. Dialogue sits comfortably in the front speakers but isn't drowned out by the music.
There are technically six extras included on the Blu-ray disc. They include Commentary by director Brian Robbins and writer John Gatins, The Making of Hardball, Deleted Scenes, Music Video – "Hardball" by Lil' Bow Wow, Lil' Wayne, Lil' Zane and Sammie, Interstitials, and the Theatrical Trailer. Robbins and Gatins have some interesting things to say and the making of featurette is sweet but some of the other extras are merely okay.
It is nice to go back and watch a movie in which Reeves smiled as opposed to the permanent scowl he seems to does these days. The kids are cute and do a good job for being so young. The plot is somewhat reminiscent of The Bad News Bears but veers off in a different direction towards the end of the film with a moment of reality shock and sadness.
As a side note, don't be fooled by the younger cast members or the plot of a guy forced into coaching little league, Hardball is not a family-friendly movie because it includes strong language (sometimes from the kids) and some violence.
Stereotypical at its best, copycat at its worst, Hardball is okay but nothing special. Watch it once and you will realize it is mostly by the numbers with a younger Reeves actually enjoying some moments on screen.
Grade: C
-- Allison Rose
For more reviews please visit our film/television review section.
SPONSORED LINKS