Escape Plan (2013)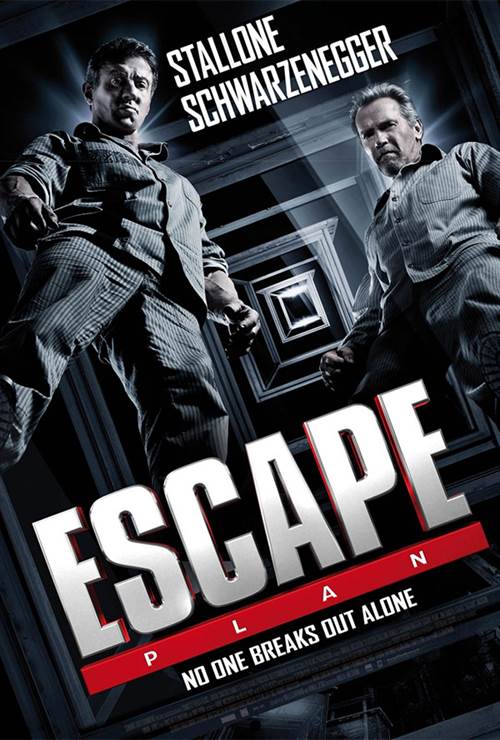 | | |
| --- | --- |
| Director: | |
| Writers: | |
| Cast: | |
| Released: | Friday, October 18, 2013 |
| Length: | 116 minutes |
| Studio: | Summit Entertainment |
| Genre: | Action/Adventure |
| Rating: | Under 17 requires accompanying parent or adult guardian. |
Escape Plan Synopsis
Ray Breslin (Stallone) is a structural engineer who is wrongly convicted of a crime. Breslin designed a variety of high tech buildings and was a top structural engineer. After Breslin was wrongly convicted, he was sent to serve his sentence in a maximum security prison of his own design. During his time in prison, Breslin has analyzed every high security prison and gained lots of survival skills. But Breslin faces his biggest challenge yet, breaking out of the ultimate high tech prison which he designed to be escape-proof. Not only facing the challenge of breaking out of the escape-proof prison, Breslin also has the challenge of battling the ruthless warden Hobbs (Caviezel). Church (Schwarzenegger) is the wise, soulful and complex inmate of Breslin who helps and escapes Breslin in his escape. Church is a soulful inmate who fights with other prisoners to keep their humanity, whilst they are struggling to stay alive. Breslin is escaping from the prison with not only Church, but also with a third prisoner (possibly played by Vinnie Jones).

Purchase DVD/Blu-ray/4K UHD physical copy of Escape Plan today at Amazon.com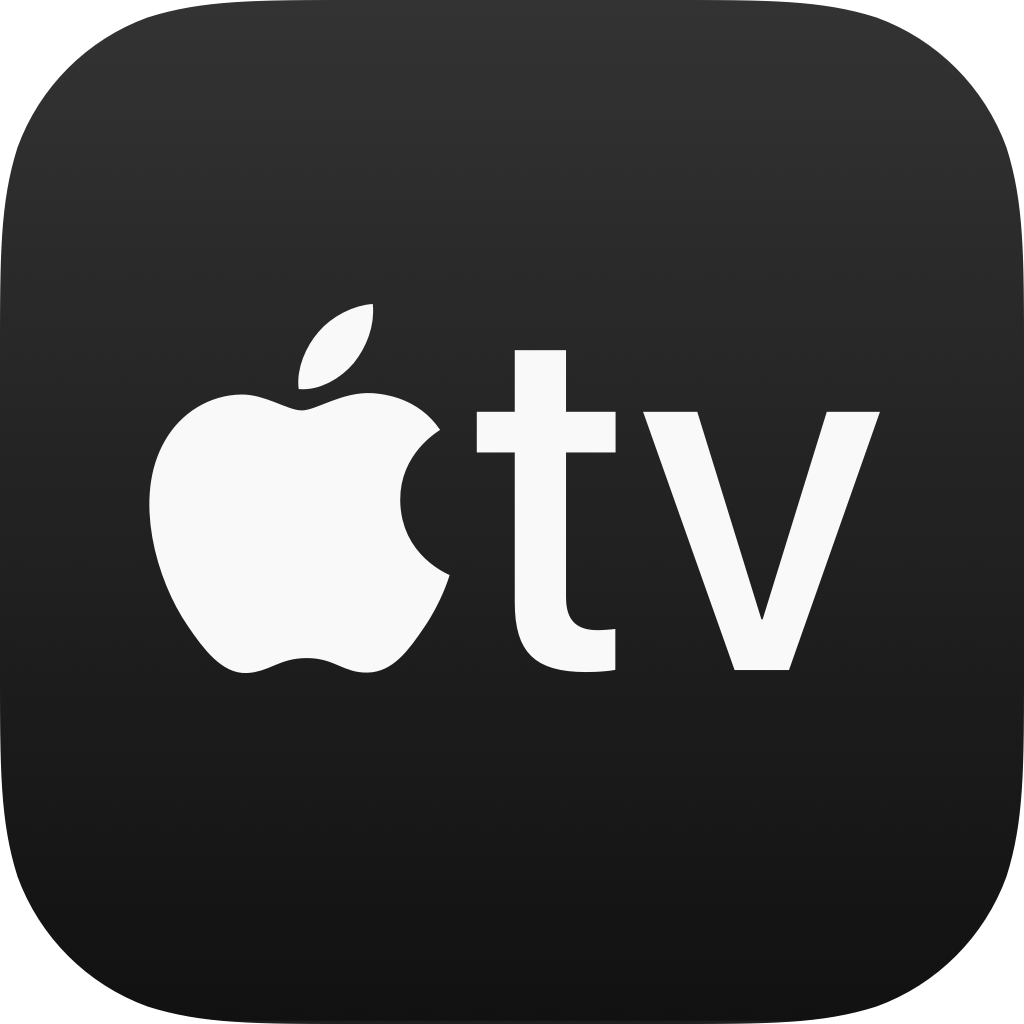 Stream Escape Plan in Digital HD/4K from the AppleTV store.
Escape Plan images are © Summit Entertainment. All Rights Reserved.
Escape Plan Theatrical Review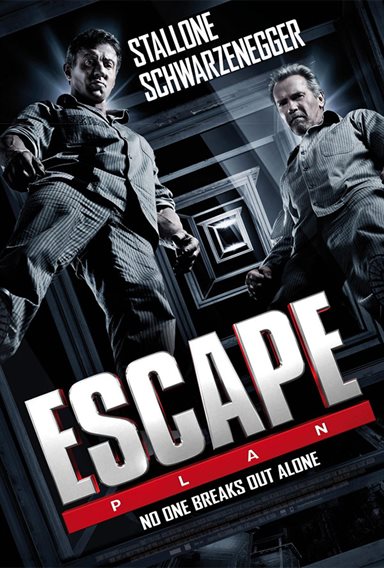 Well the ex-Governor and ex-boxer finally get full feature screen time together in their new film Escape Plan and they haven't broken the formula yet. Playing familiar roles, delivering pedestrian lines and punching their way through this prison story that could easily have been made for cable, the two icons create a lot of their usual fuss and drama. Although the film has some good moments there's not enough to draw a crowd of fans the size of their yesteryear.
Ray Breslin (Sylvester Stallone) is an ex-lawyer and co-owner a company he founded that tests the strength of high security federal prisons. The idea of checking how secure a jail is by trying to escape came to Breslin when his wife and children were murdered by an escaped convict. He has been making prisons safer with his very unusual method of secretly getting admitted to the top federal facilities in the country as a prisoner and trying to escape. When he's successful the prisons correct the problem and better the system.
After a successful escape from a Colorado Federal Prison a meeting is called in Breslin's office with co-owner Lester Clark (Vincent D'Onofrio) and Jessica Miller (Caitriona Balfe). Miller wants to hire Breslin to test the safety of an independent secretly run prison called 'The Tomb' and will pay huge money for his services. Never having a payday this big Clark pushes Breslin to take this one last job. He takes the job, gets taken away blindfolded to the mysterious destination and finds himself trapped in the heavily fortified facility. After failing to get out on his first try he enlists the help of Emil Rottmayer (Arnold Schwarzenegger) who helps him put together a plan that they'll either do or die.
Director Mikael Håfström keeps his actors at a high level of interaction as they set up the plan by creating havoc and riots as part of their escape. The script takes on a lot of familiarity because Stallone and Schwarzenegger are known for their tight situation, get some guns and blast your way out films. Although Escape Plan is not a First Blood or a True Lies the high profile actors have been seen in so many action films it's hard to differentiate their personas from one character to another. Hafstrom not matter what he does as a director will only get a Rocky and The Terminator with their macho courage and mayhem.
Hot on the heels of the Expendables the film may get a lot of interest from their fan base, but after seeing the film I don't think it'll get more than a small payoff in subsequent weekends. Just like The Last Stand, Schwarzenegger will probably not generate many full houses with this slow moving heavy dialogue laden script. Håfström doesn't have a large dossier of well known films under his belt and has not worked with many high profile actors like these two leads, so trying to make this script work must have been a chore. Less is more with these two artists and a lot less dialogue is better too.
As far as the look of the film, I like the sets at the Colorado Prison that are very scary realistic and the prison riot at 'The Tomb' gets very exciting. The cinematography inside the cells of 'The Tomb' showing the convicts living in clear glass boxes with guards on catwalks spying down on them works well to create a confining atmosphere.
Escape Plan has been rated R by the MPAA for violence and language throughout. Most of the violence comes later in the movie but there are several fist fights early on. Be cautious when deciding to allow immature children see the film as it does have some scenes that are very inappropriate for adolescents.
FINAL ANALYSIS: Sly and Arnold work up a sweat and then it's over. (C)
-- John Delia
For more reviews please visit our film/television review section.
SPONSORED LINKS