Jaws (1975)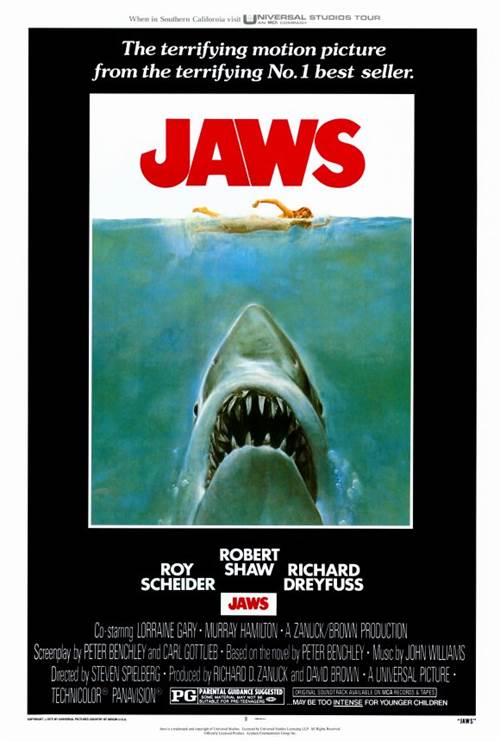 Share this:
| | |
| --- | --- |
| Director: | |
| Writers: | |
| Cast: | |
| Released: | Friday, June 20, 1975 |
| Length: | 124 minutes |
| Studio: | Universal Pictures |
| Genre: | Action/Adventure |
| Rating: | Some material may not be suitable for children. |
Synopsis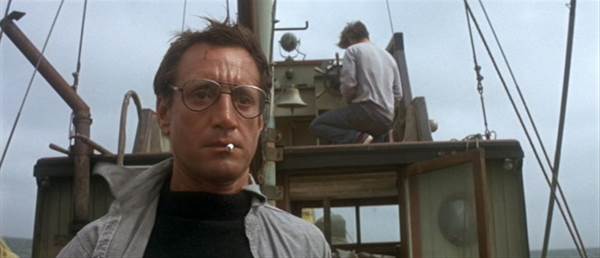 When, during the height of beach season, the town of Amity Island in Massachusetts is terrorized by attacks from a great white shark -- Martin Brody, the new chief of police must solve the problem. As the Mayor tries to avoid a panic which would deprive the town of its crucial tourist season, warnings to swimmers are avoided and more victims float to the surface.

Brody eventually enlists the help of a young oceanographer and a sea-wary fisherman to hunt down and destroy the great white menace that has turned the Amity Island shore into a feeding ground.

Purchase DVD/Blu-ray/4K UHD physical copy of Jaws today at Amazon.com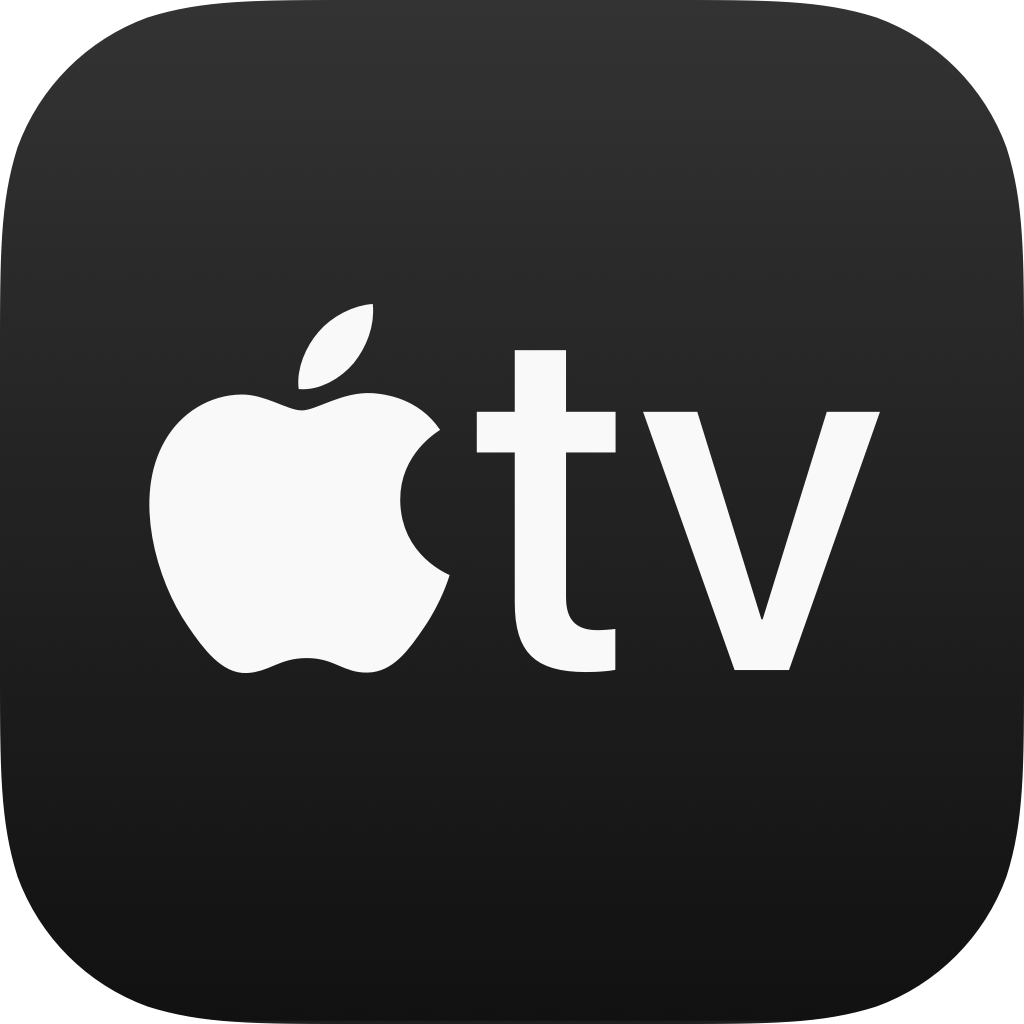 Download Jaws in Digital HD/4K from the iTunes store.
Listen to the Jaws soundtrack on Apple Music.
Jaws images are © Universal Pictures. All Rights Reserved.
Win JAWS in 4K UHD!
6/1/2020 11:17 AM EST
In 1974 a novel about a great white shark spent 44 weeks on the best sellers list. One year later a movie, based on the novel and directed by Steven Spielberg (Schindler's List), was released to critical acclaim and huge box office numbers. That movie was JAWS.  For the 45th anniversary, Universal Pictures has released a 4K UHD Blu-ray combo pack with a holographic cover and a commemorative bookle...
More>>
JAWS Fans From Around The World Descended Upon Amity Island
8/15/2012 9:17 AM EST
JAWS fans from around the world descended upon Martha Vineyard (aka "Amity Island") to kick start JAWSFEST: The Tribute on Thursday, August 9, 2012. The annual, four-day, fan-driven event takes place August 9-12, 2012, to celebrate the legacy of Steven Spielberg's film and how it has impacted the lives of those who came to Amity in 1974. The tribute event also pays homage to the men and women of J...
More>>
Jaws 4K Ultra HD Review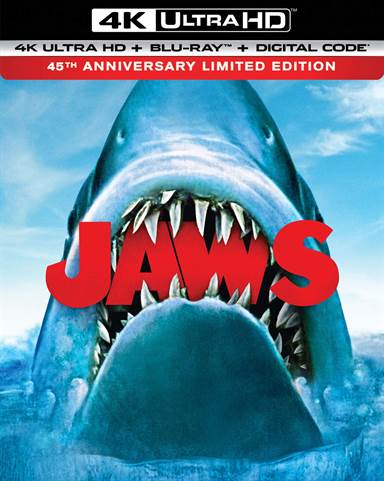 Forty-five years ago a twenty-six-year-old, up and coming director named Steven Spielberg (E.T.: The Extraterrestrial) took Peter Benchley's novel titled Jaws and made it into a major motion picture. Considered one of the greatest films of all time, it was the highest-grossing movie until the release of Star Wars two years later. A summer blockbuster, it ultimately grossed one hundred twenty-three million dollars with rereleases in Summer 1976 and 1979. By 2011, It neared the $2 billion mark (adjusting for inflation). It won three of the four Oscar awards it was nominated for including best sound, best film editing, and best music, original dramatic score when it was originally released. It has become an American classic that has created a memorable franchise. In honor of the 45th anniversary of the film, Universal Pictures is releasing a 4K combo pack for the first time.
Just like many summer beach movies, Jaws begins with an evening party on the beach held by a group of young adults. When one of them, Chrissie Watkins (Susan Backlinie; The Great Muppet Caper), decides to go skinny dipping she ends up missing until her partial remains end up on shore the following day. Initially ruled a shark attack, the coroner changes his mind when the Mayor of Amity Island convinces him that the beaches need to stay open for the livelihood of the residents of the island. However, Police Chief Brody (Roy Scheider; All That Jazz) is skeptical and afraid that someone else will get hurt so he calls in oceanographer Hooper (Richard Dreyfuss; Close Encounters of the Third Kind) who confirms Chrissie's death was from a large shark attack.
Before the Fourth of July celebration, a young boy is killed by the shark, and people from all over the East Coast go on a shark hunt. When someone kills a tiger shark, the mayor proclaims the island safe despite Hooper's warning otherwise. On the Fourth of July, the shark once again attacks killing a boater. That evening Brody, Hooper, and local seaman, Quint (Robert Shaw; The Sting), go out to try and find this dangerous shark. Of course, they find more than they bargained for and not all of them make it out alive.
This film was just the beginning of an ever-amazing career for Spielberg and has left film history with a number of quotable lines including the very popular, " You're going to need a bigger boat". It also kept scores of people out of the water and away from the beaches for years after the film was released. Speaking of scores, It was the second of five Oscar wins for Composer John Williams (Star Wars) who has left us with that slow, methodical cadence that will now forever be synonymous with sharks.
The 4K transfer has done wonders for the video quality of this movie. There is less graininess than previous releases and the brightness is turned up so that scenes (i.e. the opening scene at the beach) are cleaner and easier to watch. The Dolby Atmos audio highlights William's memorable score and the audience can tell the sound has been upgraded to include more of the surround speakers. The extras were previously released in 2012 but this time most are housed on the 4K disc. There is also a holographic cover case and a glossy booklet that offers an introduction, an essay on Peter Benchley's novel on which the movie was based, cast and crew bios, filmmaking facts, a dissection of John Williams's score, notes on building the shark, storyboards, script excerpts, promotional materials gallery, and a closing note highlighting the film's legacy.
While other oceanographic films exist (i.e. 2018's The Meg), Jaws will always be first and foremost in peoples' minds when they think about a summer movie on an Island that includes a large predatory fish.
Grade: A-
For more reviews please visit our film/television review section.
SPONSORED LINKS