Monsters University (2013)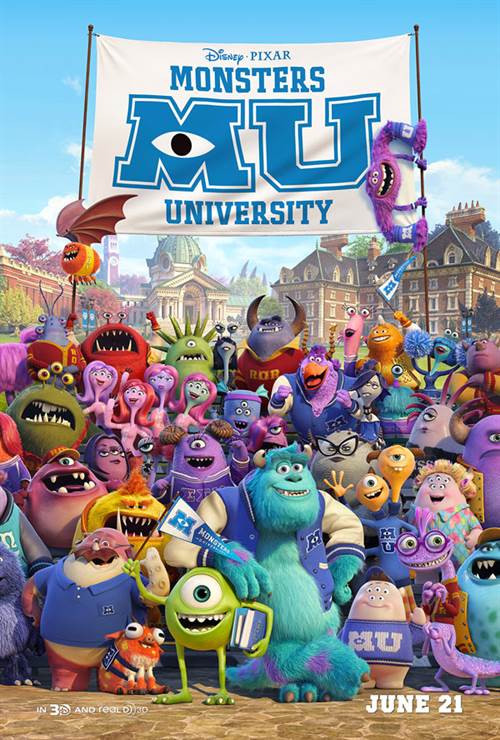 Share this:
| | |
| --- | --- |
| Director: | |
| Cast: | |
| Released: | Friday, June 21, 2013 |
| Length: | 102 minutes |
| Studio: | Walt Disney Pictures |
| Genre: | Family |
| Rating: | General audiences. All ages admitted. |
Synopsis
Mike Wazowski and James P. Sullivan are an inseparable pair, but that wasn't always the case. From the moment these two mismatched monsters met they couldn't stand each other. "Monsters University" unlocks the door to how Mike and Sulley overcame their differences and became the best of friends.
Purchase DVD/Blu-ray/4K physical copy of Monsters University today at
Download Monsters University in Digital HD/4K from the iTunes store.
Monsters University images are © Walt Disney Pictures. All Rights Reserved.


Win Complimentary Passes to See a 3D Advance Screaming of Disney...
6/5/2013 10:11 AM EST
Disney*Pixar will release the highly anticipated film, MONSTERS UNIVERSITY on Friday, June  21st, 2013 and for all you fans that are living in South Florida, we have a way for you to catch a complimentary screaming of it early.   Simply click here to enter the sweepstakes and like us on Facebook.  All names will be entered into a drawing for two complimentary tickets to see MONSTERS UNIVERSITY in ...
More>>
Disney•Pixar's MONSTERS UNIVERSITY Trailer Is Unleashed On The W...
6/20/2012 8:51 AM EST
Countdown to the release of Monsters University, with the iPhone Movie Countdown Clock App.Mike Wazowski and James P. Sullivan are an inseparable pair, but that wasn't always the case. From the moment these two mismatched monsters met they couldn't stand each other. "Monsters University" unlocks the door to how Mike and Sulley overcame their differences and became the best of friends.Screaming wit...
More>>
Monsters University Theatrical Review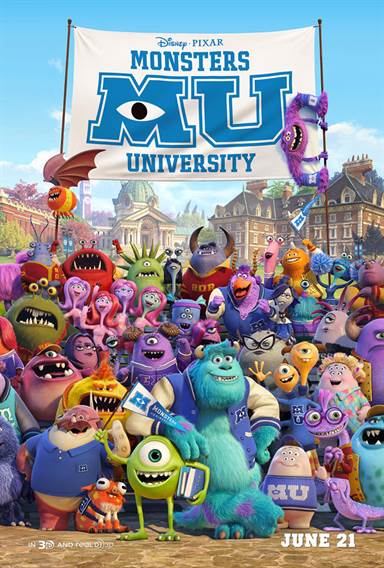 Bringing back two of my favorite cartoon characters Sully and Mike with a prequel called Monsters University, Pixar presents renewed delight. The madness that the two opposites brought to Monsters Inc more than ten years ago doubles in Monsters University, while providing a lot of heart and a college year full of laughs.

A follow up to a great animated film like Monsters Inc would not have been easy and would have required a lot of repetition, a stretch for new characters and a continued storyline that would be hampered with the lack of surprise. I like the way the writers chose to do the startup relationship between the two characters that takes on a whole new atmosphere filled with wonders they can let loose with their brand of comedy and it shines.

The story starts with Mike having his dream of becoming a scare monster for the Monster Energy Company. Being this one-eyed goofy character that is more cute than scary, Mike doesn't fall into the frightening category for monsters. However, he's very determined and he finds himself taking his first step onto the campus of Monsters University. After meeting his new roommate Randy Bogs (yes the same little lizard guy from Monsters Inc) he gets a tour of the campus.

Mike finally sees the School of Scaring and makes it his first choice for a degree. Here is where he gets introduced to Sully, the son of one of the top students in Monsters University. All into himself, even the instructor Professor Knight (voice of Alfred Molina) has his eye on Sully for something big. When the two come together for a campus fright contest quite by chance, the big challenge is for both of them to work together and complete their degrees.

The voice talent has grown with Helen Mirren as evil Dean Hardscrabble a daunting overseer of the School of Scarring at Monsters U. She's a tough old bitty part centipede the rest bat winged crab. Taking top honors in acquiring screams from tots has put her in charge of the incoming scholars and it's her choice whether they stay or get booted out of her classes. I like this character more than Roz in Monster's Inc who oversaw the operation of closet door entry into the human world as Hardscrabble is more of a sinister character.

Other new characters that really add comedy include the furry neck pillow scary frat guy named Art (Charlie Day) who's clueless, Terri and Terry Perry (voices of Dave Foley and Sean Hayes) a monster with two heads that often disagree with each other, and Scott "Squishy" Squibbles (voice of Pete Sohn) one of Mikes fraternity brothers who's always seems to see things in an agreeable fashion (maybe it's because he has five eyes). There are tons of new faces in Monsters University so the computer graphics and design crew must have been kept real busy coming up with that many characters.

The computer animation here is still tops in the graphics business with colorful backgrounds, attention to detail and great special effects. The 3D does give the film a good depth of field and you get showered from time to time with confetti, water, and many other darting elements. Bringing the campus to the screen, showing the fraternity rush week, tours of the buildings, a special library full of books and several locations during the Scare Games, shows the amazing creativity of the crew who computerized the film.

Monsters University has been rated G by the MPAA and really contains very little material that would be disturbing to most children except for a few monsters that aren't very fluffy. The film plays well to the older crowd mainly because it takes place at college where most adults can equate.

FINAL ANALYSIS: A very good adventure film for the whole family. (A)

-- John Delia
Read More Monsters University Reviews
For more reviews please visit our film/television review section.
SPONSORED LINKS
Comments

Courtesy of
Movie Hype App
labbiegurl
So good!
11/13/2013 7:36 PM EST
nocomments
Yeass
11/9/2013 2:39 PM EST
lolipop04
So funny
11/3/2013 10:57 PM EST
lolipop04
Amazing
11/3/2013 10:57 PM EST
eltonwelton19
Good movie
11/1/2013 3:37 AM EST
gumecindo
Los ageles
7/22/2013 5:49 PM EST
me___yolo
Kayla myling
7/16/2013 3:55 PM EST
daisyjae
Watching it
7/15/2013 5:19 PM EST
boo
Awesome movie sad but funny
7/15/2013 9:53 AM EST
matt-m
Afternoon movie with the kids. Hope it's entertaining.
7/13/2013 2:31 PM EST
kalani
Check in
7/12/2013 7:29 PM EST
tatonegurl
Edwards Theathers
7/10/2013 3:29 PM EST
bininisara
Hi
7/4/2013 11:33 PM EST
reddog140
With the girls!
6/30/2013 1:25 PM EST
ainzz2001
Daddy
6/29/2013 3:14 PM EST