The Conjuring (2013)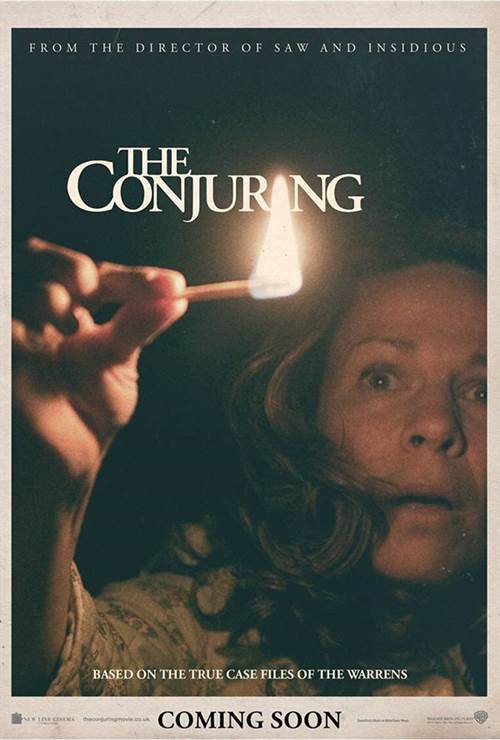 Share this:
| | |
| --- | --- |
| Director: | |
| Writers: | Carey Hayes, Chad Hayes |
| Cast: | |
| Released: | Friday, July 19, 2013 |
| Length: | 111 minutes |
| Studio: | Warner Bros. |
| Genre: | Horror |
| Rating: | Under 17 requires accompanying parent or adult guardian. |
Synopsis
Before there was Amityville, there was Harrisville. Based on a true story, "The Conjuring" tells the horrifying tale of how world renowned paranormal investigators Ed and Lorraine Warren were called upon to help a family terrorized by a dark presence in a secluded farmhouse. Forced to confront a powerful demonic entity, the Warrens find themselves caught in the most terrifying case of their lives.
Purchase DVD/Blu-ray/4K physical copy of The Conjuring today at
Download The Conjuring in Digital HD/4K from the iTunes store.
The Conjuring images are © Warner Bros.. All Rights Reserved.


The Conjuring Blu-ray Review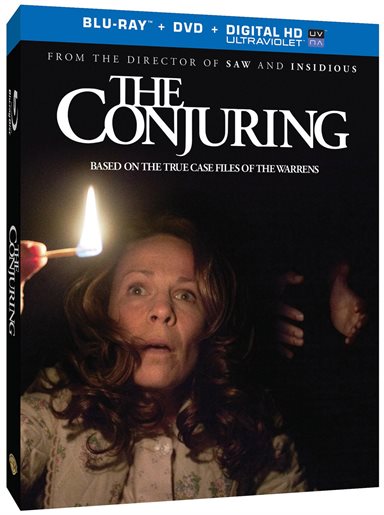 Nine years ago, few film fans knew the name James Wan. Then along came a little genre gem about a devious serial killer with a penchant for traps. Wan's shockingly low budget
Saw
(2004) not only took audiences by storm, it became one of the year's biggest overnight Hollywood success stories; one that spawned six sequels over the next six Halloweens. (
Saw 3D
(2010) was declared the series' final installment, but don't be surprised to see another entry announced in the near future. It wouldn't be the first time a dead horror franchise clawed its way out of a grave marked "The Final Chapter".) 2007 marked a rough patch of sorts, though, with
Dead Silence
and
Death Sentence
failing to impress critics, pull in an audience or make an impact at the box office. Undeterred, the young filmmaker didn't give up. Then, in 2010,
Insidious
arrived with a silent scream and a blood-curdling finale, helping to solidify Wan's place among the new Cravens and Carpenters of horror. Though dismissed or overlooked in some circles, his divisive interdimensional ghost story was a lean, sinewy frightfest as unsettling and atmospheric as it was devilishly restrained.
But it's Wan's latest film, true tale possession pic
The Conjuring
, that showcases the full spectrum of his talents; so much so that the young Australian filmmaker's name is now firmly etched in the horror lexicon. It appears
Saw
was merely a means to an end.
Insidious
was a training ground.
The Conjuring
is Wan at his finest, and perhaps modern horror at its best.
Since the 1960s, Ed and Lorraine Warren have been known as the world's most renowned paranormal investigators. Lorraine is a gifted clairvoyant, while Ed is the only non-ordained Demonologist recognized by the Catholic church. Out of the thousands of cases throughout their controversial careers, there is one case so malevolent, they've kept it locked away until now.

The Conjuring follows the Warrens (Patrick Wilson and Vera Farmiga) to Rhode Island in 1971 at the request of Carolyn Perron (Lili Taylor), devoted wife to hard-working husband Roger (Ron Livingston) and desperate mother to five terrified daughters (Shanley Caswell, Kyla Deaver, Mackenzie Foy, Joey King and Hayley McFarland). It seems the Perrons have been plagued by a series of increasingly unsettling and potentially dangerous supernatural encounters since moving into their new home; an old farmhouse in rural Harrisville. Determined to help the Perrons, Ed and Lorraine accept the case but soon discover the otherworldly entities haunting the farmhouse and its grounds aren't about to let go or move on. At least not without the Perrons paying a terrible price...

Wan doesn't simply set The Conjuring in 1971, he draws heavily upon the style, technique and production design of early '70s cinema. The illusion of Wan's meticulously conceived period piece doesn't call attention to itself but rather evokes films of the era to immersive, if not absorbing ends. Shadows spread like fire. A hush settles over the Perrons' farmhouse. Visions of sinister forces bleed into reality. The unseen is celebrated while cheap tricks and tiresome gore are admonished. Simplicity reigns, and what a spine-chilling simplicity it is. It's much too easy to get lost in the stillness and ambience of it all, making the scares that much more startling and disturbing imagery that much more jarring. With little more than a white bed sheet and a dusty wooden chair, Wan stages one of the most unnerving and unforgettable possessions in horror movie history; a scene that could have drawn laughs if it weren't for the inch-by-inch suspense and impeccable pacing the director uses for the first hour and a half of the film to make the Perrons' terror so convincing and palpable.

The performances are exceptional too, with Wilson and Farmiga infusing the Warrens with a matter-of-fact ease and humility that renders Ed and Lorraine a lovely, altogether personable couple... that just so happens to have some very unique gifts. Moreover, without needless exposition or dreary backstory weighing either actor down, Wilson and Farmiga are able to craft complex leads that, at first glance, aren't all that complex. Just beneath the surface, though, stirs the souls of two people who face ungodly horrors and have to go to sleep at night knowing exactly what the next day might hold. Then there's Taylor and Livingston, who sell the Perrons' confusion and despondency perfectly, not to mention the five young actresses playing their daughters, who aren't precocious or irritating in the least. Wan and screenwriters Chad and Carey Hayes avoid pushing or pulling to either extreme, granting the Perron brood ample opportunity to go about their scenes as normal, everyday little girls. Nothing more. Paired with the creepy Harrisville house and its haunts, the cast and their eerie stomping grounds are as subdued as the progression towards each scare, and only the Warrens' extended team -- used primarily for tension relief and working stiff reaction shots -- fail to make much of an impression.

If The Conjuring stumbles it's with regards to its rather dry opening (starring a demon doll you just know is going to turn its unholy head later in the film) and a somewhat unnecessary subplot involving the Warrens' daughter, Judy (Sterling Jerins), who's tucked safely in bed at home under the watchful eye of a caretaker while her parents are away. Three guesses as to why she's on hand in a story about the Perron case. And of course there will be those who don't find The Conjuring frightening at all. Like comedy, horror affects everyone in different ways. I burrowed deeper and deeper into my seat; knuckles white, eyes wide, the hair on my neck icicles. Others will shrug their shoulders; wondering what all the fuss is about. The only way to know how you'll react, though, is to pop in The Conjuring, turn out the lights, and follow the Warrens and the Perrons to hell and, hopefully, back again.
The Conjuring delivers its thrills and chills in the style of a 1970s horror classic; a carefully crafted illusion born from Arri Alexa HD cameras, eerily effective digital photography, and the minds of Wan and cinematographer John R. Leonetti. And Warner's 1080p/AVC-encoded transfer follows suit. The film's beautifully dilapidated palette is perfectly faithful to its filmmakers' intentions, complete with naturally saturated, lifelike skintones (pale as most everyone becomes over the course of the haunting) and the occasional spatter of all too startling red. The Conjuring's DTS-HD Master Audio 5.1 surround track does everything a top tier horror mix should, slowly and fiendishly ratcheting up the film's tension, atmosphere, ambience and suspense until it all at once lunges from the shadows. LFE output is restrained overall but explosive when called upon, lending weight and presence to the unseen evil haunting the Perrons' farmhouse. Likewise, the rear speakers take the time to create a wholly enveloping, utterly immersive, disquietingly hushed sound field that erupts with activity at a moment's notice.
Special Features:
A Life in Demonology: Director James Wan and other participants (among them Lorraine Warren and audio recordings of the late Ed Warren) provide an overview of the lives, faith, research and investigative career of the Warrens. The featurette also explores the Warrens' personal collection of the haunted, cursed or ritualistic items they've acquired during various cases over the years, and touches on the development of the film.
The Conjuring: Face-to-Face with Terror: "Logic tells you that something is immaterial cannot really hurt you. I still feel threatened... I feel threatened." Roger, Carolyn, Nancy, Andrea, April, Cindy and Christine Perron recall the strange supernatural events that began when they moved into the infamous farmhouse depicted in the film. Lorraine Warren shares her own memories of the house, its ghostly inhabitants, and her time with the Perrons.
Scaring the '@$*%' Out of You: The art of scaring audiences, the inspiration for The Conjuring, and Wan's command of the tone, atmosphere, suspense, sounds and rhythm of horror.
The Conjuring isn't going to exorcise the skeptic out of everyone, but Wan's expertly crafted genre pic crept up on me, pounced on the timid little boy apparently still kicking around inside my head, and tore the poor kid to pieces. And it did it without anything in the way of gore or other stomach-turning tricks of the modern-day horror trade. I'll even go so far as to say that had The Conjuring been released in the '70s, we'd still be talking about it alongside the likes of The Exorcist and other classics of the era. Warner's Blu-ray release is a godsend too, making Wan's frights that much more frightening with a terrific video transfer and first class DTS-HD Master Audio 5.1 surround track. The disc is light on supplemental material, unfortunately, but don't let that scare you away. The Conjuring is one of the finest horror films in recent memory.
For more reviews please visit our film/television review section.
SPONSORED LINKS
Comments

Courtesy of
Movie Hype App
kimmie97
I love watching this movie
6/5/2017 5:41 AM EST
movieguynathan
This is not scary at all. Sinister is waaaaay scarier.
6/4/2015 11:38 PM EST
mylesmylo
Nobody died? Damn was expecting to see some necks being snapped or something ah well good movie, now time for Annabelle :)
1/20/2015 9:00 PM EST
rodarte11
I can honestly say this is one of the scariest movie I've seen
10/17/2013 3:13 PM EST
tlkoontz
Been waiting anxiously for this one...
9/21/2013 5:06 PM EST
nefertharis
Beautiful!!
9/1/2013 4:24 PM EST
nate13l
It was a great film
8/26/2013 8:37 PM EST
samcornetta24
Scariest movie ever.
8/24/2013 6:57 PM EST
manyknowings25
How to watch it?
8/19/2013 11:32 AM EST
manyknowings25
Wew
8/19/2013 11:32 AM EST
manyknowings25
Shet!
8/19/2013 11:31 AM EST
margiefultz
Scariest movie ever!
8/15/2013 4:50 PM EST
niki
Sup
8/14/2013 9:57 PM EST
acostxav000
Awesome
8/10/2013 7:49 PM EST
ashleezayn
That movie is not scary
7/31/2013 5:58 PM EST