Smurfs: The Lost Village (2017)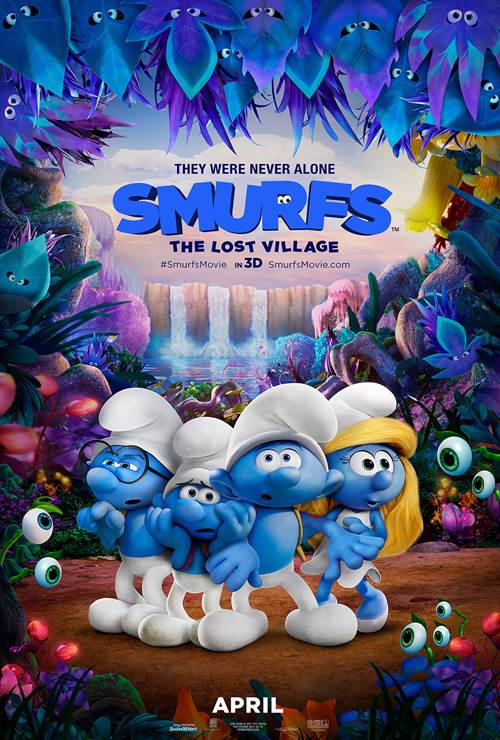 Share this:
| | |
| --- | --- |
| Director: | |
| Writers: | Karey Kirkpatrick, Chris Poche, Pamela Ribo,n David Ronn, Jay Scherick |
| Cast: | |
| Released: | Friday, April 7, 2017 |
| Length: | 89 minutes |
| Studio: | Columbia Pictures |
| Genre: | Family |
| Rating: | Some material may not be suitable for children. |
Synopsis
In this fully animated, all-new take on the Smurfs, a mysterious map sets Smurfette and her best friends Brainy, Clumsy and Hefty on an exciting and thrilling race through the Forbidden Forest filled with magical creatures to find a mysterious lost village before the evil wizard Gargamel does. Embarking on a rollercoaster journey full of action and danger, the Smurfs are on a course that leads to the discovery of the biggest secret in Smurf history!
Purchase DVD/Blu-ray/4K physical copy of Smurfs: The Lost Village today at
Download Smurfs: The Lost Village in Digital HD/4K from the iTunes store.
Smurfs: The Lost Village images are © Columbia Pictures. All Rights Reserved.


Smurfs: The Lost Village Theatrical Review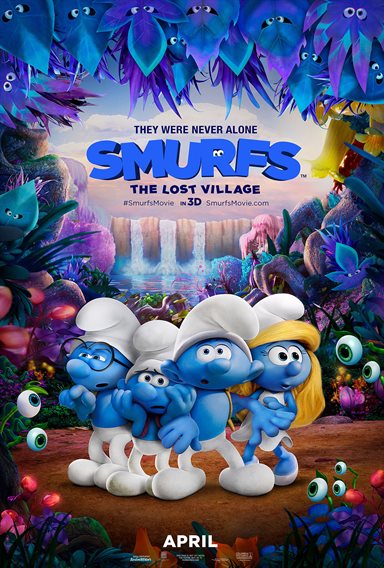 In 2011, The Smurfs got the "live action" treatment followed by a sequel in 2013. Both starred Neil Patrick Harris (How I Met Your Mother) and Hank Azaria (The Simpsons). While they were hugely successful, they didn't have the same feel as the 1980's Saturday morning cartoon we all knew and loved. Luckily, Sony Animation has remedied that with this week's Smurfs: The Lost Village, and fans can once again relive their childhood watching those lovable blue creatures in all their cartoon splendor.

Every Smurf has their "niche". Brainy (Danny Pudi; Community) is really smart, Jokey (Gabriel Iglesias; Magic Mike XXL) is good a pulling a fast one, and clumsy (Jack McBrayer; 30 Rock), well... he's just lovable and messes up quite a bit; every Smurf, that is, except for Smurfette (Demi Lovato; Camp Rock). Having been created from clay by Gargamel (Rainn Wilson; The Office) she technically isn't a "real" Smurf and therefore doesn't seem to have a discernable personality trait.

One day, however, she sees a Smurf in the forest she doesn't know and discovers a whole new village of Smurfs. She unknowingly alerts Gargamel to this other community and feels she must warn them that he is coming to take them in order to harness their magical powers for himself. As she and Brainy, Clumsy and Hefty (Joe Manganiello; True Blood) set out on a journey to find the "lost" Smurfs, she discovers her own trait that defines who she is forever.

Sony Animation brings the classic cartoon into the new millennium with updated creatures and beautiful scenery. The colors are so vibrant they pop off the screen and envelope the audience. There are some unique features incorporated into the graphics, including what can only be described as a "cool" river.

While there is a lot that is terrific about Smurfs: The Lost Village the story is rather bland and unoriginal. Gargamel tries to capture the Smurfs and they manage to foil his plans every time. In that way, the movie is exactly like those cartoons that kept children entertained for years.

The cast is enjoyable, especially those portraying the Smurfs in the lost village. Lovato has just the right blend of sweetness and sarcasm to portray Smurfette and she does the character proud. I must admit, I spent the whole film trying to figure out who was portraying Papa Smurf, as the voice was so familiar to me. It was no surprise to find out it was Mandy Patinkin (Homeland). His smooth tones are soothing and authoritative which makes him a perfect choice to Papa. However, a surprise was in store when I discovered the voice of Smurf Willow, the leader of the lost community, was none other than Julia Roberts (Pretty Woman). Again, a great casting choice but definitely unexpected. Unfortunately, I was disappointed with Wilson as Gargamel. I remember the cartoon wizard having more of an accent, maybe German or Austrian and this one seems to be too "white-washed" for my taste.

The music is fun and, of course, the Smurfs wouldn't be the Smurfs without a musical number or two. The overall feel is a throwback to those days back in the 1980's when I could grab some cereal and watch tv while the rest of the house was still sleeping. In that aspect, the film is much more like the original than the 2011 and 2013 live action movies were, so I enjoyed this one a little more as the nostalgia of a simpler time enveloped me. However, the story and characters had nothing much to say, making this a glorified version of the cartoon we all know and love.

Grade: C
Read More Smurfs: The Lost Village Reviews
For more reviews please visit our film/television review section.
SPONSORED LINKS
Comments

Courtesy of
Movie Hype App
deadpool27
Great movie
6/26/2017 11:36 AM EST
jaida1234
💦💦💦💦 It is good to have this
6/14/2017 3:32 PM EST
luarreguin2004
New Discovery!!
5/9/2017 6:35 PM EST
movieguynathan
4/1/2017 10:02 AM EST
ali121
Little blue people!!!
4/1/2017 9:47 AM EST
garciaan28
Can't wait to watch the new one i saw the first one and i loved it and now they are doing another one😮😮😮😮!!!!😊😊😊😊
3/22/2017 10:22 PM EST
sandrad1972
Can't wait. Grew up watching the cartoon version every Saturday morning after cleaning the house.
3/7/2017 3:10 PM EST
tistheseasontobeholly
Wow another smurfs movie too must never stop making them there so boring and I'm a grown man
11/13/2016 2:00 PM EST
coreyanthony26
Smurfs What A Classic bring Out The Smurfs
3/10/2016 8:24 PM EST
littlerockzombieland
its gonna b in Britain this time
12/29/2014 9:19 AM EST
sallymcsaggytits
Oh god please no
7/28/2014 1:57 PM EST
jordan_grace
Really? How many if these do we need?
2/24/2013 6:54 PM EST