The Heat (2013)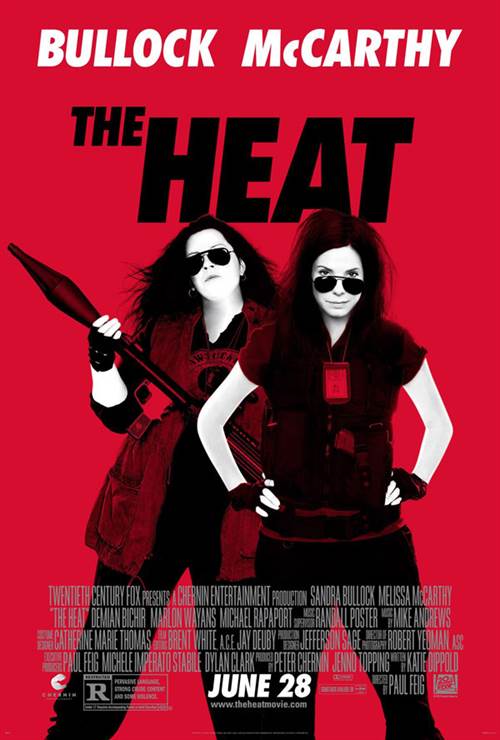 Share this:
| | |
| --- | --- |
| Director: | |
| Writers: | |
| Cast: | |
| Released: | Friday, June 28, 2013 |
| Length: | 117 minutes |
| Studio: | 20th Century Studios |
| Genre: | Comedy, Action/Adventure |
| Rating: | Under 17 requires accompanying parent or adult guardian. |
Synopsis
Uptight and straight-laced, FBI Special Agent Sarah Ashburn (Sandra Bullock) is a methodical investigator with a reputation for excellence--and hyper-arrogance. Shannon Mullins (Melissa McCarthy), one of Boston P.D.'s "finest," is foul-mouthed and has a very short fuse, and uses her gut instinct and street smarts to catch the most elusive criminals. Neither has ever had a partner, or a friend for that matter. When these two wildly incompatible law officers join forces to bring down a ruthless drug lord, they become the last thing anyone expected: buddies. From Paul Feig, the director of "Bridesmaids."

Purchase DVD/Blu-ray/4K UHD physical copy of The Heat today at Amazon.com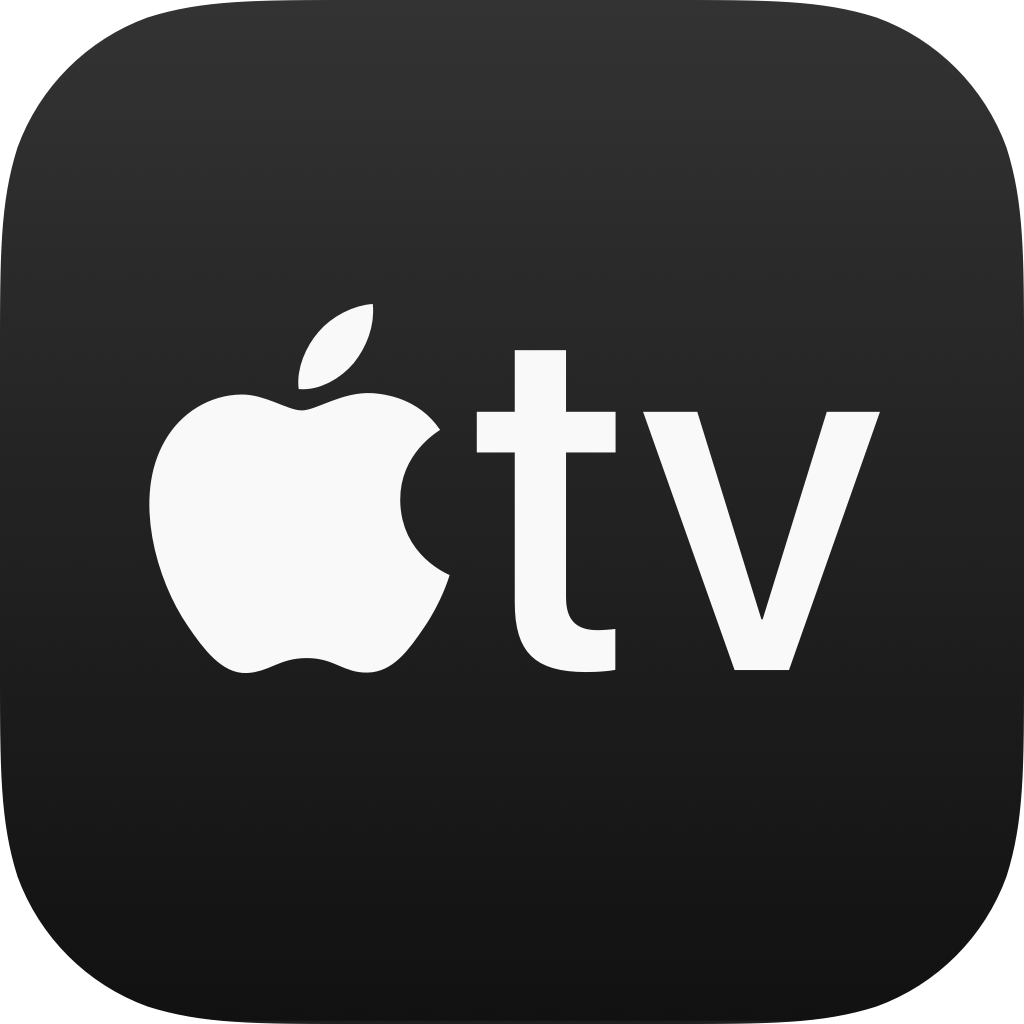 Download The Heat in Digital HD/4K from the iTunes store.
The Heat images are © 20th Century Studios. All Rights Reserved.
The Heat Sequel in the Works
7/2/2013 11:39 AM EST
"The Heat", which stars Sandra Bullock and Melissa McCarthy, opened in second place this weekend, beating out "White House Down", starring Channing Tatum and Jamie Foxx.     The film earned $40 million, which is a great start to earning a profit since the film was made for $43 million.  So now, the inevitable question - will there be a sequel?  Of course! In fact, Paul Feig confirmed it and said t...
More>>
The Heat Theatrical Review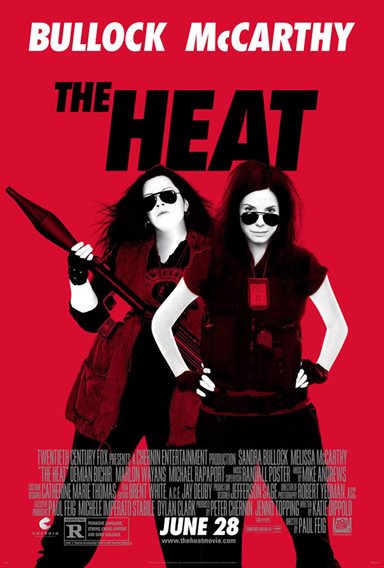 One of the better comedies to be released this year, The Heat has a lot going for it with a fine cast, good comedic writing and some nice direction from Paul Feig who gave us Bridesmaids. Of course it doesn't hurt to have Melissa McCarthy one of the top comics in the business as your co-star. If you're looking for a lot of laughs from a plot with a lot of crude behavior than make it a point to check out The Heat.

The movie centers on FBI Agent Sarah Ashburn (Sandra Bullock) who has been sent to Boston to catch the king pin in a drug ring. She's excited about the case because if she catches the ruthless cur it could lead to a big promotion. Unfortunately Sarah is more into accomplishments and her FBI training and frequently lets these ego generated values get in her way of making friends within fellow workers. So when Sarah gets paired up with Boston's top undercover detective Shannon Mullins (Melissa McCarthy) she treats the unkempt officer as trash. When they find a lead that should get them pay dirt, the two find out that a combination of both their crime tactics may be the answer to a big arrest.

The comedy here gets wacky in nearly every scene with Shannon spouting off major obscenities as if she were a drunken sailor and Sarah being her opposite with a civil demeanor. They are a modern day Laurel and Hardy with Sarah lost in a world that's way above her miniscule street knowledge and Shannon amazed at her naiveté. The two crank out great dialogue while they interrogate suspects, have drinks at a rough bar, investigate crime scenes and come face-to-face with hardened criminals. It's a laugh fest, then some.

Director Paul Feig (Knocked Up) keeps his actors on a tight leash keeping them in character throughout the film. You can see a lot of adlibbing, but it's more character creation than upstaging and very suitable for getting some frequent belly laughs. His two cops are consistently incompatible, not only on the street, but with Sarah sticking her nose in Shannon's family business even if it could cause further damage to relationships. Feig however, makes sure that neither personality is overplayed and keeps the story on point.


While Bullock played a similar comedic role as a cop in Miss Congeniality where her character was a fish out of water, she really gets a beating in The Heat. Here it's not all charm and smarts for her character, but a face-to-face with danger using her instincts as her guide. McCarthy does a 180 from her role as Diana the con artist in this year's Identity Thief who gets paired with another straight laced character Sandy Patterson played by Jason Bateman. In that film she kept the banter going to a comedic high and in The Heat she tops it with more exaggeration humor than ever. She's at the top of the heap right now with two starring roles (not counting Hangover III) in 2013 that keep audiences standing in line at movie theaters seeking more of her addictive wit.

The Heat however does have a downside and that's too much of a good thing. I felt myself waning trying to keep high on their buddy comedy, but there's so much of it. It's one of those films that you want to talk over with the person you saw it with so you can get the holes filled created by loud incessant laughter. Most people won't find this a problem, but when you're reviewing a film with a large audience, it can be monumental if you miss some key dialogue.

The Heat has been rated R by the MPAA for pervasive language, strong crude content and some violence. Trust me on this that McCarthy's dialogue in the film has enough gross, rude, rough and offensive street language to fill two films. Speaking of that, I do not doubt that there will be sequels, much like the mismatched characters in 48 Hrs, Shanghai Knights, Lethal Weapon, Bad Boys and others.

FINAL ANALYSIS: A wacky film that provides abundant laughter. (B)

-- John Delia
Read More The Heat Reviews
For more reviews please visit our film/television review section.
SPONSORED LINKS