Ride Along (2014)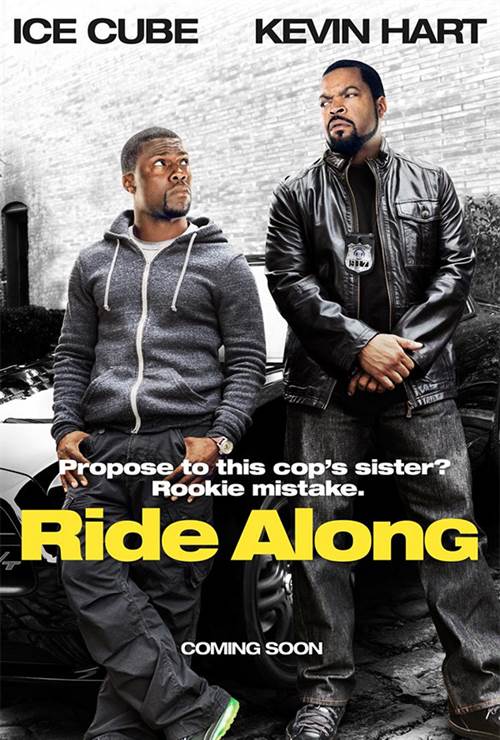 Share this:
| | |
| --- | --- |
| Director: | |
| Cast: | |
| Released: | Friday, January 17, 2014 |
| Length: | 100 minutes |
| Studio: | Universal Pictures |
| Genre: | Comedy, Action/Adventure |
| Rating: | Some material may be inappropriate for children under 13. |
Synopsis
For the past two years, high-school security guard Ben has been trying to show decorated APD detective James that he's more than just a video-game junkie who's unworthy of James' sister, Angela. When Ben finally gets accepted into the academy, he thinks he's earned the seasoned policeman's respect and asks for his blessing to marry Angela. Knowing that a ride along will demonstrate if Ben has what it takes to take care of his sister, James invites him on a shift designed to scare the hell out of the trainee. But when the wild night leads them to the most notorious criminal in the city, James will find that his new partner's rapid-fire mouth is just as dangerous as the bullets speeding at it.
Purchase DVD/Blu-ray/4K physical copy of Ride Along today at
Download Ride Along in Digital HD/4K from the iTunes store.
Ride Along images are © Universal Pictures. All Rights Reserved.


Ride Along Theatrical Review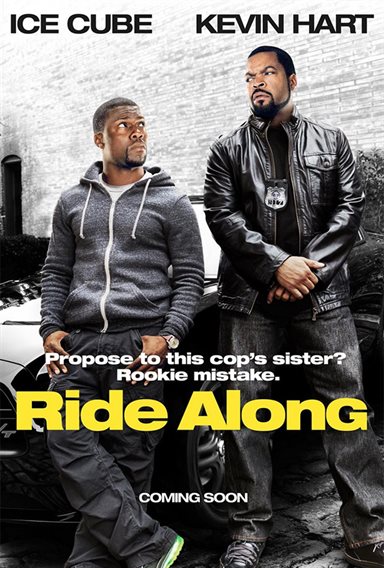 Getting very goofy and wacky comes natural to Kevin Hart and with Ice Cube as his partner in Ride Along he does it well. The story may be a little hackneyed and predictable, but it's their comedic performances that make the movie fun. Whether you are a Kevin Hart fan or just like a lot of craziness in your film diet, than drive over to see this madcap comedy.

The film opens with Atlanta Detective James Payton (Ice Cube) working undercover as a buyer for fake passports. When the bust goes the wrong way, James finds himself under the watchful eye of his Lieutenant. But, that's not the biggest headache for James, it's High School security guard Ben Barber (Kevin Hart) who's living with his sister Angela (Tika Sumpter).

Showing up at their apartment one day James pushes Ben to end the relationship. Ben's not giving in and offers to prove to James that he's worthy of being with Angela forever. Ben gets accepted into the Atlanta Police Academy and feels it's time to pop the question to Angela, but wants James's blessing. He brings up the subject to James and he gets challenged in his capability of being a cop. When James dares him by offering a ride along on a police workday, Ben takes him up on it.

The two get into some very silly situations during the ride along that unbeknownst to Ben are a set up. Director Tim Story (Fantastic 4) keeps his film moving at a fast clip giving the two stars a lot of screen time and showing Kevin Hart at what he does best. When the tempo changes and turns to a more serious tone, Story shows another side of the comedy duo. It must have been a challenge for Story to work with the two actors as they seem to be adlibbing their way though most of the movie.

Kevin Hart puts on a great show with his brand of comedy. A likeable and funny man, the comedian strays very little from his comic persona. He also shows he can get a little testy too, showing his character as one who can stand up against the bad boys when he needs to. But, there's nothing like a straight man to bounce off the comedy and with Ice Cube (Are We There Yet), there's no better guy to work with when it comes to a stern face and a tough attitude.

Films about buddy cops have been worn thin with so many movies using the genre. Martin Lawrence and Will Smith in "Bad Boys", "Lethal Weapon" starring Mel Gibson and Danny Glover, "21 Jump Street" featuring Jonah Hill and Channing Tatum and "The Other Guys" with Mark Wahlberg and Will Farrell, "The Heat" starring Sandra Bullock and Melissa McCarthy set the bar when it comes to police action comedy. In order to pull off the perfect combo, a little unpredictability would be needed. Unfortunately, we don't get much of it here and for that the moviegoer will have to accept the movie as more of a comedic stage performance by Kevin Hart than a new narrative brought to the screen.

Ride Along has been rated PG-13 for sequences of violence, sexual content and brief strong. Be cautious when deciding to allow immature children see the film as it does have some scenes that are inappropriate for adolescents.

FINAL ANALYSIS: A fun film with a lot of colorful comedy. (C)
-- John Delia
For more reviews please visit our film/television review section.
For the past two years, high-school security guard Ben has been trying to show decorated APD detecti...
SPONSORED LINKS
Comments

Courtesy of
Movie Hype App
demyra
love him
4/11/2015 8:27 AM EST
mikezachar
Should be funny
2/3/2015 9:08 PM EST
irod23
love Kevin Hart
11/18/2014 12:44 PM EST
kylont
This was so funny any one else
4/25/2014 8:31 PM EST
turnerfan77
Love Kevin Hart!
4/15/2014 8:55 PM EST
bcd
I wouldn't dare pay money to see this stupid, unfunny movie!! I haven't seen and I don't want to--I like comedies--but not this kind!!
2/4/2014 5:18 PM EST
star_kysha
Too funny
2/2/2014 10:29 PM EST
aaronmsmith
Is that movie good I kinda want to see it
1/20/2014 9:34 PM EST
ali121
1/14/2014 7:18 PM EST
movieguynathan
1/14/2014 7:13 PM EST
chrissy
Can't wait to go see this
11/30/2013 6:29 PM EST
domarcus
This bout to be the s***!!!
11/17/2013 10:07 PM EST
lord_liono
Gonna be funny!!
10/23/2013 11:45 AM EST
shugg2rhytme
Kevin
10/5/2013 6:57 PM EST
teflonchris
Kevin hart maaa nigga...
9/29/2013 5:21 AM EST