Into The Woods (2014)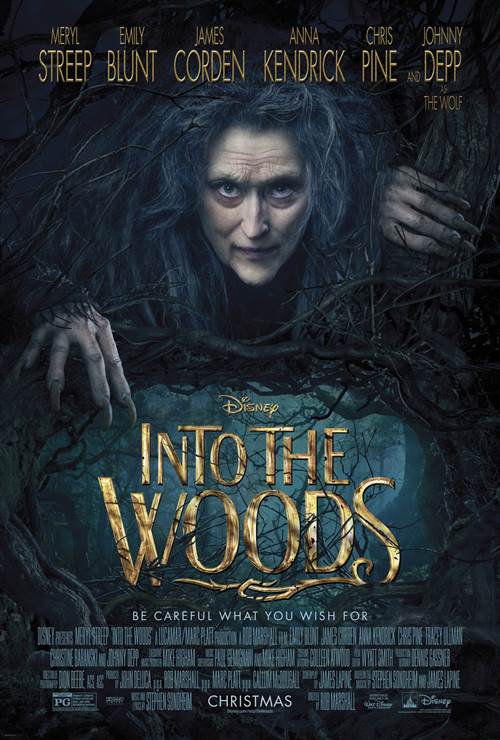 Share this:
| | |
| --- | --- |
| Director: | |
| Writers: | James Lapine |
| Cast: | |
| Released: | Thursday, December 25, 2014 |
| Length: | 124 minutes |
| Studio: | Walt Disney Pictures |
| Genre: | Musical |
| Rating: | Some material may not be suitable for children. |
Synopsis
Into the Woods is a modern twist on several of the beloved Brothers Grimm fairy tales, intertwining the plots of a few choice stories and exploring the consequences of the characters? wishes and quests. This humorous and heartfelt musical follows the classic tales of Cinderella (Anna Kendrick), Little Red Riding Hood (Lilla Crawford), Jack and the Beanstalk (Daniel Huttlestone), and Rapunzel (MacKenzie Mauzy), all tied together by an original story involving a Baker and his Wife (James Corden and Emily Blunt), their wish to begin a family and their interaction with the Witch (Meryl Streep), who has put a curse on them.
Purchase DVD/Blu-ray/4K physical copy of Into The Woods today at
Download Into The Woods in Digital HD/4K from the iTunes store.
Into The Woods images are © Walt Disney Pictures. All Rights Reserved.


Stephen Sondheim Discusses Disney's Into the Woods Adaptation
6/19/2014 2:52 PM EST
Disney will be releasing their version of "Into the Woods" this year, but don't expect it to be quite as racy as the original musical.According to Stephen Sondheim, quite a bit will be altered to bring the movie up to Disney's more family friendly standards. "You will find in the movie that Rapunzel [Mackenzie Mauzy] does not get killed, and the prince [Chris Pine] does not sleep with the [Baker's...
More>>
Into The Woods Theatrical Review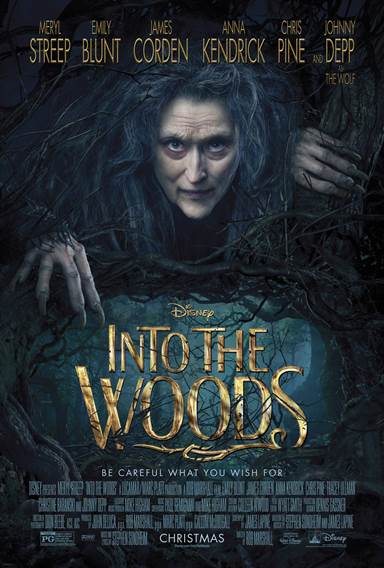 Musical theater fans have a reason to celebrate this holiday season. The beloved Broadway show Into The Woods opens in theaters on Christmas day. Directed by Rob Marshall (Chicago, Nine), the film boasts an all-star cast and enjoyable two hours of drama and song.

Into The Woods opened on Broadway in 1987 and won several Tony awards. A mash up of some well-known fairy tales; Cinderella, Rapunzel, Jack and the Beanstalk, The Baker and his Wife and Little Red Riding Hood; much of the story takes place in the woods connecting these fairytales. The characters enter the woods for various reasons and there their stories become intertwined.

The female cast members shine in the film with the exception of Daniel Huttlestone (Les Miserable) as Jack. Meryl Streep (Mamma Mia!, The Iron Lady) plays the witch and heads the cast of seasoned professionals. Streep is phenomenal as always but, having seen the original, live production on Broadway, I couldn't help but compare her to Bernadette Peters, who won acclaim for the role. Anna Kendrick (Pitch Perfect, Up In the Air) plays Cinderella and Emily Blunt (The Devil Wears Prada, Edge of Tomorrow) plays the Baker's wife who desperately hopes for a child and both actresses were a little bit of a good surprise in their respective roles. Tracey Ullman (The Tracey Ullman Show) doesn't disappoint as Jack's mother.

The male members of the film leave a little to be desired and didn't enhance the movie in anyway. Chris Pine's (Star Trek, Horrible Bosses 2) portrayal of Prince Charming is so over the top it is actually distracting and James Corden (Doctor Who) as the Baker is outshined in every scene with Blunt. However, the most cringe worthy performance was from Johnny Depp (Pirates of the Caribbean, Public Enemies) as the Wolf. While the Wolf is supposed to be creepy and scare Little Red Riding Hood, Depp took it to it to a whole other level that bordered on sexual predator and was down right disturbing. Frankly, I was glad he was only on screen for less than ten minutes.

Marshall shot the film as a darker version of the Broadway show, which is evident in the dialog and lighting of the scenes. For the most part it works but the film loses some of the childlike innocence and humor of the show. The music and lyrics by Stephen Sondheim (Sweeney Todd: the Demon Barber of Fleet Street) is classic that has help up over time and makes you leave the theater humming.

Since I was lucky enough to see the Broadway show, I enjoyed the movie but wasn't fully satisfied. Musical Theater fans who haven't had the pleasure of Broadway will like the movie quite a bit and will most probably laude Streep for her portrayal as the Witch.

Overall, a great way to spend a Christmas day with the family and certainly worth the price of admission.
Read More Into The Woods Reviews
For more reviews please visit our film/television review section.
SPONSORED LINKS
Comments

Courtesy of
Movie Hype App
coreyanthony26
This Movie Was Long but Very Good
3/6/2016 3:02 PM EST
savage_niyah215
Watching
5/17/2015 7:10 PM EST
babygirl1
great
5/10/2015 1:18 PM EST
animaljam
good one
5/2/2015 1:28 PM EST
dimasylupe
Lol
4/6/2015 2:14 AM EST
polina
I litterally want to watch this movie but I have to pay for it NOO!
2/1/2015 5:40 PM EST
703shussain
It's good
1/24/2015 10:57 AM EST
djhorn12
H
1/20/2015 6:05 AM EST
movieman24
Perfect fairy tale that came alive in a Movie on the Big Screen
1/18/2015 2:03 PM EST
motmit
Motmit@yahoo.co.uk
1/18/2015 8:26 AM EST
adrianne
It is fantastic
1/12/2015 6:02 PM EST
love__love
Love it
1/10/2015 7:09 PM EST
love__love
Yea
1/10/2015 7:08 PM EST
mahaldguzman
Early Friday movie!
1/8/2015 6:02 PM EST
mahaldguzman
Early disney movie!
1/8/2015 5:56 PM EST