Captain America: Civil War (2016)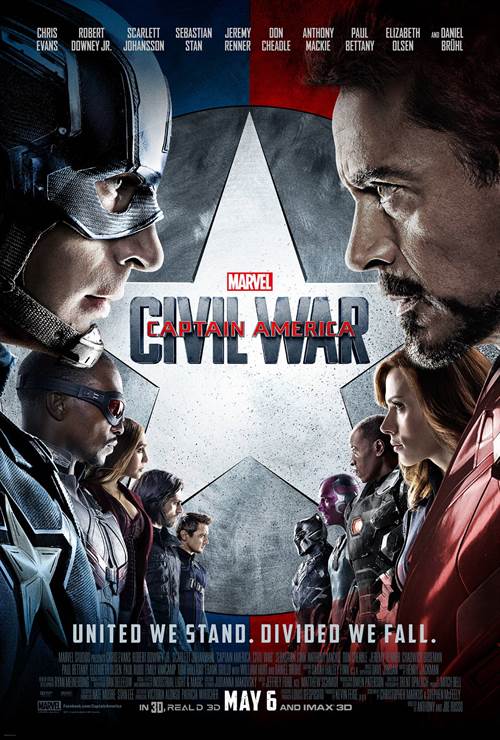 Share this:
| | |
| --- | --- |
| Director: | |
| Writers: | |
| Cast: | |
| Released: | Friday, May 6, 2016 |
| Length: | 146 minutes |
| Studio: | Walt Disney Pictures |
| Genre: | Action/Adventure |
| Rating: | Some material may be inappropriate for children under 13. |
Synopsis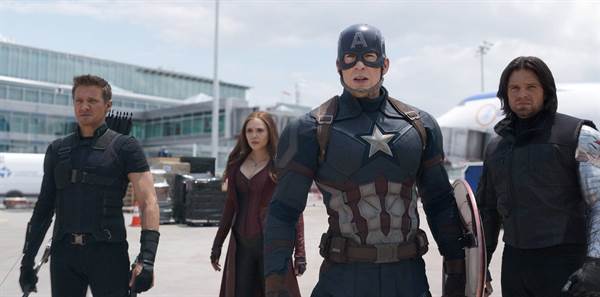 Marvel's "Captain America: Civil War" finds Steve Rogers leading the newly formed team of Avengers in their continued efforts to safeguard humanity. But after another incident involving the Avengers results in collateral damage, political pressure mounts to install a system of accountability, headed by a governing body to oversee and direct the team. The new status quo fractures the Avengers, resulting in two camps—one led by Steve Rogers and his desire for the Avengers to remain free to defend humanity without government interference, and the other following Tony Stark's surprising decision to support government oversight and accountability.

Purchase DVD/Blu-ray/4K UHD physical copy of Captain America: Civil War today at Amazon.com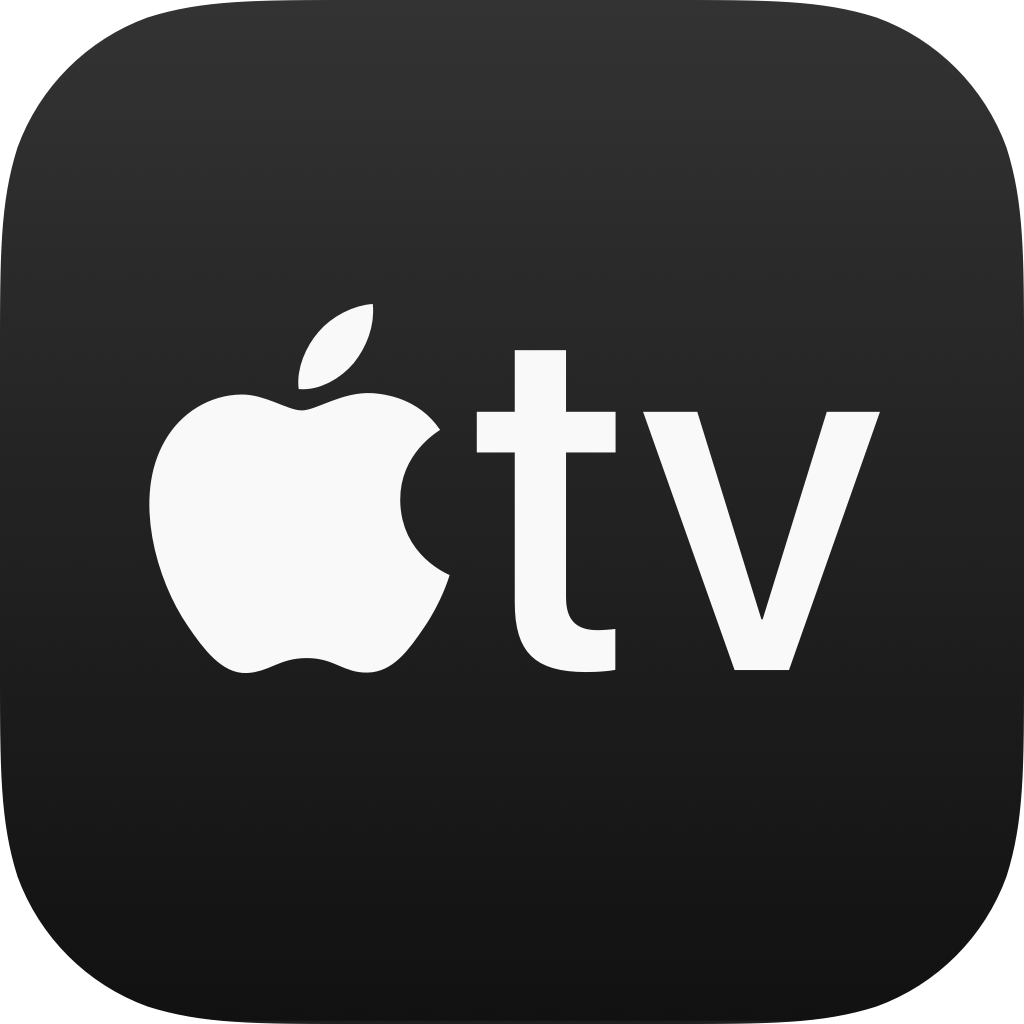 Download Captain America: Civil War in Digital HD/4K from the iTunes store.
Captain America: Civil War images are © Walt Disney Pictures. All Rights Reserved.
Daughter of Captain America Creator Supports Use of Character fo...
2/2/2017 4:05 PM EST
Captain America has long been a symbol of patriotism and doing what's right. The character was introduced back in 1940 by Joe Simon and Jack Kirby, who were both Jewish, in response to the uprising of Nazis.  Because of this, it may come as no surprise that people are using this figure as a symbol in this trying political climate.  And, according to Joe Simon's daughter Melissa Groben, that's perf...
More>>
Win Complimentary Passes for two to a 3D Advance Screening of Ma...
4/26/2016 9:41 AM EST
Marvel's CAPTAIN AMERICA: CIVIL WAR is coming to a theater near you in 3D, RealD 3D, and IMAX 3D on May 6, 2016! We have the opportunity for you to win complimentary passes for two people to the  3D Advance Screening from FlickDirect.  Enter by downloading the Movie Hype App and "following" CAPTAIN AMERICA: CIVIL WAR. Be sure to tell us if you are Team Captain or Team Iron Man and why with the has...
More>>
Marvel Studios Begins Production on Marvel's Captain America: Ci...
5/7/2015 12:45 PM EST
ATLANTA, GEORGIA (May 7, 2015) - Marvel Studios has commenced principal photography at Pinewood Studios in Atlanta, Georgia on "Captain America: Civil War," the third installment of its Super Hero franchise. The production will shoot on location in Atlanta, Georgia, which serves as the base for the film's production, as well as locations in Germany, Puerto Rico and Iceland.Set for release in the U...
More>>
Robert Downey Jr. to Star in Captain America 3
10/13/2014 9:49 PM EST
It has been reported that Robert Downey Jr. Will be starring in the upcoming "Captain America 3".The actor will, of course, reprise his role as Tony Stark, and the film will also mark the beginning of a crossover event with the new "Civil War" comic that is coming out next summer.  Downey Jr. will star alongside Chris Evans; no other cast announcements have been made.  "Captain America 3" is slate...
More>>
Captain America: Civil War Theatrical Review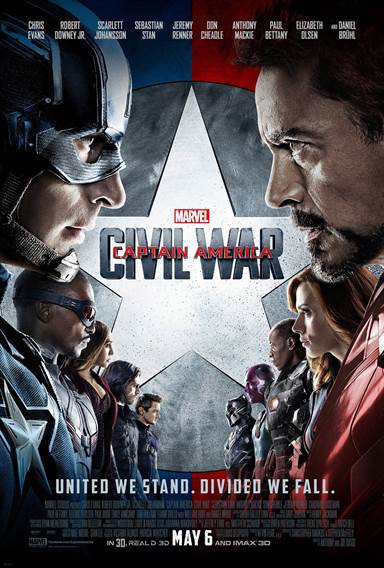 Everyone is talking about it… #TeamCap or #TeamIronMan. Where do you fall on the spectrum, or do you not even care? If you don't, you should, as
Captain America: Civil War
seems to be one of 2016's blockbusters. Garnering praise aplenty, movie goers will flock to the theaters to see it at least once in the next month and they won't (or shouldn't) be disappointed.
This Marvel movie has a different feel from its predecessors showing a little bit more grit and seriousness than in the past. Don't get me wrong, there are still a few funny moments, but there is also an overall sense that the franchise has matured a little. It seems to be a welcome change, and one that fans should eagerly embrace, as it creates a sense of purpose that the franchise lacked previously.
Back are all the major players, and their chemistry is apparent from the beginning. Always at cross purposes, Steve Rogers/Captain America (Chris Evans; Scott Pilgrim vs. the World) and Tony Stark/ Ironman (Robert Downey Jr.; Sherlock Holmes) find themselves on opposing sides of a polarizing argument that invariably splits the Avengers into two camps. While some "go Rogue" with the Captain, others play it safe with the "establishment and Ironman".
Joining the well formulated group are a very young and gawkish Peter Parker/Spiderman (Tom Holland; In the Heart of the Sea), the goofball Scott Lang/ Ant-Man (Paul Rudd; The Perks of being a Wallflower) and the agile and stealthy T'CHalla/Black Panther (Chadwick Boseman; Get On Up). While these "newcomers" are a welcome addition, Black Panther's costume leaves a lot to be desired and Spiderman as a super nerdy child is misplaced. It was nice to see Bucky Barnes/Winter Soldier (Sebastian Stan; The Martian) have a more emotional role than he has in past Captain America films, and I hope he will return for future episodes of the franchise.
The effects are some of the best I've seen and the fight scene choreography definitely puts all other movies on notice, as it steps up the intricacies a notch. However, the movie is entirely too long and the chase scenes drag on into infinity. There is also a complicated plot that tries to cram too many stories into one movie.
Directors Anthony and Joe Russo (Community) give a perspective on the fighting that I found to be all encompassing and thoroughly immerse the viewer in the scenes. I didn't find their camera angles to be skewed, nor the pacing off, but, as stated earlier, the chase scenes should have been further edited in post-production. The other post-production disappointment was the 3-D aspect of the film. It didn't really add anything to the plot or visuals and could have been left out, except the studio can charge more for a 3D showing than a regular one. Hail the almighty dollar (that isn't always a good thing)!
Most diehard fans will find enough similarities between the comic books and the movie to feel satisfied that Marvel stayed true to the plot. Those that have never read the comic books but enjoyed the other superhero offerings won't be disappointed by this latest installment.
It has action, drama, tension, and, besides a few missteps along the way, hits the proverbial mark for the most part. There are far worse films one could spend their money on and this one will give audiences an escape from reality for over two hours, while including some great fight scenes and special effects. Definitely worth viewing.

Grade: B
Read More Captain America: Civil War Reviews
For more reviews please visit our film/television review section.
SPONSORED LINKS