Lucifer (2016)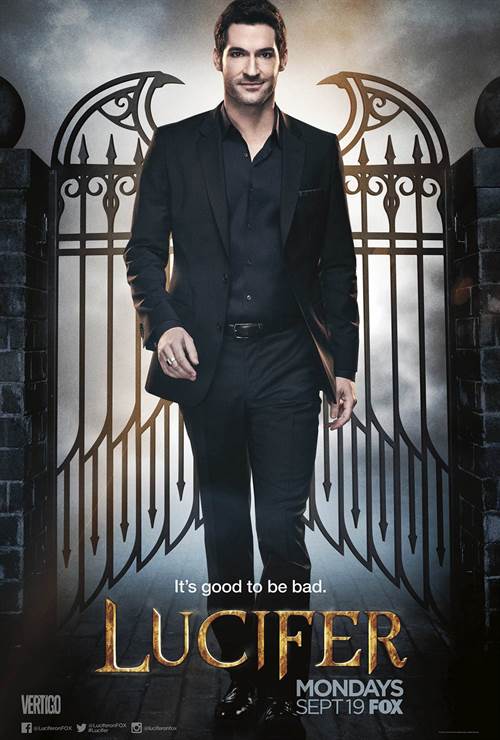 Share this:
| | |
| --- | --- |
| Created By: | |
| Cast: | |
| Air Date: | Monday, January 25, 2016 |
| Studio: | Netflix |
| Genre: | Television |
| Rating: | This program contains some material that many parents would find unsuitable for children under 14 years of age. |
Synopsis
Bored and unhappy as the Lord of Hell, Lucifer has resigned his throne and retired to the City of Angels, where he is indulging in a few of his favorite things — wine, women, song. When a beautiful pop star is brutally murdered before his eyes, he feels something awaken deep within him – for the first time in roughly 10 billion years. Is he actually capable of feelings for a human being? The very thought disturbs him — as well as his best friend and confidante, Mazikeen (aka Maze), a fierce demon in the form of a beautiful young woman. The murder attracts the attention of LAPD homicide detective Chloe Dancer, who finds herself both repulsed and fascinated by Lucifer. As they work together to solve the murder, Lucifer is struck by Chloe's inherent goodness. Used to dealing with the absolute worst of humanity, he begins to wonder if there's hope yet. Maybe everyone's got a chance for redemption. Even the Devil.
Purchase DVD/Blu-ray/4K physical copy of Lucifer today at
Download Lucifer in Digital HD/4K from the iTunes store.
Lucifer images are © Netflix. All Rights Reserved.


Netflix Renews Lucifer for Sixth and Final Season
6/23/2020 1:11 PM EST
Netflix has announced that it has renewed "Lucifer" for a sixth and final season. The announcement was made this morning via the official "Lucifer" Twitter.Series title star Tom Ellis just recently closed a deal to return to the series, as well as the other cast members and executive producers Ildy Modrovich and Joe Henderson.The show follows the new life of Lucifer after resigning from the throne...
More>>
Dennis Haysbert Cast as God for Lucifer's Fifth and Final Season
1/7/2020 2:24 PM EST
Dennis Haysbert has been cast as the role of God in the upcoming final season of "Lucifer". The announcement was made today by Warner Bros."Lucifer" co-showrunner Joe Henderson told Entertainment Weekly, "We did like the big crazy list of [possible actors for the part], and he was my top choice. We were lucky. It was our first and only offer."At the end of the fourth season, we saw Lucifer returni...
More>>
Netflix Renews Lucifer for a Fifth and Final Season
6/6/2019 11:21 PM EST
Netflix has announced that "Lucifer" has been renewed for a fifth and final season. The series dropped its fourth season via the streaming giant last month."Lucifer", which originally ran on Fox for three seasons, is based off a comic of the same name and follows the story of Lucifer after he decides to live on Earth. Tom Ellis, who plays the titular role, took to Twitter to comment on the news, s...
More>>
Netflix Picks Up Lucifer for Season 4
6/16/2018 10:34 PM EST
"Lucifer", the Fox series that was canceled by Fox last month, has found a new home. Netflix has decided to pick up the series for its fourth season.Fans of the show have been trying to save it ever since the announcement was made by taking to social media with the hashtag #SaveLucifer. Joe Henderson, the series co-showrunner, tweeted to fans when the Netflix announcement was made, saying, "Thank ...
More>>
Fox Cancels Lucifer After Three Seasons
5/11/2018 4:55 PM EST
Fox has decided to cancel its series "Lucifer" after three seasons.The series, produced by Warners Bros. in association with Jerry Bruckheimer Television, followed the story of the earthbound dark prince as he helped an LAPD detective solve crimes. It starred Tom Ellis, Lauren German, Rachael Harris, DB Woodside, Lesley-Ann Brandt, Aimee Garcia, Tricia Helfer, Scarlett Estevez and Kevin Alejandro....
More>>
Fox Renews Lucifer for Third Season
2/13/2017 3:52 PM EST
Fox has announced that they have renewed their hit drama series Lucifer for a third season.Fox Broadcast Co.'s entertainment president, David Madden, said, "Lucifer is one of those rare shows that starts strong out of the gate, and just keeps getting better and better. Tom, Lauren and the entire cast have really made these characters three-dimensional, and the production team - Jerry, Len, Jonatha...
More>>
The Complete First Season DVD Review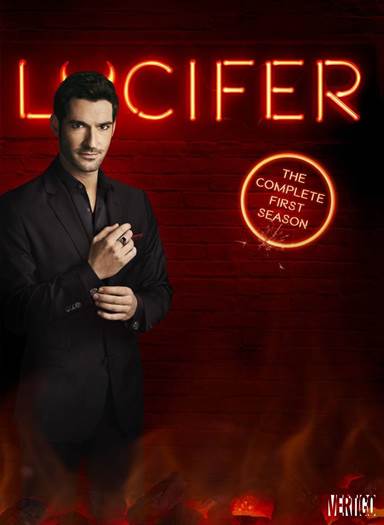 Fox Makes Deal With The Devil
"Please allow me to introduce myself, I'm a man of wealth and taste
I've been around for a long, long year, Stole many a man's soul and faith"
What's my name?
Lucifer Morning Star
Is that a stage name or something?
God given I'm afraid.
Being released this week from the gates of Warner Brothers on Blu-ray and DVD is season one of the new hit show from FOX… Lucifer! Lucifer is just another on the long list of shows being produced for TV from the DC Comics universe. Yes, Lucifer Morningstar is a DC Comics character that was published under the Vertigo label. For those that didn't know this, Vertigo was created so DC could publish stories with more graphic or adult content, bypassing the Comics Code Authority which had strict guidelines. Let's just say it's the equivalent to "R" rated as compared to "G".
That being said, would it surprise you that the Devil himself may lead viewers to less wholesome entertainment? Well, it turns out, Lucifer Morningstar has grown tired of Hell, and has decided that a vacation is in order! Lucifer now runs his own Piano bar/club in L.A. where he can hang around with all kinds of temptations. Of course, he's not alone. His dedicated ally and confidante Mazikeen, or Maze for short, is always tending bar while reminding her boss who he is, and how it may be time to go back home.
An old friend, and now celebrity, Delilah decides to swing by and have a drink with Lucifer. And after asking the question "Did I sell my soul to the devil?" and discussing some bad choices that were really more "free will" orientated, she makes a promise to Lucifer to get her act straight. It's at that moment an SUV drives up to the outside of the club where Lucifer and Delilah were walking, and guns them down. Well, I should clarify, guns her down since Lucifer is immortal!
Enter Detective Chloe Decker, who seems impervious to Lucifer's charms, to investigate the murder. While Lucifer has a personal interest in "punishing" the one who was behind the shooting (punishing really is the Devils forte), his confidence in Chloe's catching the one behind it is lacking, so Lucifer starts investigating on his own. Throughout the investigation, Lucifer starts finding Chloe intriguing. In fact, after figuring out that Detective Chloe was once an adult actress in a film called "Hot Tub High School", his interest in her grows. Well, come on, most women just throw themselves at Lucifer and here comes a woman that thinks he's a repulsive dick.
After solving the case, Lucifer keeps finding a way to be close to Chloe by being a consultant to the detective. It seems the Devil has some very useful skills.
Now, everyone is allowed some vacation time, but it seems as if God thinks he's taking too much time off from his day job, so he sends Lucifer's brother Amenadiel to remind him that he has a job to get back to. Thing is, Lucifer doesn't care. He is so taken with Chloe and dealing with, well, daddy issues, to the point that he ends up taking up sessions with the shrink that helped them solve a case in episode one.
The thing is, the detective/consultant TV show idea has been done before - Monk, The Mentalist - been there, seen it… and the detective storyline may have actually been way better on those! But, this show's heart and soul resides in Lucifer himself. The way I describe it, it's like The Walking Dead. It's not about the Zombies, it's about the people! Well, that's Lucifer's draw. No, not zombies! It's all about the relationship issues with the Devil himself. I mean come on, if you know anything about him, he was cast down from the Heavens to rule over hell and, honestly, he's got some anger issues over it.
"Lucifer" is truly is a guilty pleasure of mine. I will tell you why I find it so addictive. Tom Ellis (Miranda, Rush), who plays Lucifer, truly emotes the most charming, devilish, sarcastic, sexual deviant of a character, to the point that you can't help but to have sympathy for him. It's on his delivery and character alone that this series survives on. If you're charmed by him, you'll love the show. If you're like Chloe, and don't fall prey to his charms, you may not be as entertained. I will say, as one that was raised under the Christian umbrella, giving the Devil such dialogue and charm could be dangerous to all that fear him! You know IMDB lists 1198 instances where the Devil has made an appearance in TV or Film? Not to mention the longest list of alternate names I ever did see. Tom Ellis's performance is in the top 5 for me! Sorry Tom, it's going to take a lot to surpass Jack Nicholson in Witches of Eastwick and Al Pacino in The Devil's Advocate, but, damn, you're in good company!
The rest of the cast is great, as well. Lesley-Ann Brant (Single Ladies) comes out just as devilishly strong as Maze. I'd be totally willing to have a few drinks with her! Lauren Gram (Chicago Fire, Hawaii Five-O) plays the elusive Chloe Decker. While I feel the detective stories play second fiddle to Lucifer's relationships, the chemistry between Ellis and Gram is fantastic. And, secretly, one has to imagine at some point we will find out why Chloe Decker is immune to Lucifer's charms. D.B. Woodside (Suits & 24 as Wayne Palmer) plays the overbearing brother Amenadiel, who is always climbing up Lucifer's butt to remind him of his duties and what a bad angel he has been. Last, but totally not least, is Rachael Harris (Suits) who plays psychologist Dr. Linda Martin. The scenes between her and Lucifer are totally my favorite! I mean really, the Devil has so many issues, where to start? Cause if you start at the beginning (of time), this may take a bit; though, we always know where it will end… with a trip to "pound town".
All I can say is Director Tom Kapinos (Californication… and that shouldn't surprise you there) has produced one hell of a show!
And as the Rolling Stones would sum it up…
"Just as every cop is a criminal
And all the sinners saints
As heads is tails
Just call me Lucifer"

Sadly, like most home video sets these days, there are not a lot of extras included on this DVD and the ones that are there are short and not insightful for the most part. There are brief Character profiles that add little information fro anyone who has watched the show and there is a 1minute snippet about Chloe and Lucifer's relationship that is worth skipping. As always the deleted scenes have been deleted for a reason. The 2015 Comic Con panel is ok but was shot before the cast shot most of season 1 so they couldn't give a lot of details. Interestingly enough the one extra that I generally find stupid, the gag real, is in this instance actually fairly funny, mainly because there are numerous sexual jokes thrown in. Not a lot to write home about there! But, if Lucifer was to ask me what my deepest darkest desire is…. it would be for a season two!
I give Lucifer: The Complete First Season 4.5 Stars out of 5!
Read More Lucifer Reviews
For more reviews please visit our film/television review section.
Reeling from the aftermath of Chloe seeing his devil face, Lucifer faces a new challenge: Eve, the o...

Tom Ellis, the star of Fox's hit television series, Lucifer talks to FlickDirect about if he use...
SPONSORED LINKS