xXx: The Return of Xander Cage (2017)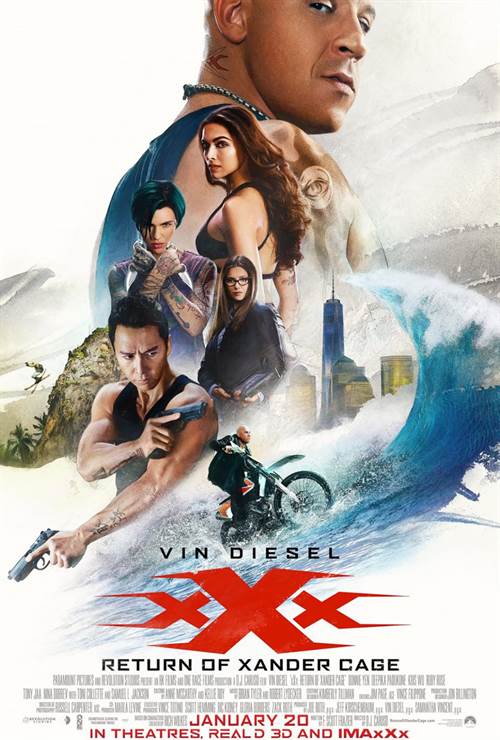 Share this:
| | |
| --- | --- |
| Director: | |
| Writers: | |
| Cast: | |
| Released: | Friday, January 20, 2017 |
| Length: | 107 minutes |
| Studio: | Paramount Pictures |
| Genre: | Action/Adventure |
| Rating: | Some material may be inappropriate for children under 13. |
Synopsis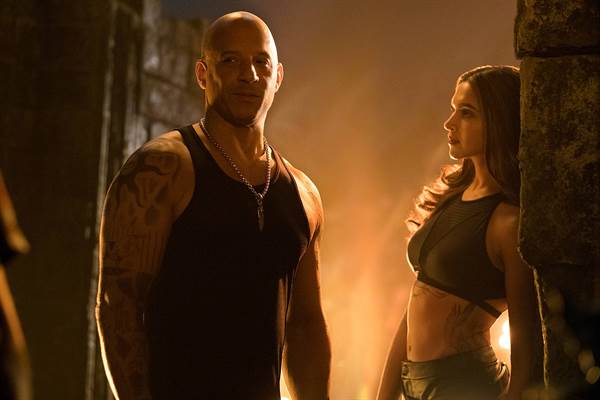 The third explosive chapter of the blockbuster franchise that redefined the spy thriller finds extreme athlete turned government operative Xander Cage (Vin Diesel) coming out of self-imposed exile and on a collision course with deadly alpha warrior Xiang and his team in a race to recover a sinister and seemingly unstoppable weapon known as Pandora's Box. Recruiting an all-new group of thrill-seeking cohorts, Xander finds himself enmeshed in a deadly conspiracy that points to collusion at the highest levels of world governments. Packed with the series' signature deadpan wit and bad-ass attitude, "xXx:RETURN OF XANDER CAGE" will raise the bar on extreme action with some of the most mind-blowing stunts to ever be caught on film.

Purchase DVD/Blu-ray/4K UHD physical copy of xXx: The Return of Xander Cage today at Amazon.com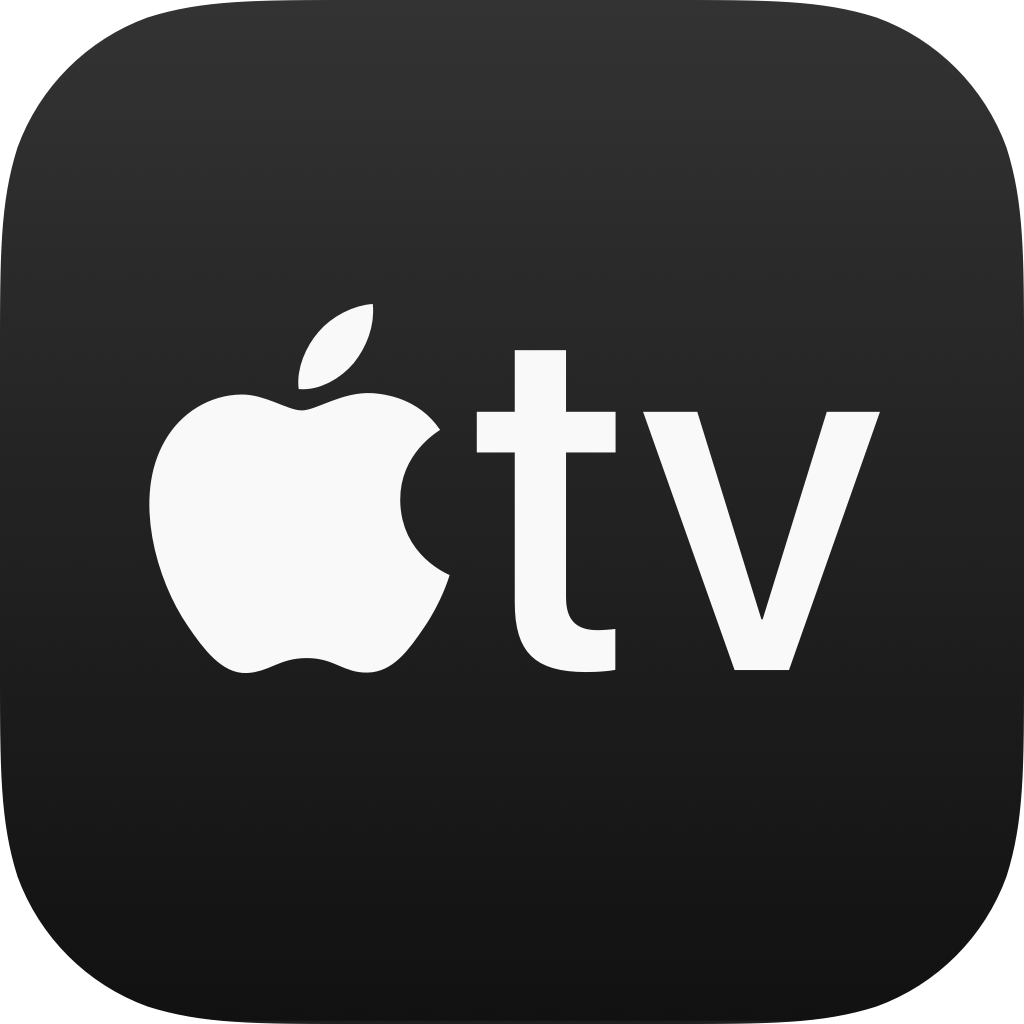 Download xXx: The Return of Xander Cage in Digital HD/4K from the iTunes store.
xXx: The Return of Xander Cage images are © Paramount Pictures. All Rights Reserved.
xXx Heading Back to the Big Screen with a Fourth FIlm
4/18/2018 10:26 AM EST
"xXx", the franchise starring Vin Diesel, will be getting a fourth installment. Diesel's One Race Films and The H Collective have acquired the rights to the franchise and will begin filming in December. In the film, Diesel plays a spy for the National Security Agency. The films, which have grossed over $1 billion worldwide, include 2002's "xXx," 2005's "xXx: State of the Union," and  2017's "xXx: ...
More>>
xXx: The Return of Xander Cage Theatrical Review
As great as it is to eat a gourmet meal, sometimes, all you're really craving is some junk food; something cheap and tasty that you can just mindlessly eat for a little bit of instant pleasure. For me, action movies are my junk food. If Mad Max: Fury Road is the cinematic equivalent of a Five Guys burger, then xXx: Return of Xander Cage is like a Quarter Pounder at McDonald's; one is clearly better, but both are still delicious. I think I lost track of my food analogy, but the point I'm trying to make is that I enjoyed this movie.
The story begins, appropriately enough, with an explosion. A device known as "Pandora's Box" has the power to shut down every satellite orbiting Earth, sending it crashing down like a giant missile. The first satellite ends up killing NSA Agent, and head of the xXx program, Augustus Gibbons (Samuel L. Jackson; Pulp Fiction). While the NSA are discussing how to assess this crisis, their base is under attack by the villain Xiang (Donnie Yen; Rogue One) and his henchmen as they steal Pandora's Box. Now, there is only one person who can stop them, Xander Cage (Vin Diesel; Riddick). But wait, didn't he die in the second movie? He did, but he got better. Anyway, the head of the NSA, Jane Marke (Toni Collette; Little Miss Sunshine) meets with Xander to help them track down these terrorists. But he won't be working alone; he enlists the help of his fellow xXx agents: Adele Wolff (Ruby Rose; Orange is the New Black) is the sniper, Tennyson "The Torch" (Rory McCann; Game of Thrones) is the wheelman, and Harvard "Nicks" Zhou (Kris Wu; Journey to the West 2) is the party dude/diversionary tactician. Together, they must stop Xiang, destroy Pandora's Box, save the world, and look cool while doing it.
You know exactly how this story is going to turn out; the heroes are never in any real danger of dying, some of the bad guys are actually good, some of the good guys are actually bad. It's all very predictable. That's not to say it doesn't have a few tricks up its sleeve. One moment near the end of the film had me and the rest of the audience cheering. But really, the story is only here to provide context for the real star of the movie, the action scenes. When we are reintroduced to Xander, he's climbing up a communications tower, skiing down a jungle, skateboarding down a mountain path, narrowly avoiding oncoming traffic, all so he can make it down in time to catch a Soccer game on TV. And that's only the first 20 minutes. You've got martial arts brawls, parkour, gunfights, and even a chase scene where they're basically surfing with motorcycles. It's crazy in the best way, like you're watching a live-action cartoon.
xXx: Return of Xander Cage is a movie that knows exactly what it wants to be. It's unashamedly dumb, but it wears that label with pride and it never takes itself seriously. Fans of the series will appreciate all of the references and callbacks to the first two movies. It's filled with crazy stunts, big explosions, cheesy one-liners, and sexy women. If you're a fan of the first two movies, you already know whether or not you're going to see this. But if any of what I just said sounds appealing to you, then I highly recommend seeing this with friends, preferably in a theater that serves beer.
Grade: B
-- Javier Conte
For more reviews please visit our film/television review section.
The third explosive chapter of the blockbuster franchise that redefined the spy thriller finds extre...
SPONSORED LINKS