The Great Wall (2017)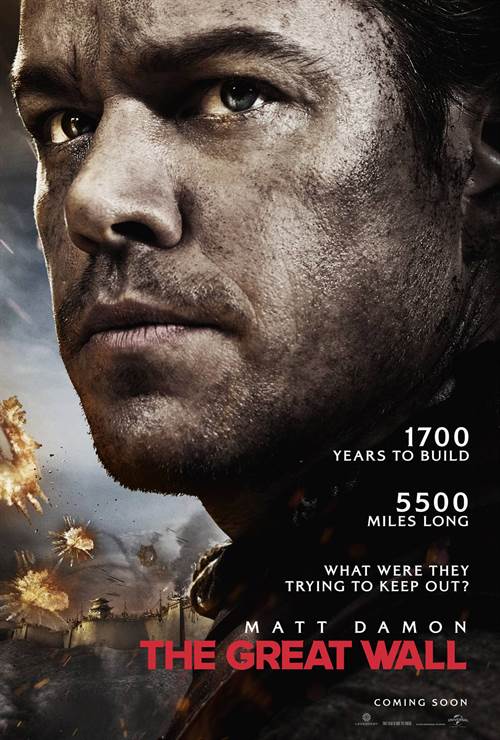 | | |
| --- | --- |
| Director: | |
| Writers: | |
| Cast: | |
| Released: | Friday, February 17, 2017 |
| Length: | 103 minutes |
| Studio: | Universal Pictures |
| Genre: | Sci-Fi/Fantasy, Action/Adventure |
| Rating: | Some material may be inappropriate for children under 13. |
The Great Wall Synopsis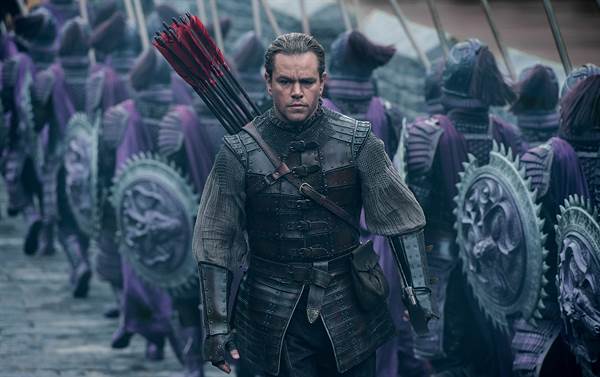 When a mercenary warrior (Damon) is imprisoned within The Great Wall, he discovers the mystery behind one of the greatest wonders of our world. As wave after wave of marauding beasts besiege the massive structure, his quest for fortune turns into a journey toward heroism as he joins a huge army of elite warriors to confront this unimaginable and seemingly unstoppable force.

Purchase DVD/Blu-ray/4K UHD physical copy of The Great Wall today at Amazon.com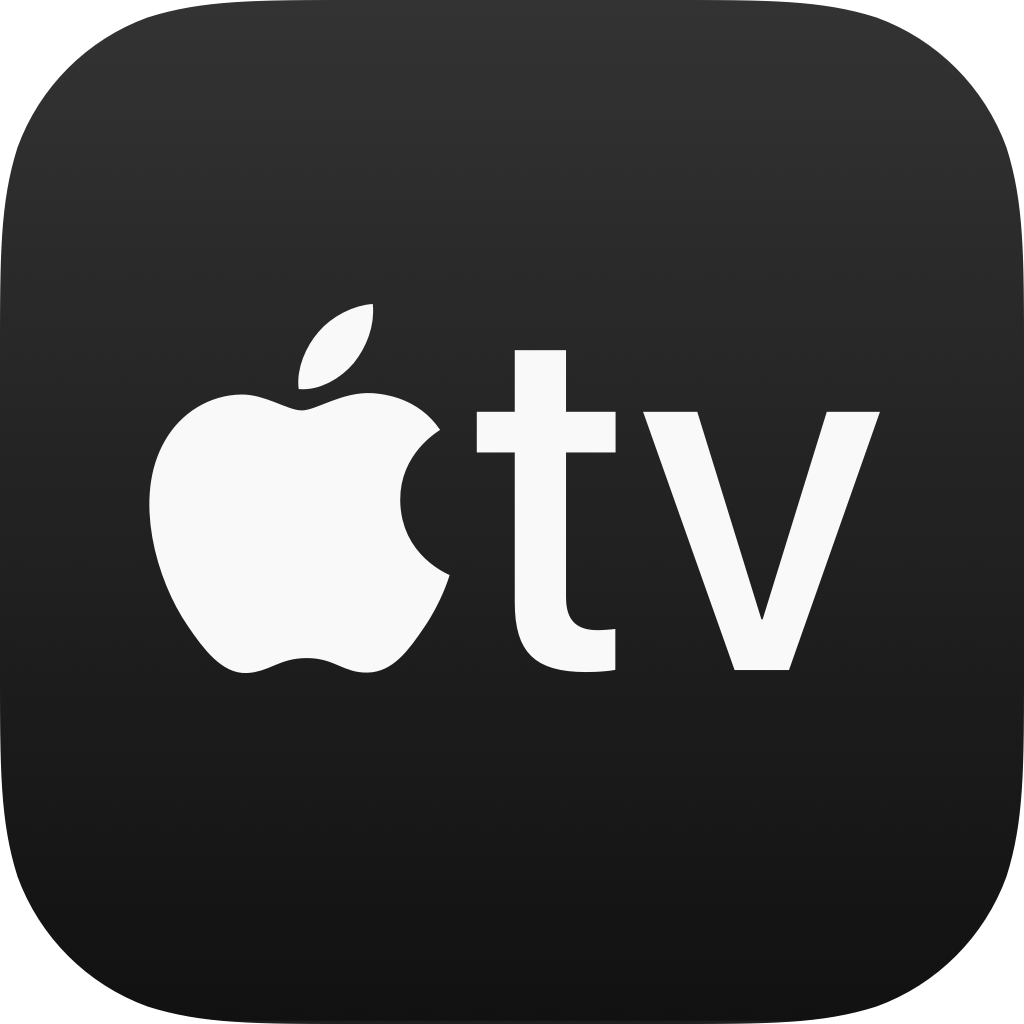 Stream The Great Wall in Digital HD/4K from the AppleTV store.
The Great Wall images are © Universal Pictures. All Rights Reserved.
The Great Wall Theatrical Review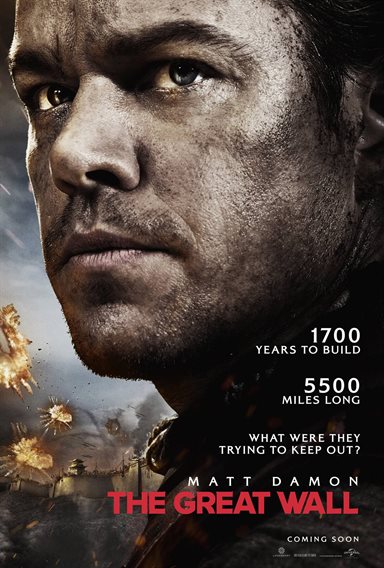 The Great Wall of China spans over 5,500 miles and took 1,700 years to build. It is made of stone, brick, and wood and was meant to keep enemies from crossing the border into China. A marvel of labor and architecture that can be seen from outer space, it has numerous stories to tell. Some of these stories include legends that are centuries old. The Great Wall interprets one such legend – that of the Tai Tio monsters that attack.

William (Matt Damon; Jason Bourne) and Tovar (Pedro Pascal; Narcos) are thieves looking for the mysterious "black powder" who end up being captured by the Chinese just before the siege is to begin. Unbeknownst to them, this siege happens once every sixty years but is no ordinary battle. This fight is against some supernatural creatures, looking to build their strength and feed their queen. Over the centuries, they have evolved and now pose a greater threat than ever before.

As the Army and Commander, Lin Mae (Tian Jing; Dragon Nest: Warriors' Dawn) wages war against these beasts, William and Tovar join in while secretly plotting to steal the black powder and escape the giant wall. However, William finds something more worthy than the powder – his pride and honor - and stays to fight. He, along with Strategist Wang (Andy Lau; A Simple Life) come to realize the magnetic rock William carries can subdue the creatures and they come up with a plan to try and defeat them. Unfortunately, the animals have evolved even more and manage to break through the wall. In order to save civilization, Lin Mae, Wang and William must race to the Capital to stop the bloodshed and kill the queen.

The Great Wall marks a milestone for Director Yimou Zhang (House of Flying Daggers) as it is his first English Language film and, with an estimated budget of $150 million, there are certainly high expectations from the studio. Unfortunately, I don't think the film is going to recoup its money anytime soon. While Zhang offers the audience some stunning visuals, such as the wall during a foggy day or vibrant colors throughout, the script is basic and the plot is groan worthy.

The views of China and the wall are incredible and I now want to save up to plan a trip there (of course it will probably take me 10 years to save up that much money). Zhang has color infused into almost every scene. The various colors of the factions of the Army make for some beautiful shots but I couldn't help and think "why would an army dress so colorfully as it leaves them as easy targets for their enemies" which, ultimately, made little sense to the plot. The dialog offers nothing interesting and simply serves to move things along in between action sequences.

The special effects are well done and the 3D element added a nice touch. The monsters themselves reminded me of another film, though I can't think of which one right now. The choreography of the battle scenes were a well-rehearsed dance and the various weapons and fighting techniques were interesting. I also felt the costumes were well done, with intricate details and, again, eye-popping colors.

Damon was ok but this wasn't his best role, by far. At some points, he weaves in and out between some sort of accent that I couldn't put my finger on and really he never should have attempted it. If you can't do an accent well and consistently...don't even try (Kevin Costner in Robin Hood anyone?). Pascal has a few funny lines and is fine as the side kick but Willem DaFoe (Spider-Man) is wasted in the role of Ballard, a westerner who has been trying to find a way to escape the wall with the black powder for the last 25 years. The standout among the cast is Tian Jing, whose soft-spoken manner belies her strength beneath the surface.

The Great Wall had all the elements to be a terrific film - good cast, great pictures, and a hefty budget. Sadly… it isn't so great.

Grade: C-
For more reviews please visit our film/television review section.
SPONSORED LINKS