Mary Poppins Returns (2018)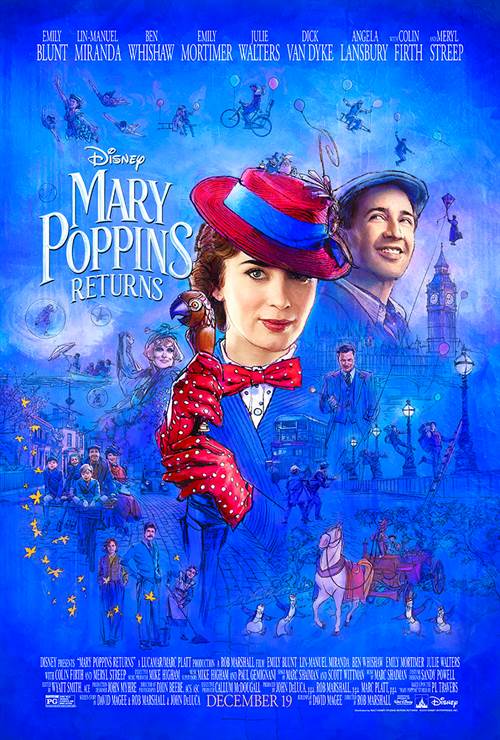 Share this:
| | |
| --- | --- |
| Director: | |
| Writers: | |
| Cast: | |
| Released: | Wednesday, December 19, 2018 |
| Length: | 130 minutes |
| Studio: | Walt Disney Pictures |
| Genre: | Family |
| Rating: | Some material may not be suitable for children. |
Synopsis
Directed and produced by Rob Marshall, "Mary Poppins Returns" also stars Lin-Manuel Miranda, Ben Whishaw, Emily Mortimer and Julie Walters with Colin Firth and Meryl Streep. The film, which introduces three new Banks children, played by Pixie Davies, Nathanael Saleh and newcomer Joel Dawson, also features Dick Van Dyke and Angela Lansbury. The film is set in 1930s depression-era London (the time period of the original novels) and is drawn from the wealth of material in PL Travers' additional seven books. In the story, Michael (Whishaw) and Jane (Mortimer) are now grown up, with Michael, his three children and their housekeeper, Ellen (Walters), living on Cherry Tree Lane. After Michael suffers a personal loss, the enigmatic nanny Mary Poppins (Blunt) re-enters the lives of the Banks family, and, along with the optimistic street lamplighter Jack (Miranda), uses her unique magical skills to help the family rediscover the joy and wonder missing in their lives. Mary Poppins also introduces the children to a new assortment of colorful and whimsical characters, including her eccentric cousin, Topsy (Streep). The film is produced by Marshall, John DeLuca and Marc Platt. The screenplay is by David Magee based on The Mary Poppins Stories by PL Travers with Marc Shaiman and Scott Wittman writing all new songs and Shaiman composing an original score.

Purchase DVD/Blu-ray/4K UHD physical copy of Mary Poppins Returns today at Amazon.com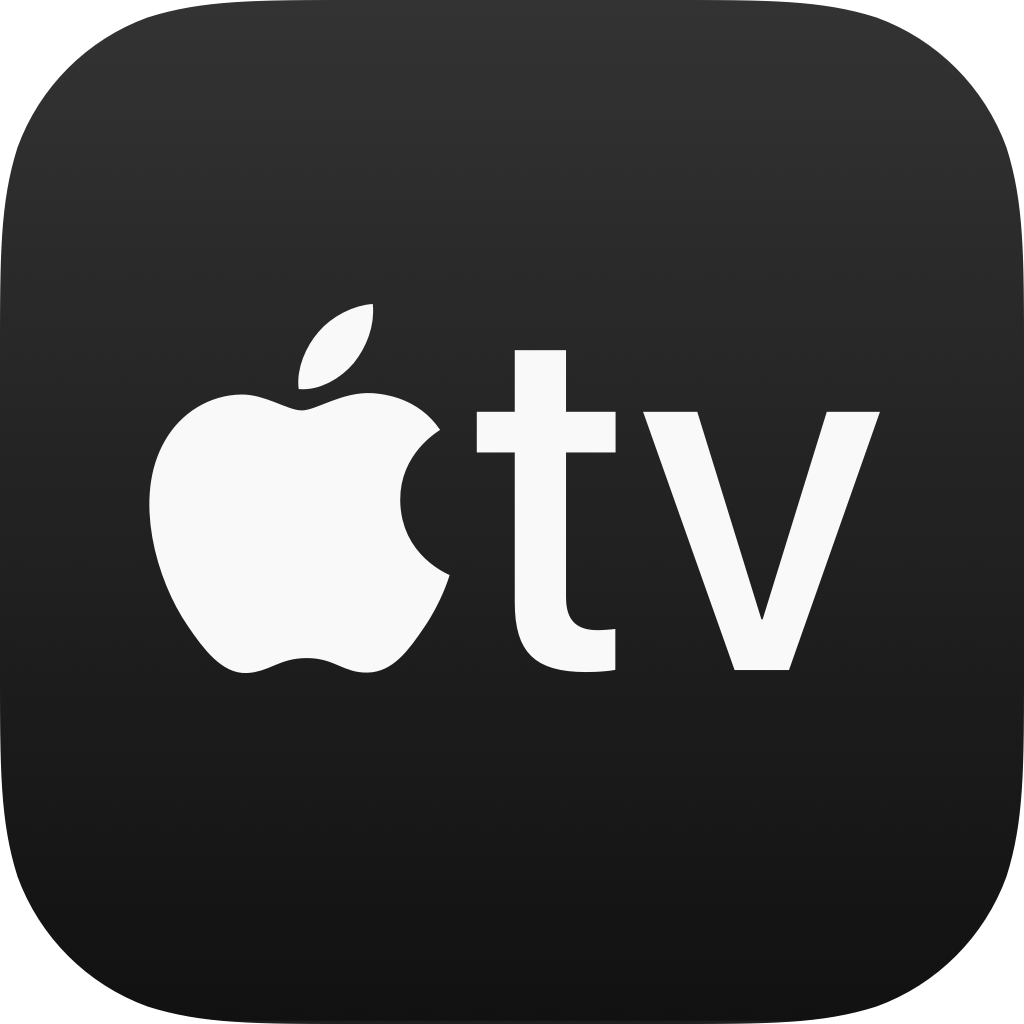 Download Mary Poppins Returns in Digital HD/4K from the iTunes store.
Listen to the Mary Poppins Returns soundtrack on Apple Music.
Mary Poppins Returns images are © Walt Disney Pictures. All Rights Reserved.
Win Walt Disney Pictures' Mary Poppins Returns on Blu-ray Combo...
3/9/2019 1:12 PM EST
Are you a fan of the 1964 movie Mary Poppins?  Did you love the 2018 film Mary Poppins Returns?  Do you plan to own the second movie?  How about if you could win a Blu-ray copy for free!  FlickDirect, in conjunction with Walt Disney Studios, want to give one lucky person the chance to win not only a Blu-ray Combo pack of Mary Poppins Returns but also a Mary Poppins Compact Mirror.To enter for your...
More>>
Enter For A Chance To Win A Pass For Two To A Special Advance Sc...
12/3/2018 12:07 PM EST
In 1964 Walt Disney Studios released a whimsical tale about a magical nanny named Mary Poppins (Julie Andrews; The Sound of Music).  The musical offered infectious songs and a heartwarming story that endeared it to multiple generations.  Over 50 years later, Disney is treating the world to MARY POPPINS RETURNS this holiday season.In anticipation of its release, Disney and FlickDirect want to give ...
More>>
Production Begins on Mary Poppins Returns
2/10/2017 12:12 PM EST
Production has begun on Disney's upcoming film, "Mary Poppins Returns".  The film, starring Emily Blunt and Lin-Manuel Miranda, is being directed by Rob Marshall.The film also stars: Ben Whishaw ("Spectre"), Emily Mortimer ("Hugo") and Julie Walters ("Harry Potter" films) with Colin Firth ("The King's Speech") and Meryl Streep ("Florence Foster Jenkins"). In addition, Dick Van Dyke plays Mr. Dawes...
More>>
Emily Blunt Set to Star in Mary Poppins Returns
5/31/2016 4:17 PM EST
The Walt Disney Studios issued a press release this afternoon regarding their upcoming "Mary Poppins Returns" film.  Rob Marshall will be directing the sequel to the 1964 classic, and Emily Blunt and Lin-Manuel Miranda are set to star.  The statement they released follows:BURBANK, Calif. (May 31, 2016) - Golden Globe Award® winner Emily Blunt ("Into the Woods," the upcoming "Girl on the Train") an...
More>>
Mary Poppins Returns 4K Ultra HD Review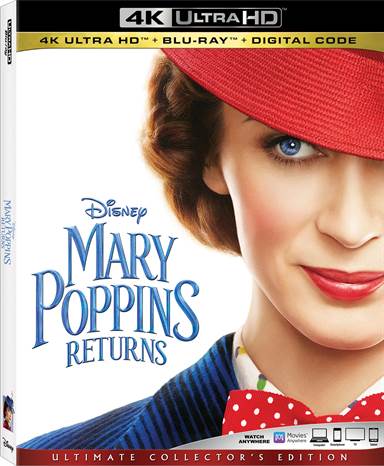 In 1934 P.L. Travers published a children's book about a magical nanny named Mary Poppins. Thirty years later Disney brought her to life in the feature film
Mary Poppins
starring Julia Andrews (
The Sound of Music
). After fifty-four years, Disney once again decided to revisit the beloved character when
Mary Poppins Returns
hit theaters last year. The "reimagined" classic starred Emily Blunt (
The Devil Wears Prada
) as the lead and brought a new story and music to fans. Helmed by the brilliant Rob Marshall (
Into The Woods)
, the film brings all the grandeur of a Broadway musical to the big screen.
Michael (Ben Whishaw; Spectre) and Jane (Emily Mortimer; Transsiberian) Banks are all grown up and Michael has children of his own. They live at the childhood home at 17 Cherry Tree Lane. Unfortunately, Michael took out a loan on the house and forgot to pay it back since his beloved wife died. Now the Bank run by Mr. Wilkins (Colin Firth; The King's Speech) wants to take the house and kick Michael and his children out on the street. Just when things seemed hopeless, a familiar being floated in from the sky. Mary Poppins had returned to the Banks' home to help Michael, Jane and Michael's children.
Bringing with her the wonder and joy and magic she was known for, Mary set out to teach Michael's three children to enjoy their childhood – something they didn't know before. Mary Poppins brought them to the china bowl and to her cousin - Topsy Turvey (Meryl Streep; The Devil Wears Prada) and opened their eyes to all the exciting and fun things in life. Along the way, she magically helps Michael find the banknote showing numerous shares that the original Mr. Banks had invested and which would now be able to get Michael out of debt and save his house.
Taking on the role of Mary Poppins is practically a suicide mission for any actress. Julie Andrews is a very tough act to follow and it is inevitable that anyone who took the role would be compared to her as she originated the lead character back in 1964. Blunt holds her own as the magical nanny but, for me at least, no one could replace Andrews. Blunt brings a sternness and mischievous air about her that pretty much matches Andrews but even though she has a lovely singing voice, Blunt can't meet Andrews vocally.
Whipsaw and Mortimer are well cast and Lin-Manuel Miranda as the lamplighter, Jack, brings a Broadway sensibility to the movie that is especially handy in the big dance and song numbers. The three children are played well by Pixie Davis (Miss Peregrine's Home for Peculiar Children), Nathanael Saleh (Game of Thrones), and Newcomer Joel Dawson but the cameos are the real treat. Streep, Julie Walters (Mamma Mia), and Angela Lansbury (Murder She Wrote) add a wonderful mature element but the most spectacular scene is when Dick Van Dick (Mary Poppins) enters the room.
The 2160p video quality is spectacular with every detail well defined and every color popping off the screen. The blacks are deep and true with little grain to be found and the plethora of colors give the film a wonderful richness. The Dolby Atmos audio is magnificent and the incredible orchestration of the soundtrack flows through the speakers like water flowing seamlessly from a spout. The Blu-ray has several extras including Sing-Along Mode, Back to Cherry Tree Lane: Dick Van Dyke Returns, Practically Perfect Bloopers, "Seeing Things from a Different Point of View": The Musical Numbers of Mary Poppins Returns, "Trip A Little Light Fantastic", "The Royal Doulton Music Hall"/"A Cover Is Not the Book", "Turning Turtle" "Can You Imagine That?", Deleted Song - "The Anthropomorphic Zoo", The Practically Perfect Making of Mary Poppins Returns, and Deleted Scenes. While all of them are interesting the piece with Dick Van Dyke returning to Cherry Tree Lane is heartwarming and wonderful.
Mary Poppins Returns can't compare to the original but it has elaborate musical numbers, a solid story, and a well-rounded cast. If you were a fan of the original then you won't be quite enthralled with this second attempt but it is a solid entry into the world of Mary Poppins.
Grade: B
For more reviews please visit our film/television review section.
A special look at the music and magic from "Mary Poppins Returns." Directed and...

FlickDirect correspondent Allison Rose got a big thrill interviewing Lin-Manuel Miranda about Mary P...

Directed and produced by Rob Marshall, "Mary Poppins Returns" also stars Lin-Manuel Miranda, Ben Whi...
Directed and produced by Rob Marshall, "Mary Poppins Returns" also stars Lin-Manuel Miranda, Ben Whi...
SPONSORED LINKS