Wiener-Dog (2016)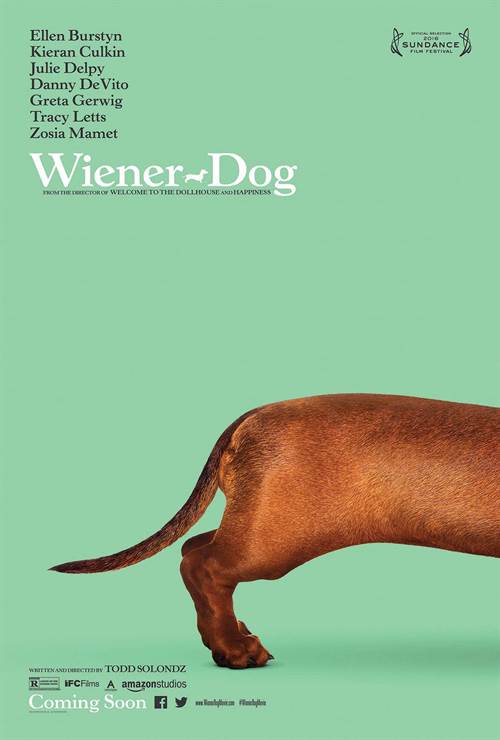 | | |
| --- | --- |
| Director: | |
| Writers: | |
| Cast: | |
| Released: | Friday, June 24, 2016 |
| Length: | 90 minutes |
| Studio: | IFC Films, Amazon Studios |
| Genre: | Comedy |
| Rating: | Under 17 requires accompanying parent or adult guardian. |
Wiener-Dog Synopsis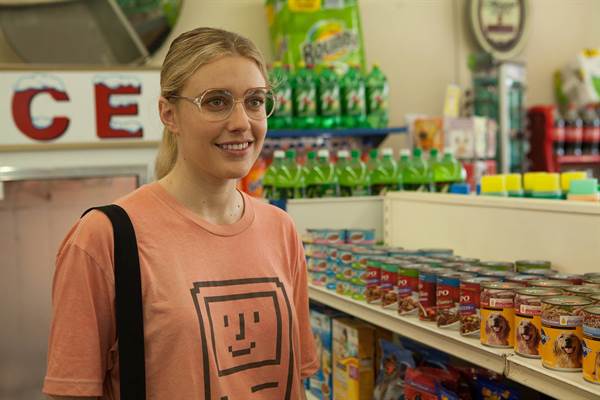 Welcome to the doghouse: the latest hilariously biting comedy from Todd Solondz is a twisted Lassie for misanthropes. It follows the wayward adventures of a dachshund who passes from oddball owner to oddball owner—including the world's worst mom, a beleaguered screenwriter, and the grownup incarnation of Welcome to the Dollhouse's Dawn Wiener—whose radically dysfunctional lives are all impacted by the pooch. Featuring an all-star cast that includes Greta Gerwig, Julie Delpy, Danny DeVito, Ellen Burstyn, and Zosia Mamet, Wiener-Dog is a tragically funny, wondrously warped look at the absurdity of life (and death) from one of contemporary cinema's most fearless and unique voices.

Purchase DVD/Blu-ray/4K UHD physical copy of Wiener-Dog today at Amazon.com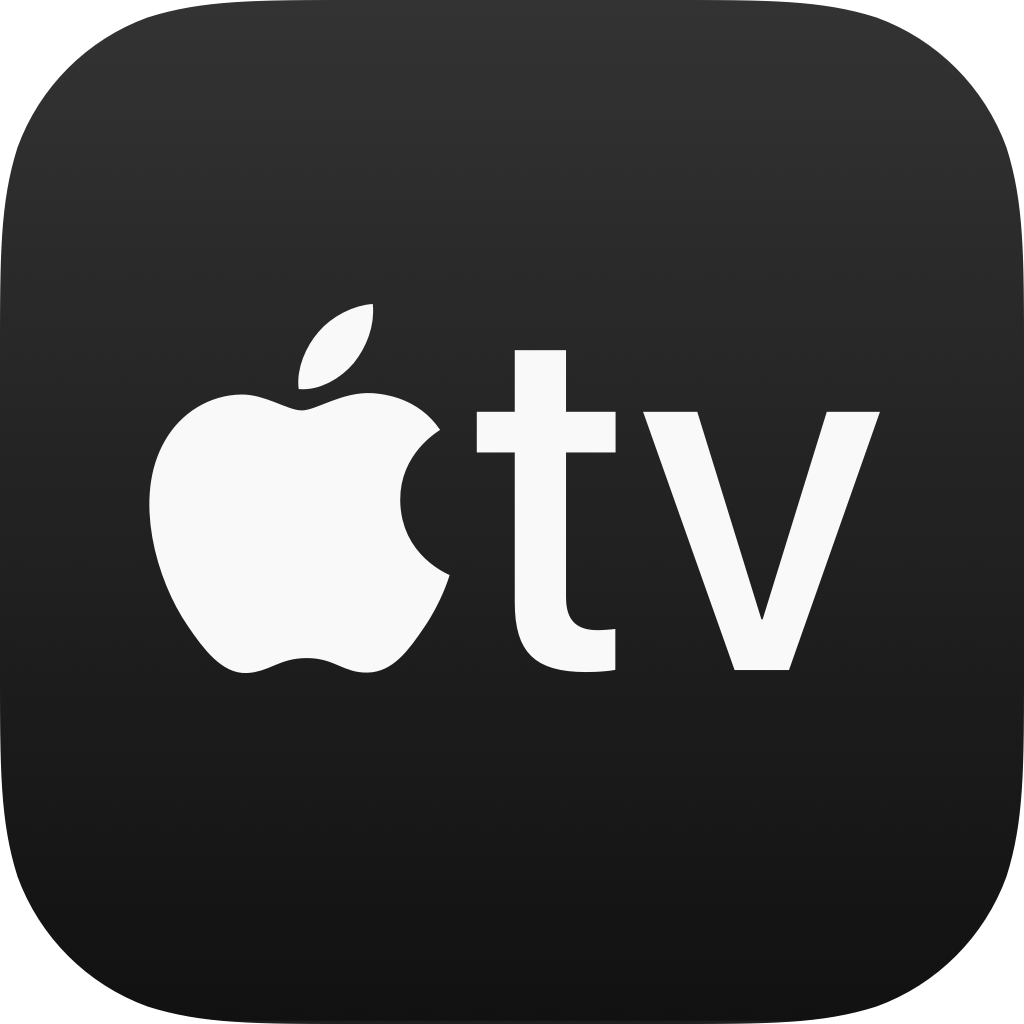 Download Wiener-Dog in Digital HD/4K from the iTunes store.
Wiener-Dog images are © IFC Films, Amazon Studios. All Rights Reserved.
Wiener-Dog Theatrical Review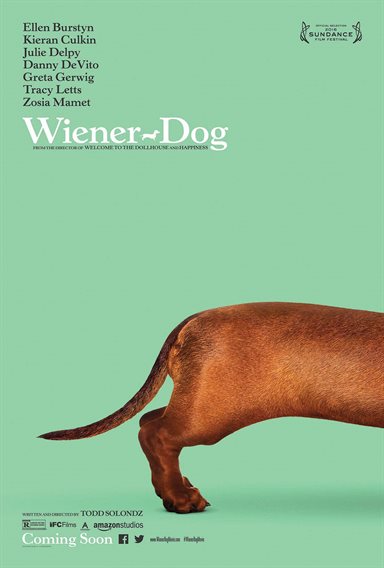 If cats have nine lives, how many reincarnations do dogs get? If
Wiener-Dog
is any indication, the answer is about five. Or, at least it seems that way in this case. The movie follows the travails of a dog that is passed from home-to-home and scenario-to-scenario and, as independent films go, I've seen worse.
Writer/Director Todd Solondz (Welcome To The Dollhouse) brings his unique brand of story telling to this feature in his usual, warped, seemingly depraved way. His outlook on life and/or death is both refreshing and disturbing and his sense of humor a little "touched".
When we meet Wiener Dog, she is leaving the farm to be placed in a shelter for adoption. Luckily she gets adopted into a family with a young boy who is a cancer survivor. Unfortunately, when she eats granola bars and poops all over the house, the boy's mother, played by Julie Delpy (Before Sunrise), has the dog brought to the vet to be put down.
Again, luckily, Wiener Dog is saved by a veterinary technician who takes her home, and then, on a cross-country trip with a drug addict who then leaves her with his Down syndrome brother and sister-in-law. I'm not sure how, but next, she ends up with a down on his luck Film Professor (Danny Devito; It's Always Sunny in Philadelphia), who after losing all hope dresses Wiener Dog in a yellow frilly dress, straps a homemade bomb to her back and lets her loose on the college he is about to be fired from.
Wiener Dog's final destination in this four-act saga lands her at the home of an 80 year old half blind woman (Ellen Burstyn; Interstellar) who names her "cancer" (rather ironic since her first owner was the young cancer survivor). Through all these chances, Wiener Dog/Cancer is even tempered and almost stoic. Sounds funny right?
While there are humorous moments in the film, Solondz's style is much more bordering on the macabre, and the scenes you laugh at are really things most normal human beings wouldn't. The "river" of poop literally drags on for seemingly forever and you go from disgusted to amused to annoyed all in the span of 2 minutes. You feel empathy and pity for the middle aged, washed up Professor but can't help but laugh at the visual of wiener dog in the yellow dress with the bomb attached to her little body. It's moments like these that make you question if you are a horrible human being for finding them funny.
It is more than mildly disturbing that the old woman named the dog cancer but Burstyn's deliver is so deadpan that you chuckle nonetheless. And that is one of the better things about the film. The juxtaposition of the bizarre, the sarcastic and the morbid is what makes a Solondz film so identifiable. It has an intelligence to its humor and pain that few writers can match.
The true genius of the movie though, is its cast. Delpy portrays the mother as neurotic and intelligent who thinks nothing of weaving a tall tale of doggie rape and sharing it with a 10 year old boy. Burstyn's smart mouthed demeanor and delivery are spot on and makes her character likable, even when she shouldn't be. DeVito is simply pathetic as his portrayal of a man at the end of his rope.
All that being said, one must have a strong heart to be able to sit through all of that despair and not feel even remotely saddened, and most people aren't wired that way. Solondz is an acquired taste and I don't know how many people would actually understand him; therefore, I'm not sure this film is really for everyone, but more a small segment of the population.
Grade: B-
For more reviews please visit our film/television review section.
SPONSORED LINKS