Hoodwinked! (2005)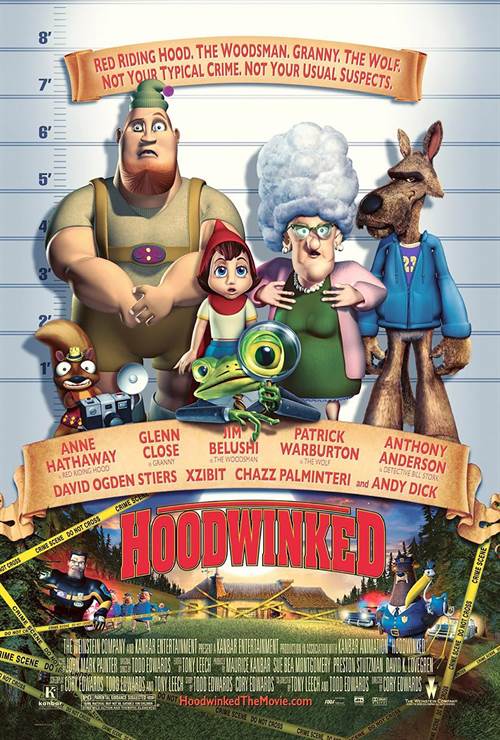 | | |
| --- | --- |
| Director: | |
| Writers: | |
| Cast: | |
| Released: | Friday, December 16, 2005 |
| Length: | 80 minutes |
| Studio: | Weinstein Company, The |
| Genre: | Family, Comedy |
| Rating: | Some material may not be suitable for children. |
Hoodwinked! Synopsis
Everyone knows the story of Little Red Riding Hood . . . or so they think. That's all about to change because no one has ever seen their favorite fairy tale quite like this -- turned upside-down, inside-out and reinvented as a computer-animated caper comedy that at last reveals the shocking true-crime investigation behind the legend. At last, the full story can be revealed of how Red (ANNE HATHAWAY), Granny (GLENN CLOSE), The Woodsman (JIM BELUSHI) and the Wolf (PATRICK WARBURTON) all came together as criminal suspects in a case that almost HOODWINKED the law. With inventive story telling, spunk and wit, filmmakers Cory & Todd and Tony Leech bring to the screen a story for the young, the young at heart and everyone in between.

HOODWINKED begins at the end of the tale and winds its way back . . . It all begins as a feathered and furry assortment of cops and detectives turn up at Granny's cottage in the woods to answer a domestic disturbance call. It looks at first to be just another open-and-shut case of a woodsman assaulting a wolf impersonating a granny, with an assortment of criminal charges including breaking and entering, intent to eat and wielding an axe without a license.
But looks can be deceiving. As debonair detective Nicky Flippers (DAVID OGDEN STIERS) and hard-nosed (or is that furry-nosed?) Police Chief Grizzly (XZIBIT) and fellow police officer Bill Stork (Anthony Anderson) question the slippery suspects, they discover each one has a completely different, yet equally wild and woolly, tale to tell. Not only that, but it seems that this crime has ties to the notorious "Goody Bandit" who has been ravaging the woods by stealing the valuable recipes that keep the forest in muffins.

None of the group is exactly what they seem, and each has their own deep secrets and wily deceptions. The detectives soon uncover that seemingly innocent Red is worldly wise; that the big, bad Wolf has been terribly misunderstood; that Granny has a secret life no one could have imagined; and that the insecure Woodsman, whose brawn just might outweigh -- well you know the stereotype -- has some surprising ambitions of his own.

They're not your usual suspects -- yet the investigators must use their clashing eyewitness accounts to solve the increasingly convoluted riddle of who among them has committed a crime. When at last the nefarious villain's true identity is revealed, it's up to Red, the Wolf, The Woodsman and Granny to put aside their differences and find their own original twist on happily ever after.
Hoodwinked! images are © Weinstein Company, The. All Rights Reserved.
SPONSORED LINKS