National Lampoon's Van Wilder (2002)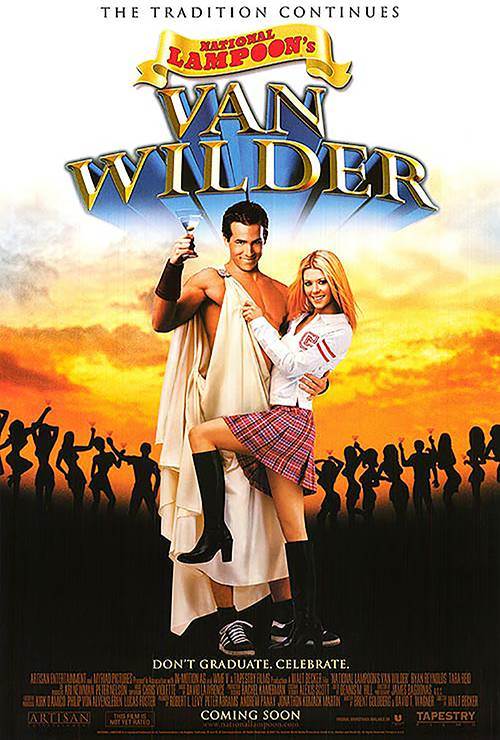 | | |
| --- | --- |
| Director: | |
| Writers: | |
| Cast: | |
| Released: | Friday, April 5, 2002 |
| Length: | 94 minutes |
| Studio: | Lionsgate |
| Genre: | Comedy |
| Rating: | Under 17 requires accompanying parent or adult guardian. |
National Lampoon's Van Wilder Synopsis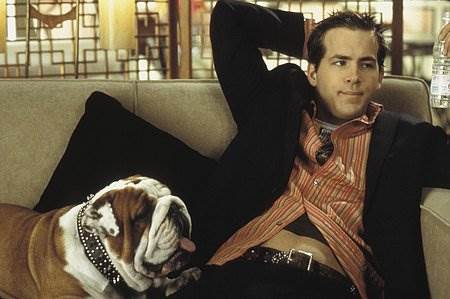 Van Wilder is a guy who has been at his college for seven years. He spends most of his time throwing parties and "fund raisers". When his father decides that it's time for tough love, he doesn't pay his tuition. So Van becomes a professional party thrower. At the same time, Gwen who writes for the college paper, is tasked with doing a story on him, but Van is too busy partying to do that. So she writes it using info from people who talk about him and writes an unflattering piece, which doesn't make him happy. He then dares her to see if she can get the true story but is more interested in trying to score with her, which is not easy because she has a boyfriend, who is a snob, and who is not too happy with the amount time she is spending with him. So he tries to get rid of him.

Purchase DVD/Blu-ray/4K UHD physical copy of National Lampoon's Van Wilder today at Amazon.com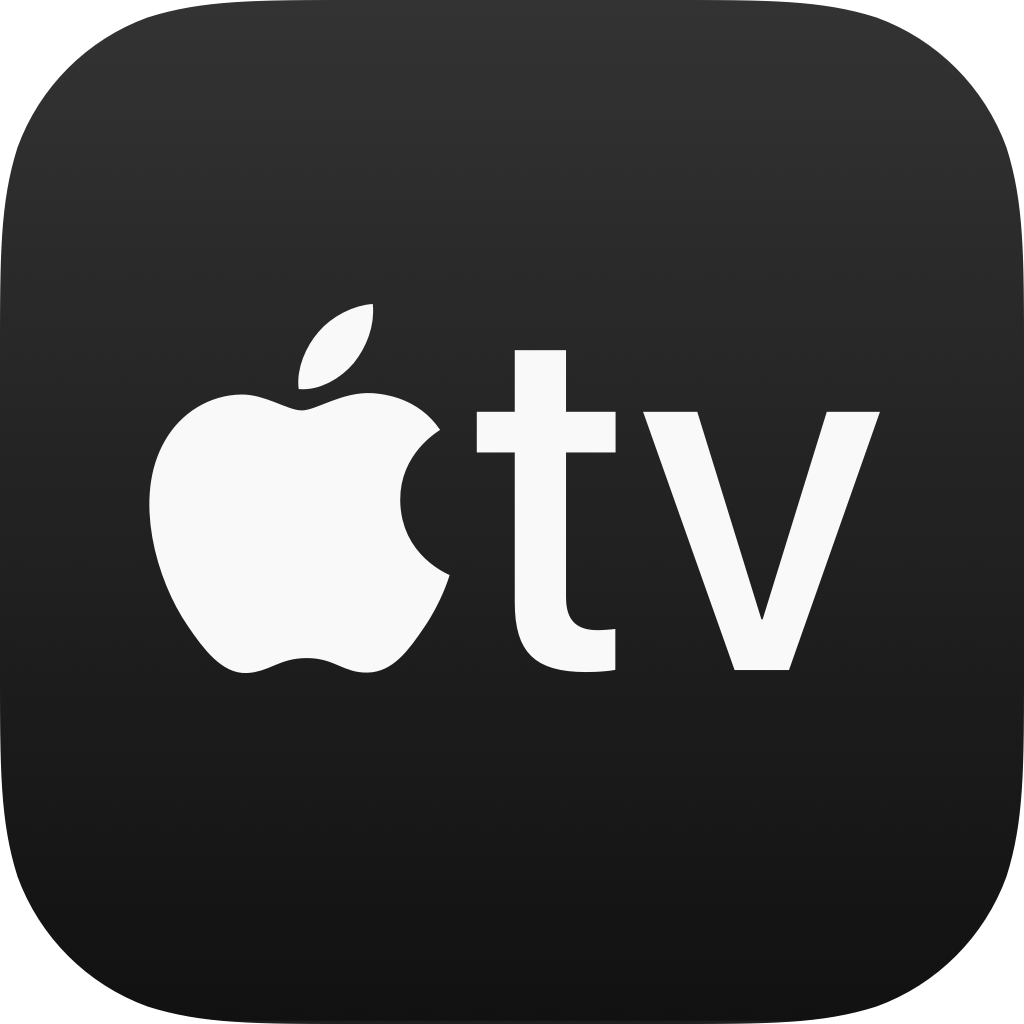 Stream National Lampoon's Van Wilder in Digital HD/4K from the AppleTV store.
National Lampoon's Van Wilder images are © Lionsgate. All Rights Reserved.
National Lampoon's Van Wilder Blu-ray Review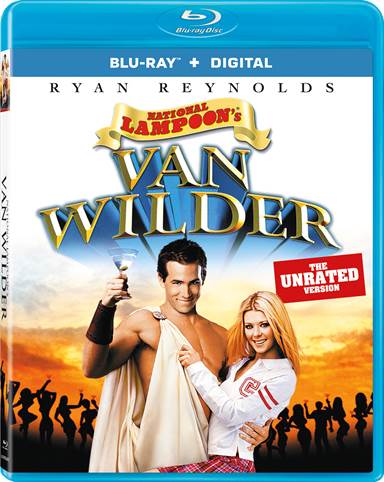 National Lampoon has had a long tradition of comedic films beginning with 1978's
Animal House
. Many of these movies have gone on to earn cult status and have given us some the best comedy scenes in movie history. How can forget tying grandma to the roof of the car after she passed away in
Vacation
or the numerous moments that showcased the genius that was John Belushi. In 2002 they released
Van Wilder
, another farce set on a college campus. While the movie didn't reach critical acclaim (not even close) it did resonate with fans. Lionsgate has now released the unrated version on Blu-ray and digital download for everyone to own and enjoy.
Vance "Van" Wilder (Ryan Reynolds; Deadpool) is what one would call a "super senior" at Coolidge College. He has been there for seven years with no reason or desire to leave. He is beloved on campus and - some say - kind of a legend. He doles out wisdom as often as he throws kick butt parties. His father (Tim Matheson; National Lampoon's Animal House), however, is tired of Van wasting time and money and cuts Van off. He must now scramble to come up with the tuition money to stay in school.
At the same time, Gwen Pearson (Tara Reid; Sharknado) is given the assignment for the school paper to write an article about the ever elusive Van Wilder. She starts following him around in order to get the scoop but finds it very difficult to get Van to cooperate. However, over time she comes to realize that Van's partying ways, and the man himself, are more than seems on the surface. As she digs deeper she discovers a scared young man with a humanitarian heart who just wants others to be happy.
This young version of Reynolds is a preview of the Deadpool man to come. The same sense of sarcasm we see now was always evident albeit in a much less mature way. He plays the College party guy perfectly. Reid is ok yet slightly annoying and the chemistry between the two is merely average as opposed to outstanding. Kal Penn (Harold and Kumar Series) is terrific as the stereotypical international student who becomes Van's assistant while simultaneously get laid. Richard Bagg (Daniel Cosgrove; Beverly Hills, 90210) is obnoxious and annoying as Gwen's Medical School a$$hole boyfriend. He plays this part perfectly.
The Blu-ray is a 1.85:1 aspect ratio with 1080p resolution. Since the movie is 16 years old the picture is fine but nothing special. The Dolby 5.1 audio transfer is well done with little artifacting but the mix is merely adequate. The Disc comes with several extras including: Drunken Idiot Kommentary, Party Legends, Pledges and 'Bull'-ies, Ultimate College Party Guide Gwen-ezuma's Revenge, Testicles of the Animal Kingdom Write That Down, Blu-Book Exam, Music Video: "Bounce off the Walls" by Sugarcult, Deleted scenes, Outtakes, Burly TV Specials, and Comedy Central's 'Reel Comedy: National Lampoon' Van Wilder'. While plentiful these extras don't offer all that much interesting content for the audience to enjoy.
Watching this film I couldn't help but be reminded of several other college, frat party type films and that Reynolds too this experience and moved on. Watching him in this role made me think that this is what Deadpool would have been like in college. Having said that is is a fun little film that I could see achieving cult status as it has a few memorable and laugh out loud scenes. It was also fun to watch Reynolds in his younger days before his "sexiest man alive" status. It also
As movies go, you should do better but you could also do worse. so if you are a fan of Reynolds or National Lampoons I suggest you add this Blu-ray to your collection.
Grade: B-
For more reviews please visit our film/television review section.
For today's home video review, Austin Putnam reviews NATIONAL LAMPOON'S VAN WILDER in 4K UHD!...
SPONSORED LINKS