The Greatest Showman (2017)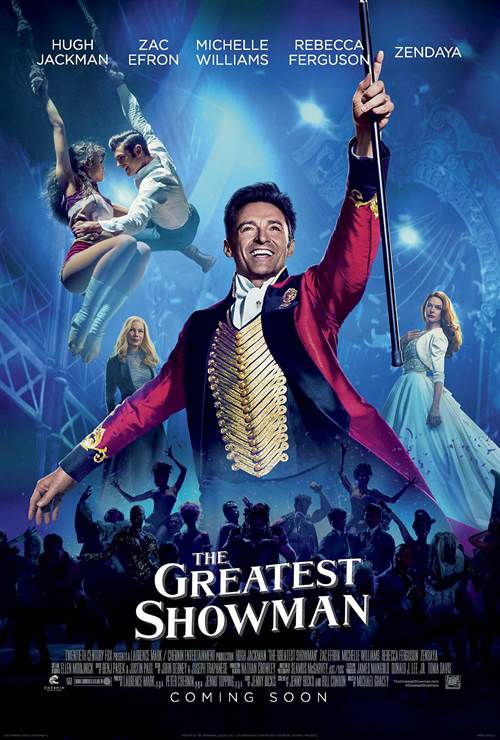 Share this:
| | |
| --- | --- |
| Director: | |
| Writers: | |
| Cast: | |
| Released: | Wednesday, December 20, 2017 |
| Length: | 105 minutes |
| Studio: | 20th Century Fox |
| Genre: | Musical |
| Rating: | Some material may not be suitable for children. |
Synopsis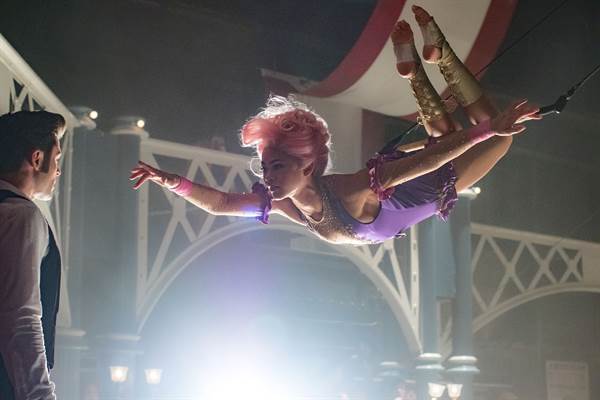 THE GREATEST SHOWMAN is an original musical inspired by the life of P.T. Barnum, starring Hugh Jackman. Barnum was a visionary who rose from nothing to create the "Greatest Show on Earth," a spectacle and celebration of his larger-than-life imagination that captivated audiences around the globe.

Purchase DVD/Blu-ray/4K UHD physical copy of The Greatest Showman today at Amazon.com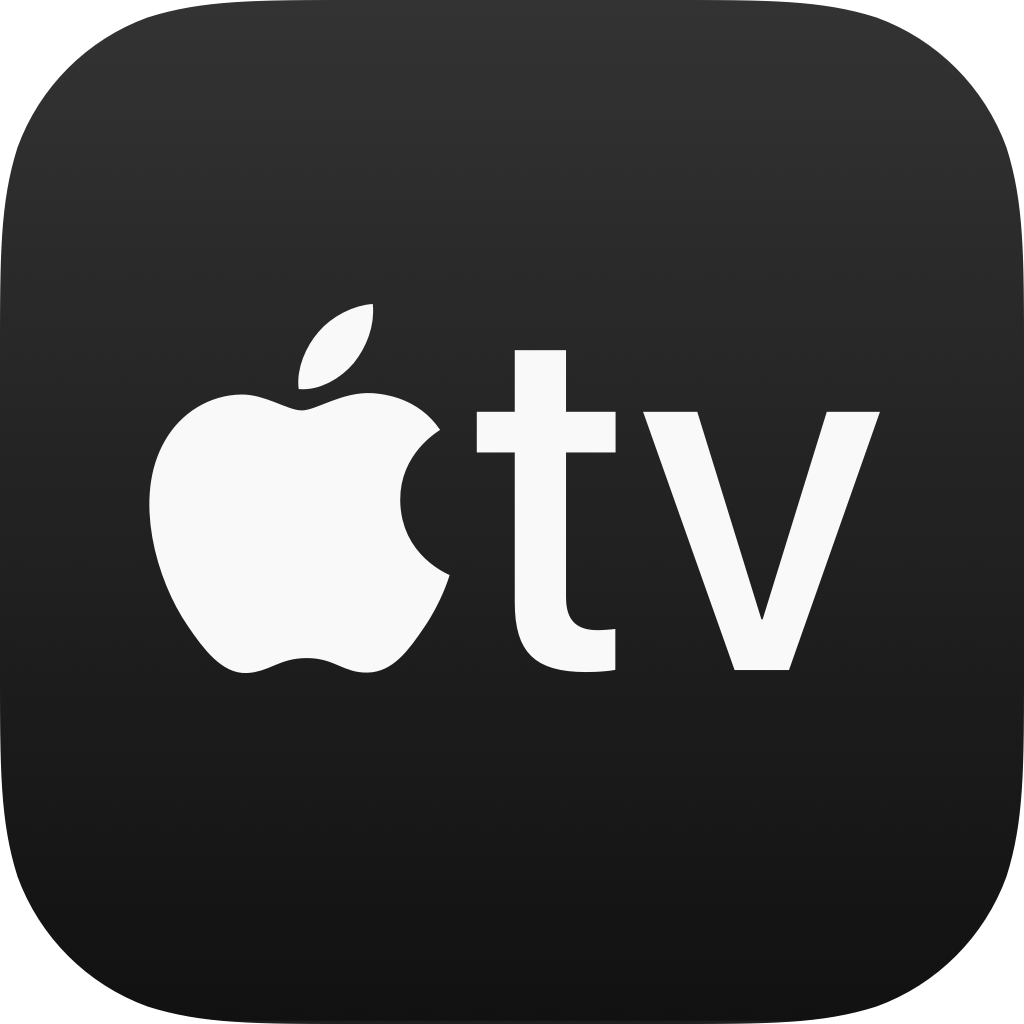 Download The Greatest Showman in Digital HD/4K from the iTunes store.
Listen to the The Greatest Showman soundtrack on Apple Music.
The Greatest Showman images are © 20th Century Fox. All Rights Reserved.
Hugh Jackman Talks Greatest Showman Sequel
4/3/2019 10:25 AM EST
Hugh Jackman recently confirmed that The Greatest Showman could be getting a sequel. The musical was released in 2017 and is based on the life of P.T. Barnum.Jackman told the BBC 2 radio show Steve Wright's Big Guest that there was a possibility of a sequel."I'm being completely honest with you, there is talk of something going around but no one is really sure. But I think someone is working on a ...
More>>
Hugh Jackman One Award Away from EGOT Status
2/11/2019 11:25 AM EST
Hugh Jackman is now only one award away from the coveted EGOT status.Jackman won a Grammy last night and already has an Emmy and a Tony. He only has an Oscar left to win in order to complete the collection. The Grammy won was for Best Compilation Soundtrack for Visual Media for "The Greatest Showman", along with the rest of the team for the film.Other EGOT winners include Andrew Lloyd Webber, John...
More>>
The Greatest Showman Could Be Making its Broadway Debut
1/31/2018 2:29 PM EST
No one could have predicted the success of The Greatest Showman, which many say is due to lackluster critic reviews, made a disappointing $8.8 million at the box office on opening weekend. However, the film is now well on its way to becoming one of the highest grossing musicals of all time in North America, earning almost $150 million domestically and $259 million globally. With this success and a...
More>>
The Greatest Showman Theatrical Review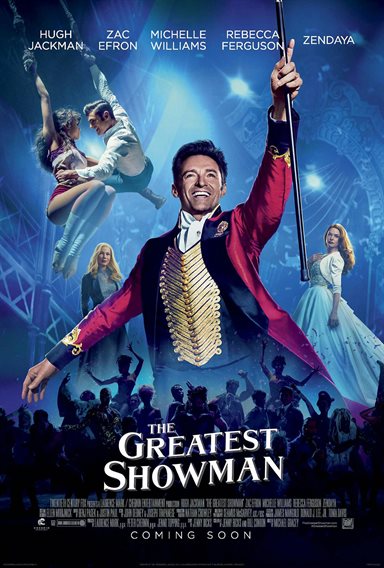 Some would say Phineas T. Barnum (Hugh Jackman;
Logan
) was a dreamer. Others would say he was a businessman. Yet, some would argue he was both and some would say he scammed people. The truth is probably a little of each but there is no denying he was one of the greatest showmen on Earth. He gained wealth entertaining people but not with the tried and true. He collected the odd and curious talents that had people coming to see what they were all about. Critics were unkind and society never accepted him but he still went on entertaining. Twenty Century Fox would argue that he is still entertaining the masses as the new film
The Greatest Showman
comes to theaters just in time for families to see a movie during the holiday break.
Based loosely on his life, the film shows Barnum's humble beginnings as a poor tailor's son and his gamble that people would want something different. Borrowing money from the bank with collateral he didn't really have, he gathered performers with abnormalities – the smallest man alive, the bearded lady, etc., and showcased them during his show. When one critic described it as a circus, Barnum ran with that and changed the name to include the word and, thus, Barnum Circus was born.
Even with growing success, Barnum still lacked the one thing he craved the most – acceptance. He soon sought out and partnered with promoter and aristocrat Phillip Carlyle (Zac Efron; High School Musical) and while Carlyle brought a little more respectability, joining the Circus did more harm to his reputation than it helped Barnum's. Regardless, Barnum managed to attract a legitimate singing act, Jenny Lind (Rebecca Ferguson; Mission: Impossible – Rogue Nation) and after touring her all across America, he finally got some of that acceptance he so desired. In the end though, he could not escape the thing he loved the most…the Circus.
As a musical, this could be hit or miss but in this case, it somehow manages to work. There are moments that are cheesy for certain but, overall, it is an entertaining story. The team behind it took a dramatic, somewhat historical tale and gave it the High School Musical treatment. I fully expected to see Kenny Ortega's (Gilmore Girls) name in the credits and was surprised when I didn't. However, that isn't to say the movie is bad… because it's not.
The producers and newcomer director Michael Gracey smartly gathered a fantastic cast beginning with Jackman. Who could pull off the greatest showman other than an amazing showman himself. Jackman made Barnum likable and larger than life all at the same time. Ferguson and Michelle Williams (Manchester by the Sea) compliment Jackman beautifully and match his fervor. Efron is ok, and even though there is something about him that rubs me the wrong way, he was well cast nonetheless. The real standouts next to Jackman are the circus freaks with special attention paid to Zendaya (Spider-Man: Homecoming) and Keala Settle (Ricki and the Flash). These ladies are incredible talents and add to the overall feeling of the film.
With a musical, the music and dancing become characters all their own and this film is no exception. The music is infectious but I would expect no less from the talents of Benj Pasek and Justin Paul, part of the creative minds behind La La Land. You will walk out of the theater with the songs stuck in your head and humming along. It's also an interesting juxtaposition between the period costumes and settings and the modern music. The dancing is also modern and intricate, offering fantastic sequences that are sure to delight audiences.
From the cast to the costumes to the music, The Greatest Showman has so much to offer and with a PG rating, it's the perfect movie to take the whole family to this holiday season.
Grade: B+
Read More The Greatest Showman Reviews
For more reviews please visit our film/television review section.
THE GREATEST SHOWMAN is an original musical inspired by the life of P.T. Barnum, starring Hugh Jackm...
SPONSORED LINKS