Ferris Bueller's Day Off (1986)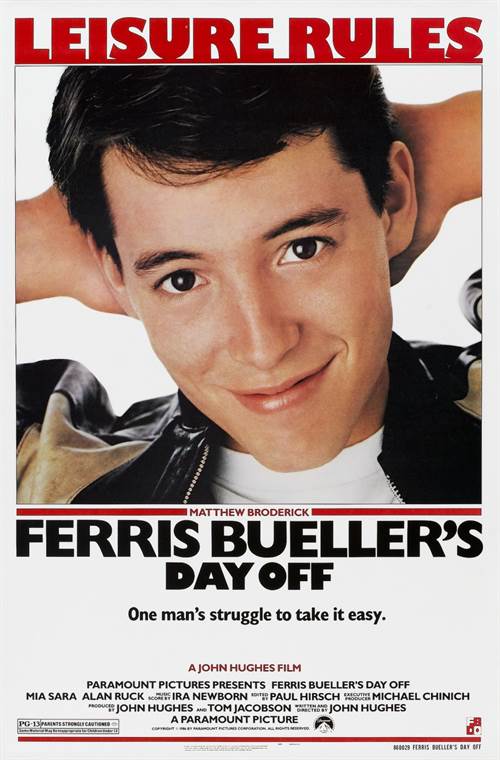 | | |
| --- | --- |
| Director: | |
| Writers: | |
| Cast: | |
| Released: | Wednesday, June 11, 1986 |
| Length: | 102 minutes |
| Studio: | Paramount Pictures |
| Genre: | Comedy |
| Rating: | Some material may be inappropriate for children under 13. |
Ferris Bueller's Day Off Synopsis
Ferris is a street-wise kid who knows all the tricks. Today he decides to take the day off school. When Ferris takes the day off, so must his best friends, Cameron and Sloane. Cameron is reluctantly persuaded to borrow his father's errari (which is never used). And together they hatch a plan to get Sloane out of class. Suspicious principal Ed Rooney knows all about Ferris, but can never catch him. Ferris' sister Jeanie is also frustrated that Ferris always gets away with his tricks and she doesn't. Furthermore, Ferris is an 'angel' in his parents eyes. It's Ferris' day off, he's out to enjoy himself, and he does!

Purchase DVD/Blu-ray/4K UHD physical copy of Ferris Bueller's Day Off today at Amazon.com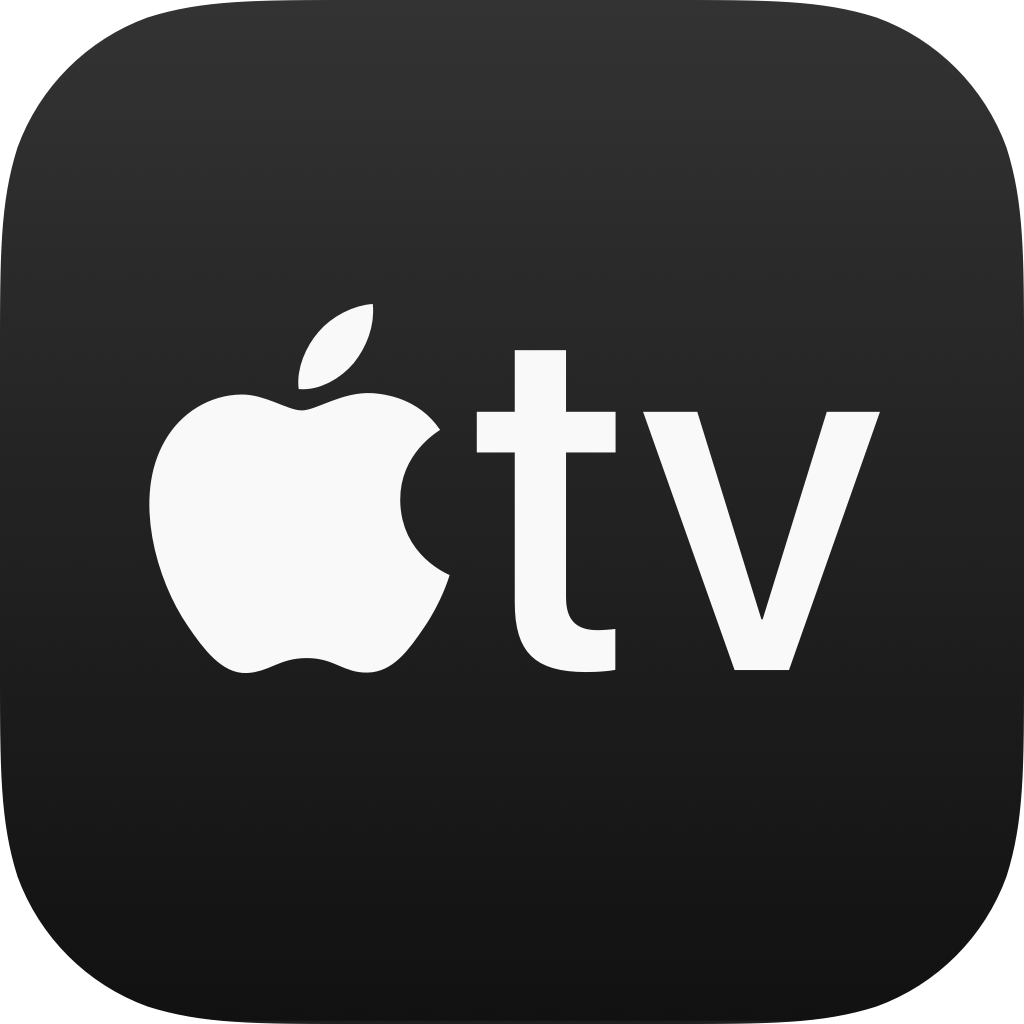 Stream Ferris Bueller's Day Off in Digital HD/4K from the AppleTV store.
Ferris Bueller's Day Off images are © Paramount Pictures. All Rights Reserved.
Ferris Bueller's Day Off (35th Anniversary) Steelbook Blu-ray Review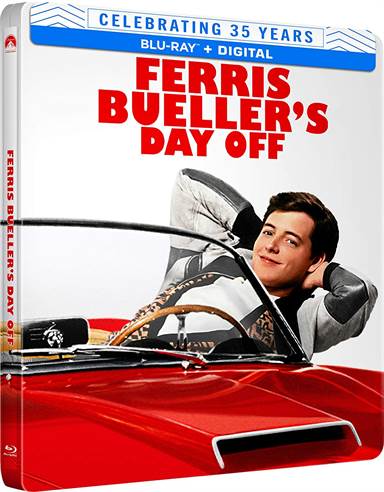 If you were a teenager in the 1980s, Filmmaker John Hughes gave your generation a voice. From Weird Science and Pretty in Pink to Sixteen Candles and The Breakfast Club, he combined the angst of young love with the insanity of the high school food chain to capture a snapshot of Generation X during their formidable years. In 1986, Paramount Pictures released Hughes' Ferris Bueller's Day Off, which became one of the highest-grossing films of that year. Starring Matthew Broderick (War Games), it followed the adventures of Ferris and his friends as he pretends to be sick so he can play hooky from school one last time. In honor of the 35th anniversary of the movie's theatrical debut, Paramount has released a Blu-ray steelbook edition that is in stores now.
Ferris (Broderick) is a slacker who hopes to get one more day off from high school, despite having been absent several times that year. So, he does what any intelligent, scheming teenager would do and fakes being sick. He then calls his best friend, Cameron (Alan Ruck; Freaky), who is, actually, homesick, and together they create an excuse to get Ferris' girlfriend, Sloane (Mia Sara; Legend) out of school for the day. The three then make the most of their day, going to an art museum, a major league baseball game and, even ride a float in a parade in Chicago.
Meanwhile, the school Principal, Mr. Rooney (Jeffrey Jones; Howard the Duck) suspects Ferris is faking his illness and is determined to catch him in the act. Ferris' sister Jeanie (Jennifer Gray; Dirty Dancing) is also tired of his shenanigans and wants to prove to her parents that he, not the "perfect" child they think he is. The day becomes a race against time, as Ferris and his friends attempt to have a day full of fun, while Mr. Rooney and Jeanie do whatever they have to, to try and get Ferris busted.
What can I say about Broderick…Ferris is one of his most iconic roles and he shines as the popular, non-malicious conniver. Ruck may not have a ton of film credits to his name but his characters seem to be memorable and Cameron Frye, Ferris' hypochondriac, best friend, is certainly one of them. He and Broderick have great chemistry making their friendship believable. Grey is excellent and she even gets to make out with a young Charlie Sheen (Two and a Half Men), who plays a random hoodlum at the police station. Jones does a great job as the almost obsessed principal and together the cast makes this movie the classic it is.
Since the Blu-ray is the same as the one released in 2009 and in a steel book last year, there isn't anything to report in terms of enhanced video or audio quality. The 1080p resolution is solid without too many issues or bonuses. The color palette is a mix of blues and reds which pop off the screen. The details are sharp but not overly clean. However, this doesn't detract from the viewer's viewing pleasure.
The Dolby TrueHD 5.1 lossless soundtrack fares better than the video as the dialogue, music, and sound effects make use of all the speakers. This immersion into the movie, especially when Ferris is singing Twist and Shout during the parade scene, brings a fullness to it that hasn't been heard since the theatrical release.
While the movie poster for this film is simply a close-up of Ferris' face with his arms behind his head, the open steel bookcase reveals the whole shot of Broderick lounging across the front seat of a car. The inside of the case is a shot from the movie and includes the Blu-ray disc and digital download. The extras don't include any new material, but perhaps on the 25th-anniversary release, they can add interviews with Broderick, Ruck, Grey, etc. The previously released extras are Getting the Class Together -- The Cast of 'Ferris Bueller's Day Off, The Making of 'Ferris Bueller's Day Off', Who is Ferris Bueller? The World According to Ben Stein, Vintage Ferris Bueller: The Lost Tapes, and Class Album.
As one of the aforementioned teenagers in the '80's, Hughes spoke to my generation and Ferris Bueller's Day Off was one of many classic films he wrote and directed. I think teenagers today would get a good laugh out of the movie so if you grew up when I did, or you have teenagers now, I suggest getting this steel book and having a family movie night. Bueller…Bueller…
Grade: B+
-- Allison Rose
For more reviews please visit our film/television review section.
SPONSORED LINKS