Fright Night 3D Blu-ray Review
Fright Night Comes To Life on 3D Blu-ray.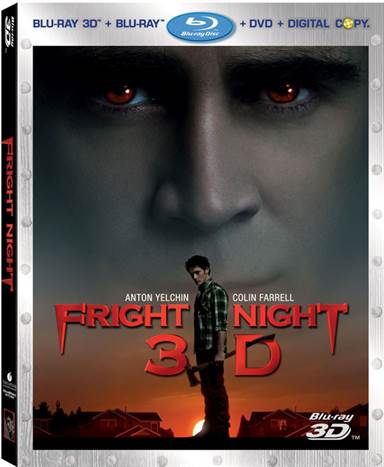 The scary, suspenseful, gory, shock filled Fright Night is now on 3D Blu-ray /Blu-ray, DVD Digital Download and On-Demand. It's a frightening flick that takes its toll on those that have a love for the thrills that evil can provide. You don't have to be Goth to enjoy this dark film, just a sense of humor and a need to feed your bloody thirst for a good horror movie. In 3D you can double the experience.

Charley (Anton Yelchin) has finally made it to the in crowd in his senior year at his local high school. He's got the top girl Amy (Imogen Poots), cool duds and the guys respect him, what more can a teen want. How about some thrills, just what Charley needs, right? Well he's about to get his fill when Jerry (Colin Farrell) a vampire moves in next door and starts raiding the neighborhood for 'food'. When his former best friend Ed (Christopher Mintz-Plasse) comes up missing, Charley tries to convince his mother and girlfriend that evil lurks in the house on the left. Luckily Peter Vincent (David Tennant), the vampire killer is in town performing his magic show.

I am a huge horror fan and I've seen the 1985 Fright Night original starring Chris Sarandon as Jerry and Roddy McDowall as Peter Vincent and loved it even though it didn't have all the special effects that ramp up this version. The remake of Fright Night does have much of the comedy as the first except here they use it as a relief from the horror where in Tom Holland's it was more of a tongue in cheek campy kind of fun. While this one has a LOT more horror and suspense, it wouldn't be a bad idea to rent the original for some good laughs, but not before seeing the remake at least two or three times.

The performance by Colin Ferrell as the relentless blood lusting ghoul is chillingly terrific and most times terrifying. He brings to Jerry a wicked smile and evil eyes that makes his character very creepy and spine chilling, just what's needed to carry off the menacing plot. There's this one scene where he pops up with help of some awesome 3D to enhance his 'killer' instinct.

The 3D feature for Fright Night showed incredibly awesome on the movie theater screen, but in order to enjoy it on your home theater you need to have a large screen HD system. I watched it in total darkness to get the full 3D effect and it's very good. If you are not into 3D, at the least, the film should be purchased in the Blu-ray format so you get top available sound and proper aspect ratio for best quality of presentation.

Fright Night 3D combo pack is chuck full of un-rated bonus features, the Blu-ray release includes a fang-in-cheek 'mockumentary' "Peter Vincent: Swim Inside My Mind," a very funny look at David Tennant's egocentric "rock star" anti-hero character, Peter Vincent; "The Official How to Make a Funny Vampire Movie Guide;" "Squid Man: Extended and Uncut;" "Frightful Facts & Terrifying Trivia;" "Deleted Scenes;" and a "Gag Reel." Also included is the uncensored "No One Believes Me" music video directed by Fright Night's director Craig Gillespie and performed by hip hop recording artist Kid Cudi.

You can get Fright Night in several ways:
3-Disc Blu-ray 3D Combo Pack (1 Blu-ray 3D + 1 Blu-ray + 1 DVD with Digital Copy)
2-Disc Blu-ray Combo Pack (1 Blu-ray + 1 DVD)
1-Disc DVD (1 DVD)
Digital (3D, High Definition & Standard Definition)
On-Demand

DISC SPECIFICATIONS:
Feature Run Time: 106 minutes
Rating: U.S.: R/Canadian: CE: 14A (Bonus Material Not Rated)
Aspect Ratio: Blu-ray 3D & Blu-ray: 1.78:1 (Feature Film)
DVD: 16x9 Widescreen (Feature Film)
Audio: Blu-ray 3D & Blu-ray: 7.1 DTS-HD MA (English)/ 5.1 Dolby Digital (French & Spanish)
DVD: 5.1 Dolby
Languages& Subtitles: English and French
Film: DreamWorks Pictures

FINAL ANALYSIS: Fright Night 3D's a very good horror flick that's gory, but has plenty of comic relief for those that are squeamish. Feature Film (B), Bonus Material (A), Overall (B+)

Purchase your copy of Fright Night 3D today at
Download Fright Night 3D from the iTunes Store in Digial HD.
MPAA Rating:
R
Running Time:
120 minutes
Distributed By:
DreamWorks Studios
For more information about Fright Night visit the FlickDirect Movie Database.
Read More Reviews For Fright Night
About John Delia