3 Days to Kill Theatrical Review
By John Delia,
Feb 20, 2014 03:28 PM EST
3 Days To Kill Is An action thriller from opening to finale with a little comedy in between.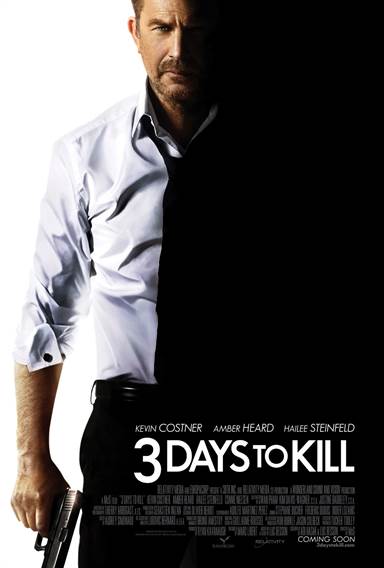 Emotionally and action charged 3 Days to Kill features a fine cast, direction by McG and top notch cinematography. The CIA thriller follows a script by Luc Beeson who also oversaw the movie as producer. Taught drama mixed with situation comedy makes for a cool secret agent film that should appeal to age 13 plus moviegoers.

The film centers on Ethan Renner (Kevin Costner) a CIA operative assigned to Paris. We encounter him during an assignment where he attempts to recover a dirty bomb from assassins The Albino (Tomas Lemarquis) and The Wolf (Richard Sammel). Following the altercation he collapses and gets taken in for observation where he finds out that he will not live for more than 5 more months due to a cancer related illness. He's been away from his wife Christine (Connie Nielsen) and teenage daughter Zooey (Hailee Steinfeld) for so long, that he wants to reconnect and spend time with them before he dies.

As things would have it in the CIA, his operative handler Vivi (Amber Heard) assigned to him offers Ethan a chance to extend his life if he will take out The Wolf in one last mission. Thinking it will gain him more time with his family, he agrees. When he starts getting involved with Zooey's life as a modern teen and his wife starting to reconnect their past, the mission becomes a wild sprint from cheating death to a psychosomatic normalcy.

The cast is a perfect storm under the direction of McG (Charlie's Angels, Terminator: Salvation) an action jockey who can provide all the thrills needed to keep audiences on the edge of their seats. He keeps his film moving at a fast clip, only slowing down to provide much needed comic relief involving Ethan and his impetuous daughter. He wastes no time turning up the action from the start to the very thrilling finale. He's one of the masters of the car chase and in this one, on the streets of Paris, gets mind bending.

Nice choice for the lead, Kevin Costner proves his worth as the worn out CIA agent who takes on the toughest of adversaries showing no mercy, just getting the job done. He's an older actor, so fitting him in the part makes it easy for McG to create the spy he wants for his film. Costner works well with McG doing most of his own stunts, fights and knows how to handle many kinds of weapons. Just a note: Costner's recent film Jack Ryan in which he plays a supporting character, CIA agent handler Thomas Harper, is far from his role in 3 Days to Kill. His performance and character here are very different and while I did not like him playing a lesser role in Jack Ryan, he's perfect as Ethan and makes the film work.

Other actors deserving notice are Amber Heard as Vivi a CIA agent handler assigned to Ethan. McG makes her a hot looking woman with a serious edge. She's dressed to kill and she does when needed. Her role is to keep Ethan informed and deliver the information on the hits. She was fooled when the Albino got away, but even more upset that her mark, the Wolf, disappeared. With Ethan the only one who knows what the Wolf looks like, Vivi puts on the pressure and adds a special deal to convince him to get her target.

As the fickle teen Zooey, Hailee Steinfeld (True Grit) does a very good job creating the alienated daughter who only gets a phone call on her Birthday once a year from her father. Never having had a father around since five, she missed out on a lot while a kid and can't understand why her dad has kept his job a secret. Steinfeld shows just the right amount of surprise when her father comes back into her life and puts on a great show as a difficult teenager caught up in the new age of social networking.

3 Days to Kill has been rated PG-13 for intense sequences of violence and action, some sensuality and language. The violence is very startling and realistic so be cautious when deciding to allow immature children see the film.

FINAL ANALYSIS: An action thriller from opening to finale with a little comedy in between. (B)
Purchase your copy of 3 Days to Kill today at
Download 3 Days to Kill from the iTunes Store in Digial HD.
MPAA Rating:
PG-13
Running Time:
117 minutes
Distributed By:
Relativity Media
For more information about 3 Days to Kill visit the FlickDirect Movie Database.
Read More Reviews For 3 Days to Kill
About John Delia