Morning Glory Theatrical Review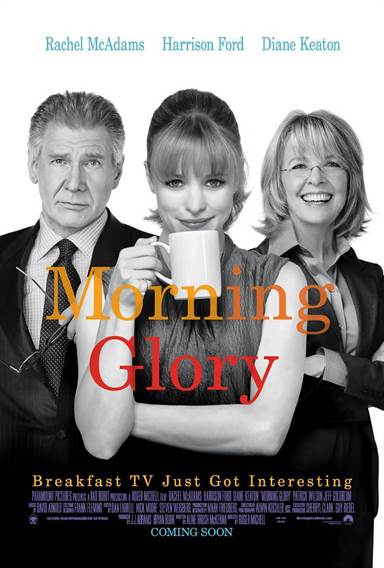 Rachel McAdams first caught my attention with her performance in the films, Mean Girls, and Red Eye. She shows so much heart in her performances, and that quality continues to shine through in her latest film, "Morning Glory".

However, Rachel McAdams, who plays Becky Fuller, isn't alone in creating a fun, lighthearted film. The cast also includes Harrison Ford as Mike Pomeroy, Diane Keaton as Colleen Peck, and Patrick Wilson as Adam Bennett.

The film follows the story of Becky, a producer who is given the challenge of trying to save a rating's deprived morning show called "Daybreak". The morning show executive, Jerry Barnes (Jeff Goldblum), isn't confident that anything can save this show, and doesn't hold many hopes for the young producer. Becky takes charge, however, and fires one of it's anchors on day one, but keeps talk show diva Colleen Peck. To counter Peck's attitude, Becky decides to hire a veteran in the field of Broadcasting, Mike Pomeroy. The new co-anchors will be put to the test with all of the stunts that Becky is producing to help get the ratings back up in time for her deadline on this troubled morning show.

While this film wasn't a "side-splitting" romantic comedy, I found it to be a really endearing film that balances drama and romance well with its comedy. The entire cast is on top of their game. Diane Keaton and Harrison Ford demonstrate why they have been list actors for so long; Rachel McAdams and Patrick Willson prove that they we will be seeing them for years to come.

While Morning Glory is going to be an underdog film for this holiday season, one should not be quick to dismiss it. If you are in the mood for a light-hearted, romantic comedy with an amazing cast, then Morning Glory is definitely one you should see.
Purchase your copy of Morning Glory today at
Download Morning Glory from the iTunes Store in Digial HD.