The Sessions Theatrical Review
The Sessions Is An excellent heartrending film for mature audiences.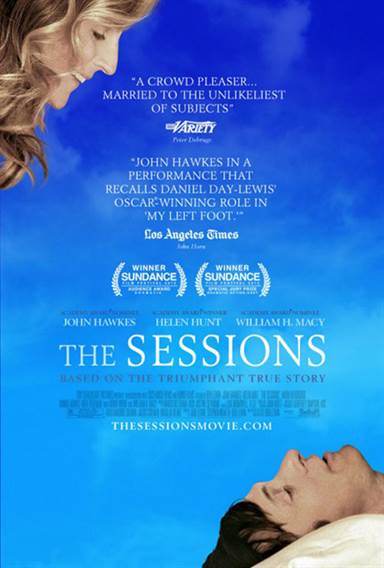 Based on a true story The Sessions will open your eyes, titillate and warm your heart. The strange account features excellent convincing acting on the part of John Hawkes and Helen Hunt earning them what I feel will be an Oscar Nomination. If you want to see something completely different, poignant and unusual presented in a very creative film, then The Sessions would be an excellent choice.

The film delves into the life of poet Mark O'Brien (John Hawkes) who during his adolescent years contacted Polio leaving him debilitated and dependent on an iron lung. Able to live outside the apparatus for good periods of time, he earned a college degree and became a poet. At the age of 38, Mark decided that his life would not be complete until he had sex.

After a falling out with his many attendants, he hires Vera (Moon Bloodgood) a young free spirited woman who sympathetically helps him contact special groups for help in his desire for intercourse. After meeting with his priest (William H. Macy) and visiting a formal therapist, he gets introduced to Cheryl (Helen Hunt) a sex therapist.

The script has brilliant performances by main leads Hawkes and Hunt. Hawkes for his ability to create a character that has to use a pen to type and dial phone calls, goes out into society uninhibited from overly sympatric eyes, determined to reach his goal and able to use his mind in creating poetic pleasure. The man in my estimation gives a genius performance so believable I am committed to the reality of it all.

Hunt as Cheryl gives a stunning performance as the gentle, professional sex therapist who understands the importance of what Mark wants to feel for the first time in his life. Using her graceful charm see creates chemistry between the two characters that sanctions the acts they perform as appropriate and meaningful. Even when a spark of love intervenes, Hunt and Hawkes are up to the performance challenge.

The kind and tender direction by Ben Lewin (Paperback Romance) keeps his film in the dramatic ring instead of a docudrama that would have been too insensitive for the subject matter. Instead he gives his actors a lot of latitude to show their skills of relationships with their characters and their importance even in the most impossible of circumstances. Bringing the camera up close, making it intimate with the actors and showing a blend of drama with light comedy he makes his The Sessions a very warm and eye opening film in the world of the incapacitated.

The Sessions has been rated R for strong sexuality including graphic nudity and frank dialogue. The film is based on the real life of Mark O'Brien a journalist, poet and advocate for the disabled and the subject of another film. Called Breathing Lessons: The Life and Work of Mark O'Brien, the movie received an Academy Award in 1997 for Best Documentary Short. The Sessions also received accolades at the Sundance Film Festival receiving the Audience Award for best dramatic film and Special Jury Prize for Best Acting Ensemble.

FINAL ANALYSIS: An excellent heartrending film for mature audiences. (B+)

Purchase your copy of The Sessions today at
Download The Sessions from the iTunes Store in Digial HD.
MPAA Rating:
R
Running Time:
95 minutes
Distributed By:
Fox Searchlight Pictures
For more information about The Sessions visit the FlickDirect Movie Database.
Read More Reviews For The Sessions
About John Delia