Titans (2018)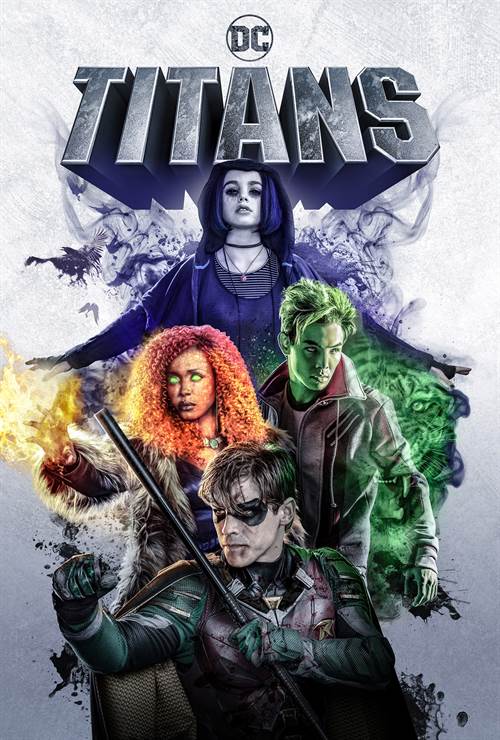 Share this:
| | |
| --- | --- |
| Created By: | |
| Writers: | |
| Cast: | |
| Air Date: | Friday, October 12, 2018 |
| Studio: | Warner Bros. Television |
| Genre: | Television |
| Rating: | This program is specifically designed to be viewed by adults and therefore may be unsuitable for children under 17. |
Synopsis
From executive producers Akiva Goldsman, Geoff Johns, and Greg Berlanti, TITANS follows a group of young soon-to-be Super Heroes recruited from every corner of the DC Universe. In this action-packed series, Dick Grayson emerges from the shadows to become leader of a fearless band of new heroes, including Starfire, Beast Boy, Raven and others.

Purchase DVD/Blu-ray/4K UHD physical copy of Titans today at Amazon.com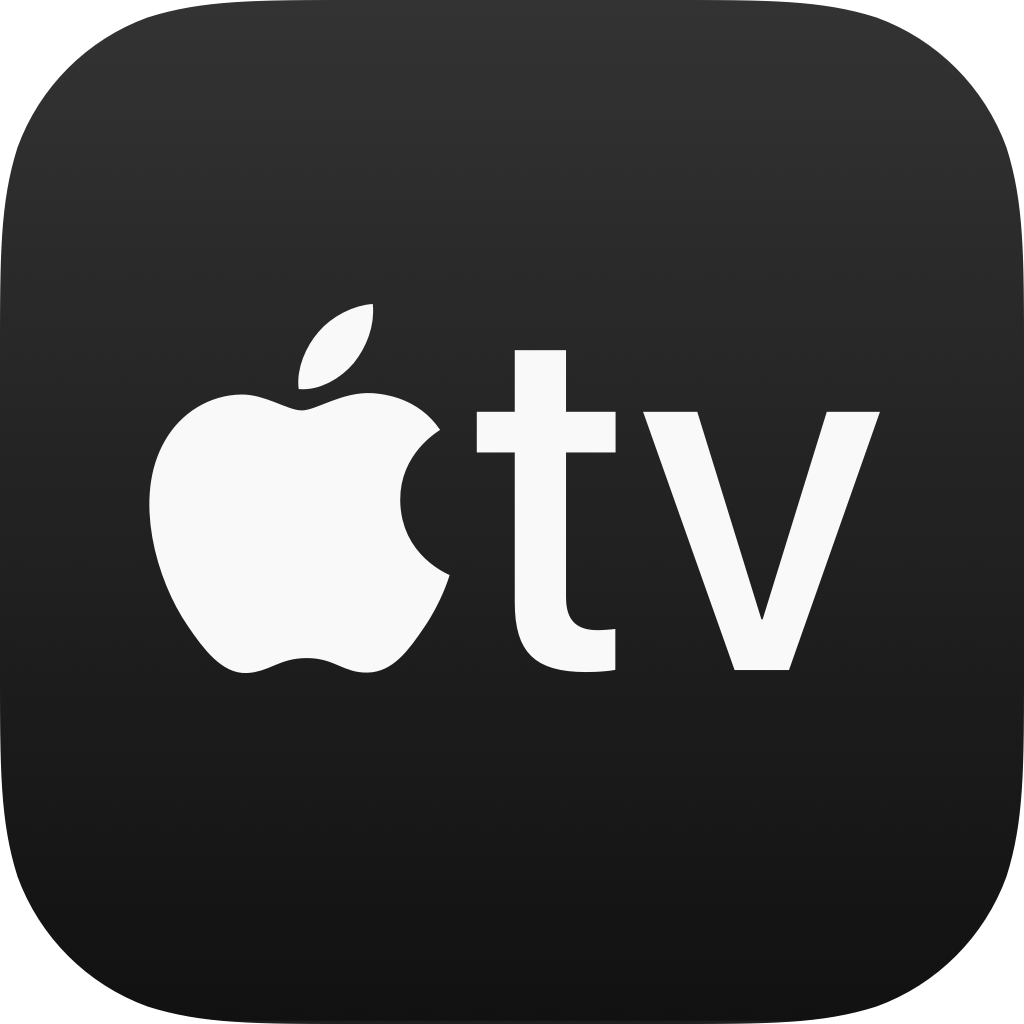 Download Titans in Digital HD/4K from the iTunes store.
Titans images are © Warner Bros. Television. All Rights Reserved.
HBO Max Renews Titans for Fourth Season
10/18/2021 1:31 PM EST
HBO Max has announced that they will be renewing "Titans" for a fourth season. The series follows young heroes from across the DC Universe as they come of age and find where they belong.Season three of  "Titans" stars Brenton Thwaites, Anna Diop, Teagan Croft, Ryan Potter, Conor Leslie, Curran Walters, and Joshua Orpin with Alan Ritchson, Minka Kelly, Damaris Lewis, and Savannah Welch.The season t...
More>>
Game of Thrones' Iain Glen Set to Play Bruce Wayne in Titans
4/11/2019 2:13 PM EST
Iain Glen has been cast in the upcoming second season of "Titans". The Game of Thrones actor will portray Bruce Wayne in a recurring role.Glen plays Jorah Mormont on "Game of Thrones", which will premier its 8th and final season this Sunday night on HBO. He also starred in the "Resident Evil" franchise as Dr. Alexander Isaacs and in "Downton Abbey" as Sir Richard Carlisle.An official character des...
More>>
Chelsea T. Zhang Joins Cast of DC Universe's Titans
3/22/2019 3:04 PM EST
Chelsea T. Zhang has joined the cast of the DC series "Titans". She will be playing the role of Rose Wilson, aka the Ravager in the second season.The Ravager is the daughter of Deathstroke, who, it was recently announced, will be played by Esai Morales.Zhang also appears on the Disney Channel's "Andi Mack" series, playing the role of Brittany and is set to appear in "Daybreak", an upcoming Netflix...
More>>
Esai Morales Cast as Deathstroke in DC's Titans
3/14/2019 1:10 PM EST
It has been announced that Esai Morales has been chosen to play Deathstroke, Dick Grayson's arch enemy, in "Titans".The series was the first original programming franchise for the DC Universe streaming site and premiered back in Septemeber. It follows the group of superheroes that is led by Grayson, who is Batman's former sidekick, Robin. According to the producers of the show,  "Slade Wilson is k...
More>>
Titans Blu-ray Review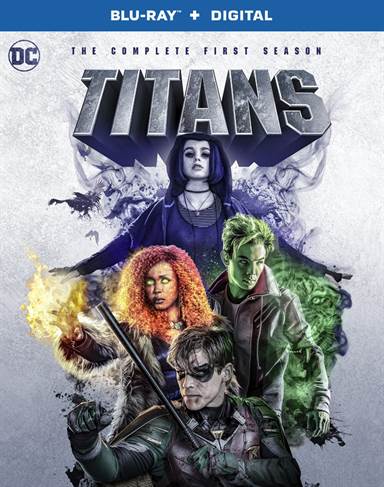 The year was 1964 and DC Comics introduced a group made up of young superhero sidekicks including, Kid Flash, Robin, and Aqualad. Not long after Wonder girl was added and these junior superheroes became the Teen Titans. Over the next fifty-five years, there have been numerous iterations of this group and this past year the DC Universe brought the latest edition to the small screen with their new television show, Titans. The eleven-episode season one introduced audiences to not only the young men and women who would make up this group of do-gooders but also to some the villains they encounter. The Complete First Season Blu-ray combo pack is set to make it's debut in stores this week.
Dick Grayson (Brenton Thwaites; Pirates of the Caribbean: Dead Men Tell No Tales) has left Gotham City, Batman and his alter ego, Robin behind. That is until Rachel Roth (Teagan Croft; The Osiris Child) crosses his path and he feels compelled to help her (for reasons unknown to him). Rachel has a decidedly darker side that she is trying to keep at bay and it seems some dangerous people are out to get her going so far as to kill the woman she thought was her mother her whole life.
Koriand'r (Anna Diop; Us) doesn't know who she is but slowly unravels the mystery that she is pursuing Rachel (a.k.a. Raven) though she doesn't know why. Eventually, she teams up with Robin to try and help Rachel stay alive from the people who are trying to kill her. Throughout the season they meet various people, including the group that would become The Doom Patrol (another DC Universe show). We meet Gar/Beast Boy (Ryan Potter; Big Hero 6), Dawn/Dove (Minka Kelly; Just Go With It), Hank/Hawk (Alan Ritchson; Teenage Mutant Ninja Turtles), Donna/Wonder Girl (Conor Leslie; The Man In the High Castle), among others who begin to help shape Rachel's world after the void left by who she thought was her mother.
With a great cast, Titans offers a lot in the way of drama and action. Thwaites is a strong counterpart to both Diop and Croft and the three become a trio that forms a solid foundation for the story to evolve around. Kelly, Ritchson, Leslie, Potter all add additional layers to the relationships and plots laid out in the show. Every character is interesting enough that you want to learn more and keep tuning in to the show.
The Blu-ray Combo pack has 2 discs as well as the digital code. The discs are presented in 2160p high definition video with a 1.78:1 aspect ratio. The quality is excellent with a strong picture, dynamic colors throughout and true and deep black tones. The DTS- HD Master Audio 5.1 is immersive as you are assaulted aurally from all sides with effects that are sharp and clean. There are several extras to enjoy including Raven and Robin: Dark Rebirth, Hawk and Dove Origin Story, Igniting Starfire, Becoming Beast Boy, Conjuring Raven, Meet the Doom Patrol, The New Robin, From Page to Screen, The One and Only Wonder Girl, The Redemption of Robin, Team Titan, What Does It Mean to Be Cast as Starfire?, and Anna Diop Having Fun with Teagan Croft. While numerous, most of the extras are short in length but do offer some insights into the show and the characters.
This show is so good that once you get sucked in after watching episode one, you will find yourself wanting to binge watch the other ten episodes. The letdown, of course, is that once you have finished you will be left longing for more. I bought into the show from the beginning and only waivered during the last few minutes of episode eleven though that moment seems to set up the arrival of Night Wing in season two.
Superhero fans won't be disappointed with this show and the combo is definitely one you want to grab from the store before they are sold out.
Grade: B+
For more reviews please visit our film/television review section.
Watch FlickDirect corespondent Alison Rose accidentally mix up Night wing for Dark Wing... that's wh...

From executive producers Akiva Goldsman, Geoff Johns, and Greg Berlanti, TITANS follows a group of y...
SPONSORED LINKS