The Invisible Man (2020)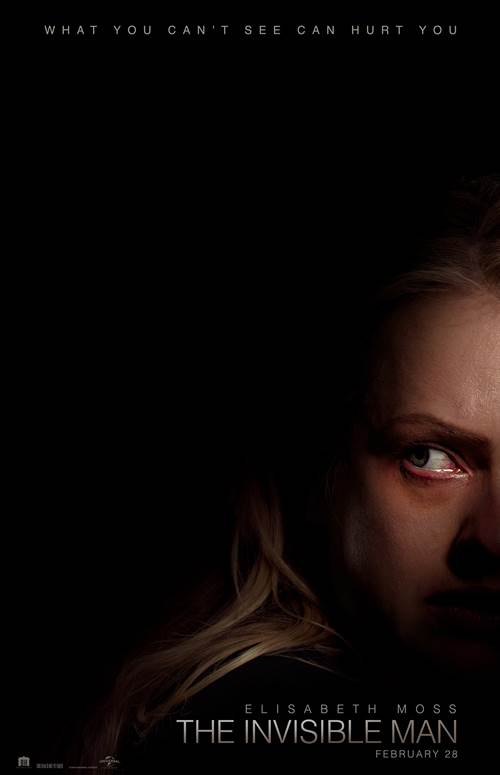 | | |
| --- | --- |
| Director: | |
| Writers: | |
| Cast: | |
| Released: | Friday, February 28, 2020 |
| Length: | 124 minutes |
| Studio: | Universal Pictures |
| Genre: | Horror |
| Rating: | Under 17 requires accompanying parent or adult guardian. |
The Invisible Man Synopsis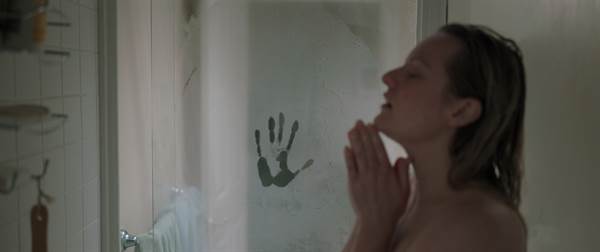 What you can't see can hurt you. Emmy winner Elisabeth Moss (Us, Hulu's The Handmaid's Tale) stars in a terrifying modern tale of obsession inspired by Universal's classic monster character.
Trapped in a violent, controlling relationship with a wealthy and brilliant scientist, Cecilia Kass (Moss) escapes in the dead of night and disappears into hiding, aided by her sister (Harriet Dyer, NBC's The InBetween), their childhood friend (Aldis Hodge, Straight Outta Compton) and his teenage daughter (Storm Reid, HBO's Euphoria).
But when Cecilia's abusive ex (Oliver Jackson-Cohen, Netflix's The Haunting of Hill House) commits suicide and leaves her a generous portion of his vast fortune, Cecilia suspects his death was a hoax. As a series of eerie coincidences turns lethal, threatening the lives of those she loves, Cecilia's sanity begins to unravel as she desperately tries to prove that she is being hunted by someone nobody can see.

Purchase DVD/Blu-ray/4K UHD physical copy of The Invisible Man today at Amazon.com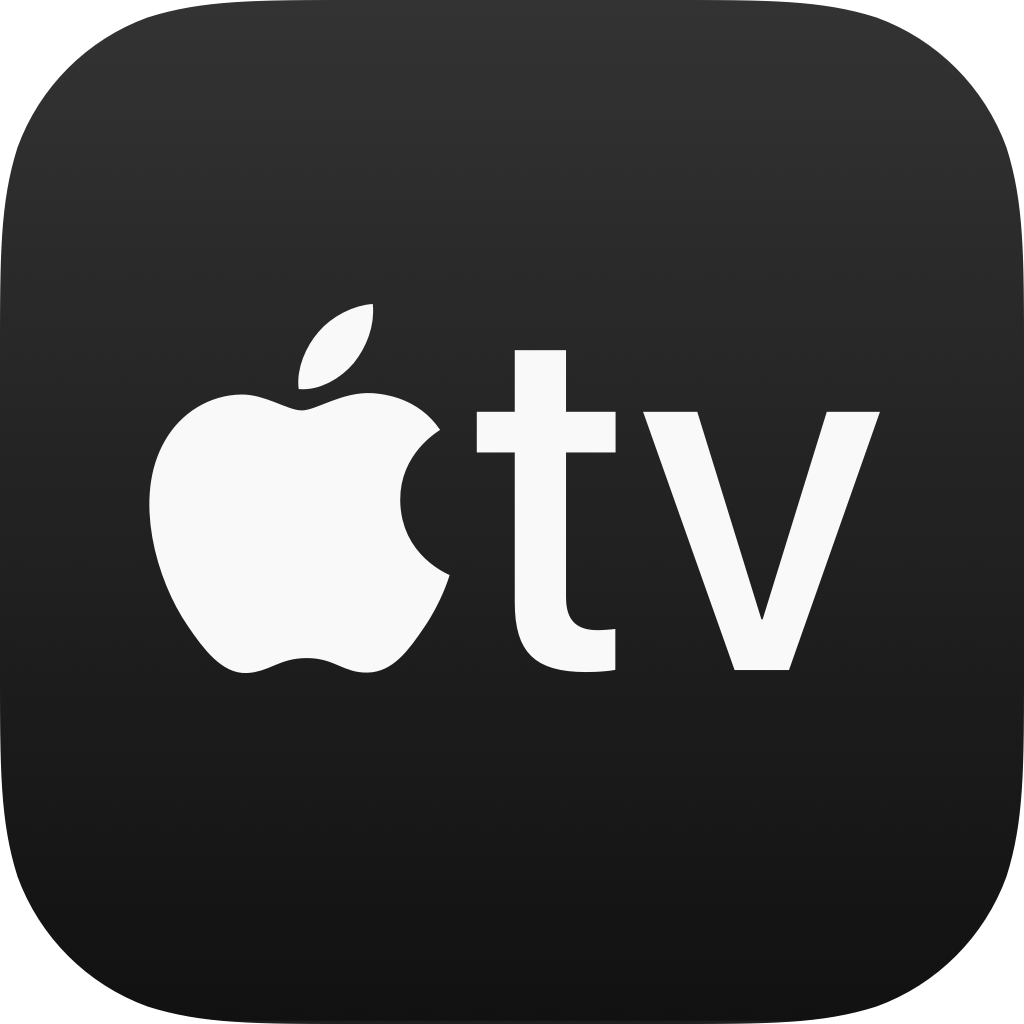 Stream The Invisible Man in Digital HD/4K from the AppleTV store.
Listen to the The Invisible Man soundtrack on Apple Music.
The Invisible Man images are © Universal Pictures. All Rights Reserved.
DEG Weekly Watched at Home Top 20 List for June 25 Released
6/25/2020 4:02 PM EST
It's no secret that spending so much time at home during the Summer can get boring. With so many Summer trips altered or canceled due to COVID-19, many folks have turned to home entertainment for their adventures to Yellowstone, Gotham City, and even a galaxy far, far away!  For those of you looking to say current with the latest, greatest, and most talked-about releases in the home entertainment ...
More>>
Enter To Win A Copy of The Invisible Man in 4K UHD
5/18/2020 7:59 PM EST
Over 100 years ago H.G. Wells wrote a novel called The Invisible Man about a scientist who created a secret potion that rendered him invisible and drove him slowly insane.  Since then, there have been many adaptations of the Invisible Man story with the latest coming to theaters this past February.  Starring Elizabeth Moss (The Handmaid's Tale) it offered a modern twist on this old tale.  As the m...
More>>
Universal Pictures to Stream Select New Releases
3/16/2020 4:07 PM EST
Universal Pictures has announced that they will be releasing some of their current films on demand this week, due to the coronavirus.Some of the films that will be available to rent are "The Invisible Man," "The Hunt" and "Emma". They will be available through Comcast, Sky, Apple, and Amazon on Friday for $19.99 per film. The rental period will be for 48 hours.In a statement released Monday the st...
More>>
Win Complimentary Passes To An Advance Screening of Universal Pi...
2/18/2020 3:21 PM EST
There is no doubt that Jason Blum and Blumhouse Productions are currently the masters of Horror/Thriller genre films so when you hear they are producing THE INVISIBLE MAN, you can expect to be scared.  This latest version of a classic tale will be coming to theaters at the end of this month and FlickDirect, in conjunction with Universal Pictures would like to give some lucky winners the opportunit...
More>>
The Invisible Man Theatrical Review
Nobel Prize nominee H.G. Wells was a writer who was ahead of his time. Considered one of the "Fathers of Science Fiction" he wrote a novel published in 1897 called The Invisible Man. Almost forty years later, Universal Pictures released a feature film version of the novel starring Claude Raines as Dr. Jack Griffin/ The Invisible Man. In both the novel and the film, Griffin experimented with chemicals that made oneself invisible but had the unfortunate side effect of also making the subject crazy (the novel differs from the film in that Griffin was already crazy in the novel before becoming invisible), carrying out a number of murders.
In what was supposed to be the second installment of Universal's Dark Universe - updated movies based on classic science fiction/horror films of the past – The Invisible Man got a modern revamping and heads to theaters this weekend. If you felt 2017's The Mummy was a disappointment, then you should definitely feel better about The Invisible Man. Starring Elizabeth Moss (The Handmaid's Tale), this second film may actually revive the possibly defunct "Dark Universe". To be honest, Universal should have released this one first as it would have been a more successful introduction to the world they were hoping to create.
Moss plays Cecilia Kass who is married to Adrian Griffin (Oliver Jackson-Cohen; The Haunting of Hill House). Besides being brilliant, rich and a trailblazer in the field of Optics, Adrian is an abusive and controlling man who monitors everything Cecilia does. Seeing no way out, Cecilia devises a plan to drug Adrian and leave in the middle of the night. With a few small hiccups, the plan seems to work. Two weeks later Cecilia finds out Adrian has killed himself, which she finds suspicious, but glad to finally be rid of him…or so she thinks.
As Cecilia stays with her friend James (Aldis Hodge; Hidden Figures) and his daughter, Sydney (Storm Reid; Euphoria) she suddenly feels as if she is being watched and as more and more strange things keep happening she is sure of it. She realizes that Adrian has faked his death and is somehow stalking her including sabotaging her job interview and framing her for murder, which lands her in an institution for the criminally insane. Cecilia's breaking point comes when she finds out she is pregnant with Adrian's child despite taking birth control pills. Knowing Adrian would never let Cecilia and their child go, she devises a plan to rid herself of her "supposedly" deceased husband once and for all.
Moss is excellent as an abused wife who is desperate to get away from her husband. She is convincing as we watch her dissolve into a seemingly unstable woman ranting about her dead husband setting her up. Hodge holds his own as he watches his friend go crazy. Reid may be young but she has been a standout in both A Wrinkle in Time and Euphoria and she once again showcases her talent here. She will definitely be one to watch in the next few years.
Writer/director Leigh Whannell (Saw) does a wonderful job bringing this classic tale into modern times with the use of updated technology. He expertly avails himself of sharp visuals and haunting music to build the suspense leading up to several exciting moments in the film. He pulls the best out of his actors, especially Moss, making for a heart-pounding, anxiety-filled two-hour ride. To be honest, my only complaint was that I felt it dragged during some of those scenes making it seem longer than it was. Had Whannell shortened the movie by ten or fifteen minutes it would have been even better.
Almost 100 years after the original film debuted, Universal Pictures brings a worthy, updated remake to audiences the winter.
Grade: B+
For more reviews please visit our film/television review section.
For today's home video review, FlickDirect's Austin Putnam reviews THE INVISIBLE MAN on Blu-ray!...

What you can't see can hurt you. Emmy winner Elisabeth Moss (Us, Hulu's The Handmaid's Tale) stars in a terrifying modern tale of obsession inspired b...
What you can't see can hurt you. Emmy winner Elisabeth Moss (Us, Hulu's The Handmaid's Tale) stars in a terrifying modern tale of obsession inspired b...

What you can't see can hurt you. Emmy winner Elisabeth Moss (Us, Hulu's The Handmaid's Tale) stars in a terrifying modern tale of obsession inspired b...
SPONSORED LINKS