In the Heights (2021)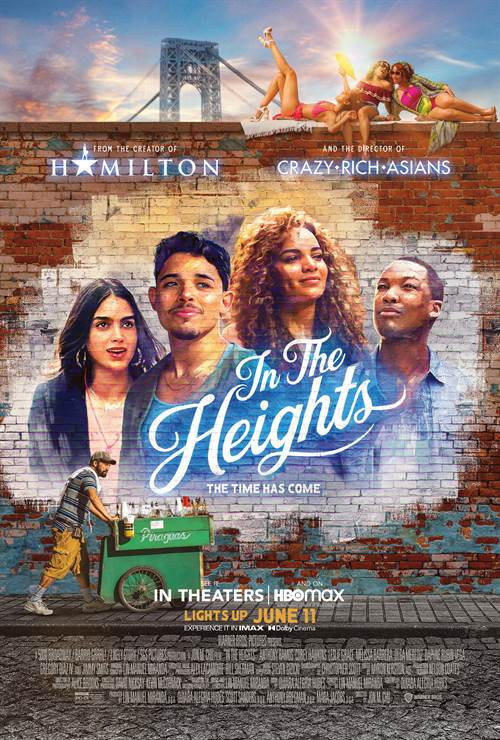 | | |
| --- | --- |
| Director: | |
| Writers: | |
| Cast: | |
| Released: | Friday, June 18, 2021 |
| Length: | 143 minutes |
| Studio: | Warner Bros. |
| Genre: | Musicals |
| Rating: | Some material may be inappropriate for children under 13. |
In the Heights Synopsis
The creator of "Hamilton" and the director of "Crazy Rich Asians" invite you to the event of the summer, where the streets are made of music and little dreams become big... "In the Heights."
Lights up on Washington Heights...The scent of a cafecito caliente hangs in the air just outside of the 181st Street subway stop, where a kaleidoscope of dreams rallies this vibrant and tight-knit community. At the intersection of it all is the likeable, magnetic bodega owner Usnavi (Anthony Ramos), who saves every penny from his daily grind as he hopes, imagines and sings about a better life.
"In the Heights" fuses Lin-Manuel Miranda's kinetic music and lyrics with director Jon M. Chu's lively and authentic eye for storytelling to capture a world very much of its place, but universal in its experience.
"In the Heights" stars Anthony Ramos ("A Star is Born," Broadway's "Hamilton"), Corey Hawkins ("Straight Outta Compton," "BlacKkKlansman"), singer/songwriter Leslie Grace, Melissa Barrera (TV's "Vida"), Olga Merediz (Broadway's "In the Heights"), Daphne Rubin-Vega (Broadway's "Rent"), Gregory Diaz IV (Broadway's "Matilda the Musical"), Stephanie Beatriz (TV's "Brooklyn Nine-Nine"), Dascha Polanco (TV's "Orange is the New Black") and Jimmy Smits (the "Star Wars" films).
Chu is directing the film from a screenplay by Quiara Alegría Hudes; it is based on the musical stage play, with music and lyrics by Lin-Manuel Miranda, book by Quiara Alegría Hudes and concept by Miranda. "In the Heights" is produced by Miranda and Hudes, together with Scott Sanders, Anthony Bregman and Mara Jacobs. David Nicksay and Kevin McCormick served as executive producers.
Behind the camera, Chu is reuniting with his "Crazy Rich Asians" production designer, Nelson Coates, and editor, Myron Kerstein. He is also collaborating with director of photography Alice Brooks (TV's "The Walking Dead") and costume designer Mitchell Travers ("Eighth Grade"). The choreography is by Christopher Scott, who previously teamed with Chu on the award-winning "The Legion of Extraordinary Dancers."
"In the Heights" was filmed in New York, primarily on location in the dynamic community of Washington Heights.

Purchase DVD/Blu-ray/4K UHD physical copy of In the Heights today at Amazon.com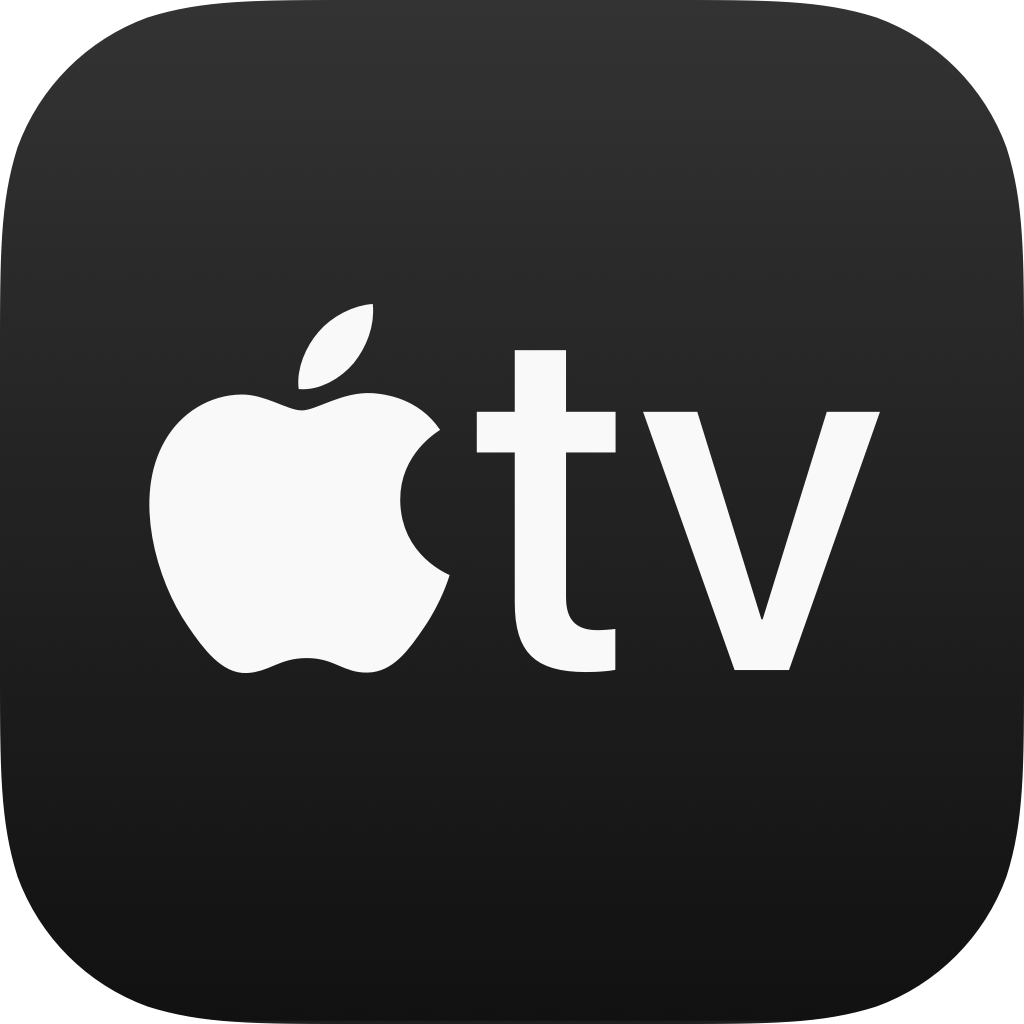 Stream In the Heights in Digital HD/4K from the AppleTV store.
Listen to the In the Heights soundtrack on Apple Music.
In the Heights images are © Warner Bros.. All Rights Reserved.
In the Heights Theatrical Review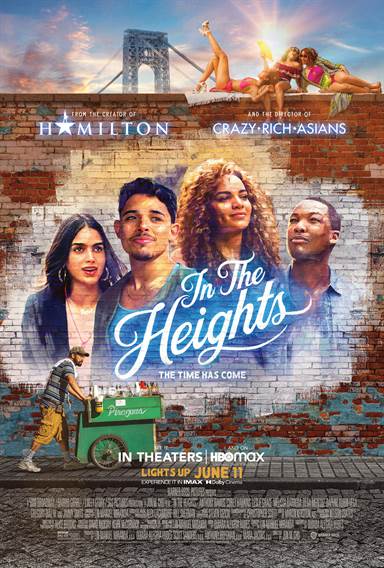 The curtain opens…the setting is a small private school in Connecticut called Wesleyan University. We meet a young man of Puerto Rican descent, named Lin – Manuel, who grew up in Upper Manhattan. The year is 2000, the season is spring. This bright, creative, young man is presenting a version of a previous class assignment…an eighty-minute-long musical about a closeted, young, gay man, Lincoln, living in Washington Heights, who is secretly in love with his best friend, Benny. By the time the musical made it to Broadway, the plot and musical numbers had significantly changed and became more about the people and shops in the neighborhood rather than a story about "coming out".
Over an eight-year span, In the Heights transformed into a story about dreams, family, culture, finding oneself, fitting in, etc. all set to music with a Latino/Hip Hop/Rap flair. At the 2008 Tony awards, it was nominated for thirteen awards and won five of them, including Best Musical. It has been celebrated all over the world with tons of accolades for both Lin-Manuel Miranda's music and story. Now, after a COVID-19 filming delay, the highly anticipated movie adaptation of In the Heights will open in movie theaters this week.
Usnavi (Anthony Ramos; A Star is Born) dreams of making enough money running his little neighborhood bodega to one day return to his island home and rebuild the bar his family once owned. Vanessa (Melissa Barrera; Siempre Tuya Acapulco), a budding fashion designer, is the girl Usnavi pines for even though she plays hard to get. Nina (Leslie Grace in her feature film debut) is the pride of the neighborhood having gotten a scholarship to Stanford, but when she comes home for summer break, she eventually has to tell everyone that she dropped out. These are just three of the stories coming out of this mainly Hispanic area of Manhattan.
What makes this movie truly great is the combination of strong source material, a dynamic director, and an incredible cast. Ramos and Barrera have undeniable chemistry, making their mutual attraction believable. Grace and Barrera both have stunning voices, and their commanding presence demands the viewer's attention anytime they are on screen. Supporting cast members Jimmy Smits (Dexter), Olga Merediz (Bull), Daphne Rubin-Vega (Rent -Broadway Cast), and Corey Hawkins (Straight Outta Compton) are great as well and help to round out the cast beautifully. Cameos by Miranda (Hamilton) and Chris Jackson (Bull) are fun and offer a nod to the original Musical.
Director Jon M. Chu (Crazy Rich Asians) does a spectacular job bringing the essence of the neighborhood to life. The audience can sense the culture of the people living in these few blocks and the pride they have for their heritage. The musical numbers are extravagant and well-choreographed. Chu makes them flow in and out of the film as if were natural to walk down the street singing and dancing instead of the sometimes-musical curse…adding an ill-timed song making the film seem choppy.
Much of the world knows of Miranda from Hamilton and if you have never listened to the music from In The Heights before you will definitely hear similar melodies to those in Hamilton. However, if you listen to both soundtracks, Miranda's second endeavor shows a level of growth as an artist.
One of my only complaints about In The Heights is that some dialogue is subtitled and some are not and none of the songs are translated so as someone who does speak Spanish it became frustrating to not understand what was being said/sung. This is especially apparent with Merediz's powerfully emotional song, "Paciencia y Fe".
Between Chu's expert directing, Miranda's material, and a talented cast, it was the perfect storm that came together to take a Tony award-winning musical and turn it into a fantastical film.
Grade; A-
For more reviews please visit our film/television review section.
The highly anticipated movie adaptation of Lin-Manuel Miranda's Tony award-winning musical, In The Height, is finally here and FlickDirect corresponde...

The creator of "Hamilton" and the director of "Crazy Rich Asians" invite you to the event of the summer, where the streets are made of music and littl...
The creator of "Hamilton" and the director of "Crazy Rich Asians" invite you to the event of the summer, where the streets are made of music and littl...
SPONSORED LINKS