Cars 2 (2011)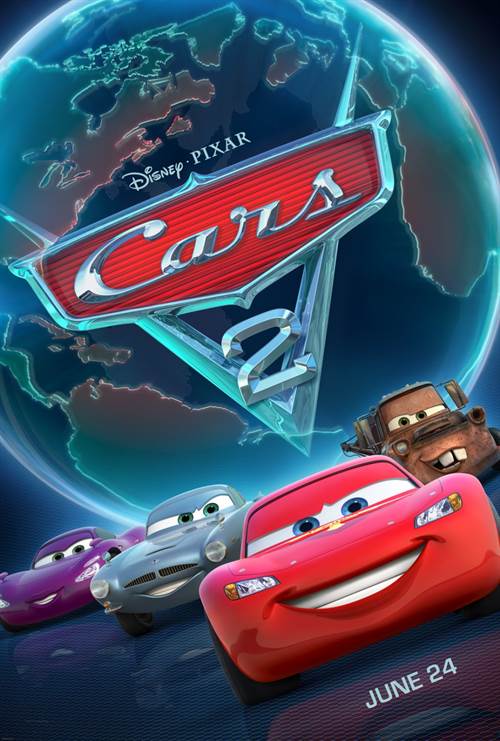 | | |
| --- | --- |
| Director: | |
| Writers: | |
| Cast: | |
| Released: | Friday, June 24, 2011 |
| Length: | 113 minutes |
| Studio: | Walt Disney Pictures |
| Genre: | Family |
| Rating: | General audiences. All ages admitted. |
Cars 2 Synopsis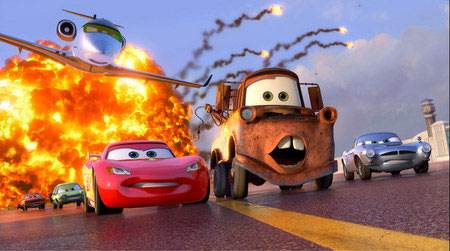 All the world's a racetrack as superstar Lightning McQueen zooms back into action, with best friend Mater in tow, to take on the globe's fastest and finest in this thrilling high-octane new installment of the "Cars" saga. Mater and McQueen will need their passports as they find themselves in a world of intrigue, thrills and fast-paced comedic escapades. While racing through England, Italy and Japan, they face a host of new and worthy competitors.

Purchase DVD/Blu-ray/4K UHD physical copy of Cars 2 today at Amazon.com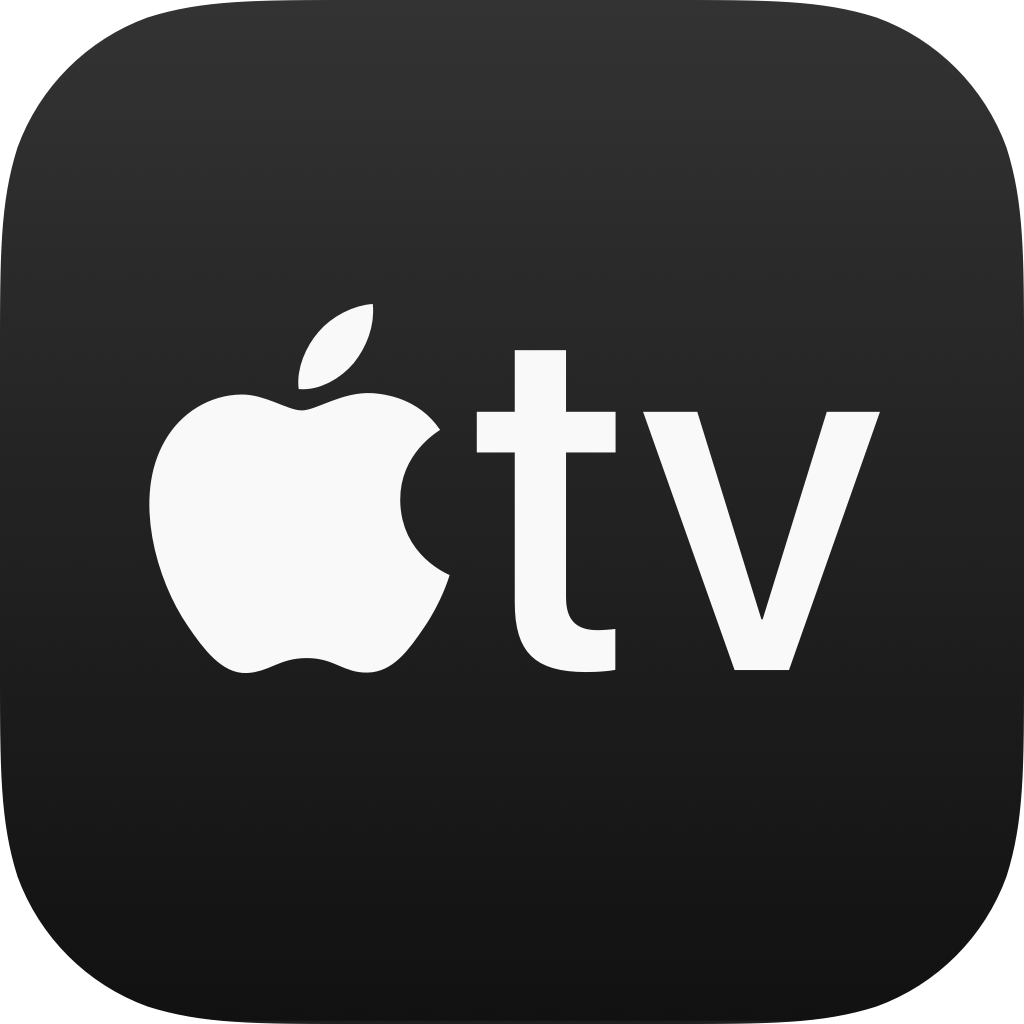 Stream Cars 2 in Digital HD/4K from the AppleTV store.
Listen to the Cars 2 soundtrack on Apple Music.
Cars 2 images are © Walt Disney Pictures. All Rights Reserved.
Cars 2 3D Blu-ray Review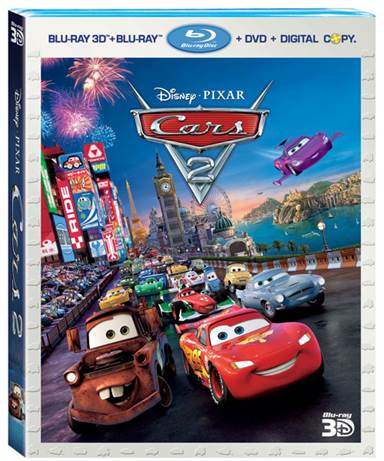 Beginning November 1, you can buy the Cars 2 Combo Pack (Blu-ray 3D, Blu-ray, DVD and Digital Copy). Cars 2, which is the highest grossing animated film of 2011 to date, is the continuing story of Lightning McQueen from the original story. But that is about all it has in common with the first movie. The first movie had the charm and deep-enough storyline about a car that only cares about racing and how he came to understand that there is more to life than that, all set in the town of Radiator Springs. Radiator Springs was a town time forgot as Route 66 was replaced by the interstate – an almost ghost town, and it stayed that way until the end of the first Cars movie.
The strongest antagonist to Lightning McQueen from the first movie, Doc Hudson, has gone to automobile heaven, in a very brief yet seemingly forced homage to his character and to the human who gave Doc his voice – Paul Newman. I'm not sure how I would have handled it but it seems it could have been handled differently in this film. The movie begins with a sequence that would be best included in a spy movie – you meet Finn McMissile (voiced by Michael Caine), who is the equivalent to James Bond in the Cars universe. He's out in the ocean somewhere and he's discovered something but we're not sure what. From the ocean the movie switches gears back to Radiator Springs, where we get quickly caught up with Lightning, Tow Mater, and the rest of the gang. Shortly thereafter, by reading between the lines, we discover that Lightning has been invited to participate in a three race World Grand Prix, but has declined. Thanks to a public rebuke by Francesco Bernoulli (voiced by John Turturro), an Italian F1 race car, and a counter-rebuke by Tow Mater, Lightning agrees to participate in the race. So we watch the gang leave Radiator Springs and fly to Japan for the first leg in the race. From there, however, the movie decides to go back to being a spy movie. The movie doesn't have the same soul that the first film had with learning about what matters in life – it's just a spy film set in the Cars universe. It's almost if you took Talladega Nights, Herbie goes to Monte Carlo, Live and Let Die , and Cars; put them in a blender, and this movie would be the result. Don't get me wrong, this is still a fun film to watch but is not even close to being in the same league as the original Cars movie. Don't expect to get much from it other than ninety minutes of entertainment.
The 3D was very well done, as the movie was intentionally made for 3D. Because of that the images are very sharp, and the colors aren't muted like they can be with post-production 3D. Additionally, this is the first 3D disc I've encountered where there is more than just the feature film included in 3D. The short "Air Mater" is also shown in 3D. "Air Mater" involves Tow Mater finding a flight school that promises to teach ANYONE how to fly.
On both the 3D and the regular Blu-ray the audio quality is superb, with the action scenes enveloping you. While the 3D version is wonderful, the Blu-ray is just the same –very sharp and very bright, with almost 3D imagery on its' own right. The regular Blu-ray also includes the Toy Story "Hawaiian Vacation" theatrical short, which is a very cute and funny story about Barbie and Ken getting to go to Hawaii on vacation…or is it really Hawaii? The combo pack also includes extras on an additional Blu-Ray disc. If you are a Disney Parks fan, you MUST check out the six minute preview of Cars Land, opening the summer of 2012 at the Disneyland Resort in Anaheim, California. You get to walk through the construction site, and you can tell that it is Radiator Springs coming up. Additionally they describe the new attractions, including the Radiator Springs Racers, which will be a huge draw for Disney fans once it opens, with what I believe will be very stunning and accurate rendition of the scenery around Radiator Springs, including the waterfall that Sally and Lightning drove by. On top of these three discs, the combo pack also includes a DVD of the movie and a digital copy, which makes it an extremely good value, even if you don't yet have a 3D TV.
Read More Cars 2 Reviews
For more reviews please visit our film/television review section.
SPONSORED LINKS