Love & Other Drugs (2010)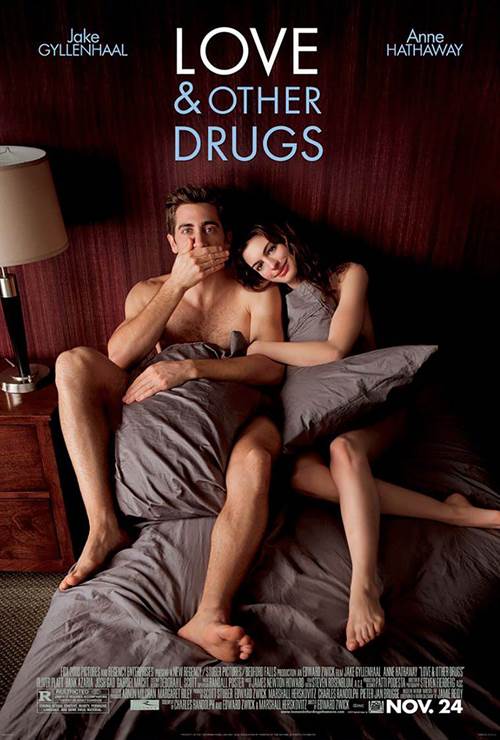 Share this:
| | |
| --- | --- |
| Director: | |
| Writers: | |
| Cast: | |
| Released: | Wednesday, November 24, 2010 |
| Length: | 113 minutes |
| Studio: | 20th Century Studios |
| Genre: | Comedy, Drama |
| Rating: | Under 17 requires accompanying parent or adult guardian. |
Synopsis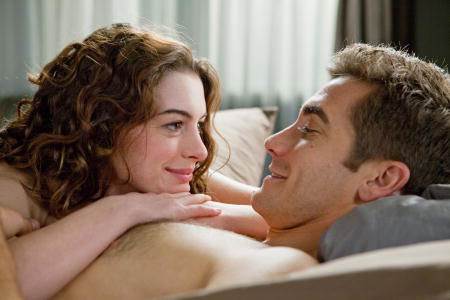 Smooth-talking playboy Jamie Randall (Jake Gyllenhaal, Brokeback Mountain) is on a fast track to the top of the pharmaceutical sales industry – promoting the miracle drug Viagra by day and charming the ladies by night. However, Jamie is taken aback when he meets Maggie Murdock (Academy Award-nominee Anne Hathaway, The Devil Wears Prada), a radiantly sexy free spirit who doesn't allow her treatment for Parkinson's get in the way of living her life. As Jamie and Maggie juggle their respective medications, they are forced to reassess their budding romance when they realize that love is the ultimate high.

Purchase DVD/Blu-ray/4K UHD physical copy of Love & Other Drugs today at Amazon.com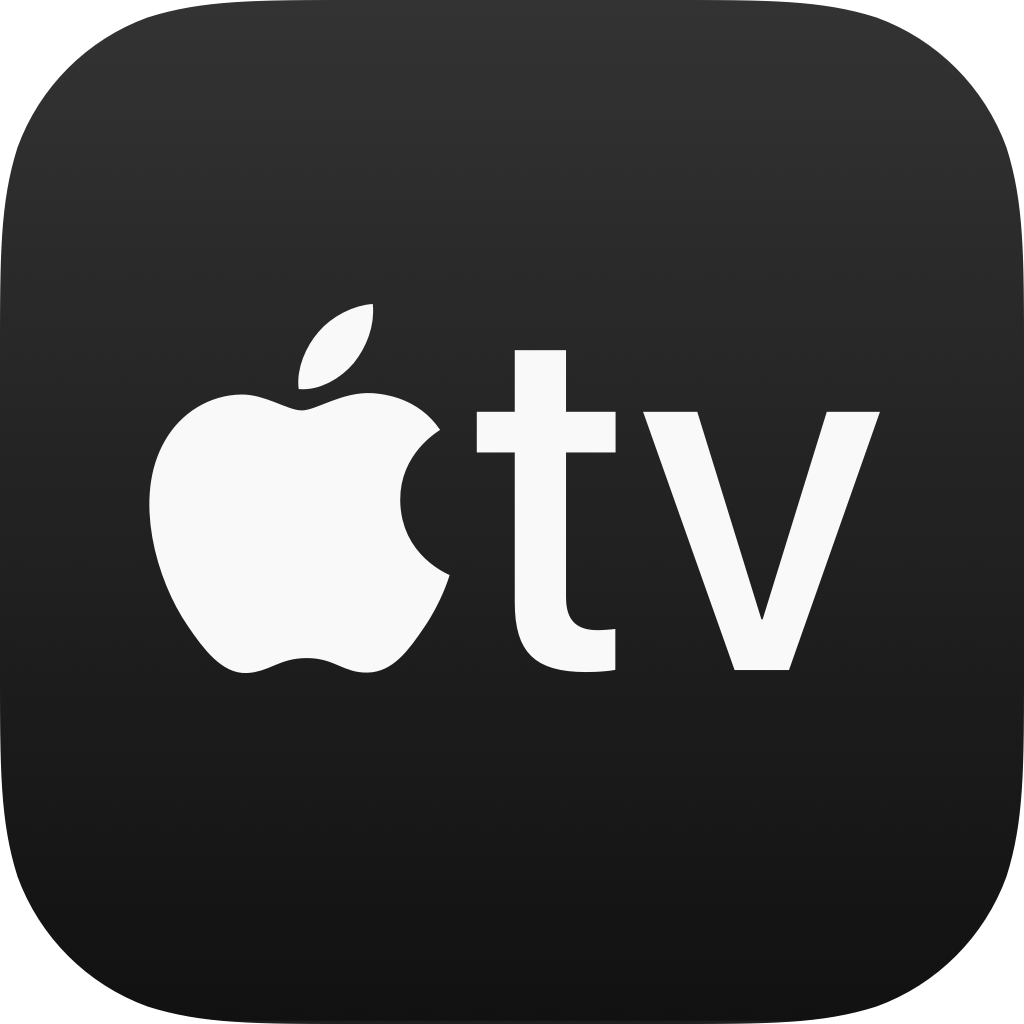 Download Love & Other Drugs in Digital HD/4K from the iTunes store.
Love & Other Drugs images are © 20th Century Studios. All Rights Reserved.
Love & Other Drugs Theatrical Review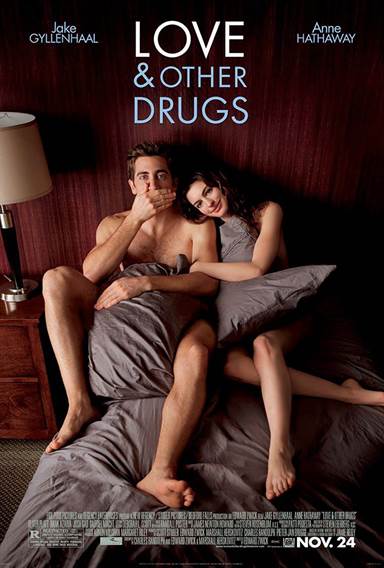 When going to see a movie you have certain expectations. If a film is billed as a comedy than you expect to have a laugh filled experience. The same can be said for the other genres as well. Sometimes there are movies that try to break the mold they are cast in; Love & Other Drugs is just such a movie.

Jake Gyllenhaal plays Jamie Randall who works in the field of pharmaceutical sales. He handles his work how he handles his life; fast and loose. He enjoys having very casual relationships with the women he meets as he travels around with his mentor, Bruce Winston played by Oliver Platt. This changes though as along comes Maggie Murdock played by Anne Hathaway, who handles her life much in the same way Jamie handles his. The only major difference between them is that Maggie does not work in the field of pharmaceutical sales. What starts off as a very passionate affair ends up becoming something neither of them expected. Jamie is the first to realize that he is falling for Maggie and of course Maggie being a much more free spirited in her relationships, is resistant to this new development.

As time passes though and she begins to see, not only changes in Jamie, but changes in herself she realizes that she has those same feelings. The major difficulty is the way this movie was billed to the audience. Upon first glance it comes off as a romance with some light humor mixed in; oddly though this is not completely the case. About halfway through the movie Maggie discovers that she is terminally ill and what began as a movie about a couple struggling to find a groove with each other instead becomes a movie about two people who will never have a chance at finding out if they can make it work. Now we watch as Anne Hathaway slowly succumbs to her disease and Jake Gyllenhaal struggles to not only try and save her but also make the most of the time they have left together.

Anne Hathaway gives a fantastic performance throughout the film and if this were another movie there might even be Oscar talk circulating. Unfortunately this is not a movie that can hold up to her performance. Jake Gyllenhaal's character is so A-typical that it is hard to really get on board with him at any time during the movie, even after he has changed his ways and settled down. The other large drawback is the unevenness of the plot. The first half of the movie is your typical romance film and then out of nowhere it becomes this very heavy drama. It is this inconsistency that will probably keep audiences from really getting on board with the movie as a whole.

It's true that in real life there are no real consistencies with anything. One second you are starting out in a new relationship and the next you find out that someone close to you has passed away. It's understandable for a movie to try and mirror the same rollercoaster effect of life but when on the big screen it just doesn't come off the same. Probably because movies are not reality, they are fantasy so we expect them to follow a certain set of rules. In the end, Love & Other Drugs is not a bad film, but it is certainly not a great one either.

Read More Love & Other Drugs Reviews
For more reviews please visit our film/television review section.
SPONSORED LINKS