Bad Teacher (2011)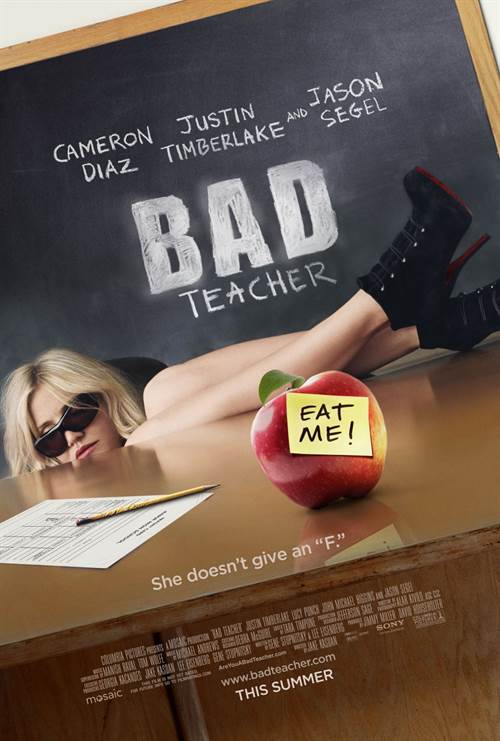 | | |
| --- | --- |
| Director: | |
| Writers: | |
| Cast: | |
| Released: | Friday, June 24, 2011 |
| Length: | 92 minutes |
| Studio: | Columbia Pictures |
| Genre: | Comedy |
| Rating: | Under 17 requires accompanying parent or adult guardian. |
Bad Teacher Synopsis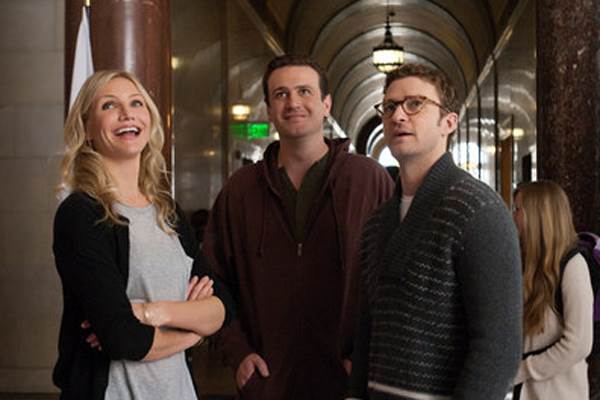 Some teachers just don't give an F. For example, there's Elizabeth (Cameron Diaz). She's foul-mouthed, ruthless, and inappropriate. She drinks, she gets high, and she can't wait to marry her meal ticket and get out of her bogus day job. When she's dumped by her fiancé, she sets her plan in motion to win over a rich, handsome substitute (Justin Timberlake) – competing for his affections with an overly energetic colleague, Amy (Lucy Punch). When Elizabeth also finds herself fighting off the advances of a sarcastic, irreverent gym teacher (Jason Segel), the consequences of her wild and outrageous schemes give her students, her coworkers, and even herself an education like no other.

Purchase DVD/Blu-ray/4K UHD physical copy of Bad Teacher today at Amazon.com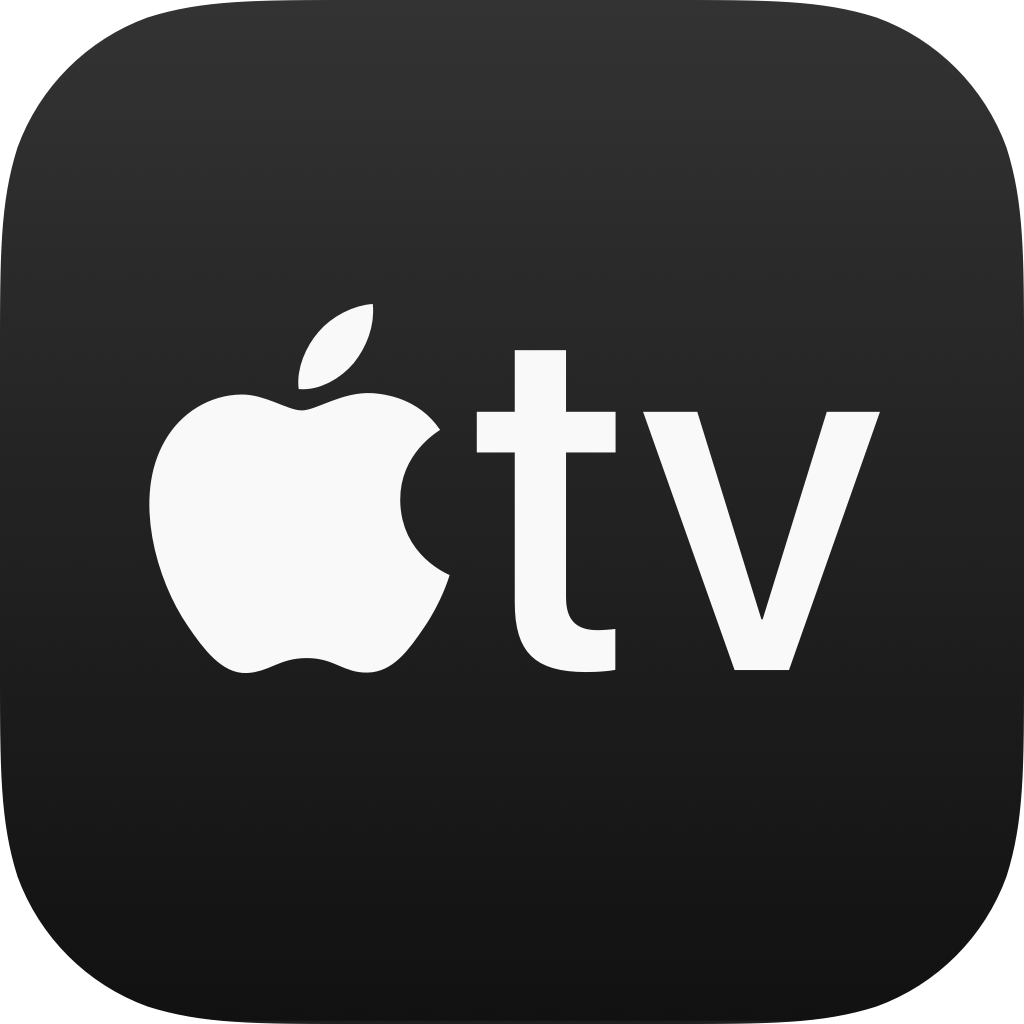 Stream Bad Teacher in Digital HD/4K from the AppleTV store.
Bad Teacher images are © Columbia Pictures. All Rights Reserved.
An Interview with Bad Teacher's Matthew J. Evans
7/7/2011 3:56 PM EST
Matthew J. Evans, who is currently starring alongside Cameron Diaz, Justin Timberlake, and Jason Segel in Columbia Pictures comedy "Bad Teacher" recently had a chance to sit down with FlickDirect and discuss his involvement with the film and also his latest film "Poetic Justice Project" which is currently hitting the film festival circuit.  FlickDirect: You are in Bad Teacher, also starring Camer...
More>>
Bad Teacher Theatrical Review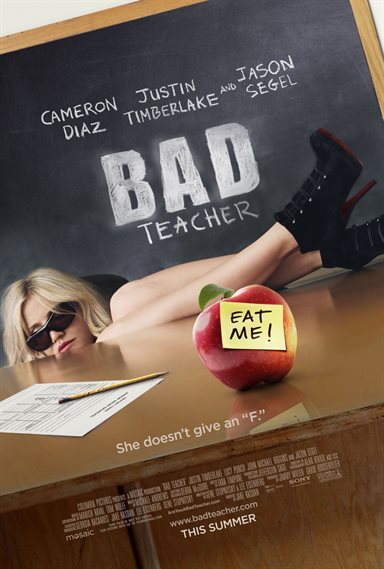 In the vein of raunchy comedies, Bad Teacher strives to add itself to the likes of Bad Santa, Grandma's Boy, and Superbad. The film stars Cameron Diaz, Jason Segel, and Justin Timberlake and follows the exploits of the teachers at John Adams Middle School or J.A.M.S as the principal likes to call it.

Diaz plays Elizabeth Hasley, a woman who has gotten through life off the charity of others. The film opens with her about to leave John Adams and get married. Right away we see that while Elizabeth puts on a nice smile for the crowd, she clearly does not like being associated with these people and is all too happy to be getting out. Things take a down turn for her when her fiancé informs her that he is breaking up with her because he believes she only loves him for his money. This is true of course, but she is not about to let him know that.

Three months later she finds herself back at John Adams and loathing every second of it. She has no interest in teaching, which is evident through her methods (showing movies in class) and longs to find another man to take care of her. Very quickly she finds a nemesis in Amy Squirrel (Lucy Punch) who is that typical over achiever in life and does everything with a huge smile on her face even if drives everyone else crazy. Elizabeth realizes that if she ever wants to find a man who support her she needs to remake herself and for her that means getting breast implants.

The problem with that is they are very expensive and on a teacher's salary she will never be able to afford them. So she sets out to raise money any way she can and for her that means doing any dishonest deed she can. This ranges from selling off the lost & found items, to selling recyclables, and stealing money from the kid's car wash fund. Getting the implant procedure isn't the only thing she believes will make her life better, a new teacher has joined John Adams by the name of Scott Delacorte (Justin Timberlake) and it turns out he is the heir to a large fortune. The only bump in the road for her is Amy, who always seems to be grabbing Scott's attention.

Scott isn't the only man in Elizabeth's life, the gym teacher Russell (Jason Segel) has set his sights on her and unlike Scott he is not distracted by anyone else. As the year wears on it is obvious that Scott is becoming closer with Amy and Elizabeth must find a way to steal him from her. What Elizabeth can't see is that Scott is not the right guy for her, Russell is, but because she has led a life of superficiality she can't see that Russell and she are the right match.

When Elizabeth learns of a reward given to the teacher whose students score the highest, she ups her game to unimaginable heights in an effort to win that money and Scott's attention. Along the way though she realizes that not everything she believed is right and perhaps the career she has chosen for herself isn't such a bad choice after all.

The big problem with Bad Teacher is not the humor, which at times is certainly side-splitting, nor is it the supporting characters; everyone here does a great job adding something funny to each scene they are in. The problem with Bad Teacher is the lead; Diaz doesn't do comedy very well, her dialogue as well as her humor throughout the movie comes off very forced and unreal. Plus it is hard to sympathize with a lead who makes it her life mission to be the worst possible person there is.

When the movie reaches its conclusion it feels very rushed, at one moment we are watching as Elizabeth might finally have to face up to her activities throughout the year and the next the film is wrapping up all the small storylines before the finale. This only serves to make it seem as though the makers of the film didn't put a lot of effort into their work. One wonders that when the Blu-ray comes out if there will be an unrated version with a more complete story.

In the end Bad Teacher delivers some great laughs and even better characters to laugh at but not enough of an impact that will make people take notice.
For more reviews please visit our film/television review section.
SPONSORED LINKS