Cloud Atlas (2012)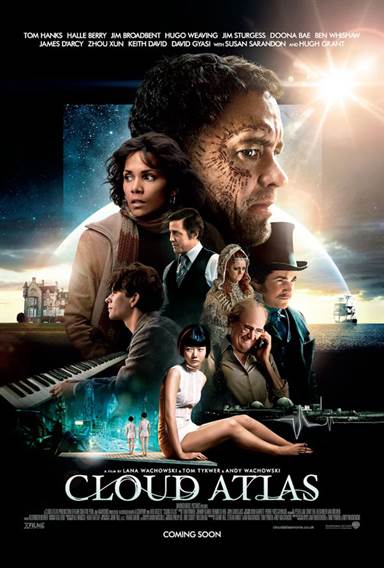 | | |
| --- | --- |
| Director: | |
| Writers: | Lana Wachowski , Andy Wachowski, Tom Tykwer, David Mitchell |
| Cast: | |
| Released: | Friday, October 26, 2012 |
| Length: | 164 minutes |
| Studio: | Warner Bros. |
| Genre: | Sci-Fi/Fantasy |
| Rating: | Under 17 requires accompanying parent or adult guardian. |
Synopsis
"Cloud Atlas" explores how the actions and consequences of individual lives impact one another throughout the past, the present and the future. Action, mystery and romance weave dramatically through the story as one soul is shaped from a killer into a hero and a single act of kindness ripples across centuries to inspire a revolution in the distant future.
Purchase your copy of Cloud Atlas today at
Download Cloud Atlas in Digital HD from the iTunes store.
Cloud Atlas images are © Warner Bros.. All Rights Reserved.


Cloud Atlas Theatrical Review
Tedious comes to mind after watching this tale of fantasy that spans six time periods within five centuries played out in nearly 3 hours. Cloud Atlas, although an admirable piece of movie making tends to be so complex that viewers I'm afraid, will just not get it. It's a brain teaser of sorts, one that challenges an audience to connect the dots between repetitive periods of time for a final resolve.

Breathtaking cinematography, fine acting and amazing make-up are the benefits from the movie, but the storyline gets so complicated it becomes 'work' instead of entertainment. Most audiences want to see stories play out to an understandable realistic manor. Here, with six stories going at one time, the chore of working out the meaning of it all in one's mind takes away from its intended entertainment value.

The story goes like this: Cloud Atlas spools out in six parables hopping from one to the other throughout the movie each segment portraying a theme quoted from Sonmi -451 in the year 2144, "Our lives are not our own. From womb to tomb, we are bound to others. Past and present. And by each crime, and every kindness, we birth our future." The story proceeds with short tableaus revisited throughout the movie. The first involves a slave ship in the South Seas making its way to a colonial port in the year 1849. The second jumps to 1936 Scotland and involves a musician that has a brilliant ear for music and who scribes the notes for a capricious composer. In 1973 we find Luisa Rey a young reporter stumbling upon a lead involving a nuclear reactor. In 2012 Scotland we find a newspaper publisher being victimized so he won't publish Luisa Rey's story. From here we take a big leap to 2144 Korea where the clone Sonmi -451 moves about tending her master in a obedient manner and at the final level of the film we see into the 24th century where the world has been devastated and people are living a simple primitive life in squalor trying to exist while being threatened by a warring tribe.

If you don't try to see the connection between each of the segments, you may get more enjoyment out of the film. Some of the segments stand out like the 1849 slave ship sequence where we find a crafty Dr. Goose (Tom Hanks), who poisons passengers in order to steal their possessions. In this tableau actor Jim Sturgess plays Adam an unsuspecting young man who comes under the doctor's care after catching a malady aboard ship. Being slowly put to death with the doctors 'medicine', his only salvation comes from a slave whose life he had saved. Adding some comedy to the film we find Timothy Cavendish (Jim Broadbent) a publisher who gets put in a reclusive and guarded nursing home by a devious scoundrel who doesn't want him to put a revealing story about a nuclear reactor in print. The segment reminded me somewhat of One Flew Over the Cuckoo's Nest being jovial enough to take the edge off the other dramatic pieces.

The fantasy yarn involves Sonmi-451 (Doona Bae) a clone in 21st Century Korea who looks after her owner while wearing a metallic electronic neck brace that keeps her captive. Embedded in her neck is an explosive charge that would blow apart her carotid artery rendering instant death at the push of a button. Subservient like the rest of her fellow clones, she goes about her business of pleasing and toiling. When her friend goes off the deep end and allows her neck device to kill her, Sonmi-451 starts looking for an escape. This action sequence ups the value of the movie with its creative cinematography, CGI and special effects making it the best of the six sequences. With more storyline, creative direction and continuous strong character development, this segment could be a standalone film.

The make-up department provides many surprises creating a bevy of characters from each of the main actors. Tom Hanks acts out a character in each of the six segments, from a Nuclear Physicist to the primitive Zachry of the 24th Century. In some cases, especially that of Dr. Goose, Hanks has been completely disguised. Other amazing transformations include Halle Barry as Jocasta Ayrs a white woman and as Ovid in 2144 Korea she plays a man.

Cloud Atlas has been rated R for violence, language, sexuality/nudity and some drug use. There are also scenes of brutality, discrimination and gore that should be noted. The film would be better served on video whereby the viewer can run the movie again, rewind and pause so as to digest the film as a whole.

FINAL ANALYSIS: The complexity of the film impairs its entertainment value. (C-)

-- John Delia
Read More Cloud Atlas Reviews
For more reviews please visit our film/television review section.
"Cloud Atlas" explores how the actions and consequences of individual lives impact one a...
SPONSORED LINKS
Comments

Courtesy of
Movie Hype App
mikezachar
Hope it's good!
2/27/2015 7:15 PM EDT
movieguynathan
Going to see what the big fuss was about.
5/19/2013 9:10 AM EDT
mcqueen_2013
This Was A Great Movie I Sure As Hell Enjoyed. Amazing Actors Playing Multiple Characters.
5/11/2013 1:27 PM EDT
kevlittrell
looks confusing
5/8/2013 9:45 AM EDT
giacomo
Ottimo
3/12/2013 9:20 PM EDT
paul
At long last I get to see this movie but truth is I don't know what to expect.
2/23/2013 5:20 AM EDT
alikhaksar
Good
2/12/2013 6:09 AM EDT
wwter12
awesome
2/5/2013 9:24 PM EDT