Vamps (2012)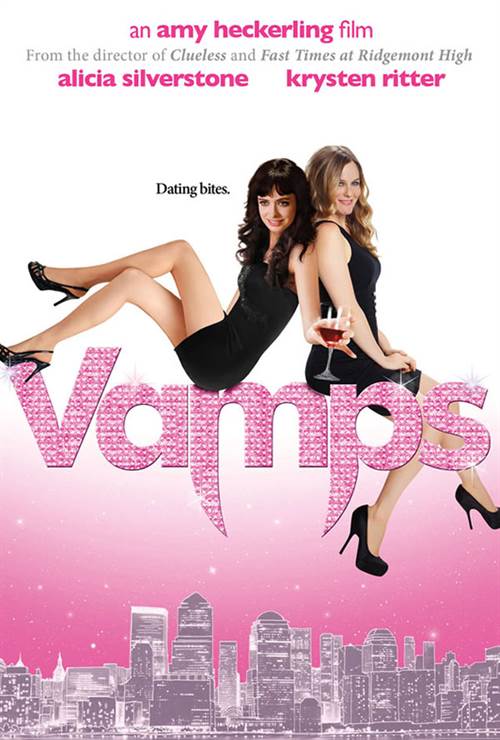 Share this:
| | |
| --- | --- |
| Director: | |
| Writers: | Amy Heckerling |
| Cast: | |
| Released: | Friday, November 2, 2012 |
| Length: | 93 minutes |
| Studio: | Anchor Bay Entertainment |
| Genre: | Comedy |
| Rating: | Some material may be inappropriate for children under 13. |
Synopsis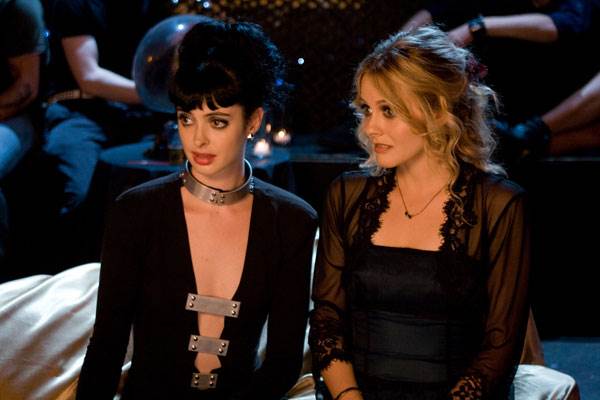 Goody (Silverstone) and Stacy (Krysten Ritter) are addicted to the night life, clubbing, hooking up and alwayslooking for the next thrill, all the while keeping a big a secret-they happen to be modern-day vampires. But even with lifetimes of dating experience behind them, the duo realizes they still have a lot to learn about love when Stacyunexpectedly falls for the son of a vampire hunter, and Goody runs into the man of her dreams from decades earlier.

With their destinies at stake, thegirls are faced with a difficult choice; give up their eternal youth for a chance at love, or continue to live their uncomplicated fabulously single lives forever.

Purchase DVD/Blu-ray/4K UHD physical copy of Vamps today at Amazon.com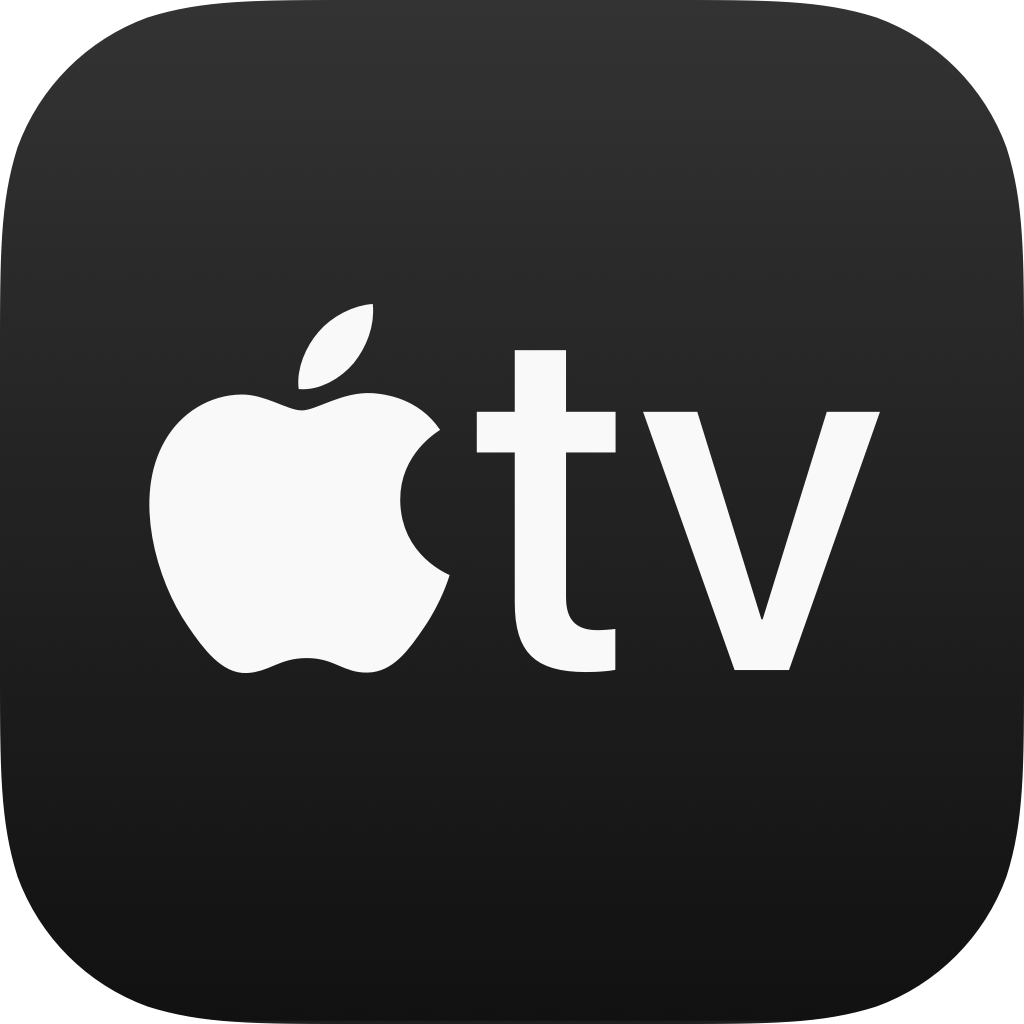 Download Vamps in Digital HD/4K from the iTunes store.
Vamps images are © Anchor Bay Entertainment. All Rights Reserved.


Vamps Blu-ray Review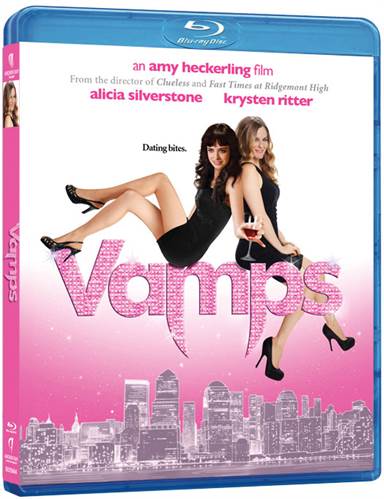 Vampire movies are certainly making their way into the crowded horror market and a little comedy called Vamps has been released on Blu-ray just in time for the holidays. Not your average repulsive bloodletting fantasy flick, this film tries to entertain making the hideous a laughing matter. While the premise does warrant a chick flick audience, the film needs much 'ReVamping" with better acting.

The story finds two twenties looking vampires living together, Goody (Alicia Silverstone) and Stacy (Krysten Ritter) each as 'airheaded' as the other. Working nights so they won't be out in the sunlight, the two girls are maintenance workers who help to eradicate buildings from rodent infest. Oh, I need to tell you that the two vamps do not feed off humans having developed a taste for rat blood instead. This allows them to go clubbing nightly and not get the urge to kill.

On a chance meeting Stacy falls for Joey Van Helsing (Dan Stevens) a descendent of the Abraham Van Helsing the 1800's vampire killer. When Joey brings Stacy home for a meet and greet with his parents, his father Dr. Van Helsing (Wallace Shawn) detects she's a vampire and warns her not to 'eat' his son. When Stacy gets pregnant with Joey's baby however, things start altering the situation right up to a very twisted ending.

Included in this mess is a very good performance by Sigourney Weaver. She plays Cisserus the original baby maker of all 'Stem' vampires, a clan that includes Goody and Stacy. She makes a bloody mess of almost every situation because she feeds off humans. Weaver creates an extremely seductive vampire using her charming acting skills. But, she also has a very cold blooded side as well, gorging on men she meets in night clubs. She's the only acting breath of fresh air in the film and a good example of how her cast mates should have handled their roles.

Silverstone hasn't changed much from her dumb blonde role in Clueless and like the title of that film she's brilliantly clueless in Vamps. Much like her counterpart Ritter the two are the dumb and dumber of well, Dumb and Dumber. Both looked like they never practiced their lines, can't adlib and must have been a handful for director Amy Heckerling (Clueless, Fast Times at Ridgemont High), unless it's what Heckerling wanted by design.

Mentioning writer/director Heckerling I really don't think she has her game on with Vamps. Her writing of this weak film clichéd, elements preposterous and the directorial control over the two leads seems nonexistent. A few more rehearsals of the opening scene would have helped a lot as it looks like the two ladies are reading lines off cue cards. I did like the flash backs of Goody showing actual footage of each of the eras of her 171 years on earth though. And I especially love the make-up created for Goody in the final scenes. Not much more to ballyhoo in this 'sucky' film.

The Video Quality widescreen 1.78:1 presentation is actually very good shown though my Blu-ray player to my 16x9 HD television. I didn't notice any flaws or grain aside from actual cutaways that were purposely aged for effect.

As for the Sound Quality, the audio works just fine for the film using the Dolby TrueHD 5.1. The sound guy worked his magic in the nightclub scenes allowing every word of conversation to be heard.

There are no bonus features although I would have loved to hear Heckerling's explanation of why the film turned out to be a bomb. I guess that's why they didn't include an audio commentary track for the Blu-ray.

FINAL ANALYSIS: Maybe acceptable for a girl's night in, but a lot of "RED" wine will help. (C)

-- John Delia
For more reviews please visit our film/television review section.
Goody (Silverstone) and Stacy (Krysten Ritter) are addicted to the night life, clubbing, hooking up...
SPONSORED LINKS