Fantastic Four (2015)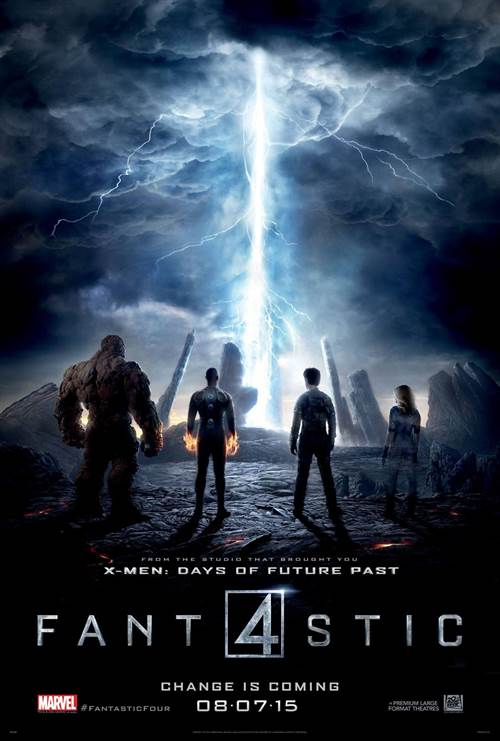 | | |
| --- | --- |
| Director: | |
| Writers: | |
| Cast: | |
| Released: | Friday, August 7, 2015 |
| Length: | 100 minutes |
| Studio: | 20th Century Studios |
| Genre: | Sci-Fi/Fantasy, Action/Adventure |
| Rating: | Some material may be inappropriate for children under 13. |
Fantastic Four Synopsis
THE FANTASTIC FOUR, a contemporary re-imagining of Marvel's original and longest-running superhero team, centers on four young outsiders who teleport to an alternate and dangerous universe, which alters their physical form in shocking ways. Their lives irrevocably upended, the team must learn to harness their daunting new abilities and work together to save Earth from a former friend turned enemy.

Purchase DVD/Blu-ray/4K UHD physical copy of Fantastic Four today at Amazon.com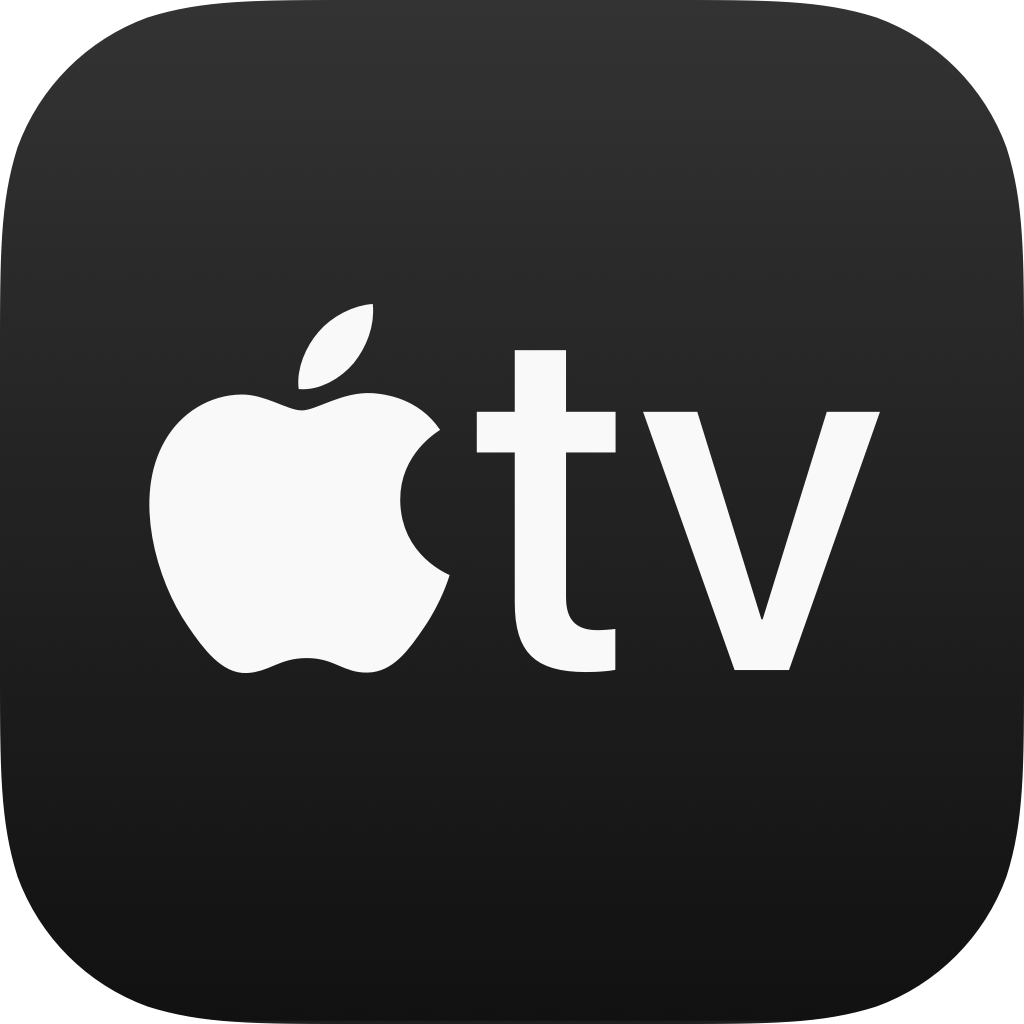 Stream Fantastic Four in Digital HD/4K from the AppleTV store.
Fantastic Four images are © 20th Century Fox. All Rights Reserved.
Doctor Doom Film to be Developed by Fox
7/21/2017 4:56 PM EST
It was announced today at Comic-Con that we will see a Doctor Doom film. Showrunner Noah Hawley made the announcement that he will be developing the film for Fox.The film will focus on the infamous villain, who was portrayed by Julian McMahon in 2005's "Fantastic Four". The film also starred Ioan Gruffudd, Jessica Alba, Chris Evans and Michael Chiklis.There aren't many details about the film but i...
More>>
Analysts Predict $60 Million Loss for Fantastic Four
8/11/2015 12:28 PM EST
20th Century Fox could be writing off more than $60 million on the newest incarnation of the Fantastic Four franchise.The film, which cost $120 million, earned only a mere $26 million domestically during its opening weekend. This number didn't even reach the low estimate of $27 million that experts were predicting.  Barton Crockett, an analyst at FBR & Co., said this amounts to "a negative start t...
More>>
Toby Kebbell to Play Doctor Doom in Fantastic Four
4/2/2014 1:24 PM EST
Toby Kebbell, who has acted in films "War Horse" and "The East", has been chosen to play Doctor Doom for the upcoming "Fantastic Four" film.The reboot will feature the four as young men and women and is slated for a June 19, 2015 release. A sequel will be released in Summer of 2017.Kebbell also stars in "Dawn of the Planet of the Apes", which will be released in July. Countdown to the release of F...
More>>
Matthew Vaughn Signs Up For Fantastic Four Reboot
2/25/2013 12:26 PM EST
Matthew Vaughn,  who directed "X-Men: First Class", has signed on to produce the upcoming "Fantastic Four" reboot. marvel's mark Millar announced the news via Twitter in Friday. Josh Trank (Chronicle) is attached to direct the film, which is due out in March 2015.  Everything is still in the planning stages for the film, so not much more information is available as of yet.Vaughn also produced "Kic...
More>>
Fantastic Four Theatrical Review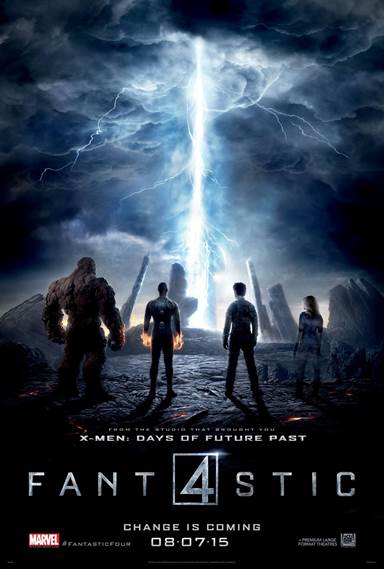 Simply stated,
Fantastic Four
is the best comic book movie of 2015. In a year that brought us very dull offerings from the Marvel/Disney cinematic universe, this little movie puts energy back into the over saturated superhero genre.
While the story differs from it's comic book origins, it still works in the film — Reed Richards, a childhood genius, has been working on a teleportation device since he was a child. His genius is recognized during a high school science fair by the Baxter Foundation, where he is brought together with like-minded individuals to finish his work. As one can guess, things go awry at some point during the film, transforming these simple kids into super-powered beings who must come together to save the world from impending doom.
Fantastic Four has had an uphill battle with a lot of negative press and controversy before the film has even hit theaters, and while some of my colleagues seem to be jumping on this bandwagon, the film really does pull through.
Sophomore film director Josh Trank (Chronicle) takes a fresh approach to the comic book genre providing more of an "indie", dark feel to the film, a much needed break from the slick polished Marvel/Disney films as of late, and while his directing is a bit choppy at times, and not in the same league as someone like Bryan Singer (X-Men, Usual Suspects), it at least has it's own style.
For the most part, the cast and their chemistry is spot on. Miles Teller (Divergent, Whiplash), who plays Reed Richards, gives us one of his best action genre performances to date, while the rest of the Fantastic Four, Sue Storm (Kate Mara; Iron Man 2, Transcendence), Johnny Storm (Michael B. Jordan; Chronicle, Creed), and Ben Grimm (Jamie Bell; King Kong, Jumper) complement each other very well. The only character that seems to be really out of place in the film is Toby Kebbell (Dawn of the Planet of the Apes, Wrath of the Titans ) as Victor Von Doom. Most of the time Kebbell is on screen he appears bored and half asleep. It's as if he took the film for a paycheck, and just really wasn't the best actor to play the iconic villain of the Fantastic Four universe.
Fantastic Four is not without it's faults. One of the films major problems is that it suffers from being too short. Clocking in with a run-time of 100 minutes, the film feels very rushed at the end. Instead of providing a fully complete story it's as if Fox is just teasing us to get us to see the next Fantastic Four film, which is slated for 2017. The score, composed by Marco Beltrami (The Wolverine, Terminator 3: Rise of The Machines), is one of his worst yet.It does not fit the film at all. Instead of drawing you further into this alternate reality, it pulls you out of the movie, as if Beltrami composed it without even seeing the film itself.
For comic book purists, this film is easy cannon fodder for them to complain about how movies take away the spirit of their beloved stories. However, just like the X-Men films, 20th Century Fox has a good pulse on how these stories will translate to good adult oriented films that care more about the drama than just the slick action and comedy that Marvel and Disney seem to now focus on. B-
For more reviews please visit our film/television review section.
THE FANTASTIC FOUR, a contemporary re-imagining of Marvel's original and longest-running superhero team, centers on four young outsiders who telep...

THE FANTASTIC FOUR, a contemporary re-imagining of Marvel's original and longest-running superhero team, centers on four young outsiders who telep...
THE FANTASTIC FOUR, a contemporary re-imagining of Marvel's original and longest-running superhero team, centers on four young outsiders who telep...
SPONSORED LINKS