Kong: Skull Island (2017)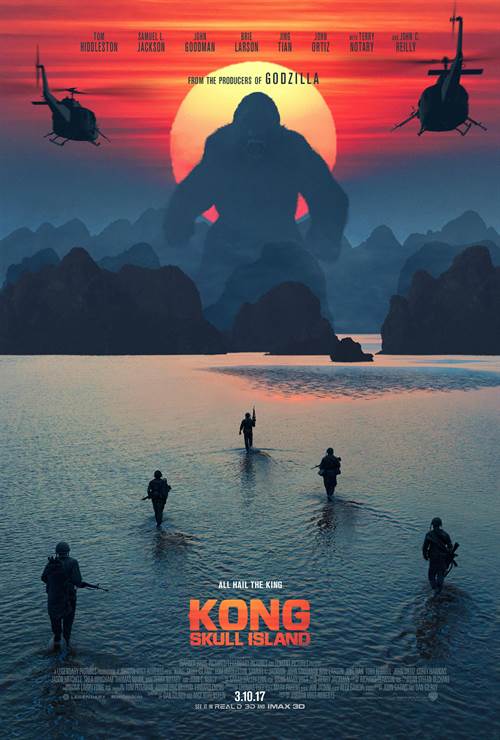 Share this:
| | |
| --- | --- |
| Director: | |
| Writers: | |
| Cast: | |
| Released: | Friday, March 10, 2017 |
| Length: | 118 minutes |
| Studio: | Warner Bros. |
| Genre: | Sci-Fi/Fantasy, Action/Adventure |
| Rating: | Some material may be inappropriate for children under 13. |
This film contains a scene during or after the credits.
Synopsis
When a scientific expedition to an uncharted island awakens titanic forces of nature, a mission of discovery becomes an explosive war between monster and man. Tom Hiddleston, Samuel L. Jackson, Brie Larson, John Goodman and John C. Reilly star in a thrilling and original adventure that reveals the untold story of how Kong became King.

Purchase DVD/Blu-ray/4K UHD physical copy of Kong: Skull Island today at Amazon.com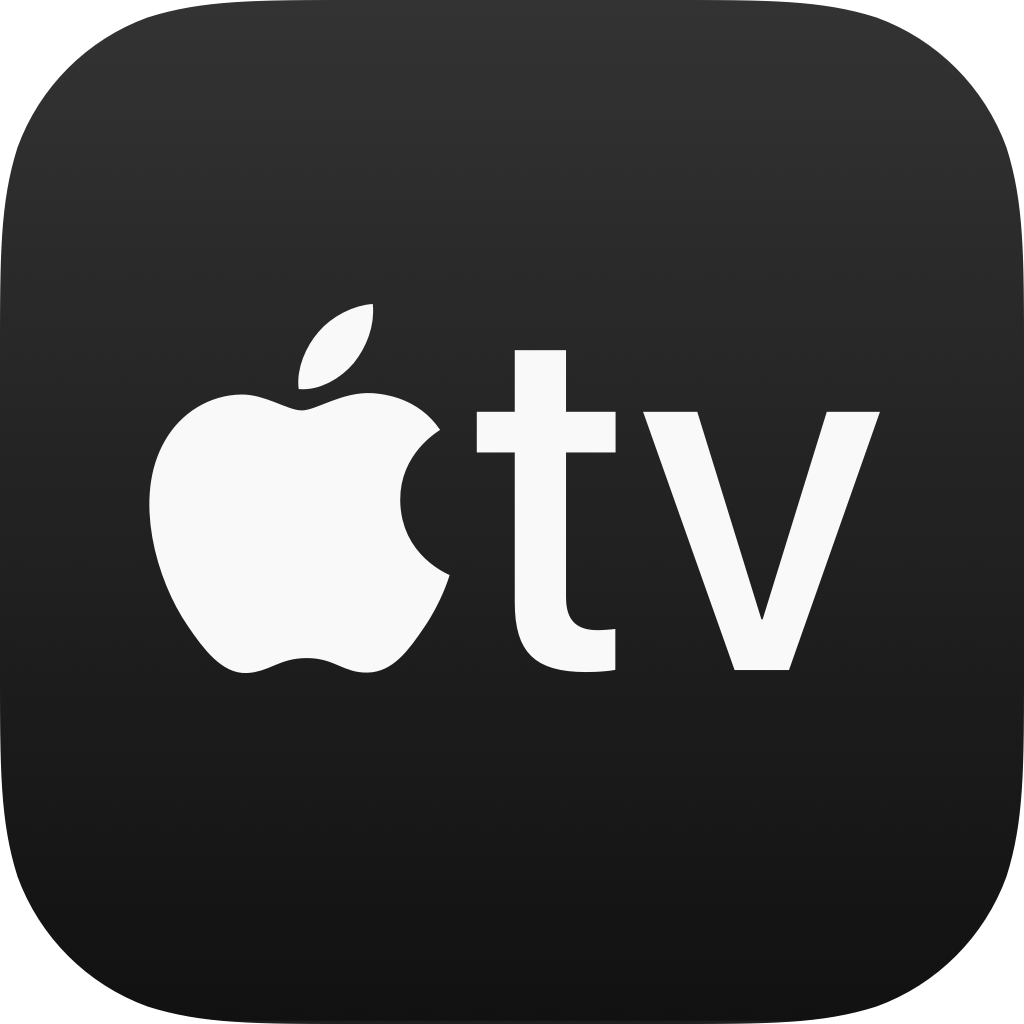 Download Kong: Skull Island in Digital HD/4K from the iTunes store.
Listen to the Kong: Skull Island soundtrack on Apple Music.
Kong: Skull Island images are © Warner Bros.. All Rights Reserved.
Universal Orlando Set to Open Skull Island: Reign of Kong
5/6/2015 11:33 AM EST
Universal Orlando has announced that they will be opening a new attraction at their Islands of Adventure park - "Skull Island: Reign of Kong".In this new area, guests will get to explore through jungles, and their ancient structures, as well as natives who aren't too friendly.  You will also encounter prehistoric creatures, wander though caves, and even see King Kong.The attraction, which will be ...
More>>
Kong: Skull Island Theatrical Review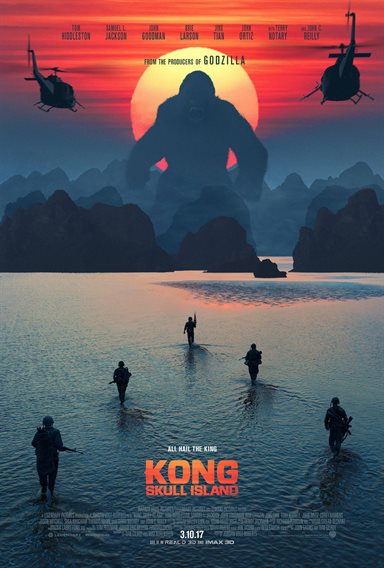 Ever since he first appeared in movie theaters back in 1933, we have had a fascination with one humongous ape. King Kong became a classic and sparked not only our imaginations but spawned remakes and reincarnations of the huge beast. In 2005, Peter Jackson (Lord of the Rings) brought his spin to the series in a three-hour epic. This week, Jordan Vogt-Roberts (Mash Up) gives us his rendition in Kong: Skull Island in one of this year's most anticipated films.

The year is 1973 and the war has just ended. Bill Randa (John Goodman; Roseanne) has worked for Monarch for years and has gotten approval for a mapping expedition to one of the last uncharted islands in the world. It is surrounded by an intense weather pattern, making it virtually undetectable for many years, and mystery has surrounded it with ships and planes going missing in the general vicinity. Bringing a team of scientists with military support, Randa sets off seismic charges that create small explosions and literally wake a sleeping giant.

Suddenly stuck on the island, Randa, Colonel Packard (Samuel L. Jackson; The Hateful Eight), tracker James Conrad (Tom Hiddleston; Thor), photographer Mason Weaver (Brie Larson; Room), and the other surviving scientists and soldiers must make their way to the rendezvous point in three days. Little do they know the perils that await them, nor the story behind the great ape and the other creatures dwelling in what can only be described as a nightmare. Besides giant insects and some carnivorous lizard looking things, they also find Hank Marlow (John C. Reilly; Guardians of the Galaxy), a World War II pilot who crashed onto skull island 30 years earlier.

What Kong: Skull Island has going for it is its terrific cast. Hiddleston commands the screen like he never has before. Jackson is superb, as usual, and Larson reminds us why she won the Best actress Oscar last year. Goodman and Reilly are ok, but not especially memorable, but they blend well with the rest of the supporting cast to create a cohesive ensemble. And with Vogt-Roberts at the helm, this team has created an enjoyable movie full of scary creatures and great one-liners alike.

The effects are sensational, as you can see every hair on Kong's body, and the cinematography is magnificent. Hawaii is a magnificent backdrop for these monstrous "things" and Vogt-Roberts uses the landscape to his full advantage. The special effects team took care to incorporate even the minutest details for the audience to enjoy. While the film is not without controversy (why is Kong walking upright instead of all fours?), the overall feel is one of an epic battle, begun probably before the time of man.

What Kong got wrong was a few of the characters/actors (Goodman, Reilly) and some of the plot. It also missed the mark on the giant man-eating lizards. While we get some of Randa's backstory and motivation, I missed his almost desperate passion and urgency to reveal Kong to the world, even though he explains it and Marlow seems oddly sane for a man who has been living among non-verbal island people and destructive creatures for the last 30 years. The lizards are just ugly and weird and seem rather alien-like, as opposed to the other creatures (including Kong) who merely feel as bigger versions of the insects and animals we know today.

While Kong blends humor and action with epic, massive (in size) fight scenes, I kept wanting to see more of Hiddleston and Larson, and to get great character development from most of the characters (although the movie would probably be then too long and bogged down). Ultimately, though, many fans won't be let down and will probably praise the film. I suspect we will have two factions – the 2005 version of King Kong fans and the Skull Island King Kong version fans. Regardless, the movie is entertaining and has a lot going for it.

Grade: B
Read More Kong: Skull Island Reviews
For more reviews please visit our film/television review section.
When a scientific expedition to an uncharted island awakens titanic forces of nature, a mission of d...

When a scientific expedition to an uncharted island awakens titanic forces of nature, a mission of d...

When a scientific expedition to an uncharted island awakens titanic forces of nature, a mission of d...
Join FlickDirect's Austin Putnam as he reviews this week's big release, KONG: SKULL ISLAND!R...
SPONSORED LINKS