Dumbo (2019)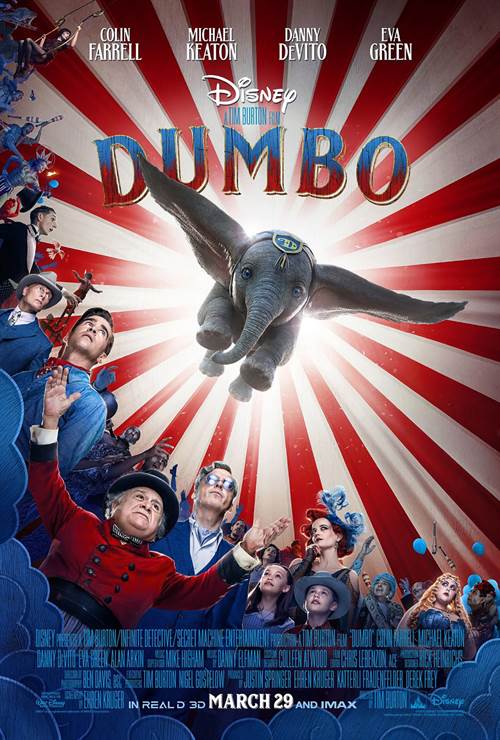 Share this:
| | |
| --- | --- |
| Director: | |
| Writers: | |
| Cast: | |
| Released: | Friday, March 29, 2019 |
| Length: | 130 minutes |
| Studio: | Walt Disney Pictures |
| Genre: | Sci-Fi/Fantasy, Action/Adventure |
| Rating: | Some material may not be suitable for children. |
Synopsis
From Disney and visionary director Tim Burton, the all-new grand live-action adventure "Dumbo" expands on the beloved classic story where differences are celebrated, family is cherished and dreams take flight. Circus owner Max Medici (Danny DeVito) enlists former star Holt Farrier (Colin Farrell) and his children Milly (Nico Parker) and Joe (Finley Hobbins) to care for a newborn elephant whose oversized ears make him a laughingstock in an already struggling circus. But when they discover that Dumbo can fly, the circus makes an incredible comeback, attracting persuasive entrepreneur V.A. Vandevere (Michael Keaton), who recruits the peculiar pachyderm for his newest, larger-than-life entertainment venture, Dreamland. Dumbo soars to new heights alongside a charming and spectacular aerial artist, Colette Marchant (Eva Green), until Holt learns that beneath its shiny veneer, Dreamland is full of dark secrets.

Purchase DVD/Blu-ray/4K UHD physical copy of Dumbo today at Amazon.com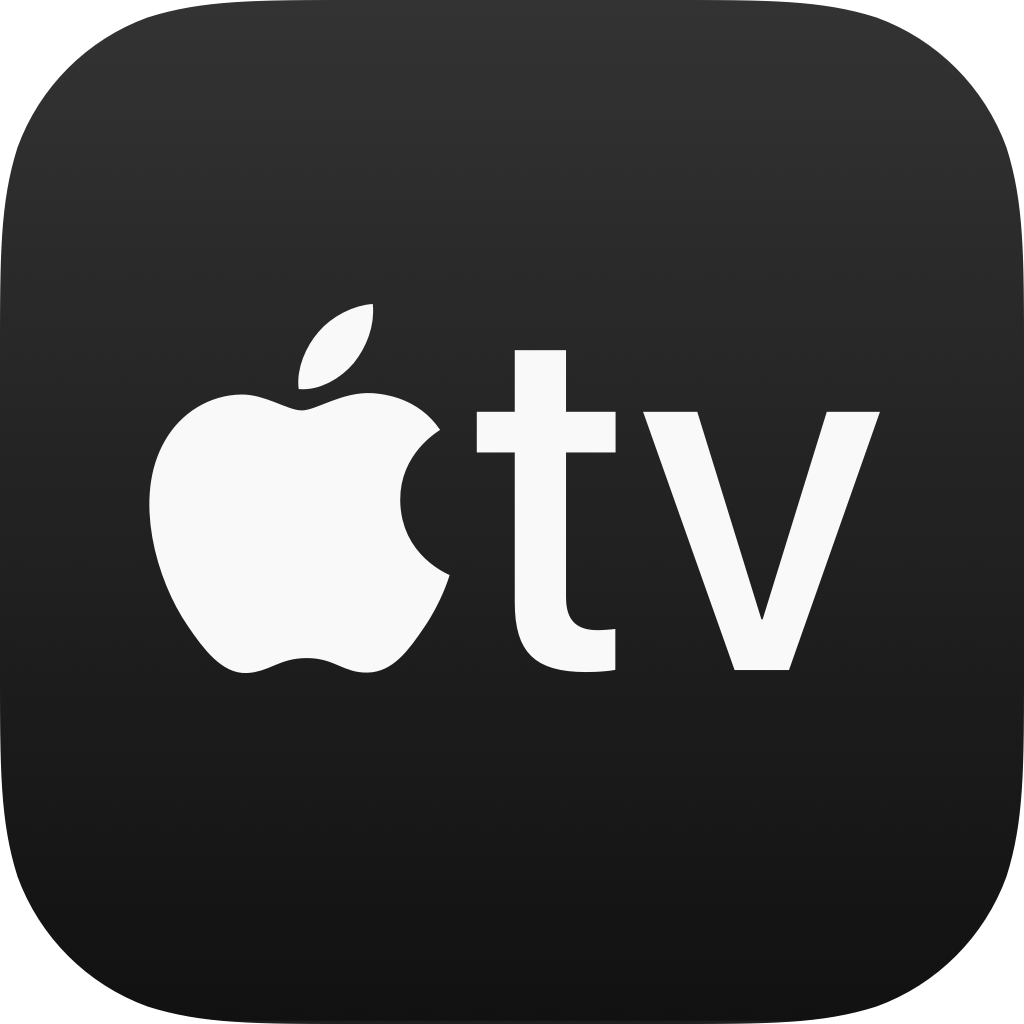 Download Dumbo in Digital HD/4K from the iTunes store.
Listen to the Dumbo soundtrack on Apple Music.
Dumbo images are © Walt Disney Pictures. All Rights Reserved.
Win Complimentary Passes For Two To An Advance Screening of Disn...
3/19/2019 10:11 AM EDT
When Disney first announced they were going to turn some of their beloved animated classic movies into live-action feature films nobody knew what to expect.  Since then they have consistently created wonderful films that honor the originals while adding new depth the to stories.  Their latest endeavor is the beloved story of the flying elephant, DUMBO.  Heading to theaters this month,  FlickDirect...
More>>
Disney Offering Sneak Peeks of Dumbo Beginning This Weekend
3/1/2019 1:41 PM EDT
Disney has announced that they will be offering a sneak peek of their upcoming film Dumbo.The limited time offer begins this weekend and will be taking place aboard the ships of the Disney Cruise Line fleet, at the Walt Disney Presents attraction at Disney's Hollywood Studios and in the Main Street Opera House at Disneyland. Each location will feature a life-size Dumbo replica for guests to take p...
More>>
Dumbo Theatrical Review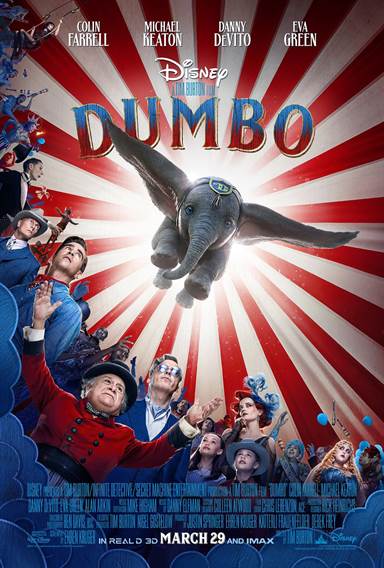 In the past five years, The Walt Disney Studio has been reworking their animated classics and turned them into live action features. While many (myself included) were skeptical at first, Disney has managed to create some wonderful films that the whole family can enjoy, whether seeing it for the first time or reminiscing about the stories they know and love. The studio's latest venture is their fourth animated feature from 1941,
Dumbo
. The beloved baby elephant with the giant ears has stolen hearts for generations and with this retelling, Disney opens it up to a whole new audience. While not the same storyline as the original, the film envelopes the essence what
Dumbo
is all about.
As the film opens we see the members of the Medici circus getting ready to travel across the country preparing to entertain families. Among the group are Milly and Joe (Newcomers Nico Parker and Finely Hobbins) Farrier – the children of the former circus star Holt (Coin Farrell; In Bruges). Holt returns from the war with one arm missing and becomes the baby elephant keeper after he finds out his horses, the centerpiece of his act, had been sold when the circus fell on hard times. Milly and Joe, despite their father's orders, spend time with the baby elephant and discover he can fly.
Once word gets out everyone flocks to see this magical creature and the circus is once again making money. When wealthy Dreamland owner Vandevere (Michael Keaton; Spotlight) makes Medici owner Max ( Danny Devito; It's Always Sunny in Philadelphia) an offer to bring his whole circus to Dreamland and part ownership Max can't refuse. However, everything isn't always as it seems and after a short while Holt, the kids and Max realize Vandervere isn't as generous as he seems. Ultimately, they devise a plan to set Dumbo free and reunite him with his mother much to Vandervere's dismay.
You would think Dumbo's stellar veteran cast it would be well acted but this isn't necessarily the case. The children do a good job and Eva Green (Casino Royale) is wonderful as the Parisian trapeze artist at Dreamland who helps Dumbo escape but Farrell is rather wooden and stiff and Keaton plays a version of himself so you never seem to forget the actor behind the character. Devito is ok but much of his dialogue is cliché.
Director Tim Burton (Edward Scissorhands) adds his usual darker sensibilities to this film especially at certain points in Dreamland. The CGI effects, however, are fairly good except for one or two moments when it becomes quite obvious that there is CGI at play here. The script isn't awful but it isn't wonderful either. The original story of Dumbo ends about 20 minutes into the film and then a whole brand new story plays out for the next hour and a half. However, fans of the original will find little moments here and there that pay homage to the original but if you were waiting for the classic in its entirety you are going to be sorely disappointed.
This Dumbo is sweet and sentimental and offers a little bit of awe and wonder but it is not the wonderous and magical extravaganza I think many of us had hoped for. The dialogue and storyline are generic which may be why the actors come across and somewhat unmemorable. I give Burton credit for making this film not nearly as dark as many of his other features and the vibrant colors of the circus are definitely a departure from his usual darker tones.
Dumbo isn't bad, it just isn't great which is what I'm guessing many fans will be expecting. It is sweet and sentimental and if you go in with lower expectations you won't be disappointed.
Grade: B-
Read More Dumbo Reviews
For more reviews please visit our film/television review section.
Watch a sneak peek of Dumbo featuring a new version of "Baby Mine" recorded by Arcade Fire...

From Disney and visionary director Tim Burton, the all-new grand live-action adventure "Dumbo&...

From Disney and visionary director Tim Burton, the all-new grand live-action adventure "Dumbo&...
From Disney and visionary director Tim Burton, the all-new grand live-action adventure "Dumbo&...
SPONSORED LINKS