Sing Street (2016)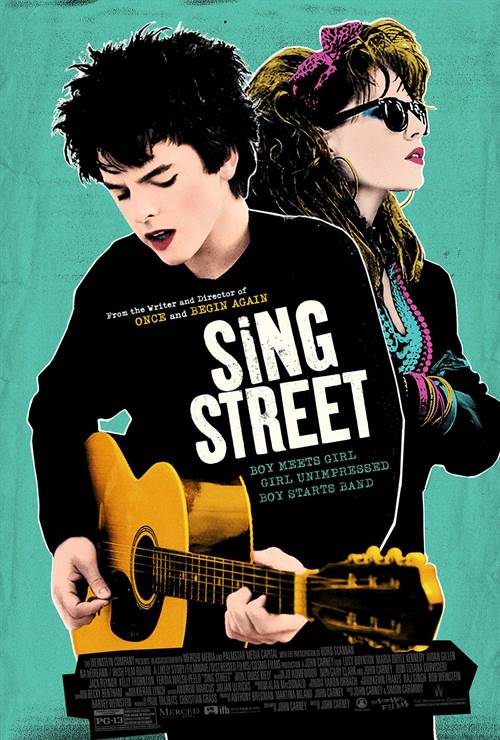 | | |
| --- | --- |
| Director: | |
| Writers: | |
| Cast: | |
| Released: | Friday, April 15, 2016 |
| Length: | 106 minutes |
| Studio: | Weinstein Company, The |
| Genre: | Musicals |
| Rating: | Some material may be inappropriate for children under 13. |
Sing Street Synopsis
SING STREET takes us back to 1980s Dublin seen through the eyes of a 14-year-old boy named Conor (Ferdia Walsh-Peelo) who is looking for a break from a home strained by his parents' relationship and money troubles, while trying to adjust to his new inner-city public school where the kids are rough and the teachers are rougher. He finds a glimmer of hope in the mysterious, über-cool and beautiful Raphina (Lucy Boynton), and with the aim of winning her heart he invites her to star in his band's music videos. There's only one problem: he's not part of a band…yet. She agrees, and now Conor must deliver what he's promised - calling himself "Cosmo" and immersing himself in the vibrant rock music trends of the decade, he forms a band with a few lads, and the group pours their heart into writing lyrics and shooting videos. Inspired by writer/director John Carney's (ONCE, BEGIN AGAIN) life and love for music, SING STREET shows us a world where music has the power to take us away from the turmoil of everyday life and transform us into something greater.

Purchase DVD/Blu-ray/4K UHD physical copy of Sing Street today at Amazon.com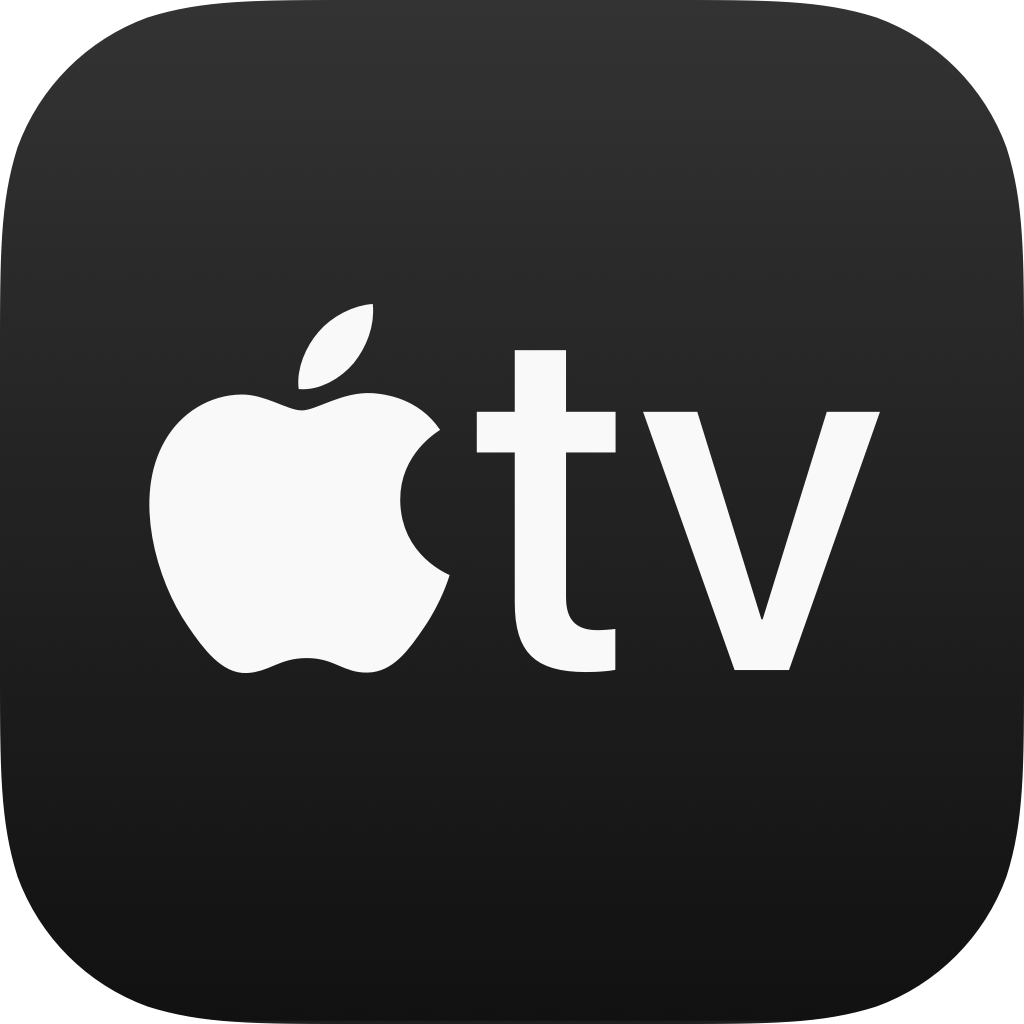 Stream Sing Street in Digital HD/4K from the AppleTV store.
Sing Street images are © Weinstein Company, The. All Rights Reserved.
Sing Street Blu-ray Review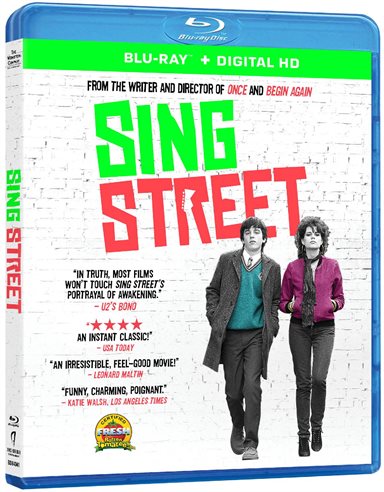 While 2016 brought us "Captain America: Civil War", "Batman VS Superman: Dawn of Justice", "X-men Apocalypse", and many other films with a semicolon in its title, there were a few surprises tucked in between and one of those films is being released on Bluray, DVD and Digital Download by The Weinstein Company this week. Sing Street, a truly fun picture brought to you from the Director John Carney, who brought you films like 2007's "Once" and 2013's "Begin Again" which starred Keira Knightley, Mark Ruffalo, James Corden & Adam Levine.

"Sing Street" which is set in Dublin during the 1980's, is the story of a teenager who's dysfunctional family decides to take him out of the good school they were paying for and put him in a free public school to save some money. Conor (played by Ferdia Walsh-Peelo) struggles to finds his place with in the new school and basically falls into the picked on awkward kids.

One day, while leaving the school, he sees a beautiful girl standing across the street while his friend says that she would never give any boy that goes to their school a second look, Conor shrugges him off and goes for it! He introduces himself to Raphina (Lucy Boynton), finds out that she's a model, and tells her that she should star in his bands next music video. She totally agrees which is great for Conor, only thing is….he doesn't have a band! The things we do for the opposite sex!

Conor then gets together with his friend Eamon and starts talking to other boys at the school and in a John Hughes-Like fashion puts together a team of awkward band members and start writing their own music inspired by the various genres of the 80's musical catalogue.

Conner of course falls for the girl and while Raphina has her own demons as in most films she plays the muse to Conors hopes and dreams.

Will Conor get the girl in the end? I'm not telling you!

What I will tell you is that this film is every bit of a throw back to those old John Hughes films like "Ferris Bueller's Day Off", "Pretty In Pink" and my favorite "Weird Science"! Its also a musical journey through the 80's like none we've scene in years! Its the kind of movie that you actually catch yourself tapping your feet and bouncing along to the music, and if you grew up during the 80's, this will totally bring back memories. Its kinda crazy that while it all takes place in the south inner-city Dublin, its still holds the essence of the 80s at heart.

The soundtrack is fantastic. It holds classics like Duran Duran's "Rio", Hall & Oates "Maneater", The Cure's "In Between Days", and M's "Pop Music"! along with tracks that were inspired by these very songs! Also on the soundtrack is a track by Adam Levine called "Go Now".

The Blu-ray edition doesn't have a lot of extras on it but it does have the audition tapes for the nine principal cast members, a making-of documentary and a Q&A with Carney and Levine.

I give John Carney's "Sing Street" 5 stars out of 5!

Yes REALLY! I loved this film. I totally went into it not expecting it to be the jem it was and ended up smiling like a fool, tapping my feet and feeling like a teenager again!

If there was one movie from the first half of 2016 that I would say you really should see…..Its "Sing Street"!
For more reviews please visit our film/television review section.
SPONSORED LINKS