DC's Legends of Tomorrow (2016)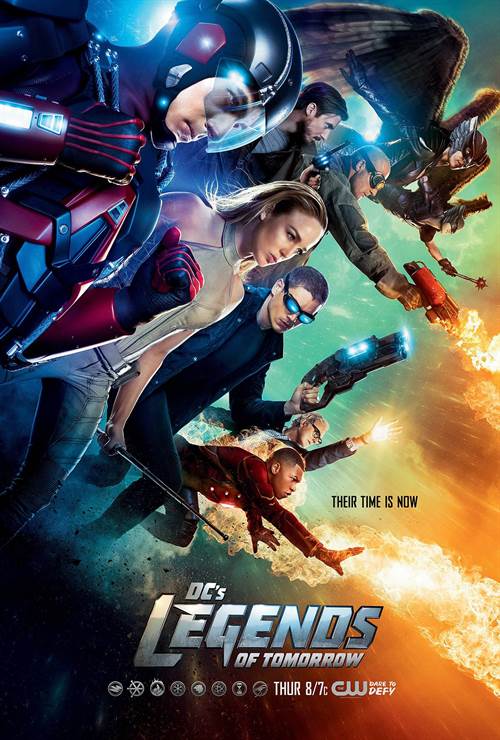 Share this:
| | |
| --- | --- |
| Created By: | |
| Cast: | |
| Air Date: | Thursday, January 21, 2016 |
| Studio: | Warner Bros. |
| Genre: | Television |
| Rating: | This program contains some material that many parents would find unsuitable for children under 14 years of age. |
Synopsis
When heroes alone are not enough…the world needs legends. Having seen the future, traveling rogue Rip Hunter assembles a disparate group of both heroes and villains to confront the unstoppable threat of the immortal Vandal Savage— a threat which not only puts the planet at stake, but all of time itself. From the creators of The Flash and Arrow comes this super hero team-up that combines characters from both shows — in addition to new heroes from the DC Comics pantheon. Featuring Arrow's Brandon Routh as The Atom and Caity Lotz as the resurrected Sara Lance/White Canary; with The Flash's Victor Garber as Dr. Martin Stein alongside Wentworth Miller as Captain Cold and Dominic Purcell as Heat Wave; plus, the newest heroes Rip Hunter, Jeff Jackson and the reincarnated warrior queen Hawkgirl, this singular super hero spinoff series pits the ragtag team against one of the most powerful villains in the DC Comics universe.

Purchase DVD/Blu-ray/4K UHD physical copy of DC's Legends of Tomorrow today at Amazon.com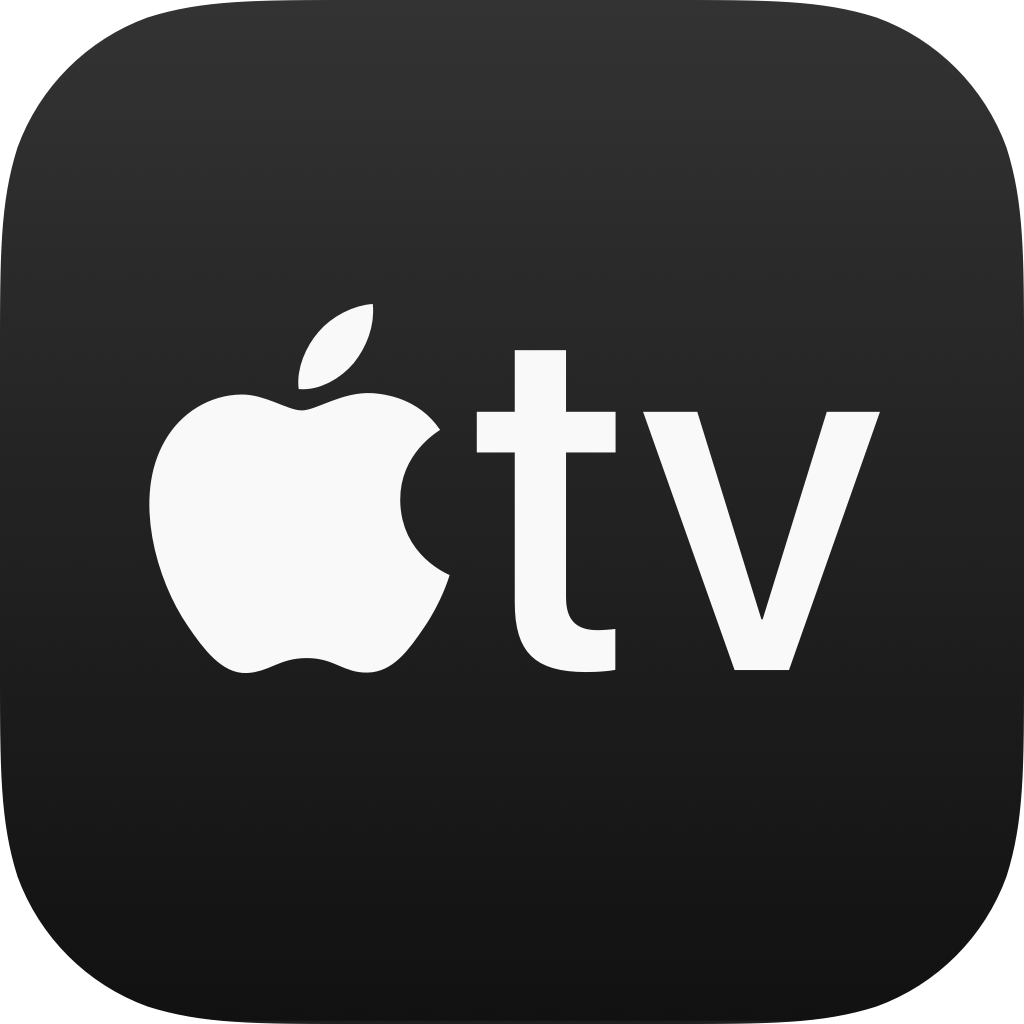 Download DC's Legends of Tomorrow in Digital HD/4K from the iTunes store.
DC's Legends of Tomorrow images are © Warner Bros.. All Rights Reserved.
DC's Legends of Tomorrow: The Complete Third Season Blu-ray Review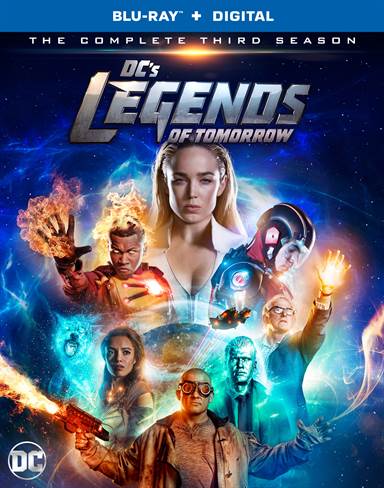 DC's Legends of Tomorrow: The Complete Third Season
changed its plot just a little bit this season and its focus brings a fresh perspective to its Third Season. Usually, the Legends are chasing bad guys but they messed up in Season Two, fractured their timeline, and created anachronisms – 21 to be exact- that they need to correct before history – mostly their personal history- changes. It's a season to get to know a particular story of each character and how that incident molds and changes them into the Legend they become. In addition, we get to know the histories and backgrounds of other characters that explain how they are the way they are.
Season Three begins with the Legends defying Captain Rip Hunter Hunter (Arthur Darvill; Doctor Who) and his Time Bureau and deciding on their own to restore the anachronisms to their original timelines. Taking the Waverider, the Legends add an addition to their crew, Zari Tomaz (Tala Ashe; As the World Turns), who is not only from the future, but a totem bearer, similar to Maisie Richardson-Sellers' (The Originals) character, Amaya Jiwe/Vixen. While it doesn't seem like the two women like each other very much at the beginning of the season, their comradery and understanding grow for each other as Season Three continues and they eventually seem to have a deep respect for each other.
Captain Sara Lance (Caity Lotz; Arrow) continues to head the Waverider but seems to either depend on the suggestions of her crew or completely decide singlehandedly where to go and what to do. During this past season, not all of her decisions were wise but they all worked out in the end, thanks to her crew. Dr. Nate Haywood (Nick Zano; The Final Destination) has to face his feelings and eventually, at the end of the season, makes a decision that will ensure the continuation of Amaya's line but at a huge cost to himself. It was definitely a season of learning about the crew- more of their background stories and much more of what makes the characters tick.
It almost seems as if the main enemy this season has been the Time Bureau itself, but Damien Darhk (Neil McDonough; Minority Report) makes an appearance throughout the season, despite the fact that he is supposed to be dead. It turns out that the big secret is that Darhk is a father! Keeping in sync with the story writing and theme of the season of learning about the characters, the writers give us a lot of background on Darhk and his daughter, Nora (Courtney Ford; True Blood). Not only does the paternal gene speak loudly even with an evil man like Darhk, but he will do anything to help the Legends if it means saving his daughter from Mallus (voiced by John Noble; Fringe). The question is- will he remain loyal to the Legends or ultimately save himself above all else? I think we all know the answer to that question but you'll have to watch the entire season to find out the answer!
The CW brings their shows together with their mid-season cross-over event. This past season, the superheroes go up against themselves but as Nazi rulers in an Earth in which German won the Second World War. Of course, DC could not help but bring back our favorite-dead-but-always-in-the-show-character, Mr. Snart (Wentworth Miller; Prison Break), and as usual, his incarnation is a different personality than those in Season 1 and 2, as he this time, he is a prisoner in a camp on Nazi Earth and helps lead a rebellion. During the cross-over, we also said goodbye to an amazing character this season, Dr. Martin Stein (Victor Garber; Titanic) who loses his life trying to save others.
DC's Legends of Tomorrow comes with three Blu-rays that house the entire season and the special features, along with unaired scenes. As for the digital presentation, as in Season Two, Season Three is presented in 1080p High Definition 16x9 with an aspect ratio of 1.78:1. I find that out of all of DC's shows, Legends has the most colorful images compared to the rest of the DC lineup. The colors pop from the screen and it seems as if every color on the rainbow is represented. I echo my statement from last year that the Legends Blu-ray is a slightly better picture quality than the network-even though I watched the entire season throughout the year, on a 4K TV.
The sound is presented in DTS-HD Master Audio 5.1 and as always, provides a good mix of dialogue and background noises. The audio is well balanced. I enjoy not having to lower or raise the volume when the wave rider is taking off or a battle scene is playing out just to hear the dialogue. Special features on the Blu-ray include unaired scenes in Episode 7 (Disc 1), Episode 11, 12, and 13 (Disc 2), and Episodes 16, 17, 18, 20, and 21. In addition, Disc 2 contains a Special Feature: Inside the Crossover: Crisis on Earth-X and Disc 3 features four Special Features: The Best of DCTV's Comic-Con Panels San Diego 2017, The Time Calibrators: Legends Assemble!, Post Production Theater, and Gag Reel.
I did enjoy the individual character stories this year but didn't feel as connected to the storyline until mid-season and the Cross-over event. Finding out that Darhk has a daughter and watching him work with the Legends to save her was heartfelt and I thought it was the best storyline of the season. I didn't feel as if the writing had as much continuity in the beginning of the season, but it flowed much better mid to end of the season. Despite those feelings, I love the bonus features provided on the discs (and there is a surprise for Nate and Amaya fans!) and love the show. I enjoy that this is definitely a family-oriented television. In an era of complicated and more mature themes, Legends, while not a child's show, is a pleasure to watch with my family. DC's Legends of Tomorrow: The Complete Third Season is a wonderful addition to any home collection and I look forward to watching the Legends return shortly for Season Four on the CW!
Grade: B
Read More DC's Legends of Tomorrow Reviews
Jennifer Broderick (A) (DC's Legends of Tomorrow: The Complete First Season Blu-ray Review)
Jennifer Broderick (A) (Legends of Tomorrow Season 2 Premiere: Out of Time Television Review)
Jennifer Broderick (A) (DC's Legends of Tomorrow: The Complete Second Season Blu-ray Review)
For more reviews please visit our film/television review section.
SPONSORED LINKS