Aladdin (2019)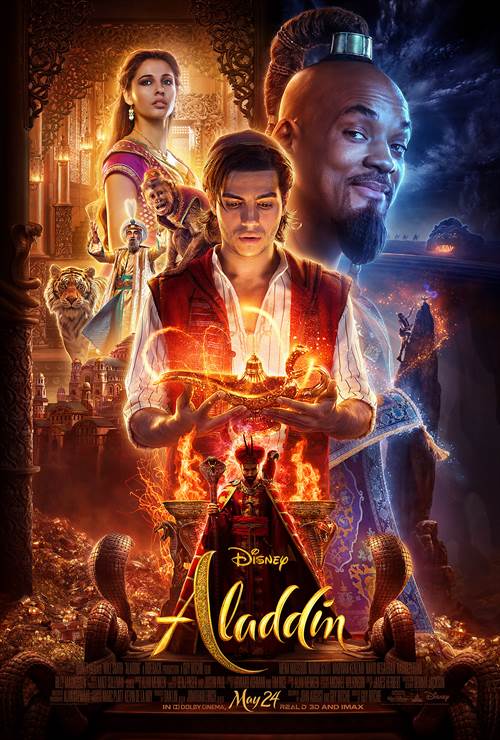 Share this:
| | |
| --- | --- |
| Director: | |
| Writers: | |
| Cast: | |
| Released: | Friday, May 24, 2019 |
| Length: | 128 minutes |
| Studio: | Walt Disney Pictures |
| Genre: | Action/Adventure |
| Rating: | Some material may not be suitable for children. |
Synopsis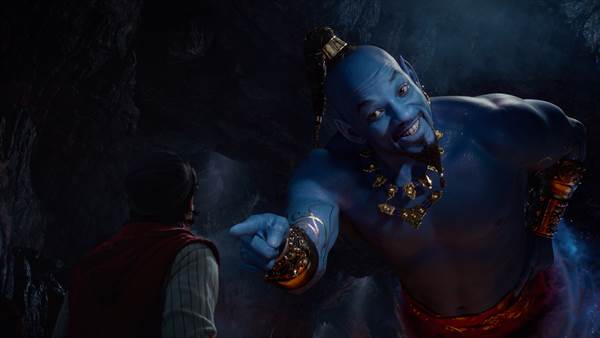 "Aladdin" is the exciting tale of the charming street rat Aladdin, the courageous and self-determined Princess Jasmine and the Genie who may be the key to their future. Directed by Guy Ritchie, who brings his singular flair for fast-paced, visceral action to the fictitious port city of Agrabah, the film is written by John August and Ritchie based on Disney's "Aladdin."

"Aladdin" stars Will Smith as the larger-than-life Genie; Mena Massoud as the charming scoundrel Aladdin; Naomi Scott as Jasmine, the beautiful, self-determined princess; Marwan Kenzari as Jafar, the powerful sorcerer; Navid Negahban as the Sultan concerned with his daughter's future; Nasim Pedrad as Dalia, Princess Jasmine's free-spirited best friend and confidante; Billy Magnussen as the handsome and arrogant suitor Prince Anders; and Numan Acar as Hakim, Jafar's right-hand man and captain of the palace guards. The film is produced by Dan Lin and Jonathan Eirich with Marc Platt and Kevin De La Noy serving as executive producers. Alan Menken provides the score, which includes new recordings of the original songs written by Menken and lyricists Howard Ashman and Tim Rice and two new songs written by Menken and songwriters Benj Pasek and Justin Paul.The film, which was shot on practical stages in London and on location amidst the stunning desert vistas of Jordan, has a talented creative team helping to bring Agrabah to life, including: director of photography Alan Stewart, production designer Gemma Jackson and costume designer Michael Wilkinson.

Purchase DVD/Blu-ray/4K UHD physical copy of Aladdin today at Amazon.com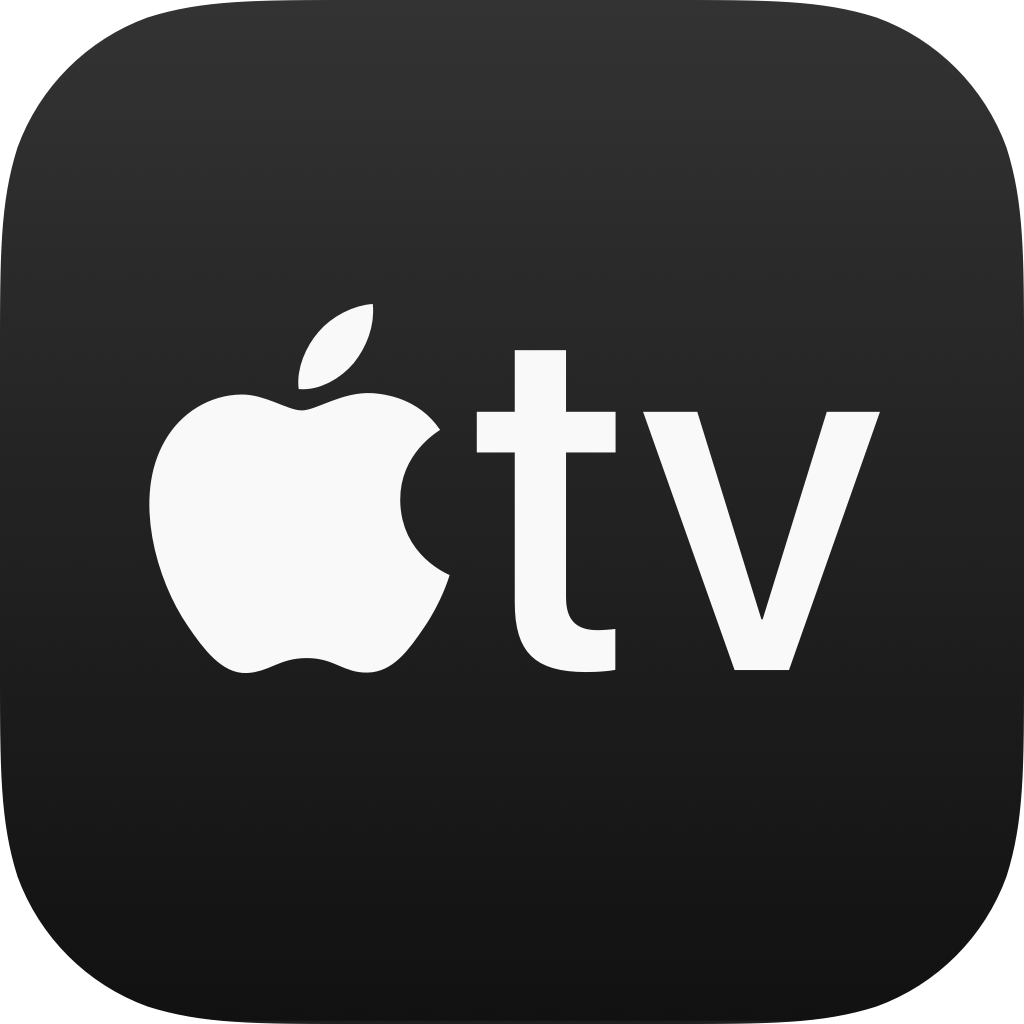 Download Aladdin in Digital HD/4K from the iTunes store.
Listen to the Aladdin soundtrack on Apple Music.
Aladdin images are © Walt Disney Pictures. All Rights Reserved.
Live-Action Aladdin Sequel in the Works
2/13/2020 2:00 PM EST
It looks like a sequel to 2019's live-action "Aladdin" is in the works. Guy Ritchie will be returning to direct the upcoming film which will take a new storyline from "One Thousand and One Nights", however, there's no word yet on exactly what the plot will be. Dan Lin and Jonathan Eirich of Rideback will return to produce and Ryan Halprin will executive produce.The original 1992 animated film also...
More>>
Win Complimentary Passes For Two To An Advance Screening of Disn...
5/18/2019 6:07 PM EST
When Disney created an animated feature back in 1992 based on a Middle Eastern folktale called Aladdin they introduced so many of us to "A Whole New World" and created a new classic with a touching story and terrific music.  Heading to theaters this month is the live action version of ALADDIN and FlickDirect, in conjunction with Walt Disney Studios, has some IMAX advance screening passes to give t...
More>>
Will Smith in Talks to Star as Genie in Aladdin
4/19/2017 3:13 PM EST
Disney is on a roll with the live-action adaptations of their animated classics, and Aladdin will be one of the next films to get the treatment. It is said that Will Smith is in talks to play the genie in the film, which will be directed by Guy Ritchie.The film has been penned by John August (Big Fish) and will be produced by Dan Lin. The executive producer is Jonathan Eirich.The animated original...
More>>
Aladdin Theatrical Review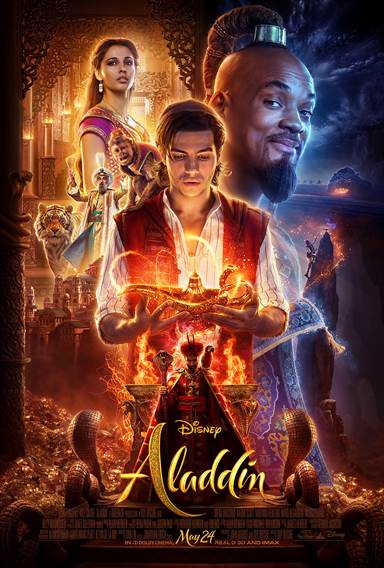 "It's a whole new world"…truer words have never been spoken (or in this case sung). At the same time, it's a world in which the past is reappearing and becoming reimagined for better or for worse. This is especially true for movies and the latest in this continuing trend is Disney's
Aladdin
. Originally released in 1992, the animated movie became an instant hit and classic with Oscar-winning songs and a hyperactive genie played by the late Robin Williams (
Mrs. Doubtfire; Good Morning Vietnam
). As Disney studios has decided to give their animated films the live action treatment of late, Aladdin was ripe for the picking and after much publicity (and some controversy) hit will finally hit theaters in time for the Memorial Day holiday weekend.
Based on a Middle Eastern folktale, Aladdin (Mena Massoud; Tom Clancy's Jack Ryan) is an orphan living on the streets of Agrabah and scrambling for what he needs to survive. After meeting someone who he thinks is Princess Jasmine's (Naomi Scott; Power Rangers) handmaid (but is really the princess herself), Aladdin sneaks into the Palace to see her only to be caught and arrested. However, instead of being sent to the dungeon, Aladdin is taken to Jafar (Marwan Kenzari; Murder On the Orient Express), the Sultan's Vizier who give Aladdin the opportunity of a lifetime… or so it seems.
Jafar tells Aladdin to enter the cave of wonders and bring him the lamp but touch nothing else. However, once in the cave Aladdin's monkey, Abu, grabs one of the sparkly jewels bringing the cave down around them. Stuck inside, Aladdin rubs the lamp revealing a powerful genie (Will Smith; Men in Black) who will grant him three wishes. Of course, Aladdin wishes to become a prince so he can win Jasmine's heart.
This retelling of this classic adventure/ love story is a mixed bag of good and bad elements. Beginning with the good is most of the cast, especially Massoud as the lead character. He shines in every scene and even sings and dances pretty well. Scott has a beautiful voice and the elegance of a Princess but I agree with the criticism that she may not have seemed "ethnic" enough to play an Arabian Royal. Smith, on the other hand, is part of the good AND bad. The animated Aladdin's original genie was played brilliantly by the king of improvisation, Robin Williams and he created an iconic character that would be impossible shoes to fill. Smith doesn't fill them but if anyone out there today who could possibly play the Genie, he was a strong choice and he brings both some humor and seriousness to the role.
As for the bad, one needs to start with Kenzari. He doesn't have that ominous, evil aura about him and he is definitely not sinister enough to portray the backstabbing Jafar. Unfortunately, he isn't the only mis-choice. Director Guy Richie (Sherlock Holmes) brings his usual unique eye to the film but in this case, some of his "antics" are unnecessary including many of the slo-mo sequences. Additionally, some of the musical choices (why did they need to change Sunday to Friday in Prince Ali?) were odd. Original Lyrics were changed with no rhyme or reason and they ended up being distracting which took me out of the scene. And don't even get me started on the second refrain on the Benj Pasek and Justin Paul (La La Land; The Greatest Showman) penned "Speechless".
The animated version of Aladdin was more lighthearted and goofy than this live-action one which offers a more serious tone with only moments of humor sprinkled throughout. Taking on this film was a monumentally risky task that could have been brilliant or a huge flop. It ended up being neither and manages to fall somewhere in the middle. Fans of the original will enjoy some parts of the film while sit dumbfounded at times. However, those who have not been exposed to the original masterpiece will enjoy the story, music, scenery, costumes, and pageantry displayed on the big screen.
Grade: B-
For more reviews please visit our film/television review section.
"Aladdin" is the exciting tale of the charming street rat Aladdin, the courageous and self-determine...

For today's home video review, FlickDirect's Austin Putnam reviews ALADDIN in 4K UHD.Watch o...

Aladdin's Naomi Scott discusses Princess Jasmine as a role model, working with Mena Massoud and sing...
"Aladdin" is the exciting tale of the charming street rat Aladdin, the courageous and self-determine...

"Aladdin" is the exciting tale of the charming street rat Aladdin, the courageous and self-determine...

"Aladdin" is the exciting tale of the charming street rat Aladdin, the courageous and self-determine...
"Aladdin" is the exciting tale of the charming street rat Aladdin, the courageous and self-determine...

"Aladdin" is the exciting tale of the charming street rat Aladdin, the courageous and self-determine...
SPONSORED LINKS