Glass (2019)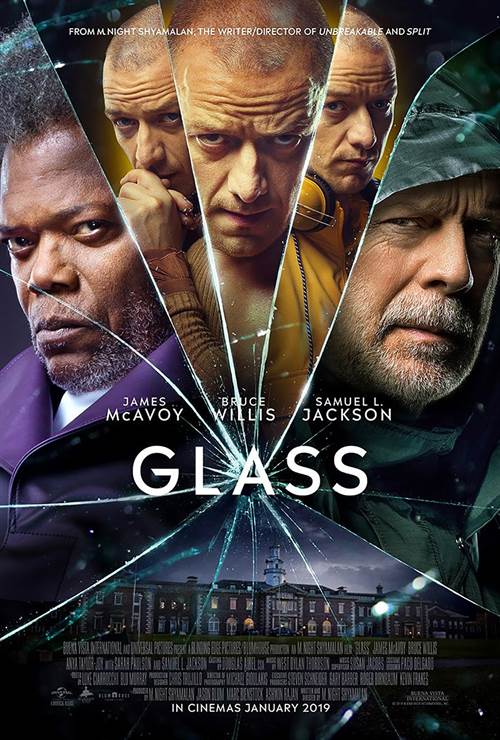 Share this:
| | |
| --- | --- |
| Director: | |
| Writers: | M. Night Shyamalan |
| Cast: | |
| Released: | Friday, January 18, 2019 |
| Length: | 128 minutes |
| Studio: | Universal Pictures |
| Genre: | Drama |
| Rating: | Some material may be inappropriate for children under 13. |
Synopsis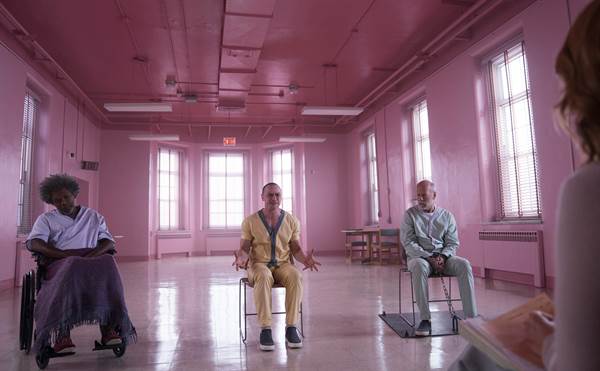 Following the conclusion of Split, Glass finds Dunn pursuing Crumb's superhuman figure of The Beast in a series of escalating encounters, while the shadowy presence of Price emerges as an orchestrator who holds secrets critical to both men. This riveting culmination of his worldwide blockbusters will be produced by Shyamalan and Jason Blum.
Purchase DVD/Blu-ray/4K physical copy of Glass today at
Download Glass in Digital HD/4K from the iTunes store.
Listen to the Glass soundtrack on Apple Music.
Glass images are © Universal Pictures. All Rights Reserved.


Win a Blu-ray of M. Night Shyamalan's Glass From FlickDirect and...
4/8/2019 10:08 AM EST
Were you a fan of Unbreakable back in 2000?  Did you enjoy Split in 2016?  Were you first in line for the conclusion this January when Glass made its way to theaters?  How would you like to win a copy on Blu-ray? In celebration of the home entertainment release FlickDirect, in conjunction with Universal Pictures, want to give one lucky person the chance to win a Blu-ray Combo pack of the hit movie...
More>>
Win Complimentary Passes For Two To An Advance Screening of Univ...
1/4/2019 1:14 PM EST
Almost nineteen years ago Samuel L. Jackson (Pulp Fiction) and Bruce Willis (Die Hard) starred in M. Night Shyamalan's (The Sixth Sense) Unbreakable. Fifteen years later audiences were treated to James McAvoy (Atonement) in Split.  This month the three men team up with Sarah Paulson (American Horror Story) and reprise their characters in the latest film in this series, GLASS. Universal Pictures, i...
More>>
Samuel L. Jackson to Receive the 2018 Cinema Icon Award
3/15/2018 2:43 PM EST
Samuel L. Jackson has been chosen to receive the "2018 Cinema Icon Award". The announcement was made today by Mitch Neuhauser, Managing Director of CinemaCon."With more than 100 films to his credit and over three decades of bringing some of the most memorable characters to the big screen, Samuel L. Jackson has made an undeniable mark on global movie-going audiences. With characters ranging from Ju...
More>>
Universal and Disney Team Up for Distribution of Shyamalan's Glass
10/3/2017 10:06 AM EST
It has been announced that Glass, the next film in the Unbreakable franchise, will be a joint release venture for Universal and Disney. Universal will be in charge of domestic distribution, while Buena Vista International will be in charge of international.Glass will be following M. Night Shyamalan's Unbreakable (2000) and this year's Split in the franchise. Principal photography began yesterday i...
More>>
Sarah Paulson Joins Cast of M. Night Shyamalan's Glass
7/24/2017 5:03 PM EST
Sarah Paulson has signed on to join the cast of "Glass", the M. Night Shyamalan thriller starring James McAvoy, Anya Taylor-Joy, Bruce Willis, and Samuel L. Jackson.The film will be a follow-up/sequel to "Split" and "Unbreakable". The latter starred Bruce Willis and Samuel L. Jackson. Shyamalan took to Twitter to announce the news, saying, "Incredibly fortunate to round out our iconic cast of acto...
More>>
Glass Theatrical Review
M. Night Shyamalan (The Sixth Sense) is known for his dramatic thrillers that offer a twist. He usually keeps the audience guessing as to what is really going on and reveals the truth at the end, often to the surprise of the viewers. In 2000 he presented fans with a different type of "superhero" story in
Unbreakable
starring Samuel L. Jackson (
The Hateful Eight
) and Bruce Willis (
Die Hard
) and sixteen years later he gave us James McAvoy (
Atonement
) in
Split,
a film
about a man with multiple personalities and super human strength. This month he ties the two films together with the next installment simply titled
Glass
.
As the film opens we see Kevin (McAvoy) toying with four teenage cheerleaders while David (Willis) is crusading vigilante style while working with his son, Joseph (Spencer Treat Clark; Animal Kingdom), in their security business. At the police try to narrow into exactly who the green raincoat "savior" is forces are at work to bring both men to justice. As David finds Kevin and frees the hostages, they suddenly find themselves surrounded and commandeered to a mental health facility. I ronically, it is the same facility that is home to Elijah Price/Mr. Glass (Jackson). Here they meet Dr. Ellie Staple (Sarah Paulson; American Horror Story) who specializes in treating people with delusions of trying to be superheroes.
Dr. Staple explains that she has the next three days to make these individuals understand that they are not superheroes but simply have some brain damage and astute observation skills making them believe they have superhero like qualities. As the movie progresses though we come to find out that Mr. Glass, who seems catatonic for the most part, really is very aware and alert and is plotting to execute his plan with the help of Kevin and David. Ironic and convenient that they all ended up in the same place, isn't it? In the end Elijah gets what he wants and we come to find out that maybe these individuals aren't quite as crazy as they seem and that comic books aren't necessarily all fiction.
The strength of Glass is hands down the cast. Jackson and Willis already proved they had chemistry 19 years ago and time has not diminished that bond at all it seems. I previously stated in my review of Split that McAvoy was excellent and talented as he switched from one personality to another so seamlessly and he continues that here with Kevin and his 22 other "characters". Watching him work is a pleasure and I still believe he should be nominated for an Academy Award for his portrayal of this young man with multiple personalities. Paulson is the new element in this group but she fits in well. She always seems to have a way of speaking that is just on the edge of craziness yet clinical all at the same time. This combination works well here as she is a Doctor who doesn't reveal all her secrets at once.
Unfortunately, the same cannot be said for the script as somethings left unexplained or underdeveloped. The beginning offers a slow build, then the middle sucks the audience in but the third act is just lacking in action as well as leaving loose ends lying all over the place. It is also a little too "convenient" how everything fits into place. Of course, there is that Shyamalan twist that comes in at the end but in this case, it doesn't offer that much of an interesting point to make it all that worthwhile. What it does though is leave the door slightly ajar for a possible fourth movie albeit with new characters.
Shyamalan does what we expect him to do with this film and it wraps up these storylines though I don't know if it was worth the 19-year wait. Fans of Unbreakable will go to see it anyway and if you are unfamiliar with the first two films you should definitely see them before heading to the theater for Glass.
Grade: B-
Read More Glass Reviews
For more reviews please visit our film/television review section.
SPONSORED LINKS