Choke (2008)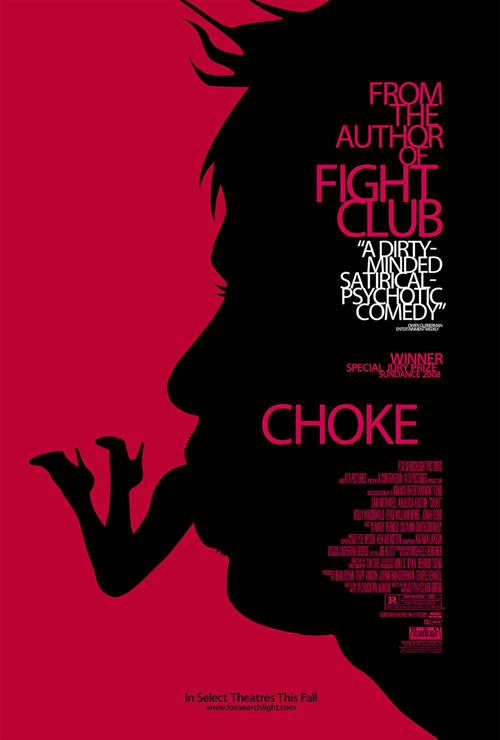 | | |
| --- | --- |
| Director: | |
| Writers: | |
| Cast: | |
| Released: | Friday, September 26, 2008 |
| Length: | 92 minutes |
| Studio: | Fox Searchlight Pictures |
| Genre: | Comedy |
| Rating: | Under 17 requires accompanying parent or adult guardian. |
Choke Synopsis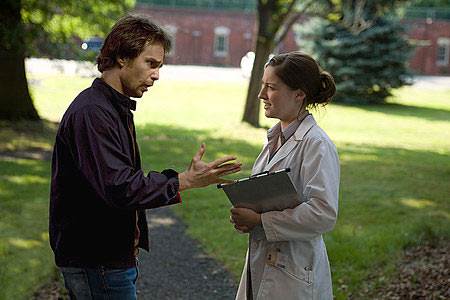 Based on the novel by Chuck Palahniuk (Fight Club), Choke is a dark and wickedly funny joyride from the depths of sexual compulsion to the heights of the Second Coming! Beside working at a colonial reenactment theme park and trying to hook up with everything on two legs, sex addict Victor Mancini courts the love and money of complete strangers via a demented con that might just kill him. But first, Victor must save his dying, delusional mother (Angelica Huston) by seducing and impregnating her comely physician, a task easier said than done, in this gleefully twisted tale of dysfunction, salvation, love, and libido.

Purchase DVD/Blu-ray/4K UHD physical copy of Choke today at Amazon.com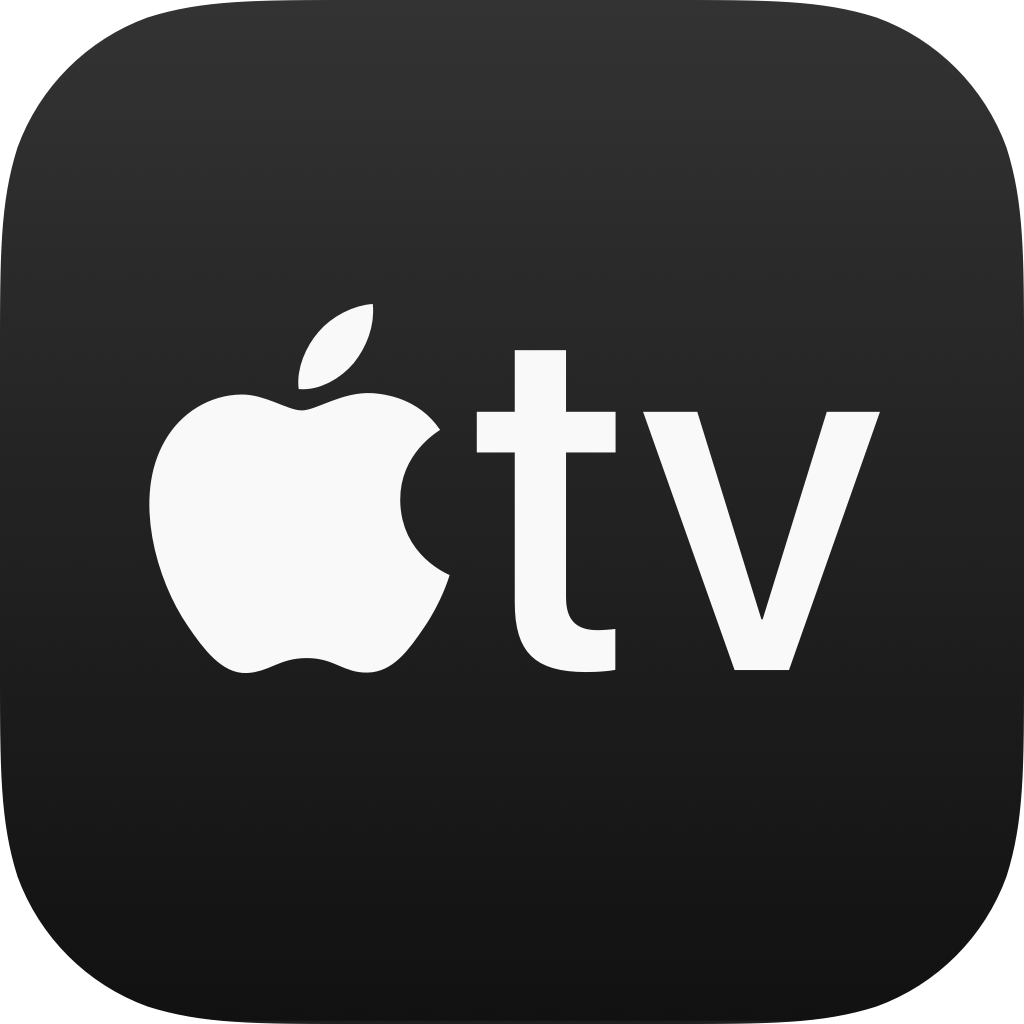 Stream Choke in Digital HD/4K from the AppleTV store.
Choke images are © Fox Searchlight Pictures. All Rights Reserved.
Director Clark Gregg Discusses The Upcoming DVD Release of Choke...
2/20/2009 10:41 AM EST
Clark Gregg, the director of Choke, recently had a chance to sit down with one of FlickDirect's staff members, Marco Chacon, and discuss the upcoming DVD release of Choke...Marco: What do you say about the person who doesn't know Chuck Palahniuk?  Why should they see Choke?Clark: On one hand, it is the funniest sex-addicted, colonial theme-park movie out this year.  On the other hand, as outrageou...
More>>
Brad William Henke Discusses The Upcoming DVD Release of Choke w...
2/17/2009 10:47 AM EST
Brad William Henke, Denny in Clark Gregg's Choke recently had a chance to sit down with one of FlickDirect's staff members, Marco Chacon and discuss the upcoming DVD release of Choke...Marco: Why did you do Choke? What attracted you to it?Brad: I didn't know a lot about it.  I read the script the night before, and I like the character a lot.  I felt he was the heart of the film.  He grew, healed a...
More>>
Choke DVD Review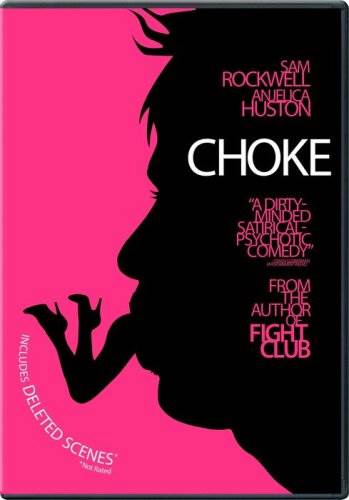 Chuck Palahniuk, the patron-saint of transgressive literature, came to public prominence with the masses through
Fight Club
. That movie had a story that was both hard to sum up and hard to analyze. It was interpreted very, very differently by many people and was, I think, whatever you wanted to make of it, a fairly sophisticated piece of work - Who was the "hero?" Who was the "villain?" Who, if anyone, was the "victim?"
His next book to make it to the big screen is the 2001 novel Choke. It is hard to say what the novel is about, but for the most part it is "about" a semi-recovering sex-addict Victor Mancini (Sam Rockwell) who has a dying, delusional mother in a mental institution and a best friend (also recovering sex-addict Denny (Henke). There is a doctor who thinks she might be able to help his mother - -but thinks that maybe, just maybe, Sam may have a larger destiny.
The movie gets its name from the con-game that Victor plays to get money. He goes to a restaurant, pretends to choke, and when someone rescues him with the Heimlich maneuver, he becomes a sort of surrogate son to them as they have saved his life and feel responsible and warm up to him.
There are things I can't give away so it is hard to say any more without getting into spoiler territory. I can tell you this though: the movie is not a mess of a narrative. Palahniuk is a talented writer. He trains his eye on things that many people have a hard time looking at and understands medical terminology and the methods of therapy, addiction, and recovery well enough to be visceral and disturbing about it; but he is not a hack.
The film, the debut directorial effort of Clark Gregg, hews closely to the book and keeps the tangle of motives, events, and agendas clear enough to make sense. He also keeps it very hard 'R'. There is a lot of sex in unusual places and in unusual ways. You don't see direct NC-17-inducing penetration, but for some scenes you see everything but. Even when there is no flesh shown on the screen sometimes sex is going on and some of the acts are not the sort of thing you want to take your mom to watch.
So is it good? Well, it is a solid piece of story-telling and film making. Gregg does a highly credible job with tough material and makes the call as to adapting it to the screen better than I think most people do. Choke was not especially cinematic in structure as a book, but I don't think he had to make wildly tough calls once he decided to make it in the first place. The leads are good all around: credible (with material that calls for it) and pulling off both drama and dark humor.
The story strains credibility -- but wisely never breaks it. Even the more stunning reveals are handled, by the time the credits roll, with skill that should satisfy most people.
That said, Choke is hard to swallow. The scenes of Sam Rockwell pretending to choke were enough to make people on the set nervous. The characters in Choke are extreme personalities with kinky addictions: the sex in the movie is not as sad as the real-life urges of real sex addicts -- but it is shown as addiction. The movie is a dark comedy and while it is not pitch-black (the movie will not leave you feeling sucker-punched. It has strong themes of redemption, and it goes into some territory that is definitely not tame.
Rounding out the DVD release of Choke is a pleathara of special features including an Audio commentary with Writer/Director/Actor Clark Gregg and Actor Sam Rockwell, a Gag Real, some great featurettes and much more.
If you liked the sort of wild ride that Fight Club gave, be aware that Choke isn't at all violent. Indeed, it delivers the "sex" part of the guys-movie equation instead, but has a similar out-of-control feel. If you read the book or like Palahniuk's work in general, I think you won't be disappointed.
If you're looking for a date movie, or something to watch with the family though -- Choke surely isn't it.
Choke is presented in it's original theater aspect ratio of 1.85:1 with a Dolby 5.1 soundtrack.
-- Marco Chacon
For more reviews please visit our film/television review section.
SPONSORED LINKS