Ratatouille (2007)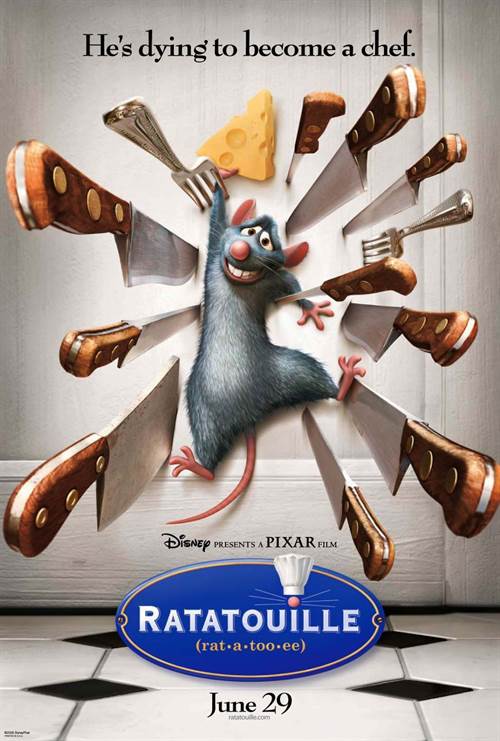 | | |
| --- | --- |
| Director: | |
| Writers: | |
| Cast: | |
| Released: | Friday, June 29, 2007 |
| Length: | 110 minutes |
| Studio: | Walt Disney Pictures |
| Genre: | Family |
| Rating: | General audiences. All ages admitted. |
Ratatouille Synopsis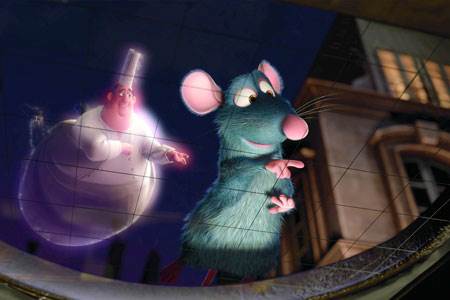 After taking audiences on incredible journeys to the worlds of cars, superheroes, fish and toys, only the amazing storytellers at Pixar Animation Studios ("Cars," "Finding Nemo," "The Incredibles") could create an entirely new and original world where the unthinkable combination of 5-star restaurants and rats come together for the ultimate fish-out-of-water tale.
In the new animated-adventure, Ratatouille, a rat named Remy dreams of becoming a great French chef despite his family's wishes and the obvious problem of being a rat in a decidedly rodent-phobic profession. When fate places Remy in the sewers of Paris, he finds himself ideally situated beneath a restaurant made famous by his culinary hero, Auguste Gusteau. Despite the apparent dangers of being an unlikely - and certainly unwanted - visitor in the kitchen of a fine French restaurant, Remy's passion for cooking soon sets into motion a hilarious and exciting rat race that turns the culinary world of Paris upside down.
Remy finds himself torn between his calling and passion in life or returning forever to his previous existence as a rat. He learns the truth about friendship, family and having no choice but to be who he really is, a rat who wants to be a chef. Directed by Academy Award®-winning Brad Bird ("The Incredibles") and co-directed by Academy Award®-winning Jan Pinkava ("Geri's Game"),

Purchase DVD/Blu-ray/4K UHD physical copy of Ratatouille today at Amazon.com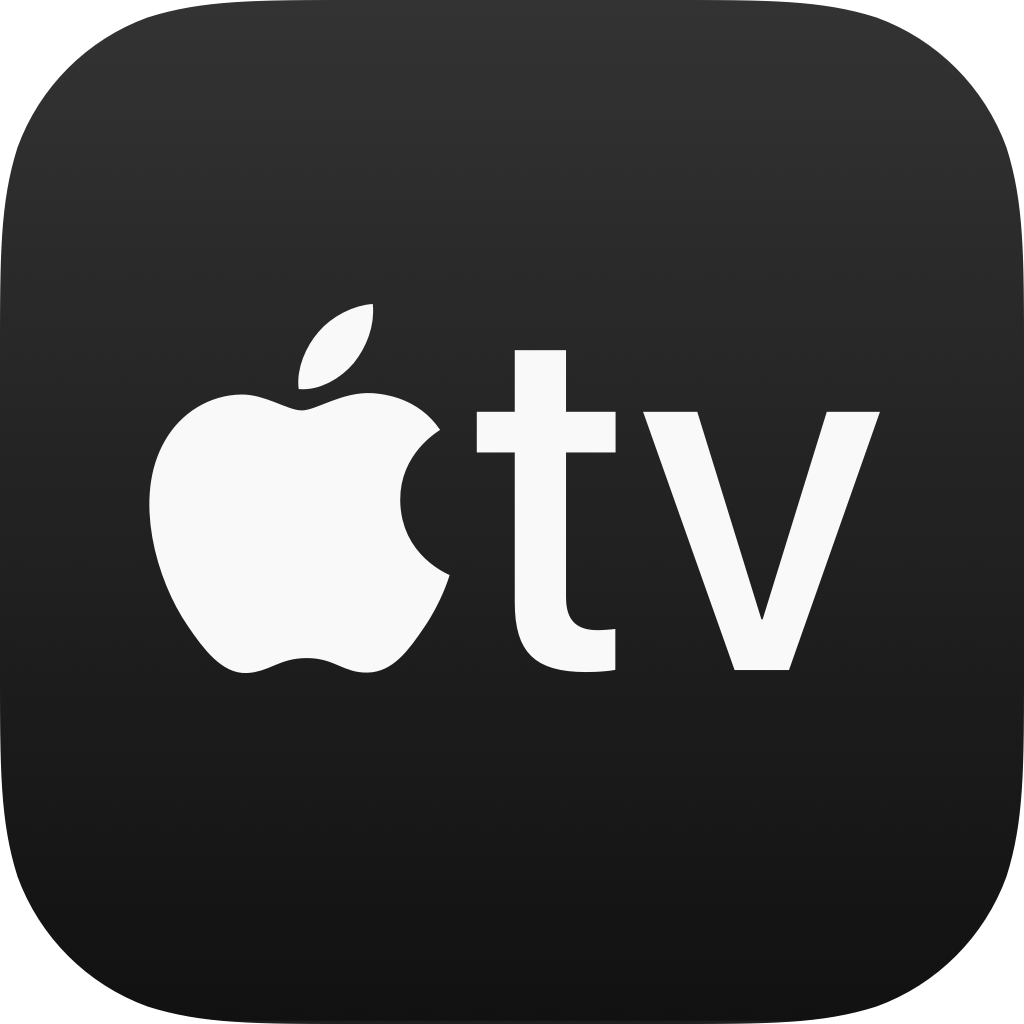 Download Ratatouille in Digital HD/4K from the iTunes store.
Ratatouille images are © Walt Disney Pictures. All Rights Reserved.
Wondercon Shows Disney Pixar's New Film
3/8/2007 10:14 AM EST
Ratatouille had a bit of a sneak preview at WonderCon in San Francisco this past weekend. The movie is about a rat named Remy (played by Patton Oswald) who dreams of becoming a fine gourmet chef and is guided by his hero, a deceased French cook, Auguste Gusteau (played by Brad Garret). The Disney/Pixar team released the clip showing how Remy and Linguini, a garbage boy, begin their friendship... ...
More>>
Ratatouille Theatrical Review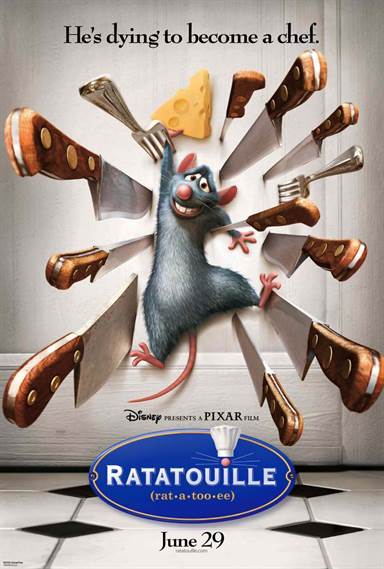 First off let me preface this review by saying I am not the biggest fan of Pixar. I feel that that previous story lines have been weak. Even though Pixar's movies have always been somewhat entertaining, they've never reached the the level of classic Disney animation and storytelling. However, with Ratatouille, I saw a story that begins to rival classic Disney movies such as Dumbo and Pinocchio.
Ratatouille is directed by, Academy Award™-winning director Brad Bird (The Incredibles) it is the ultimate tale of finding discovering and being true to yourself.
Despite his family's objections Remy, the rat, sets out of fulfill his dream of becoming a chef and enjoying the finer things in life. His dreams seem to be within reach when he ends up living beneath the restaurant of his culinary hero, Augusted Gusteau. Remy quickly forms a bond with Linguini, the garbage boy. Without revealing too much Remy and Linguini's adventures turn the Paris food scene upside down.
In true Disney/Pixar storytelling Remy learns about friendship, family and to be true to oneself.
The computer animation from Pixar is once again simply amazing. It seems that with every film Pixar takes computer animation to a new level (including a new cg effect called squashy and stretchy). I wouldn't be surprise if this cg effect was used in more Pixar films. Pixar has always paid attention to detail, and this time they really did their homework. The city of Paris has never looked so beautiful on the silver screen and the 3D food makes your mouth water and your stomach growl.
Ratatouille is definitely a movie for all ages, and is as touching and moving as any Pixar picture movie has ever been (this reviewer even got a little choked up and teary eyed by the film ending scene
Hidden Mickey Alert
Be sure not to keep an eye out for the hidden Mickey. Hint - Linguini will help you find it.
For more reviews please visit our film/television review section.
SPONSORED LINKS