Shrek (2001)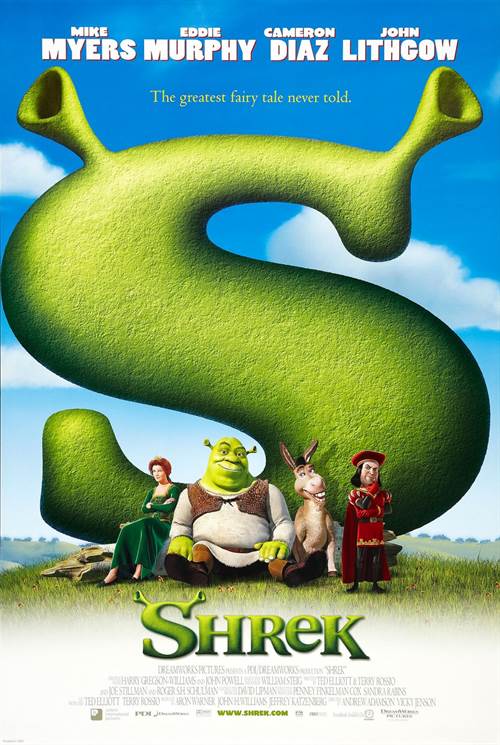 | | |
| --- | --- |
| Director: | |
| Writers: | |
| Cast: | |
| Released: | Friday, May 18, 2001 |
| Length: | 91 minutes |
| Studio: | DreamWorks Animation |
| Genre: | Family, Animation |
| Rating: | Some material may not be suitable for children. |
Shrek Synopsis
Set in a strange, colorful land populated by fairy tale characters, SHREK is a hilarious comedy that will win over audiences of children and adults alike. Shrek (voiced by Mike Myers) is a fearsome green ogre living in isolation in his own cozy little swamp. He is not receptive to visitors, and fends off the occasional party of torch-wielding villagers with ease. But when the power-hungry Lord Farquaad (John Lithgow) turns Shrek's swamp into a relocation camp for dozens of banished fairy-tale characters (including some pesky dwarves, wolves, and fairies) Shrek's quiet, introverted life is ruined. Joined by the talkative Donkey (Eddie Murphy), Shrek makes his way to Farquaad's realm of Duloc, where the Lord makes Shrek an offer: He will rid Shrek's land of the unwanted visitors if Shrek will go on a simple quest to free Princess Fiona (Cameron Diaz) from her remote, dragon-guarded castle and convince her to marry Farquaad. On their quest, Shrek and Donkey run into a number of bizarre situations, and Shrek finds himself realizing that he isn't quite the fearsome monster he has always made himself out to be.

Purchase DVD/Blu-ray/4K UHD physical copy of Shrek today at Amazon.com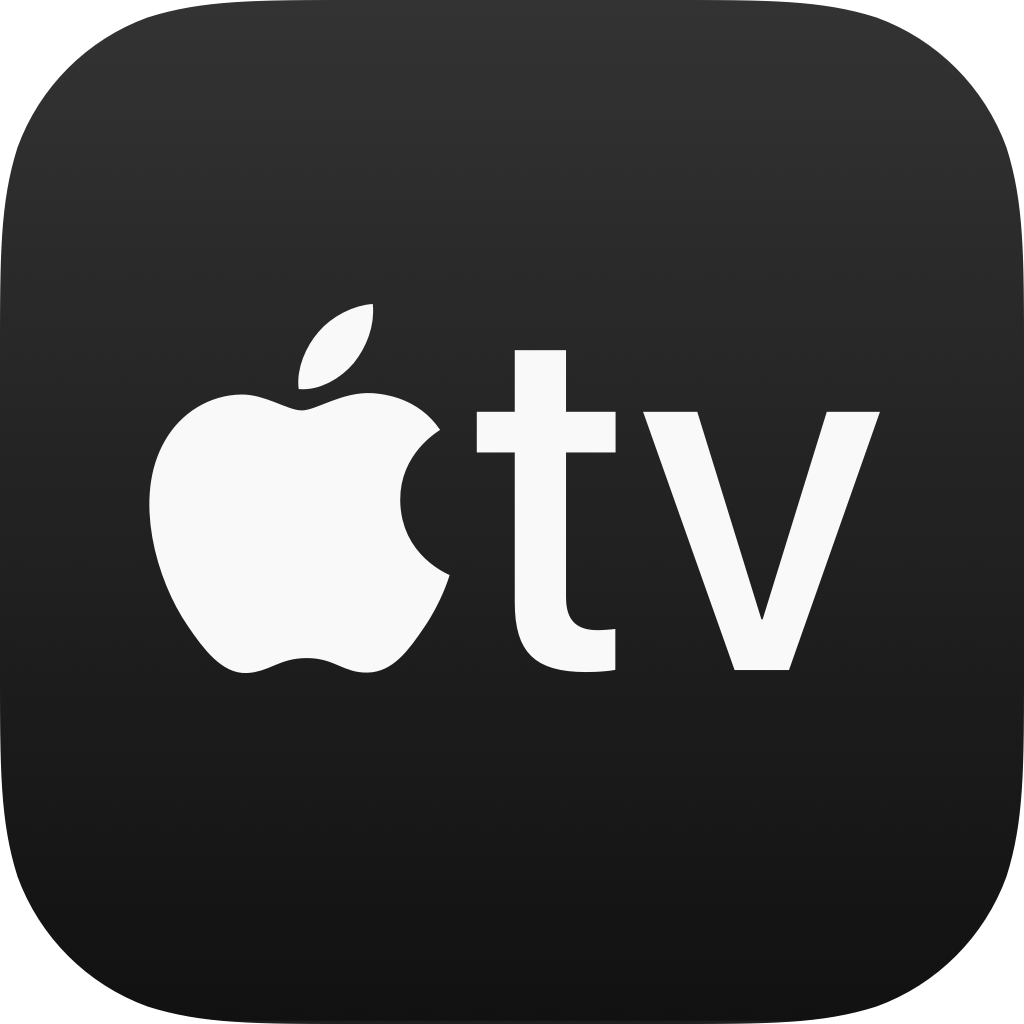 Stream Shrek in Digital HD/4K from the AppleTV store.
Listen to the Shrek soundtrack on Apple Music.
Shrek images are © DreamWorks Animation. All Rights Reserved.
Bring The Magic of Broadway Home With The Tony Award-Winning Mus...
8/29/2013 10:16 AM EST
LOS ANGELES, CA - The greatest fairy tale never told comes to life as never before in DreamWorks' Shrek The Musical, the highly acclaimed Broadway production based on the smash-hit movie. Called a "triumph of comic imagination" (Elysa Gardner, USA Today) that "never stints on spectacle or laughs" (David Rooney, Variety), Shrek The Musical received eight 2009 Tony Award® nominations including Best ...
More>>
Dreamworks Warns Investors To Prepare for Low Numbers For Shrek
5/21/2010 10:49 AM EST
According to Variety, DreamWorks upcoming film, "Shrek Forever After", is expected by the company to do modestly at the box office, and in turn stocks have dropped slightly because of the news. The film is expected to pull in about $80 million for it's debut, but also is expected to bring in more sales than the third installment of the film, which grossed about $322 million. It is speculated that ...
More>>
Shrek 4K Review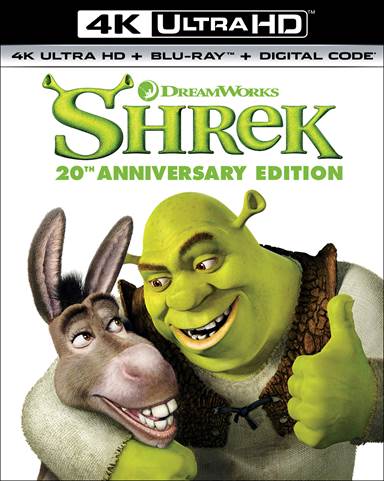 Sometimes a movie comes along that takes everyone by surprise and becomes a huge box office hit. Twenty years ago, one of these films was Universal Studios'/DreamWorks' animated hit, Shrek. With an all-star cast of comedic vocal talent, the movie was funny and sweet and so successful that it went on to have three sequels (with a fourth one rumored to be in the works), an amusement park ride, and two television specials. It went on to become the second-highest-grossing animated franchise of all time. Therefore, it is no surprise that, in honor of the original Shrek movie's twentieth anniversary, the film is being released on 4K.
Shrek (Mike Myers; The Austin Powers series) is a big, green ogre who lives alone in a swamp. He doesn't socialize or like to be disturbed so one can only imagine how he felt when his swamp was suddenly overrun by fairy-tale creatures who have been exiled by Lord Farquaad (John Lithgow; 3rd Rock from the Sun). Shrek, annoyed with the invasion of his home, journey's to Farquaad's castle. Tagging along, much to Shrek's dismay is a Donkey that can talk (Eddie Murphy; Coming to America). When they arrive, Shrek merely wants to speak to Lord Farquaad but ends up defeating all the knights in Farquaad's tournament, therefore requiring him to rescue Princess Fiona (Cameron Diaz; Knight and Day) from a dragon so Farquaad can marry her.
Shrek became such a big hit because it had several components that came together perfectly. It was well written with the perfect amount of humor, it had a terrific cast, excellent animation, and a kick-butt soundtrack. Myers brought a curious mix of aloofness and humanity to Shrek, while Murphy was equally annoying and funny as the talking Donkey. Diaz had a sassiness to her voice, which made princess Fiona outspoken and blunt.
If one were to ask how the movie Shrek could be improved upon, I would probably have told them it can't. However, with the UHD version, there is some improvement in the picture quality. Being 20 years old, the animation doesn't get much cleaner or sharper, but the color palette has a slight uptick, which is especially noticeable in the black tones. The DTS:X master audio, on the other hand, offers a rich and robust soundtrack including the dialogue. Most of the extras consist of previously released material and are spread out over three discs. They include:

Blu-ray Disc One (Feature Film): The Animators' Corner, Shrek's Interactive Journey, Spotlight on Donkey, Secrets of Shrek, Deleted Scenes, Audio Commentary: Directors Andrew Adamson and Vicky Jenson and Producer Aron Warner and Shrek, Rattle & Roll
Blu-ray Disc Two (Special Features): Shrek's Short Films, Shrek's Halloween Favorites, Shrek's Holiday Favorites, and The Adventures of Puss In Boots TV Episodes
4K Disc: Shrek's Interactive Journey, Spotlight on Donkey, Secrets of Shrek, Deleted Scenes and Shrek in the Swamp Karaoke Dance Party (Baha Men "Best Years of Our Lives", Smash Mouth "I'm a Believer", Shrek The Musical: "What's Up, Duloc?", and Audio Commentary: Directors Andrew Adamson and Vicky Jenson and Producer Aron Warner.
It is interesting to note that only the original film received the UHD treatment. Perhaps Universal Pictures will do the same at each sequels' twentieth anniversary. Maybe they are waiting to see how this first one does in sales before offering the others in this advanced manner.
The bottom line is Shrek is a great movie that adults and kids can both enjoy. With humor, likable characters, great songs, and a talking DONKEY! It makes for a terrific family night movie. I recommend you get one for yourself before they sell out!
Grade: A-
Read More Shrek Reviews
For more reviews please visit our film/television review section.
SPONSORED LINKS